In tattoos, go tribal when in doubt. Tribal tattoos have always been and will always be the right choice. We have made hundreds of these but can't post all of them hence putting together some good examples for your eyes here.
Hope you like the collection. Feel free to reach out to us for your first one.
1. Classic Tribal Tattoo on Bicep
Classic or traditional tribal tattoos be it Celtic, Maori, Aztec, Wiccan or Indian; remain among the all time popular tattoo choices for everyone and typically for gym-going guys as these provide a sharp and intense look. These tattoos usually have repetitive patterns, bold line motifs, strong jet black ink usage and spiritual symbols.
This outstanding tattoo art is a time consuming work. Patience and pain endurance is required but don't be disheartened, we'll help you get through it. This tattoo is mostly made on limbs as it appears to provide a nice flow to the body and sometimes even shades and colours can be used in them. Here we have kept it completely dark black and this has enhanced the design and the overall output.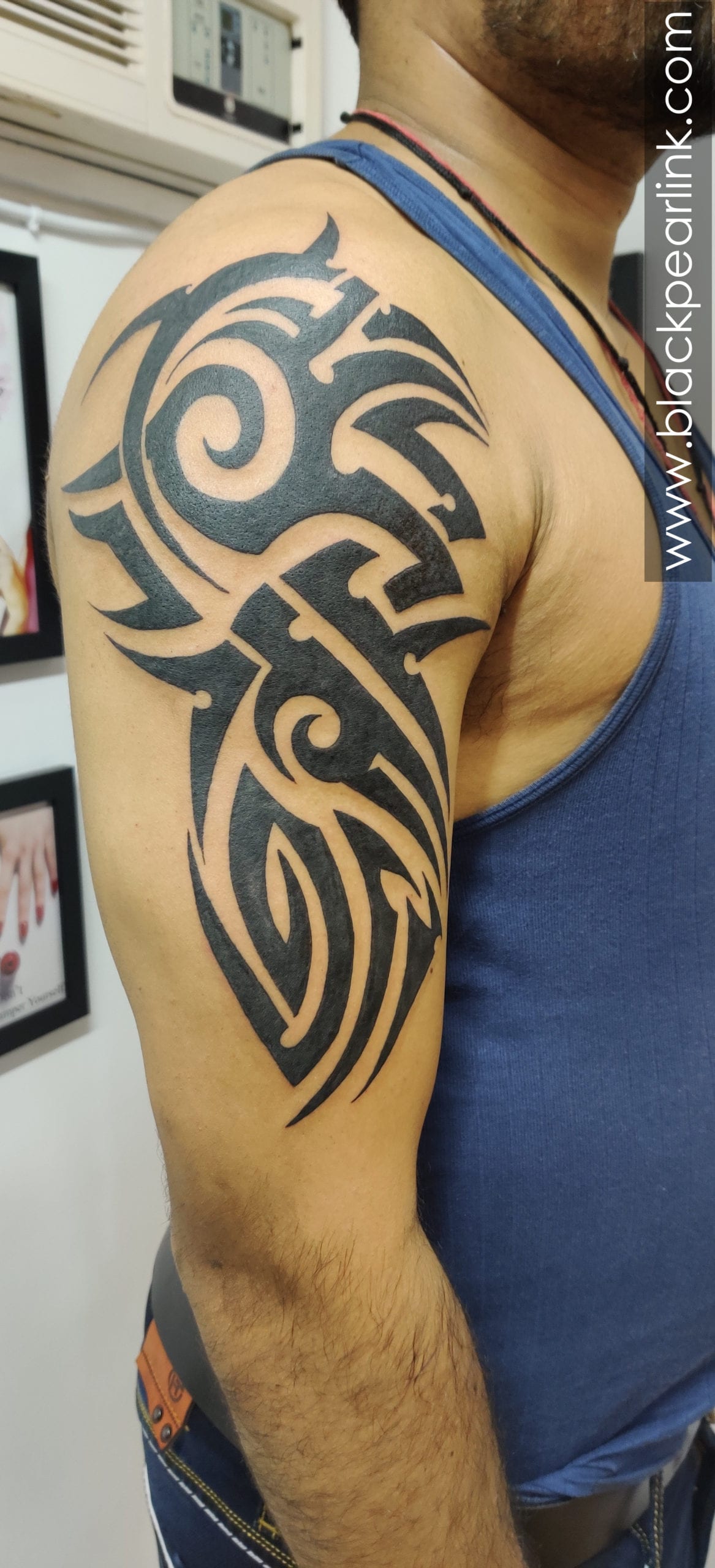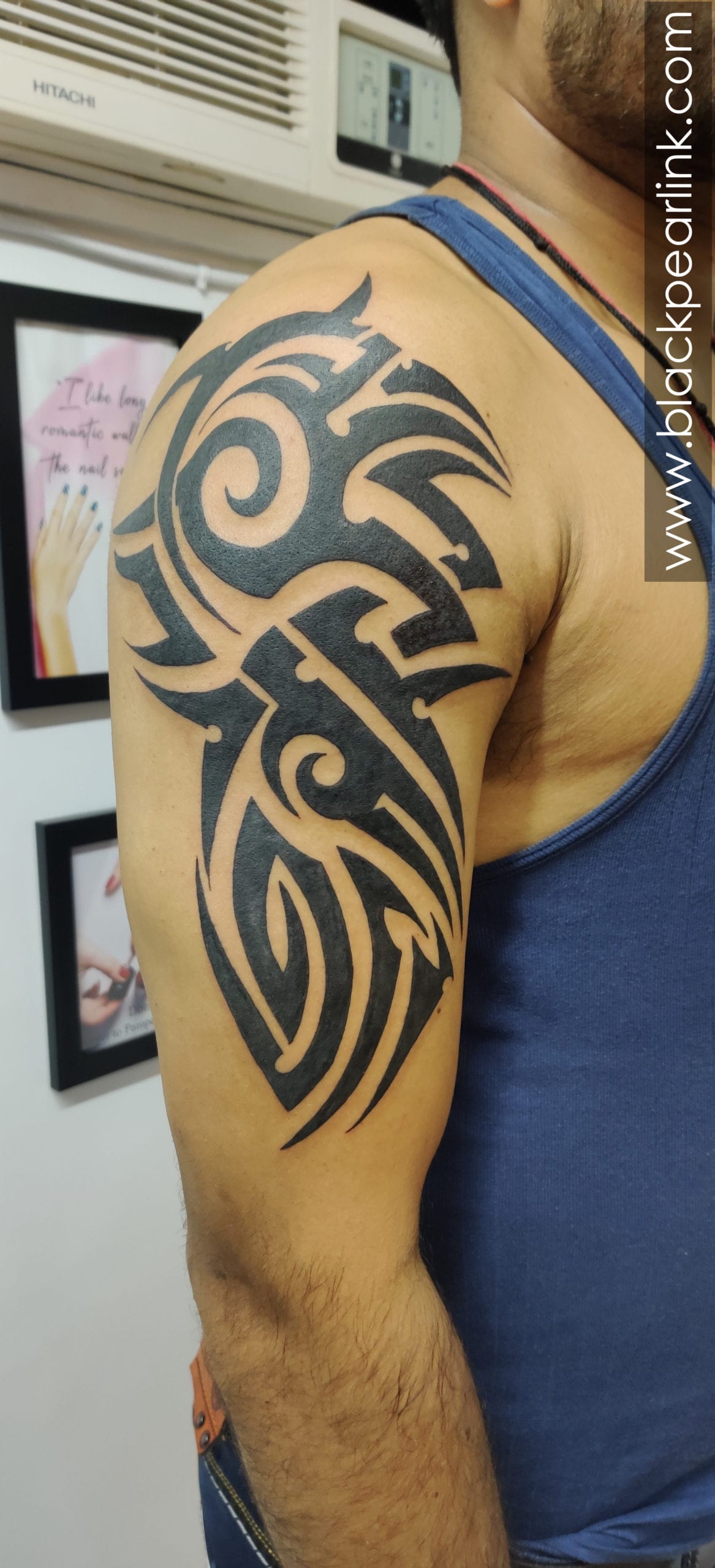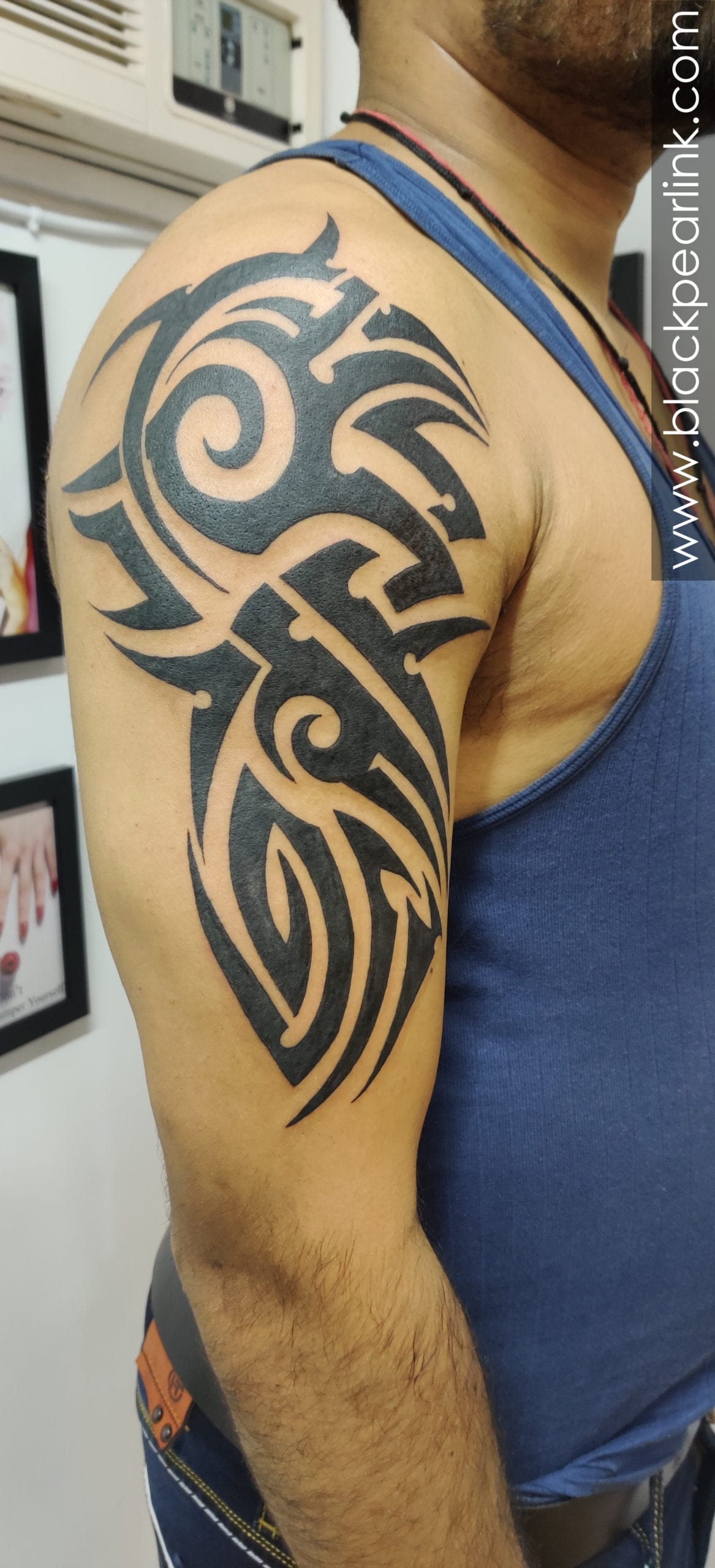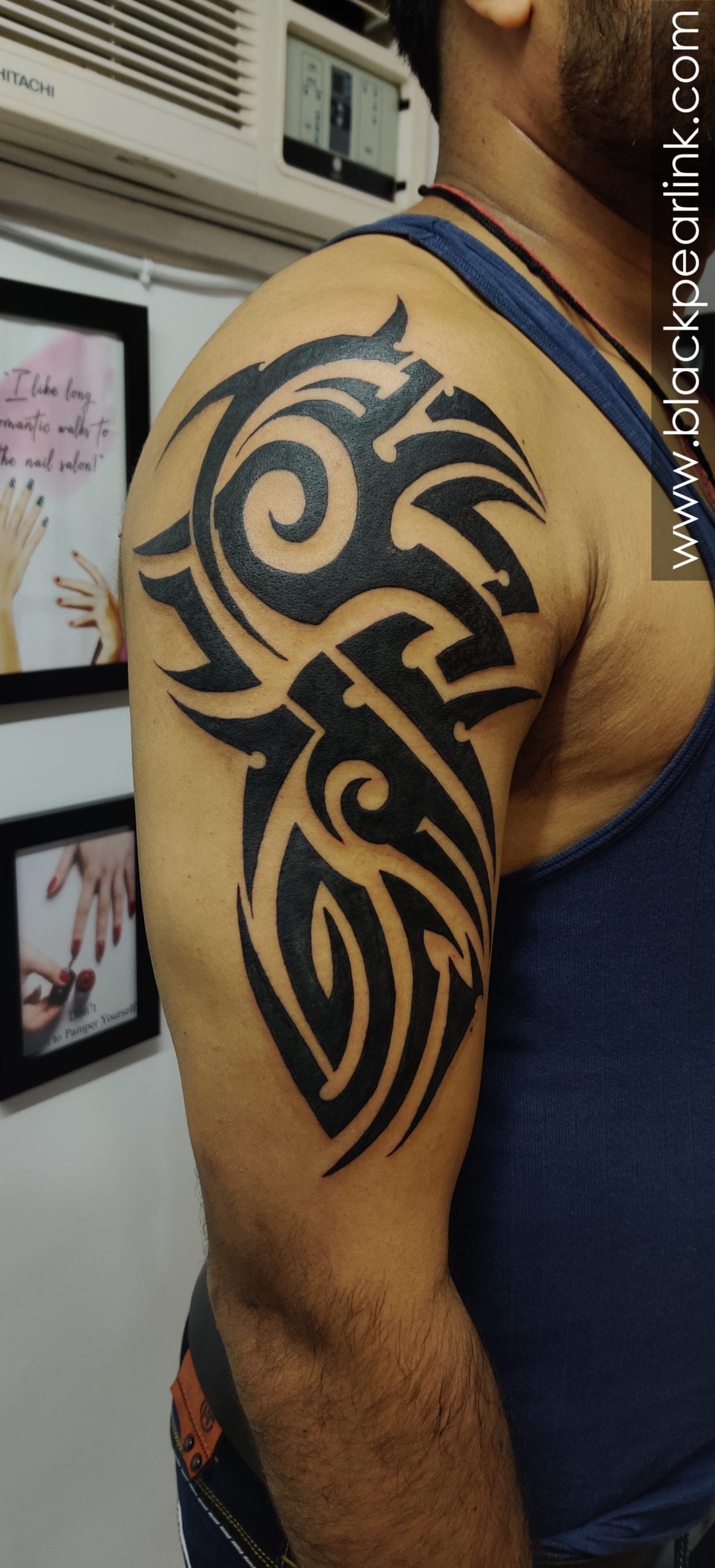 2. Maori Traditional Tattoo on arm
This is a Maori art traditional tattoo and we have included many elements of the Maori tribe in this one. We made this long back when our studio was newly opened and till date it remains one of my favorite tattoos.
We used references from Google and incorporated many different elements in this tattoo like the Maori sun, sharp tooth, triangles etc. It has also got a motivational theme and includes elements which can inspire one in daily life. It's a big tattoo made on the client's upper arm and we completed this in two sittings. In the first sitting we just made the outline and after a month or so we filled it up. Altogether this tattoo took us 12 hours to complete and the client liked it a lot.
3. Samoan Tribal Tattoo of The Rock
This is a replica of a very famous Samoan tribal tattoo or the Polynesian tattoo of wrestling superstar and Hollywood actor Dwayne Douglas Johnson who we all know as "The Rock". The client is a huge fan of Dwayne and wanted the same tattoo for himself.
We got this tattoo from the internet and have tried to replicate it on the client's arm. This is a Maori tribal style tattoo and contains a lot of elements of Dwayne's life, his journey, his black culture, his Samoan culture and his ancestors. This tattoo is a symbol of family, a man protecting his family and having a very aggressive warrior spirit which nobody could hold down. This tattoo was made in two sittings of a total 10-12 hours. In the first sitting we made the outlines and in the second one we filled it up using dark black colour.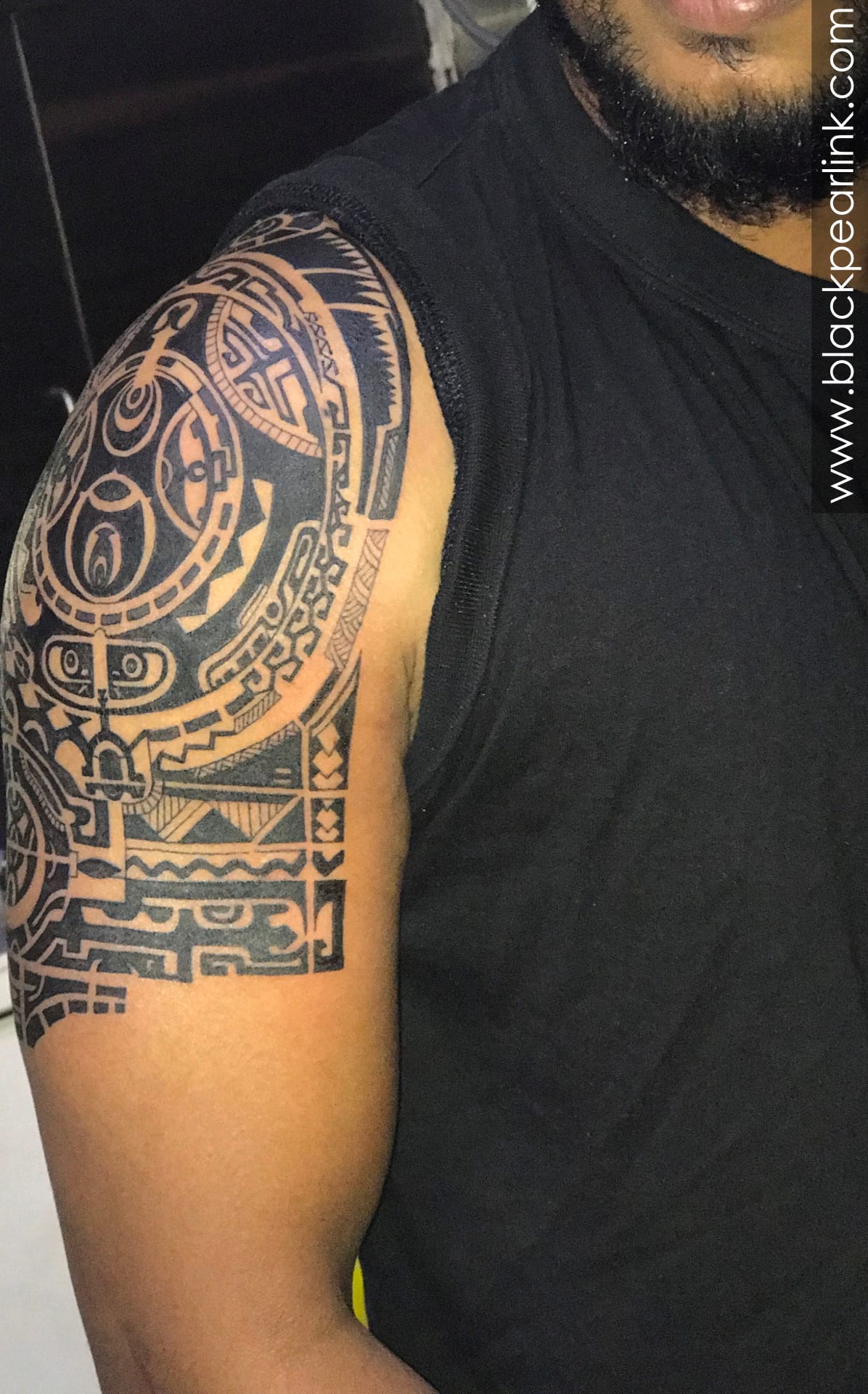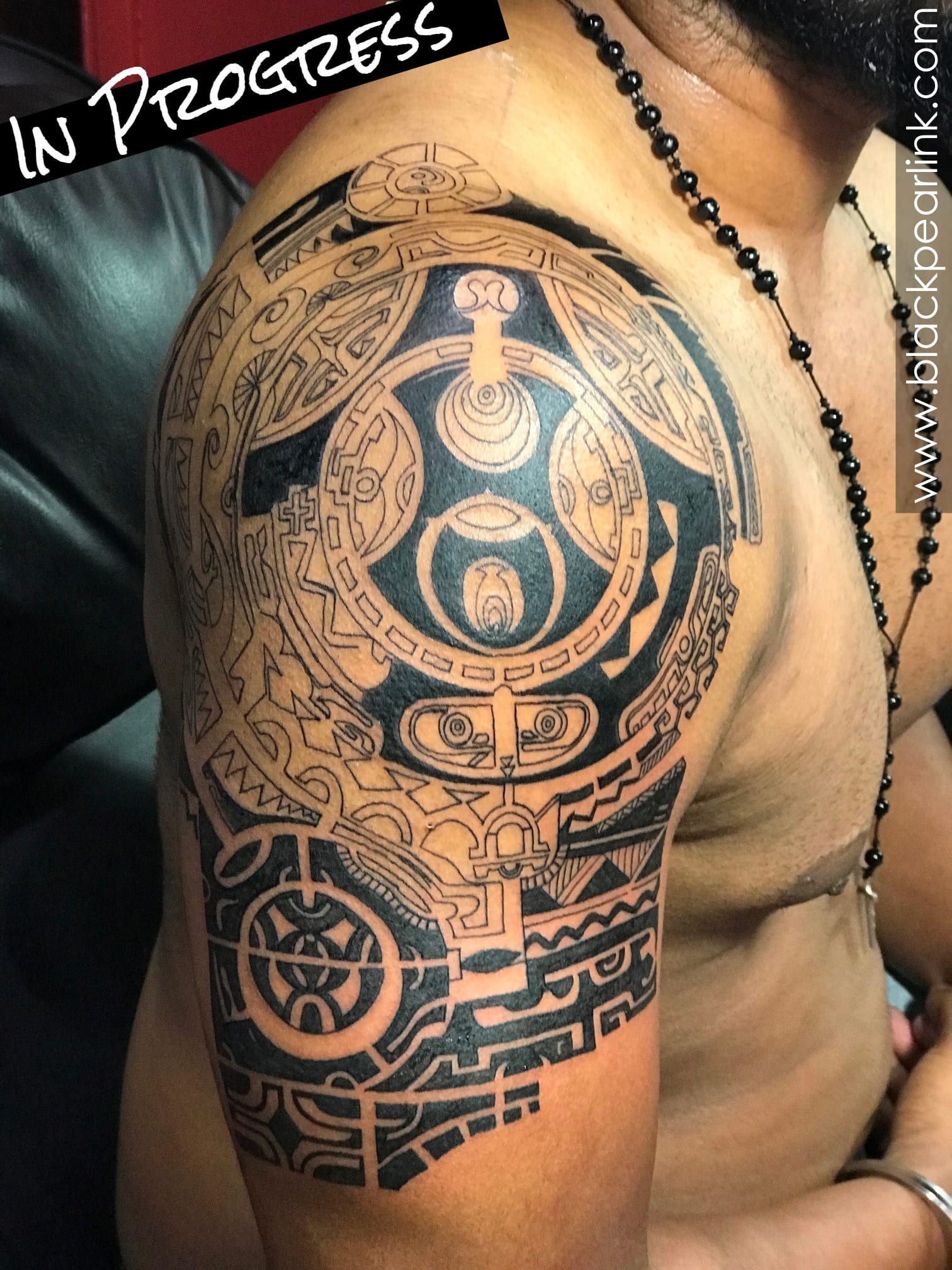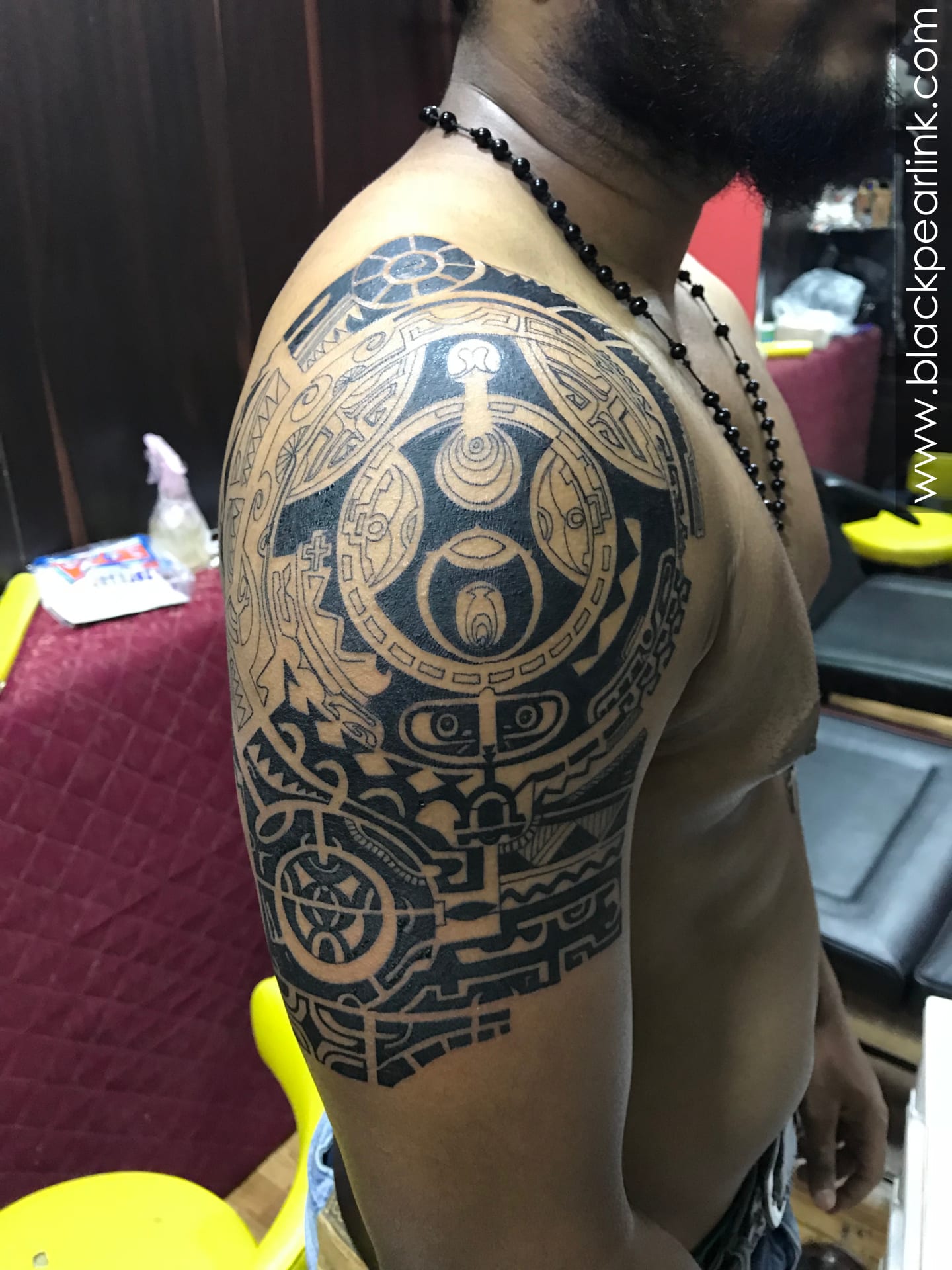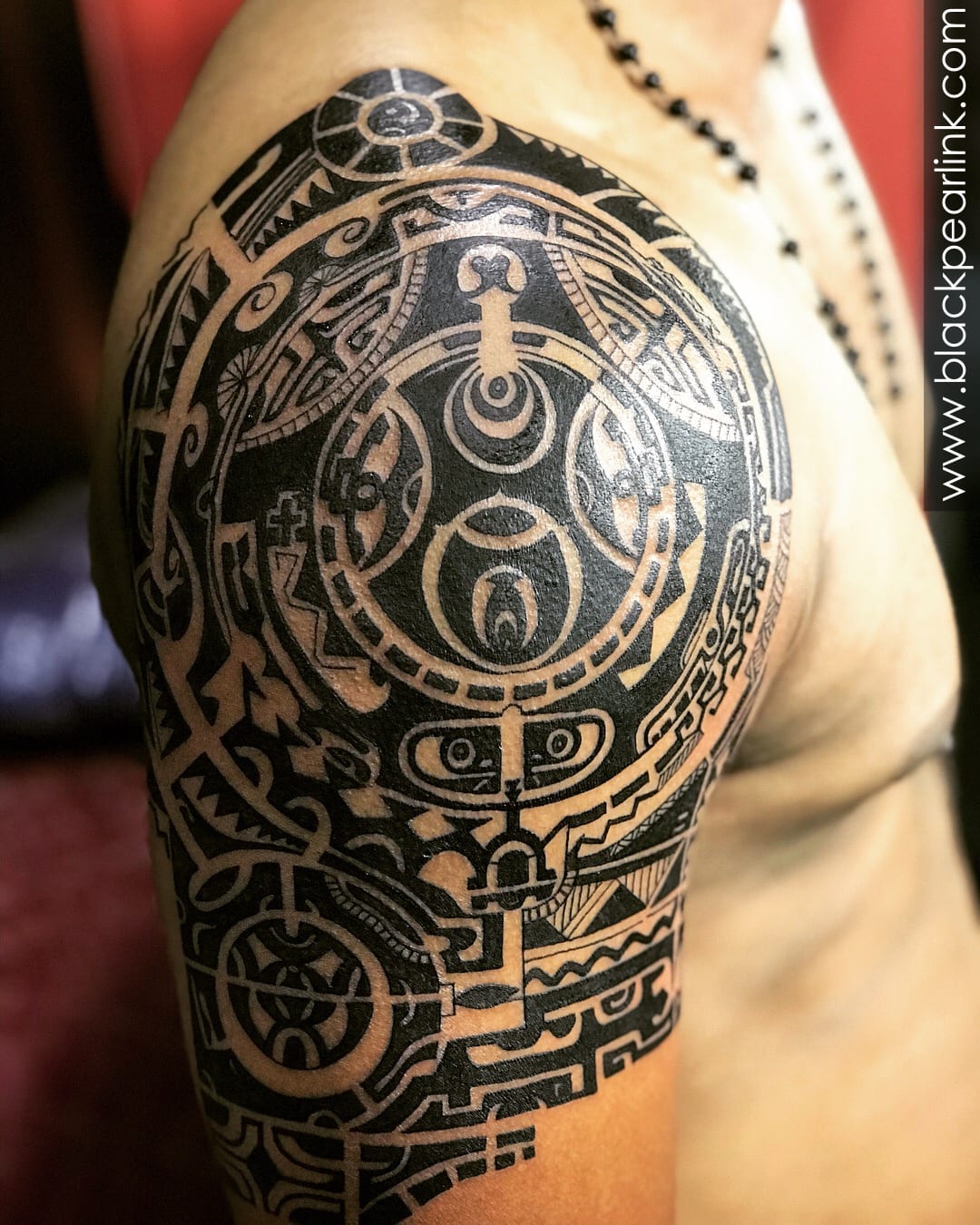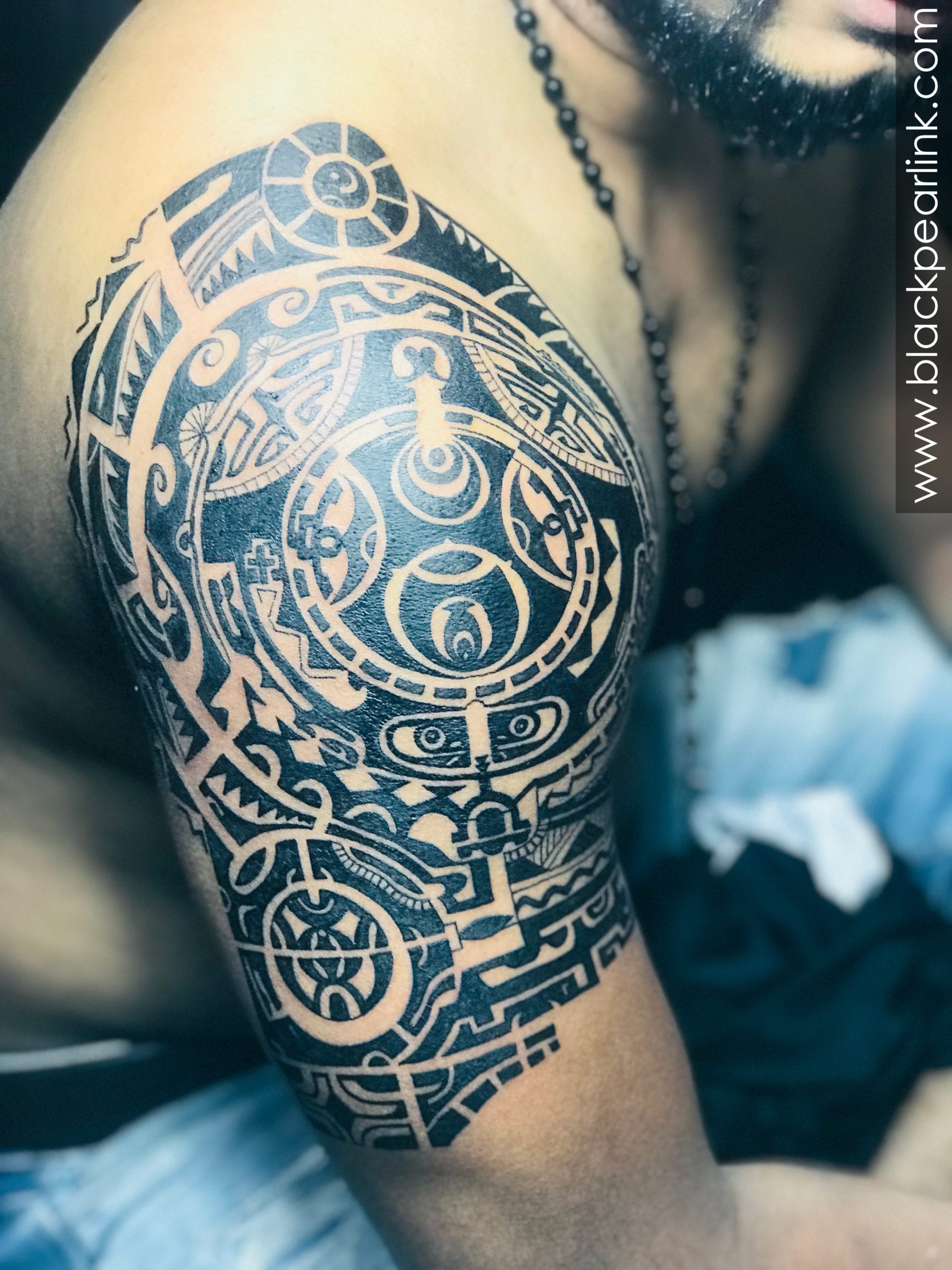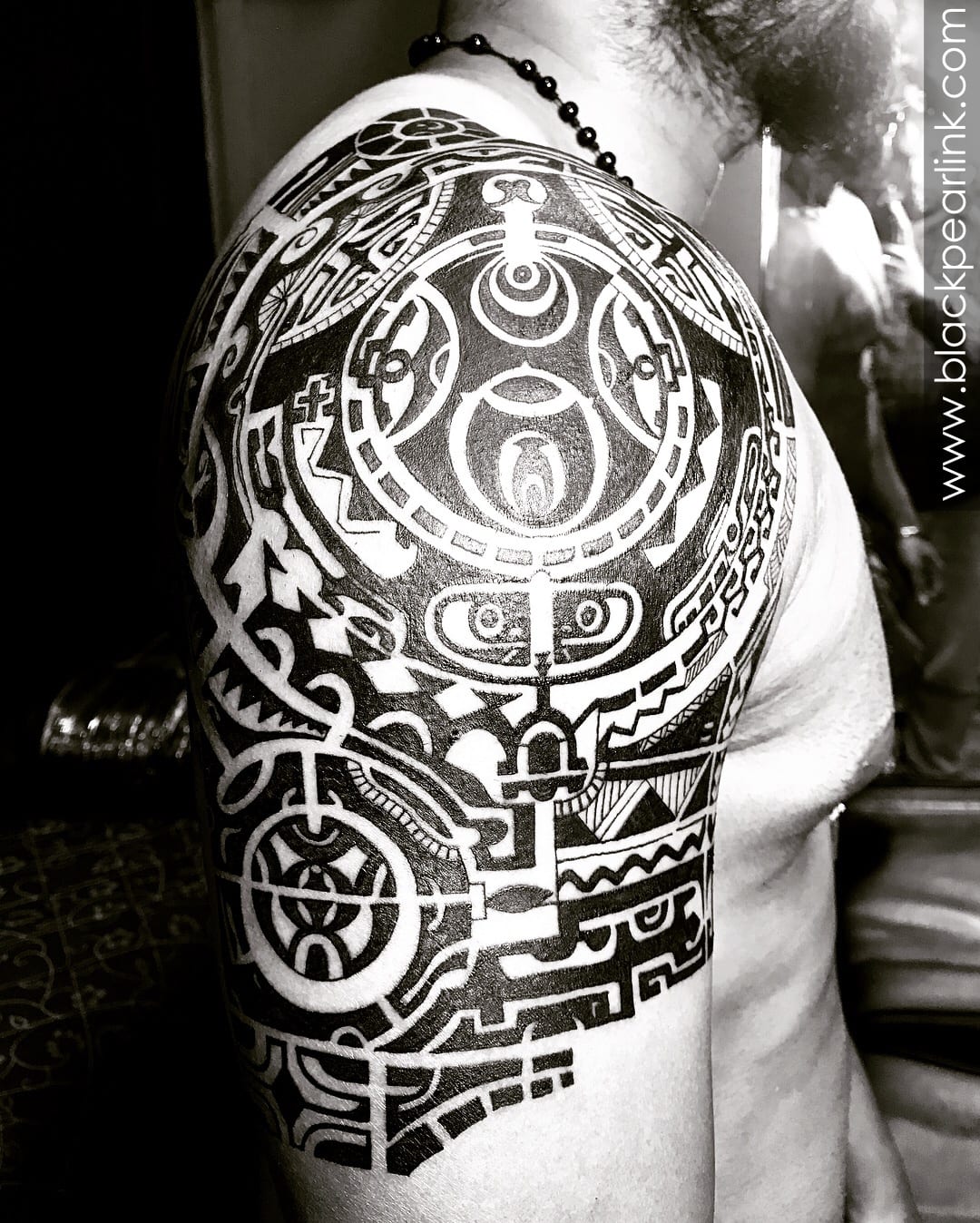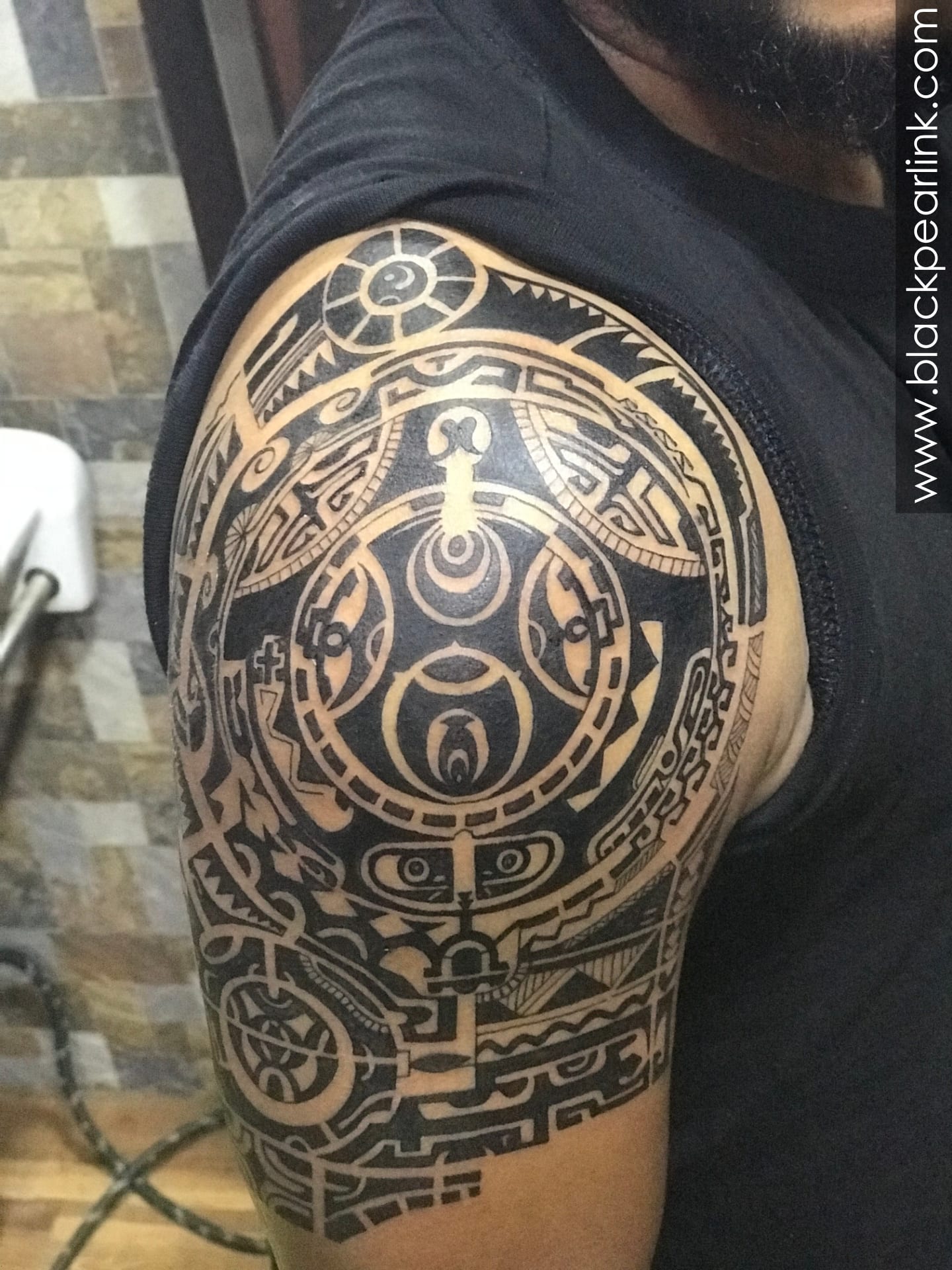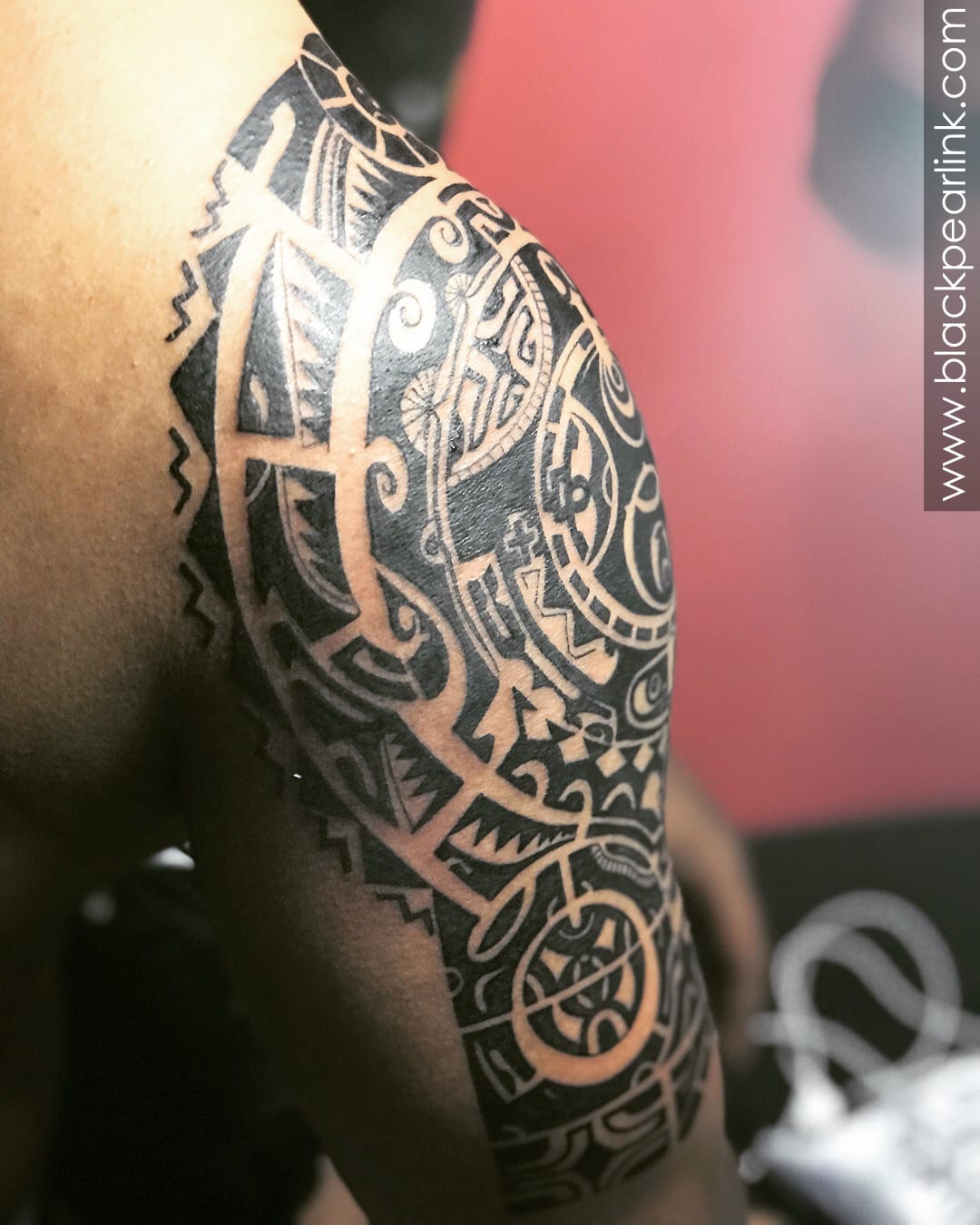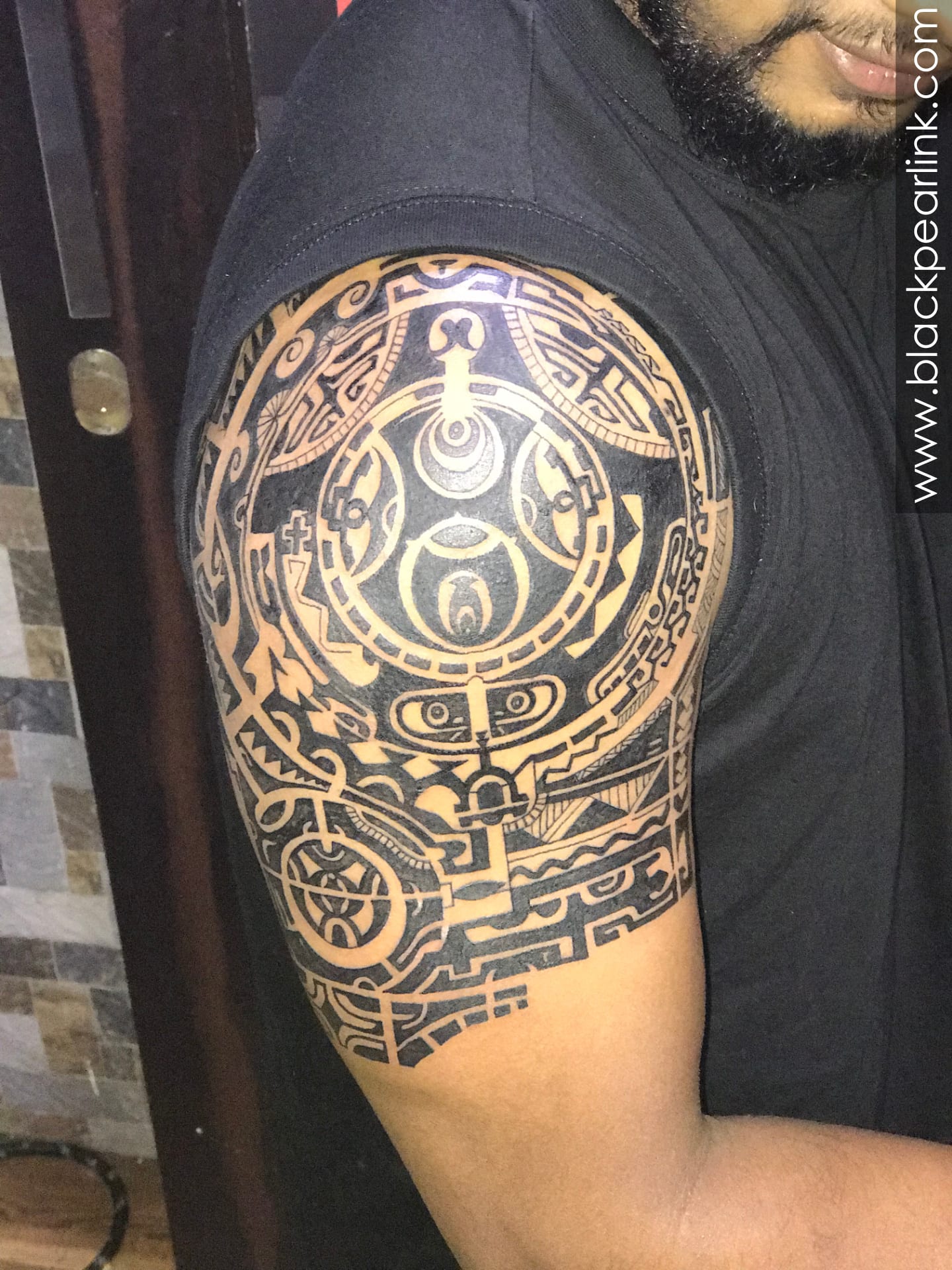 4. Maori Tribal Tattoo across Half Sleeve
This one is again a Maori tribal art tattoo. The client came to us with his own reference image. It's a big tattoo which had to be inked across the upper arm. We first anticipated it to be a rather simple design but we realized the intricate details it has once we started tracing it. We want to also mention here that it's never easy to trace a tattoo from a photograph.
After a couple of attempts, we decided to draw it as a free hand tattoo as per the shape of the client's upper arm. So the original photographed image and our tattoo looks a bit different and that's due to the shape and size of the arm. Overall this tattoo depicts a lot of ancient Maori tribal elements like their prince, shark tooth, Maori tortoise etc.
This tattoo was made in three sittings. In the first sitting we just made the outline for this tattoo. During the second sitting we filled up Black colour in half portion of this tattoo and the remaining portion was filled and the finishing work was done during the third sitting. The client was happy with the work.
5. Tribal Tattoo Combined with a Concept
This is a tribal tattoo combined with a personal memory. The client wanted to dedicate this tattoo to his late mother. He wanted to add her birth and death year in the tattoo along with a script that says 'she lived, she laughed, she loved and she left' which signifies the circle of life.
The client is a gym trainer by profession and his arms are likely to be exposed often. So we suggested to him to go with a sharp tribal tattoo which also encompasses the lovely message he wanted to add. The designing of the tattoo took around 2 hours and the inking process took 6-7 hours. This tattoo was inked using dark black ink and it's indeed one of the sweet and memorable tattoos we have made.