Lord Ganesha or as we mumbaikars call him 'Ganpati Bappa', rules the heart of people. Ganesha tattoos whether small or big, simple or realistic are always in trend.
At Black Pearl Ink, we have worked on some beautiful Ganesha tattoo designs for our clients. Below is the ultimate collection for you to check on, along with some of their stories.
1. Statuesque Ganesha on Forearm
This is one of my favorite tattoos for its awesome statuesque look. The client provided us with a real image of the lord Ganesha statue and wanted a tattoo that looked exactly like it. We also had to cover an old scar/bump on his arm, which we managed to put under the trunk of lord Ganesha. Ganesha tattoos are popular devotional tattoo choices in India. Ganesha is the God of prosperity and known as the remover of obstacles.
The first sitting of this realistic sculpture tattoo took 6 hours. Tracing for this tattoo was a tough thing to do and it took a lot of time. The second sitting actually took place after almost a year due to the client's unavailability. We recently completed it (around mid 2020) with vibrant colors and touch up. client and we, both were really happy with how amazing it turned out to be.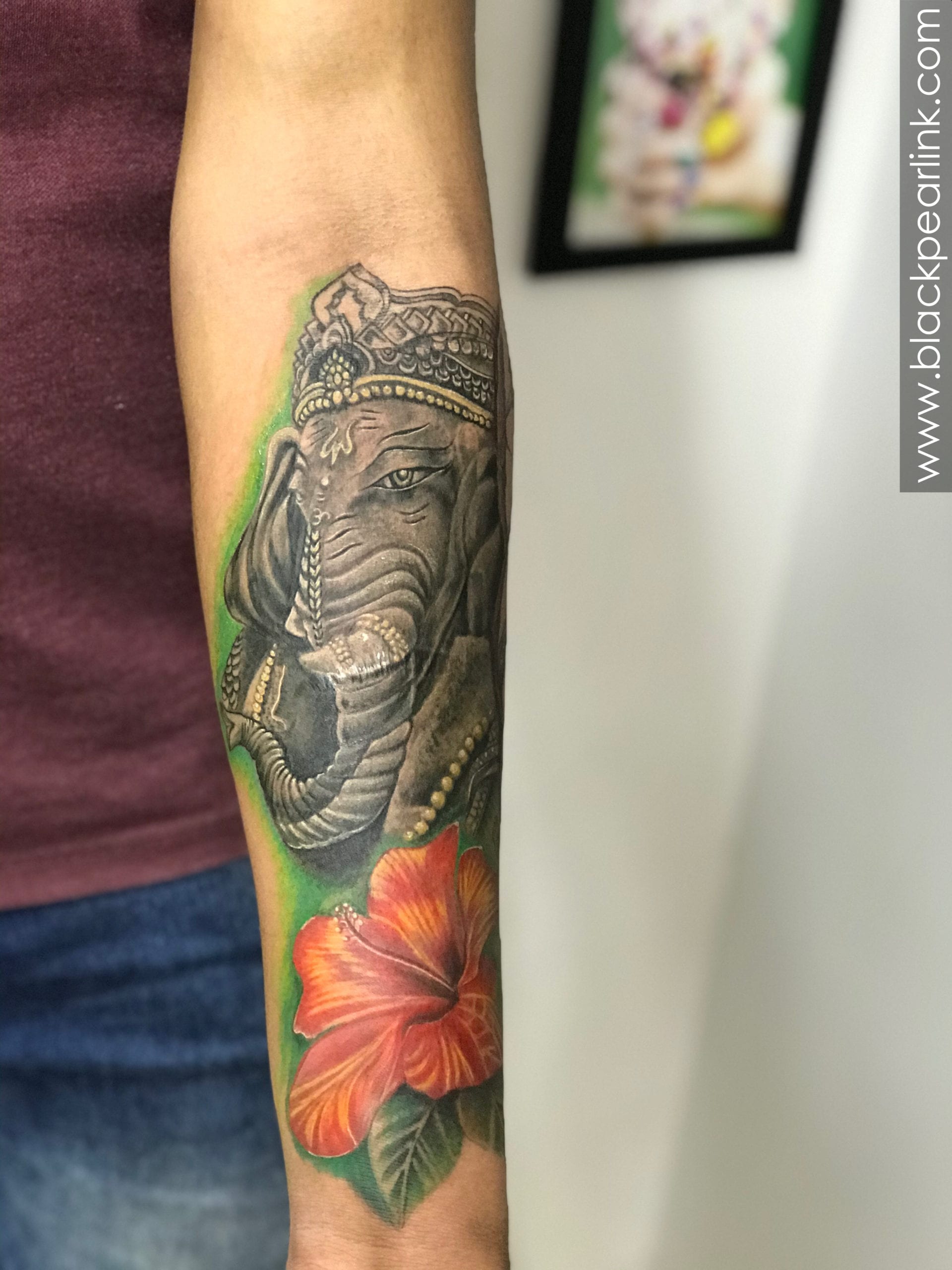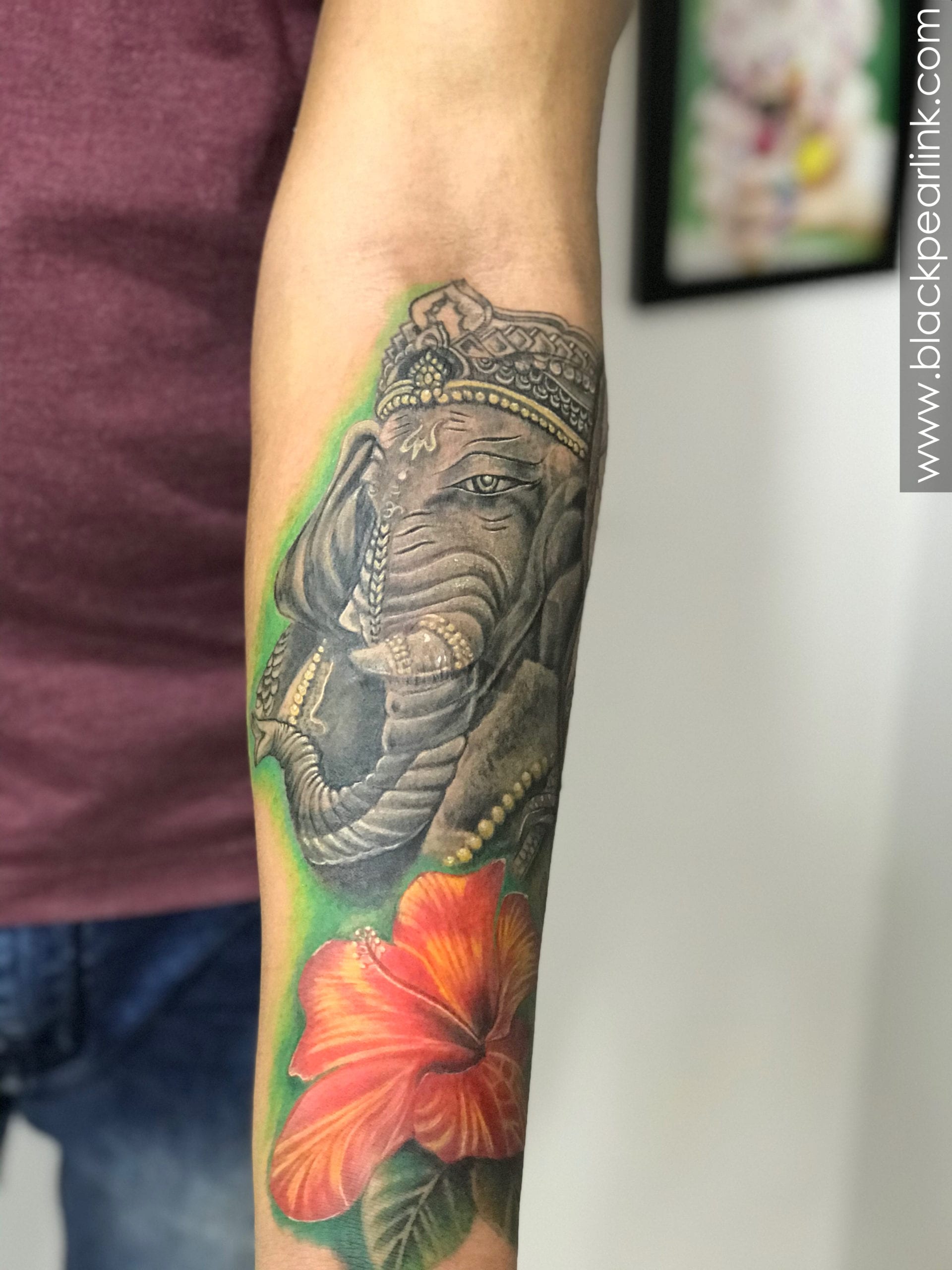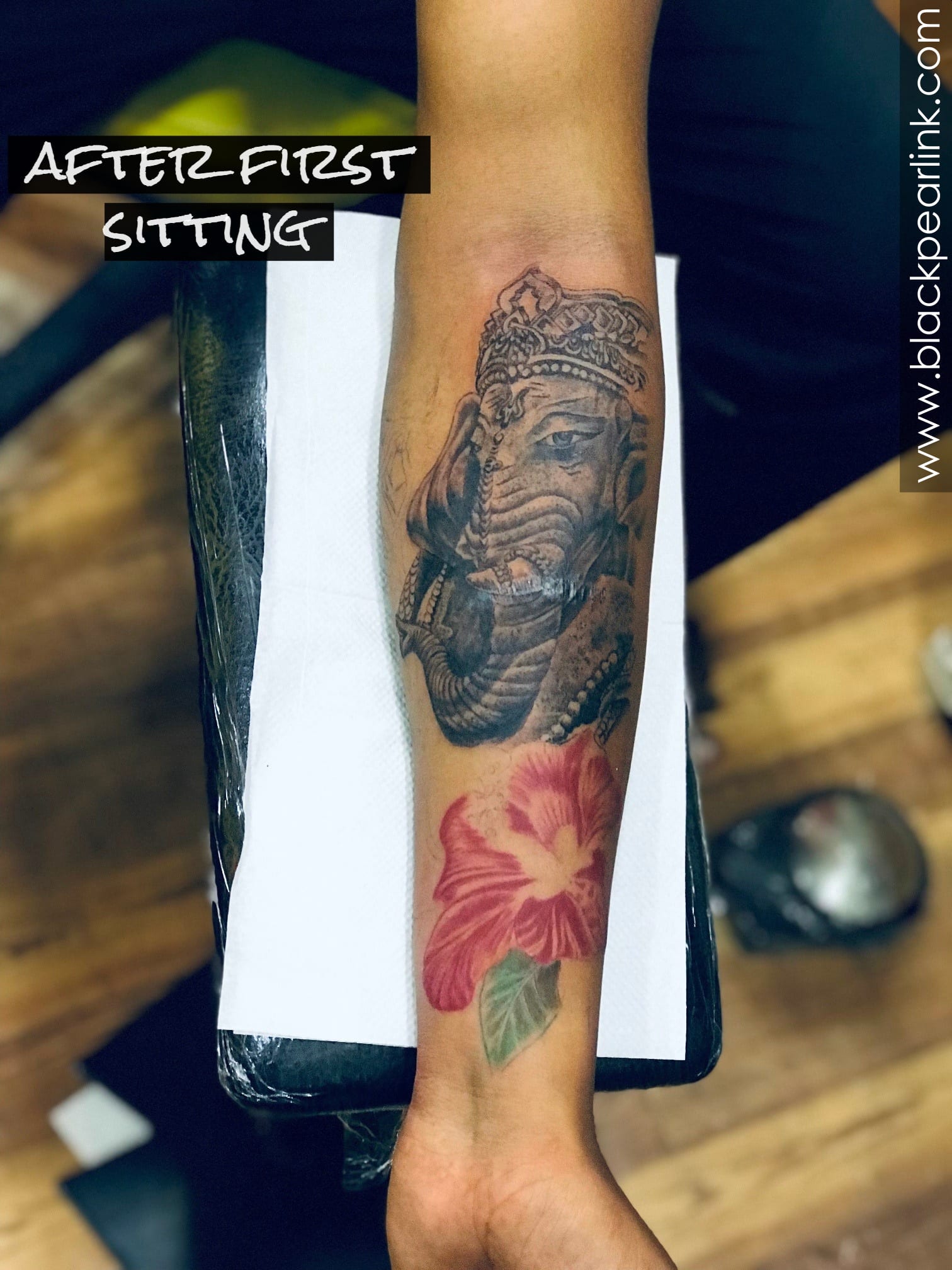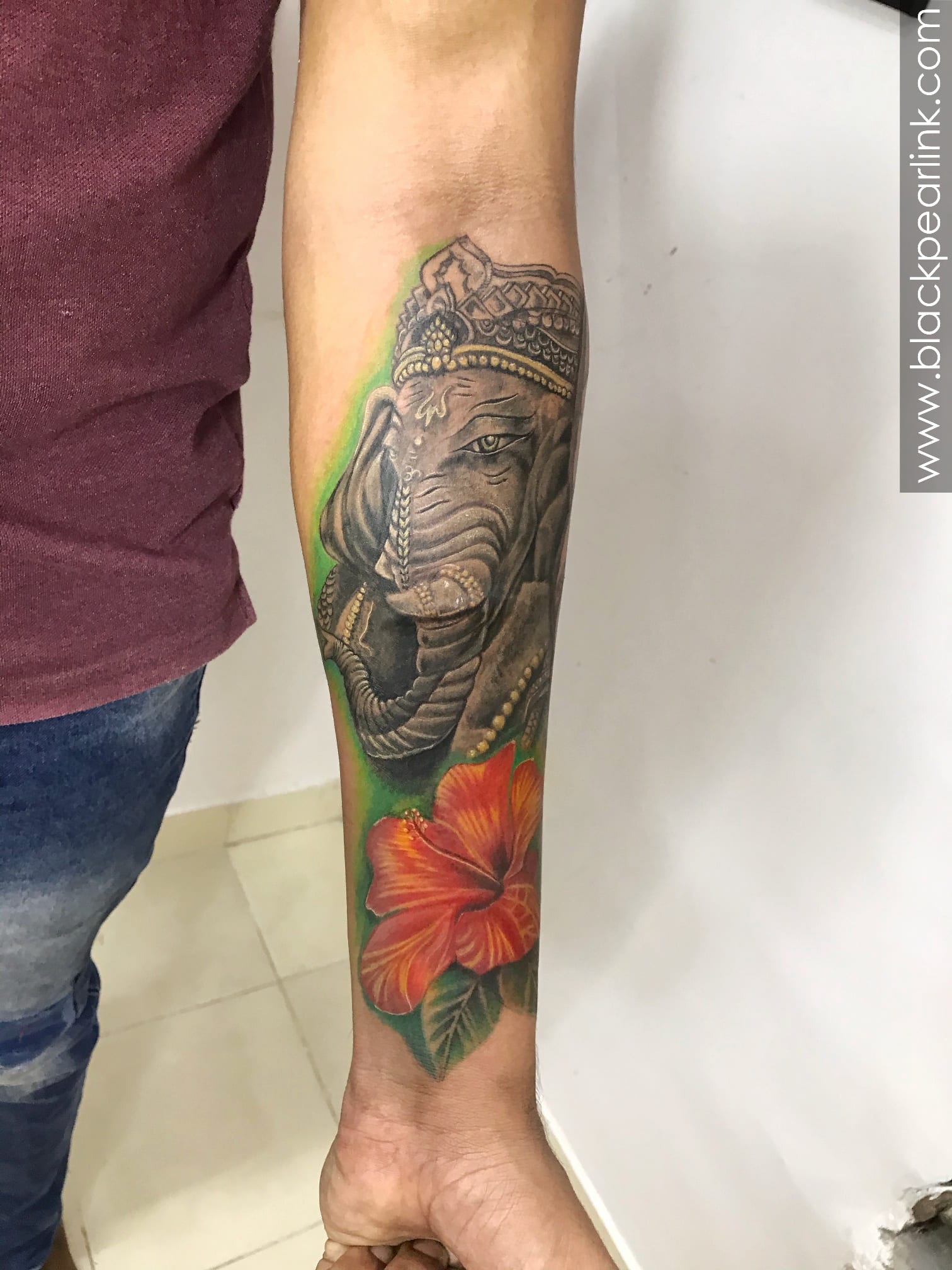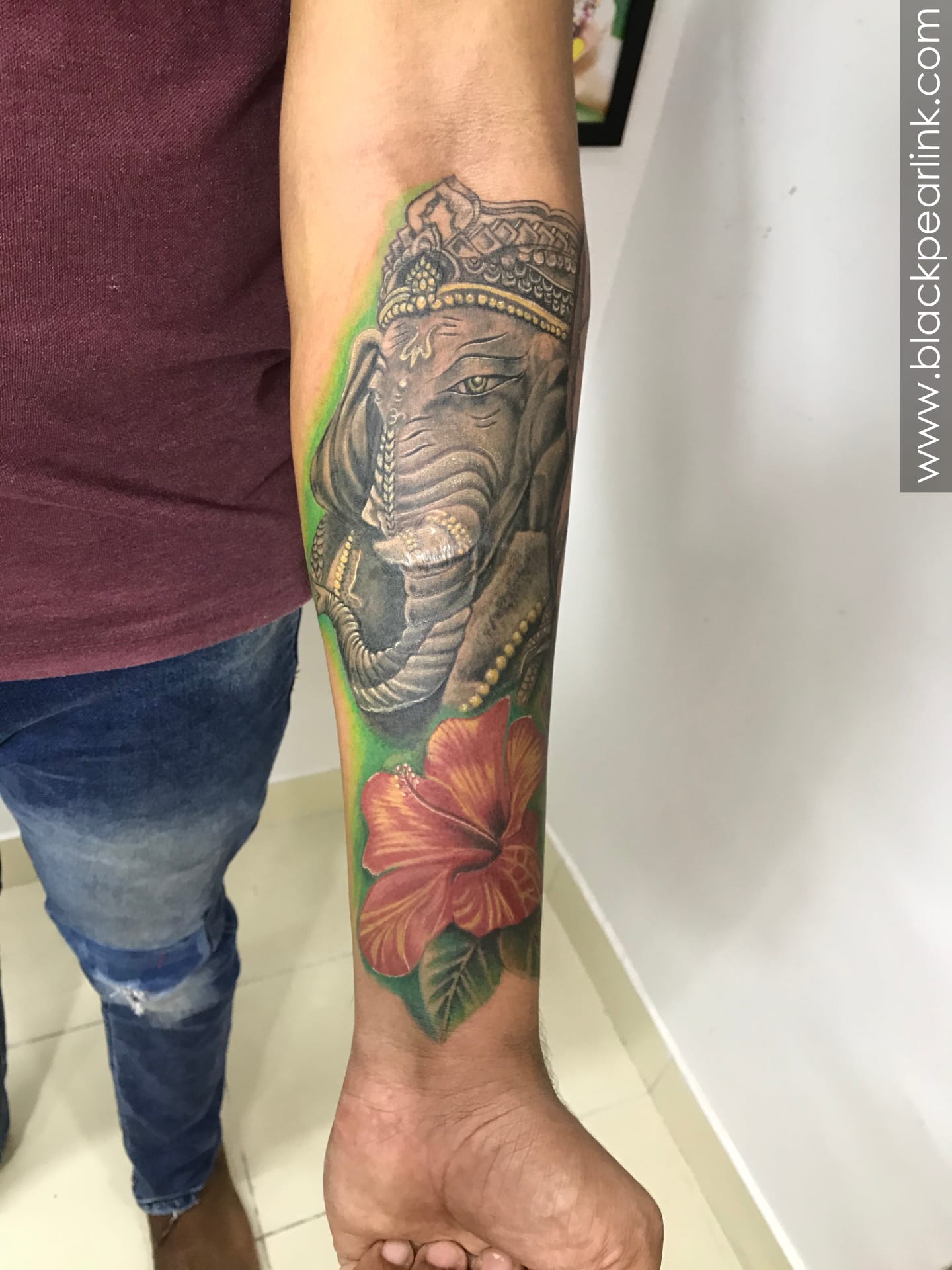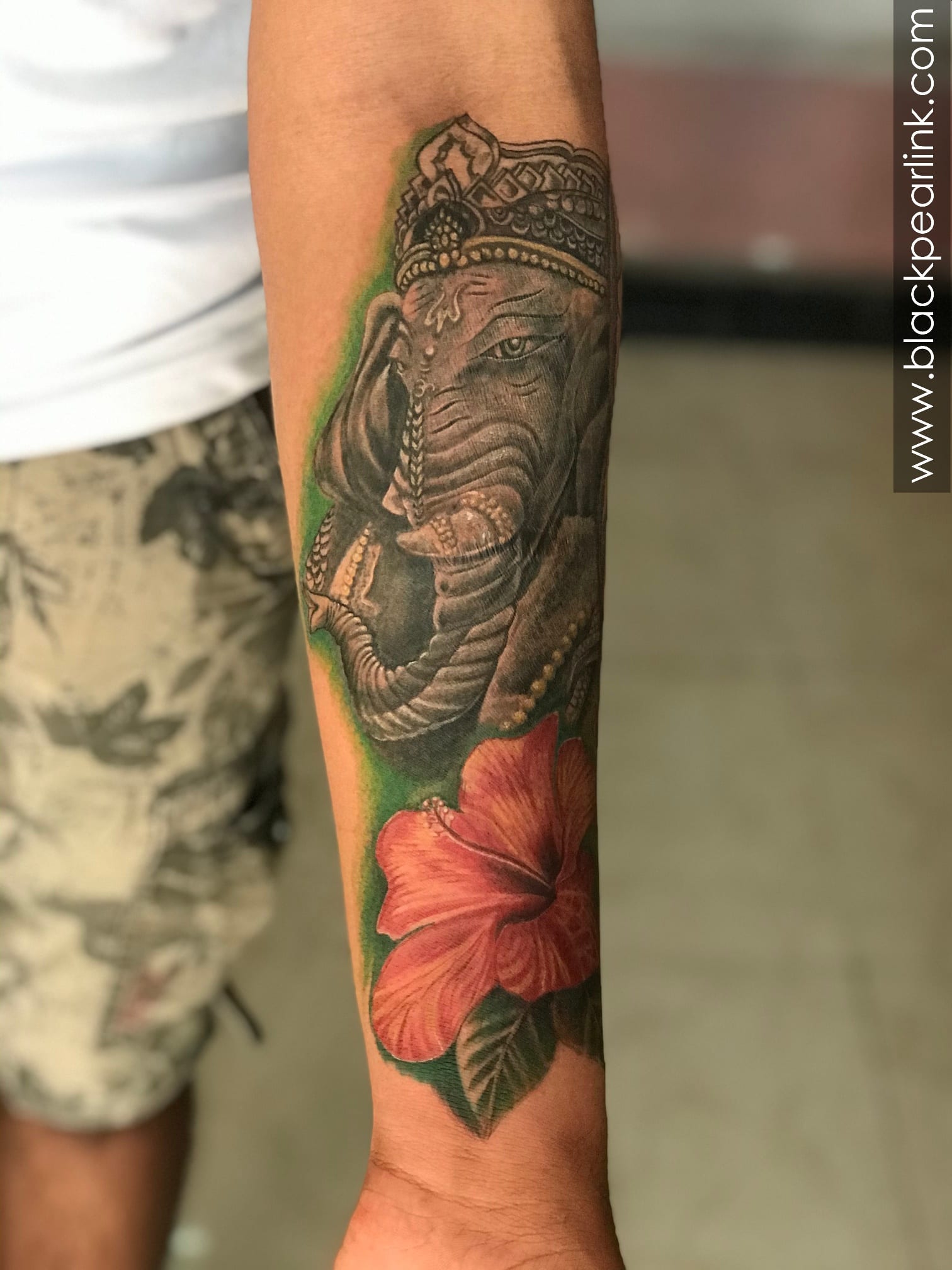 2. Ganesha Sculpture Tattoo on Biceps
This one is a lord Ganesha sculpture tattoo. The client is a devotee of lord Ganesha and wanted a Ganesha on his biceps. In Hindu mythology lord Ganesha is the god of positivism, success and is considered a destroyer of obstacles. People who make Ganesha tattoos believe that it brings prosperity and helps remove the negative patches from life.
We used some references available on Google to make this tattoo. If you zoom in, you will see many minor details in it. This is completely done with black & grey shades and took around 7-8 hours to complete. The final outcome was just superb and the client was happy that we exceeded his expectations. We also got many compliments from other customers on this gorgeous tattoo.
3. Ganesha tattoo with Shree Ganesh Mantra
This is the very first tattoo we did in our new shop in Goregaon, Mumbai. What better request we could have had to kick start a new journey than a tattoo of the lord of auspicious beginnings!
Client initially just wanted to get Ganesha Mantra written on forearm. However as the discussion went on, he felt that what he really needs is the Ganpati Bappa himself with his mantra. We could swiftly complete it in couple of hours as its a fairly small tattoo. Honestly, it was just an amazing day for us as well as the client.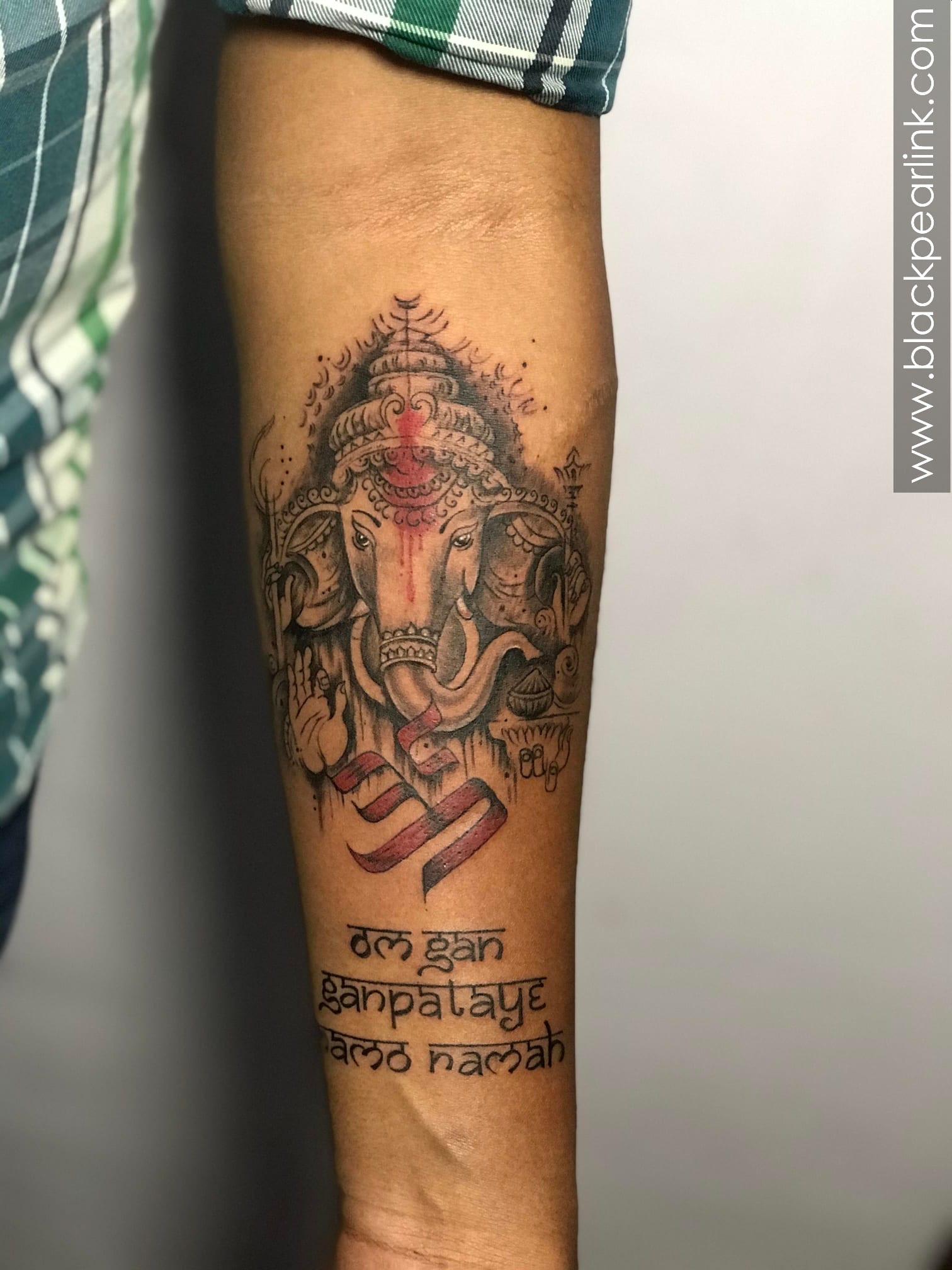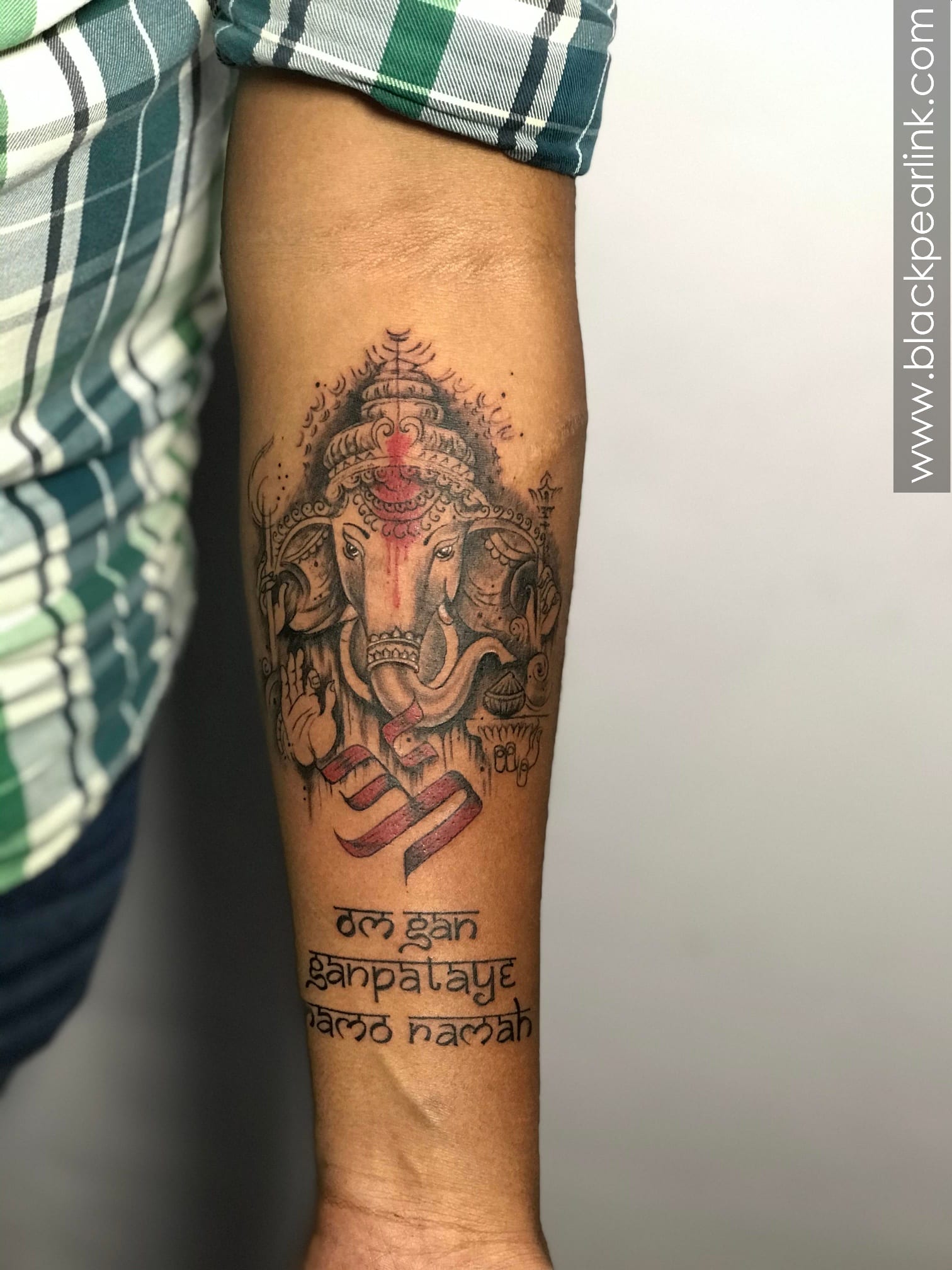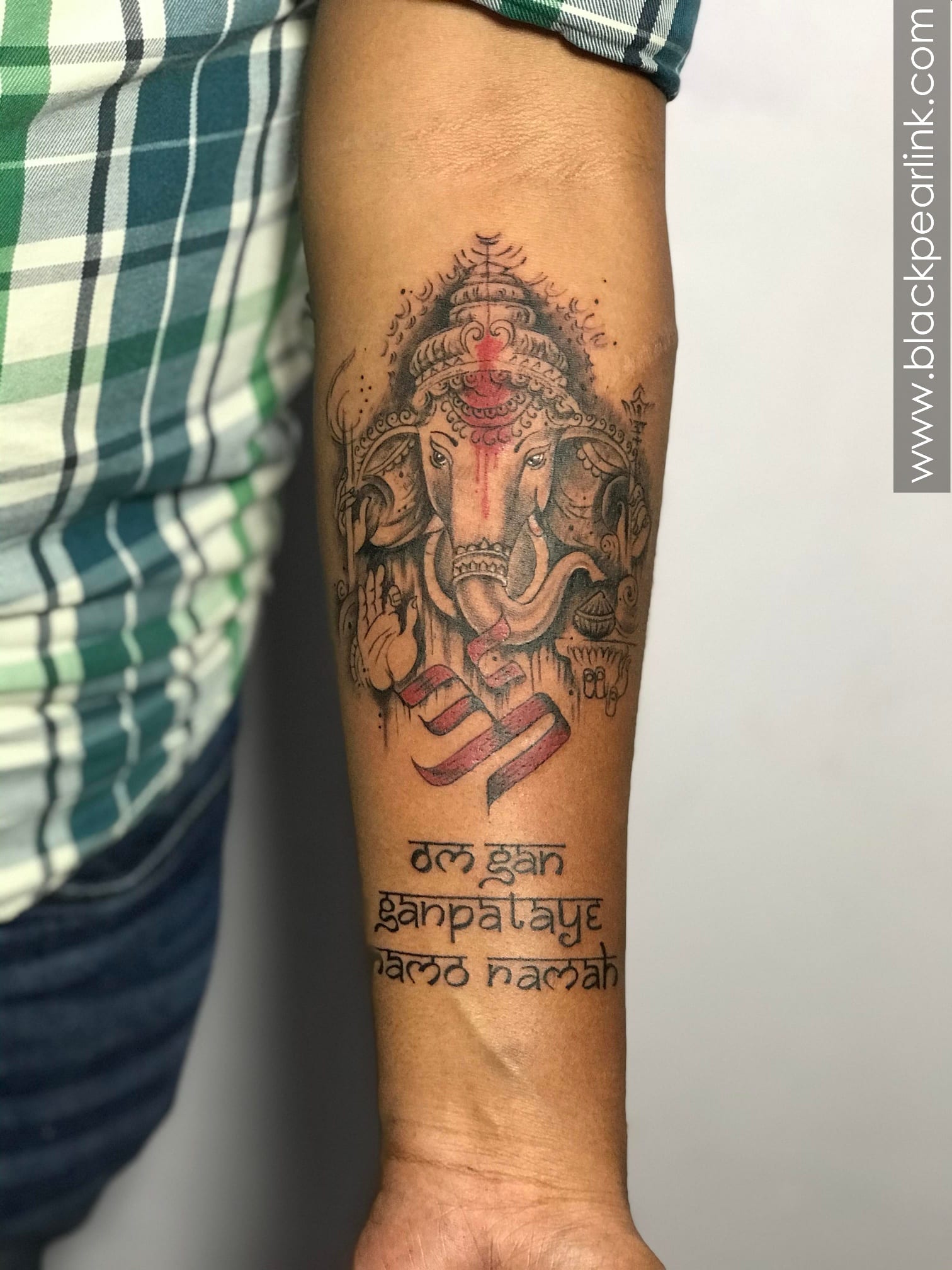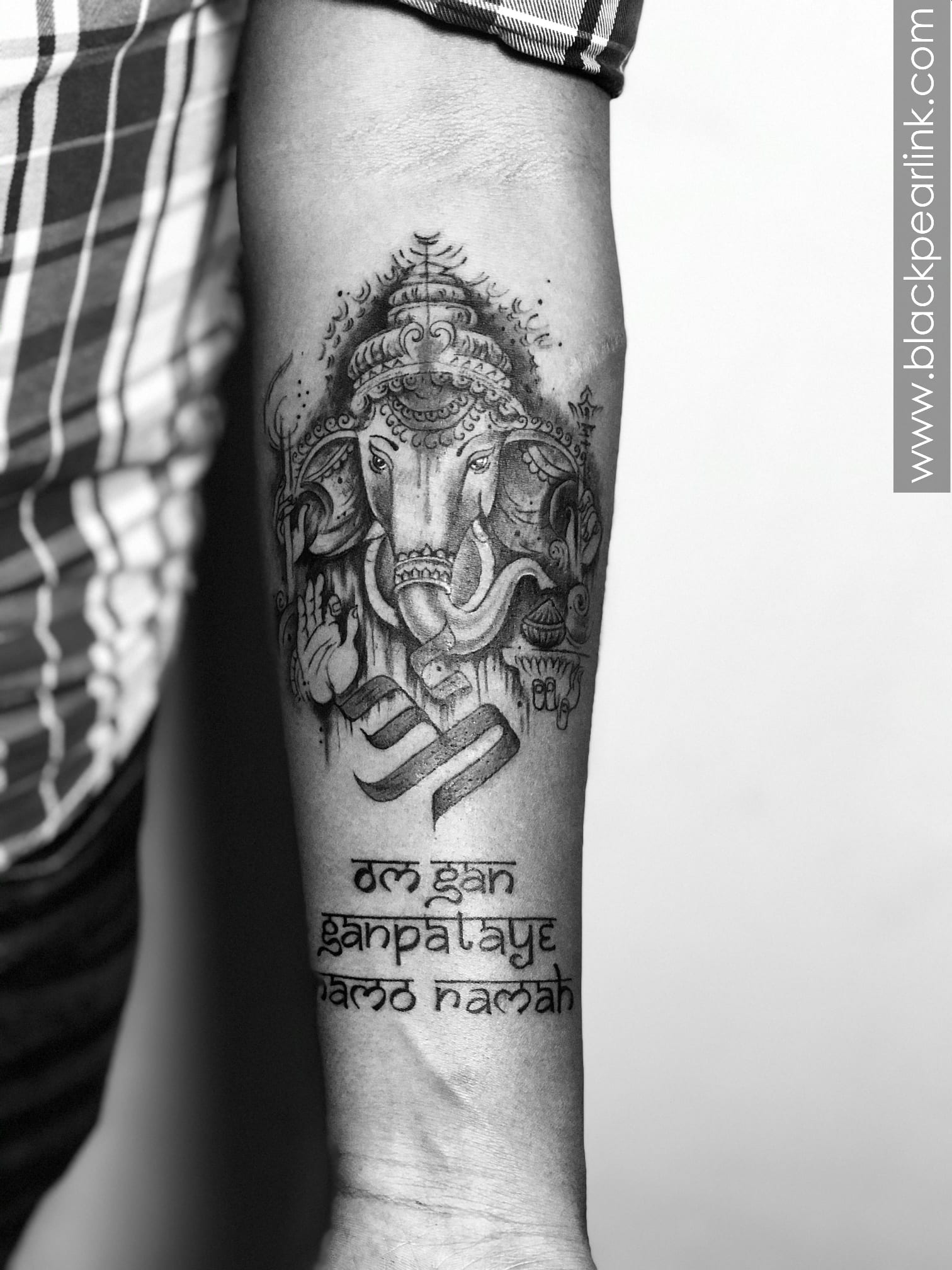 4. Coverup Tattoo with Aesthetic Elephant
To be clear, this is not a Ganesha tattoo. But the construct is same and its one of our favorite cover up work, hence included in this list. Earlier this client got a Jesus tattoo made from a beginner artist who did this as a practice and the result was terrible. We at the Black Pearl Tattoo Studio advise everyone that your skin is too precious and you should not give so much as an inch of it to anyone who doesn't know what they are doing. If you want to get inked then go to a reputed Tattoo Studio which might be slightly expensive, but the outcome would always be worth the spend.
This earlier tattoo was a complete mess and we tried almost 20-30 concepts before finalizing this Elephant with Mandala concept. It took us around 8-10 hours to finish this tattoo and we have used black and grey shades here. We are glad that we could completely hide the previous tattoo and manage to make this gorgeous elephant look alive.