Buddha is an enlightened being whose teachings go beyond any boundaries drawn by humans. More profoundly Buddha is a state of consciousness where we all aspire to reach.
Coming back to tattoos, Lord Buddha designs are one of the most sought after spiritual tattoos. The tranquility on his face is unmistakable, whether it's a small Buddha tattoo or a full sleeve. Here are some inspirational ideas that we have worked on for our clients.
1. Realistic Buddha Tattoo with Extended Design
This is a realistic Buddha tattoo with an extended design. As expressed before, Buddha tattoo has to be one the most popular tattoo choices in Asia. This client wanted a calm and composed tattoo of the enlightened Buddha with a lotus flower. We researched this idea and came up with this design.
This is one of our favorite Buddha tattoos done at our studio. The calmness on his face is enchanting. We have also added a Buddhist monastery at the bottom. Later after a few months, the client wanted to extend the design on the backside with the Japanese Koi fish (carp fish). Koi fish tattoos are a symbol of good luck and prosperity and there is an old Japanese myth that says this fish can turn into a dragon. We have covered the upper arm entirely with this extended tattoo. Here we have used black and grey colours and shades and you can see for yourself the healed tattoo, how beautifully it has turned out.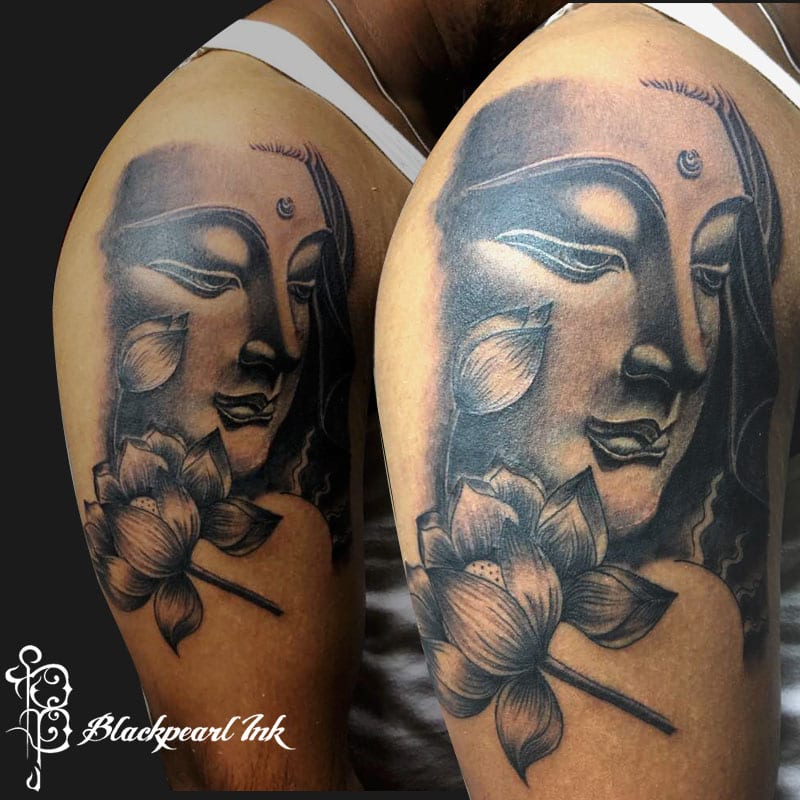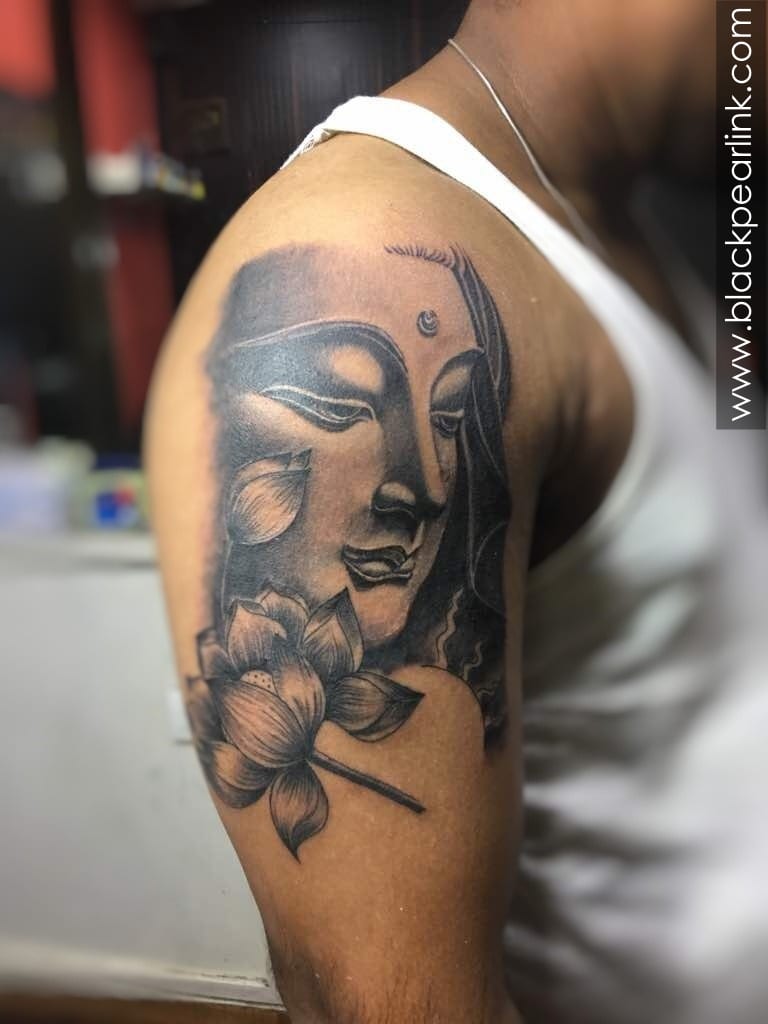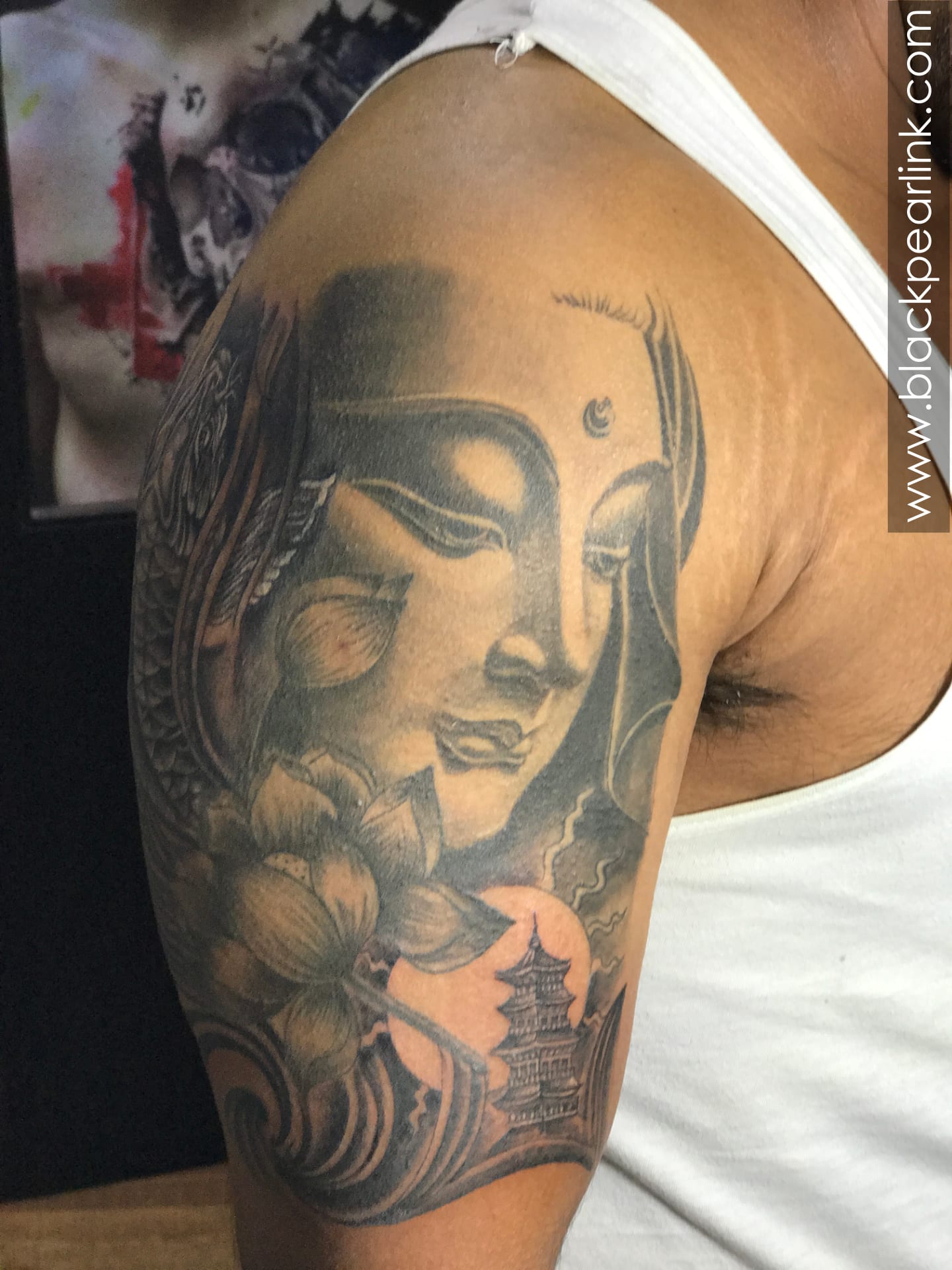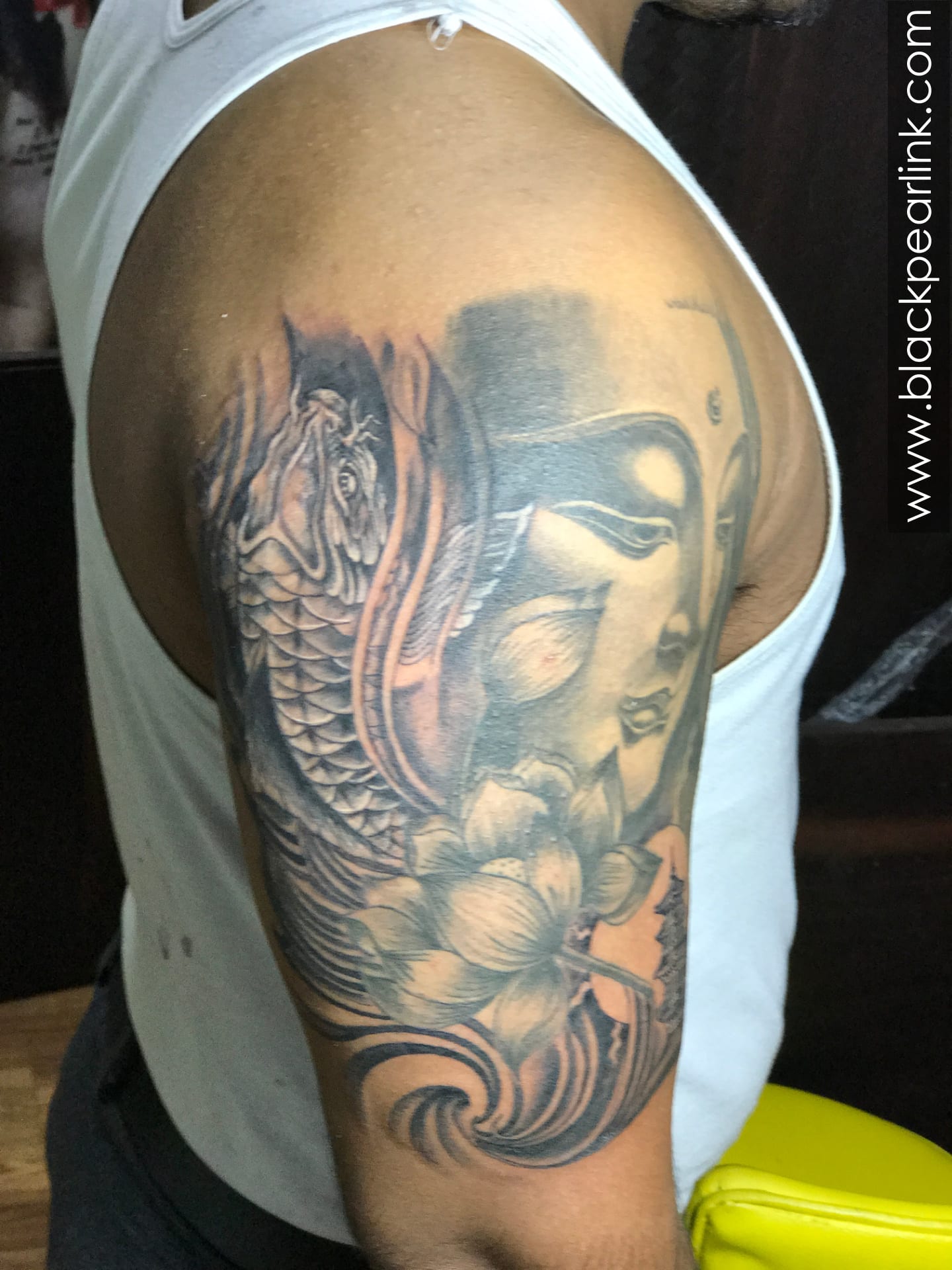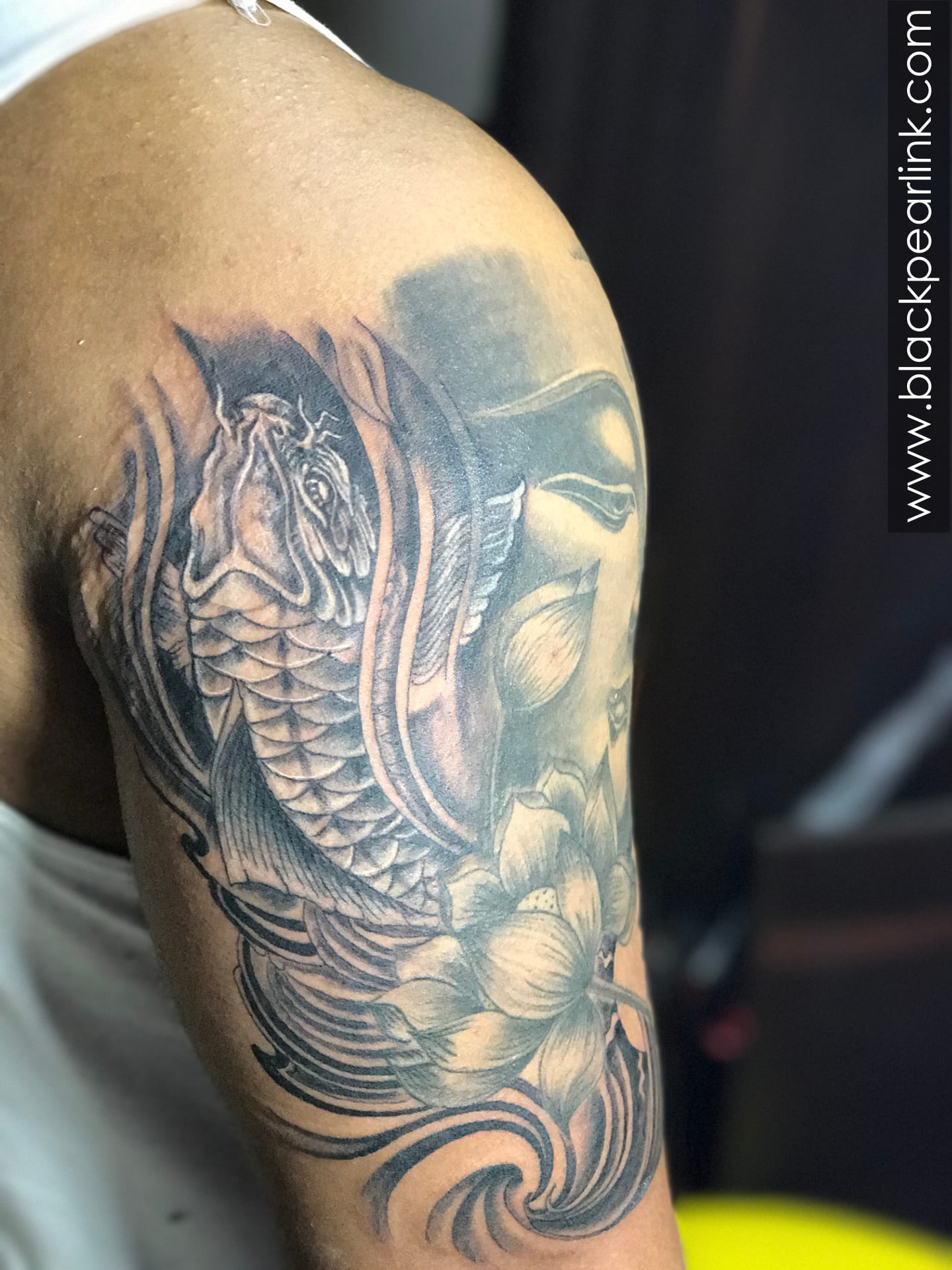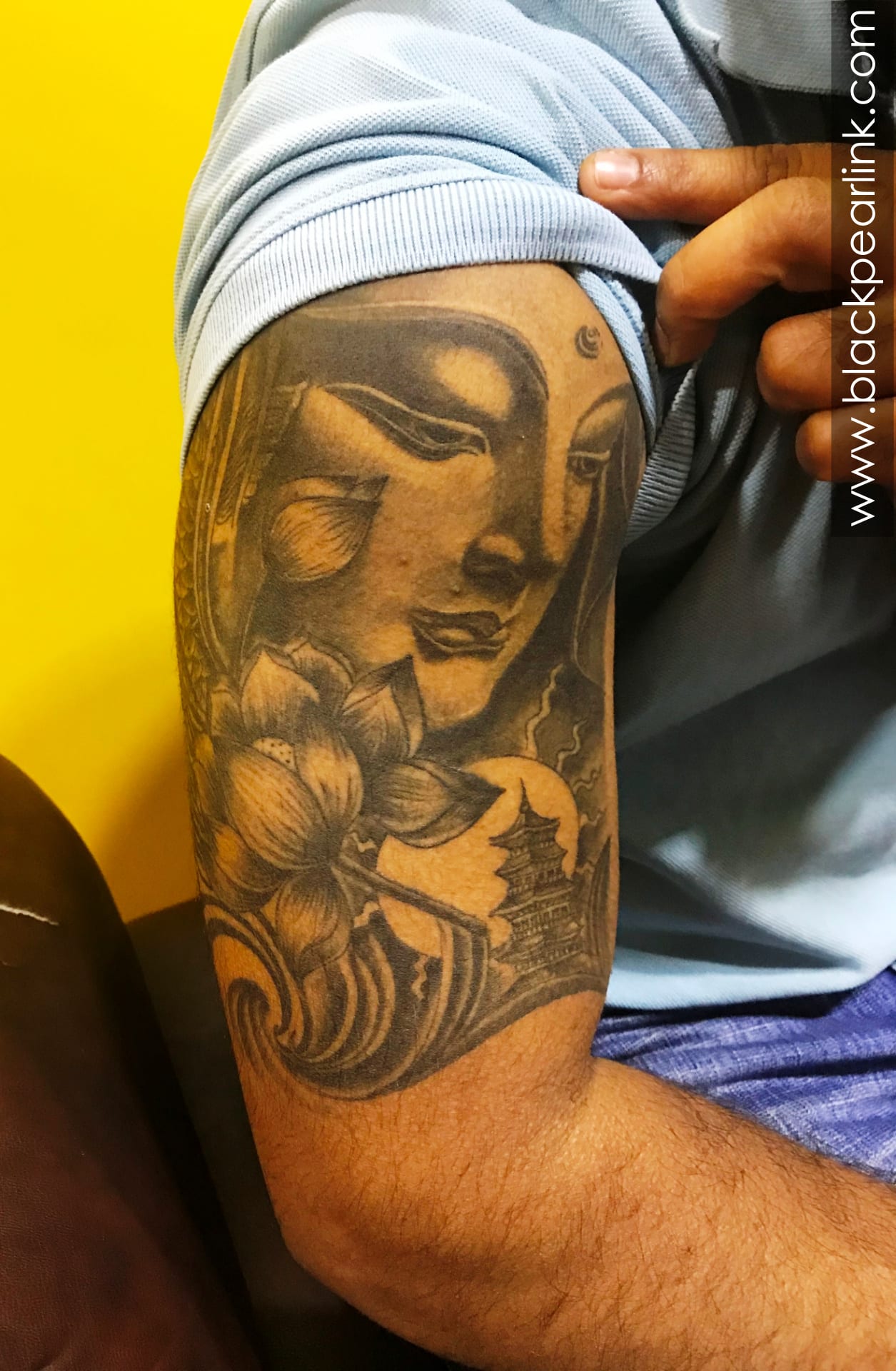 2. Buddha Tattoo in Shunya Mudra
Buddha tattoo in Shunya Mudra is a Spiritual Tattoo with a graceful aura of lord Buddha. Vivid concepts went into getting this tattoo inked on the client's hand. Shunya is basically a Sanskrit word meaning void or emptiness of space. It's a Yoga gesture of hand (hasta mudra) and it is designed to decrease the space element (akasha) within the body. It's a therapeutic mudra and is considered to have healing effects on the body and the mind.
This one is again a Realistic Tattoo/Realistic Sculpture Tattoo. Black and grey shades are used in inking this tattoo and the design is widely known for Peace, Calmness and Healing. It is believed that getting this tattoo inked on the hand helps in making the person calm. This tattoo has got minute details and really portrays the hard work and determination of the artist here at the Black Pearl Ink, Tattoo Studio.
3. Buddha Sculpture Tattoo on Forearm
This is a Sculpture Tattoo of lord Buddha. Here Buddha is shown in a sitting meditation pose known as the Spreading Energies Pose and he is symbolically shown to spread out the marijuana leaves. The marijuana plant is known for its medicinal value and it calms the mind and provides peace.
This tattoo is all about good vibes, peace and calmness. This kind of tattoo form is known as a Realistic Tattoo or Realistic Sculpture Tattoo. Body art realism is highly fashionable nowadays. This tattoo appeals to anyone who has a unique eye for detail. The contrast of the black and grey colour and shadows brings out the real beauty. It shows the vivid imagination of the artist and his excellence in capturing the essence of the Buddha Sculpture. It took around 2-3 hours to get this tattoo inked on the client's forearm.
4. Cute Little Buddha Tattoo on Finger
This is a cute little Buddha tattoo inked on our client's ring finger. Any professional tattoo artist would suggest you to not get any tattoo done below the wrist as below wrist tattoos fade away very easily and often are completely wiped out. When you do tattoos on such places then there is a possibility that you'd require touch ups quite a few times to some parts of the tattoo or to the complete tattoo. We advised the same to our client but in our studios he saw the image of one of our tattoos done on the finger and he insisted on getting the same.
We managed to make this little Buddha portrait with very fine detailing in the face and hair. We have used black, grey and white colours. Of course we have to be extra careful while inking on fingers and luckily it just needed one additional touch up. The final tattoo came out just superb and our client was happy with the work.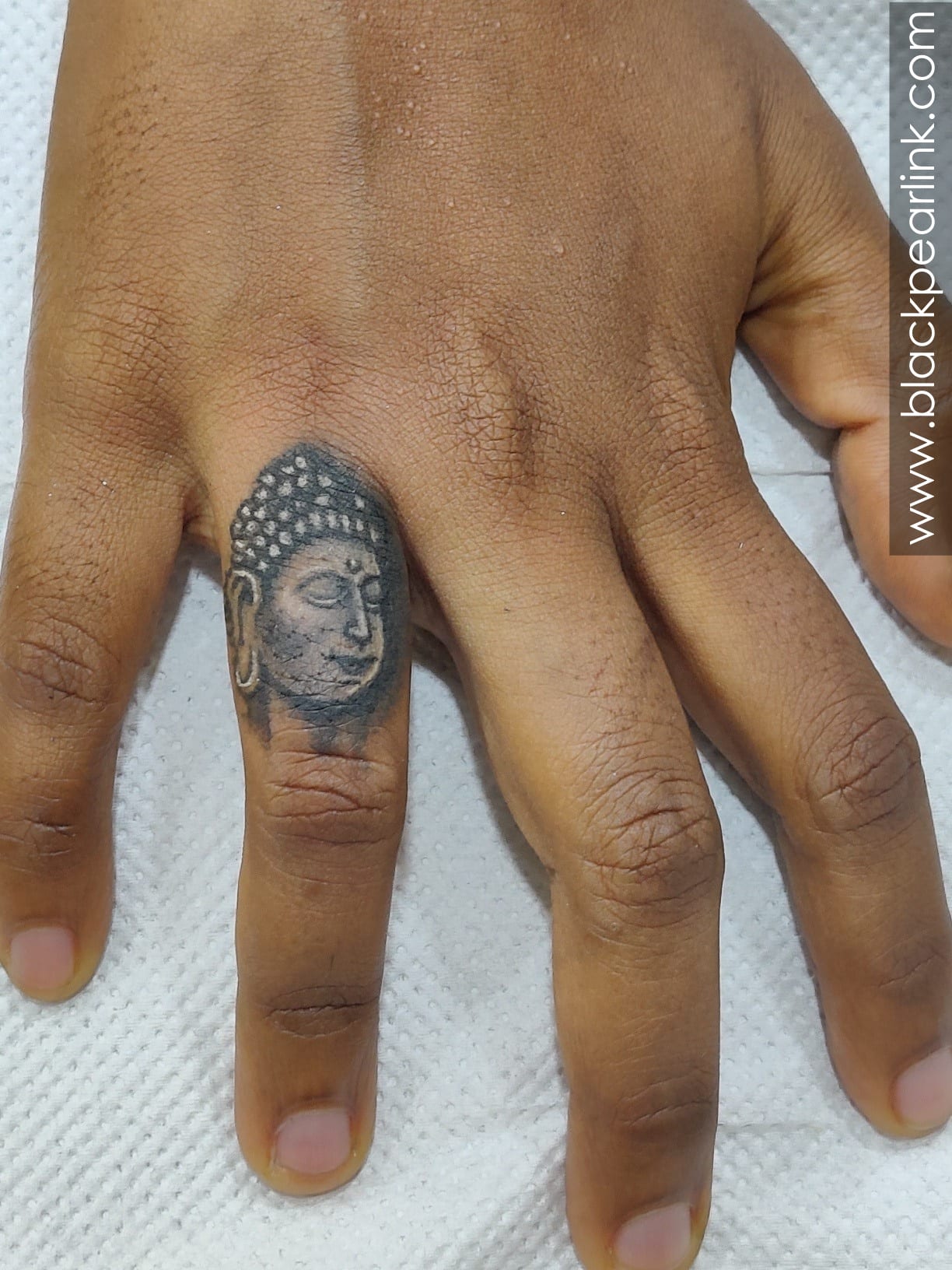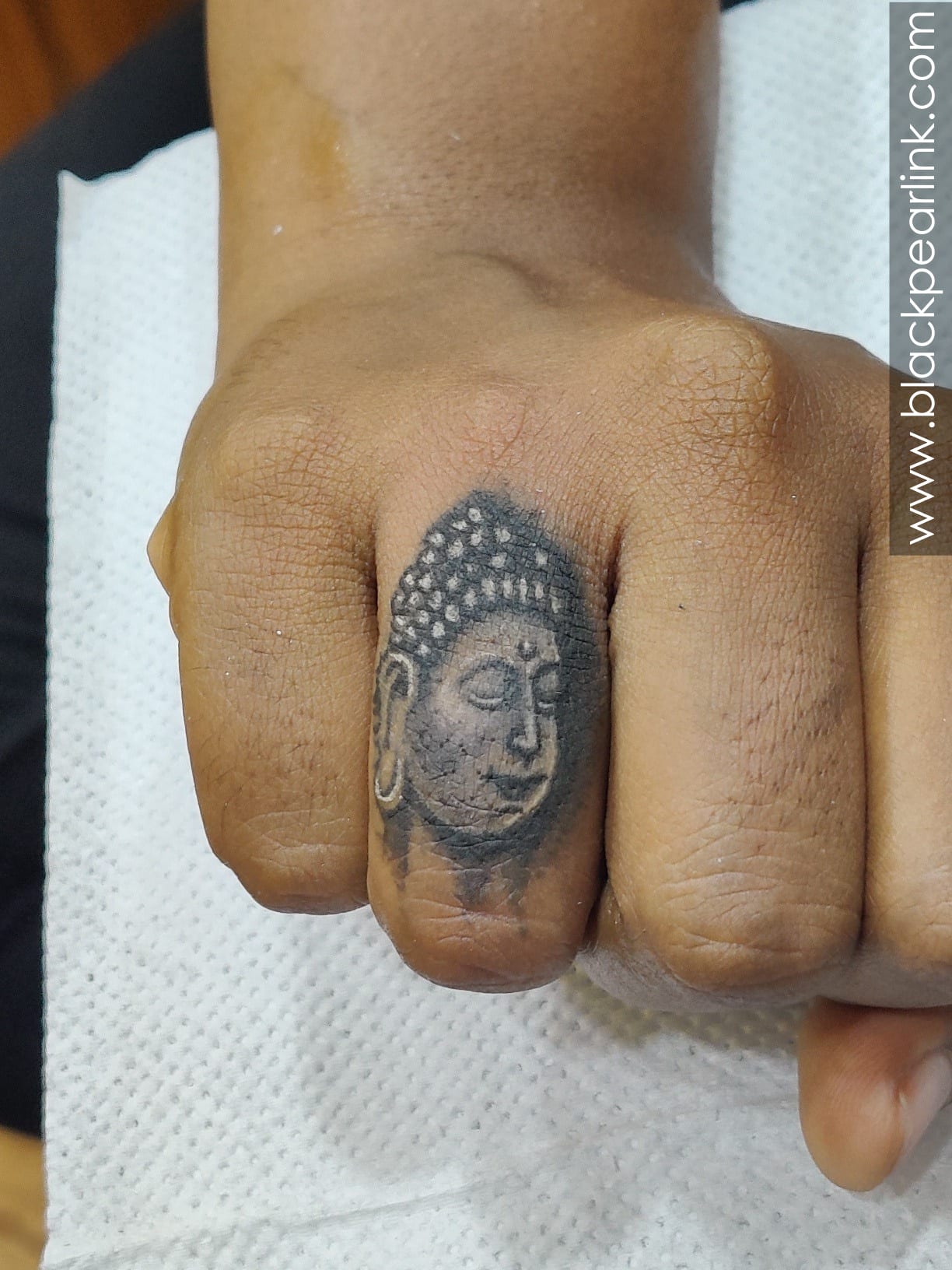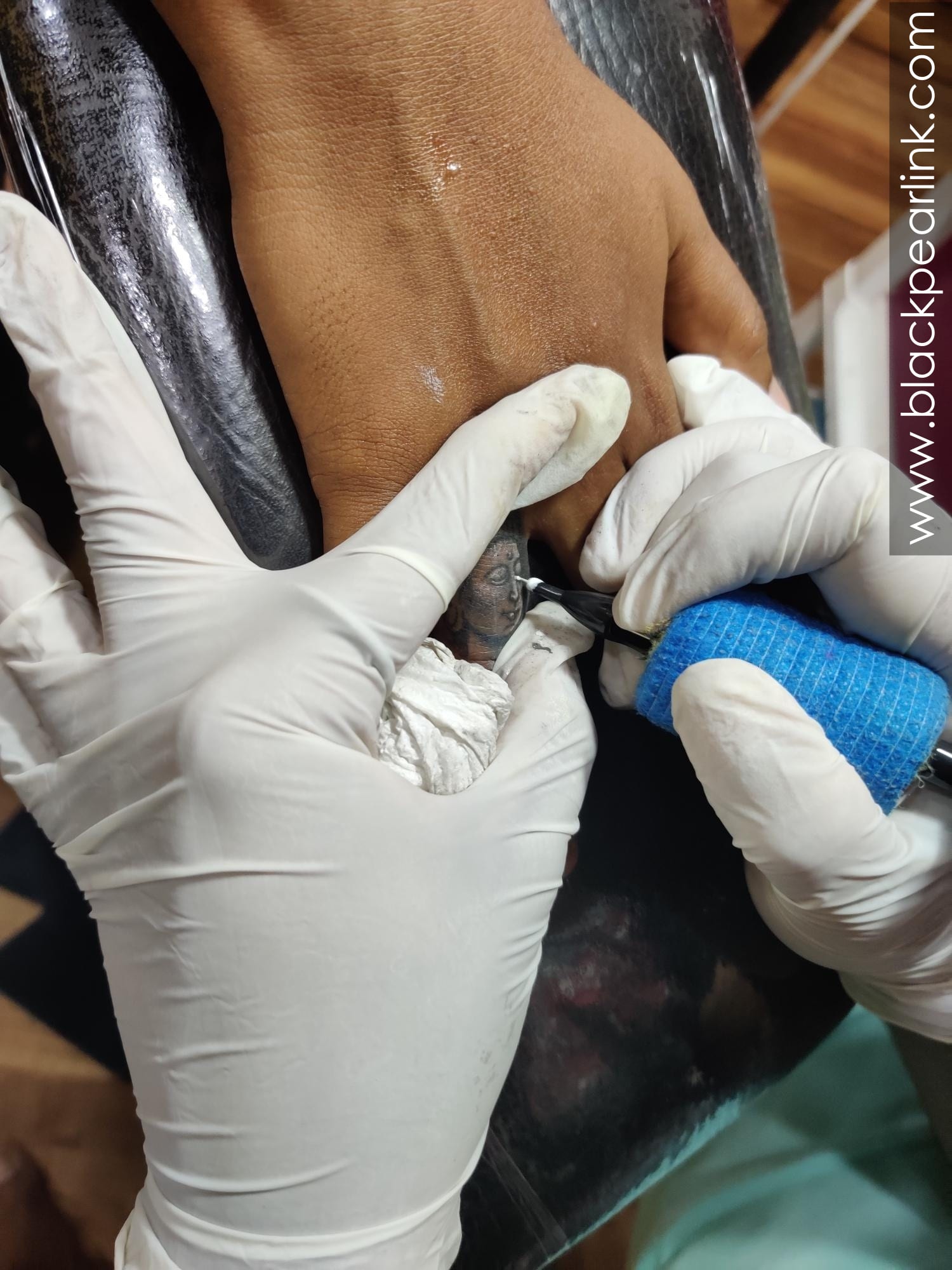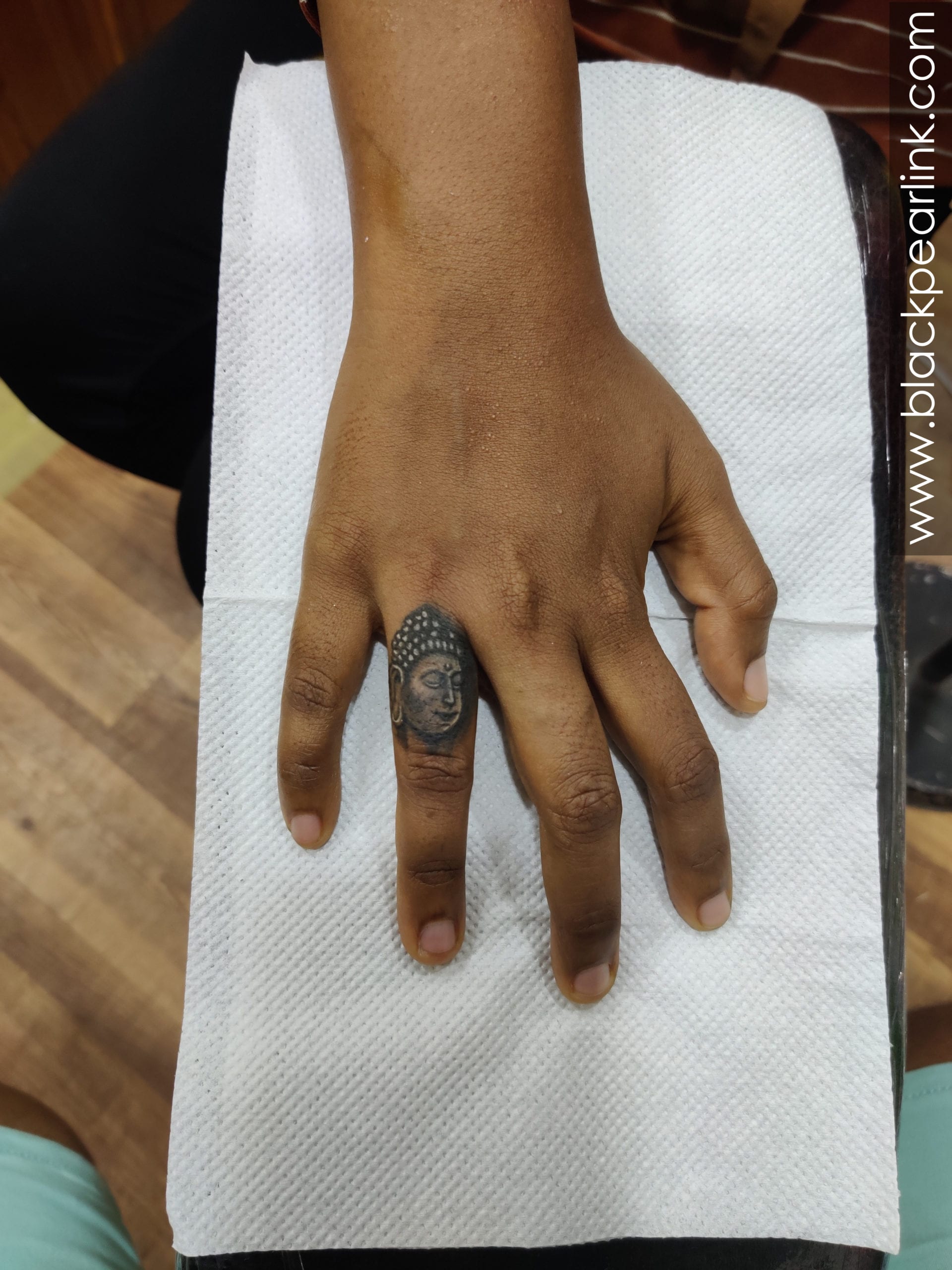 5. Cool Buddha with Headphone
This is totally a new and indeed a cool concept. The client wanted something unique and had this idea of a tattoo of lord Buddha with headphones. So our artist customized this design around the idea. The meaning of this tattoo is that when you meditate, you might hear the outside voices but you're in a deep concentration with your soul so those distractions have no effect on you. It depicts your inner music, inner sound and engineering.
We have inked this on the client's forearm. We used black & grey inks with shading and dot patterns. This concept based tattoo can also be categorized as Realistic Tattoo/Realistic Sculpture Tattoo. Buddha here represents peace and calmness of meditation. This tattoo gives a message to focus on your inner journey and be nonchalant to the noise outside!