Wings tattoos represent the concept of freedom, the ability of an individual to break free of their limiting belief systems, and fulfill their potential. They are undoubtedly one of the most beautiful designs in tattoos.
Female clients generally choose to have small wings tattoo on forearm, back or even neck while guys tend to go for larger wings tattoos that spread across the arm and back. Here are some interesting tattoos of eagle and angel wings done at Black Pearl Studio, with their origin story.
1. Black and Grey Wings Tattoo on Half Sleeve
Some tattoos are quite special and this black and grey Eagle Wings Tattoo is one of them. It was made for a very special client who visited our studio from UAE to exclusively meet our artist on getting high references from Google. The actual concern in making this tattoo was the time constraint as the client had to fly back in a couple of days. So we had to complete this tattoo in an unbelievable time frame of 12 hours spread across 2 days.
This is completely a Freehand Tattoo. On the first day we made a freehand outline on the client's back and bicep. On the second day all the shades and outlines were made. It's a big tattoo and was a bit painful for the client especially towards the end but we motivated him to sit through it. The artistic detailing and the neatness of the free flowing hand design of this beautiful tattoo leaves people spellbound. After 2 months the client again visited the studios and then we gave the final black & grey shadings and touch-ups to the tattoo. The client loved it. We'd like to hear your thoughts on this one.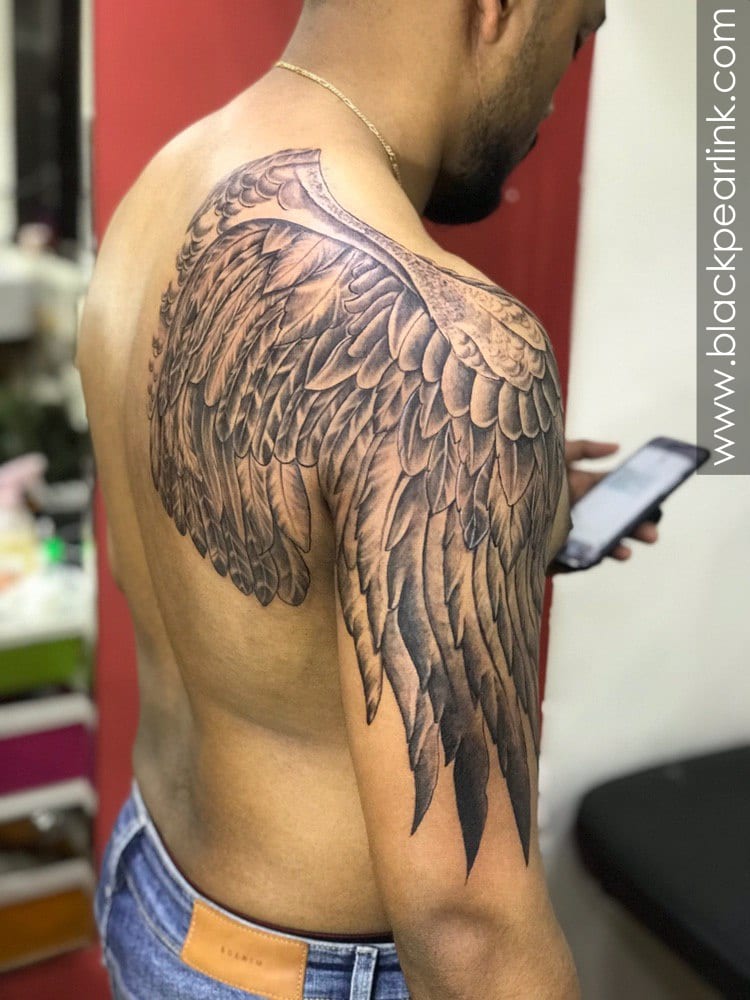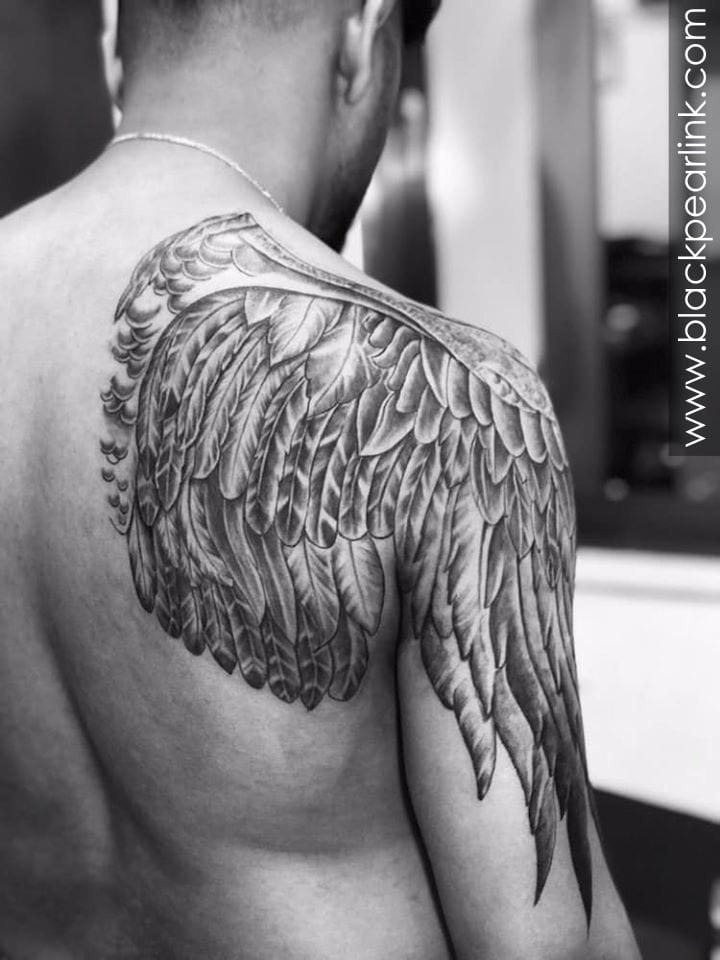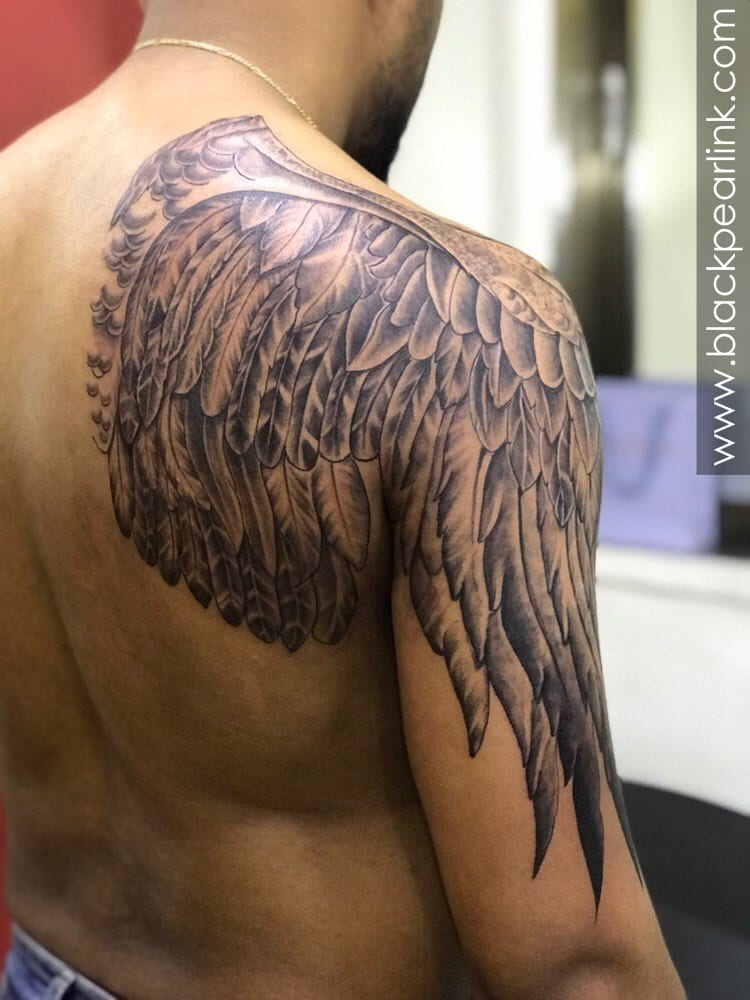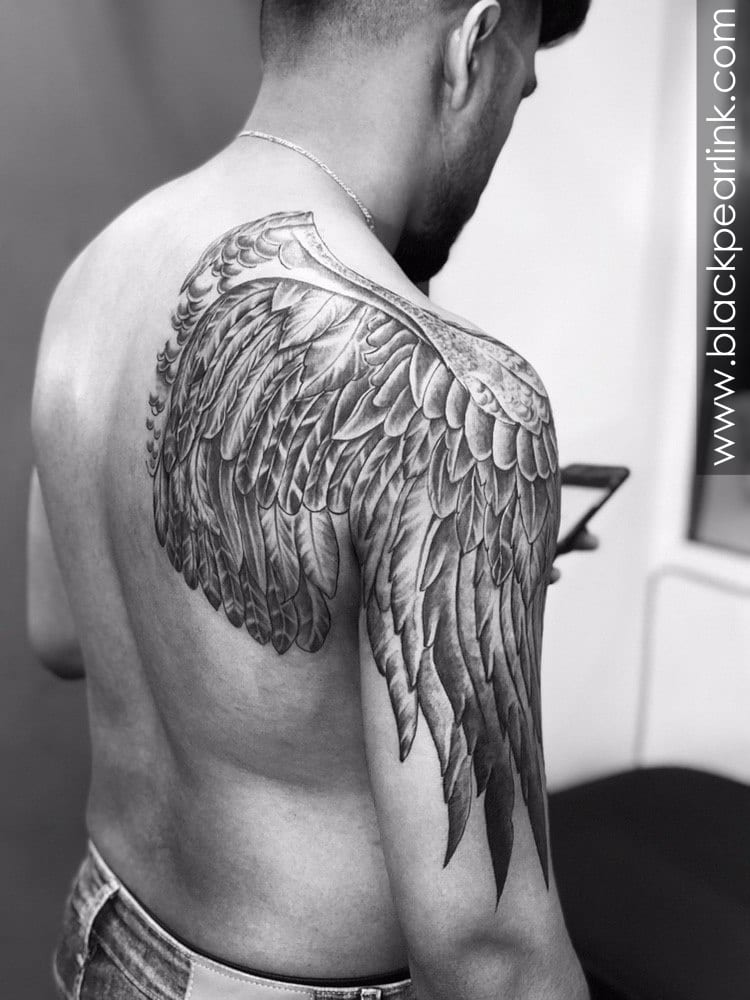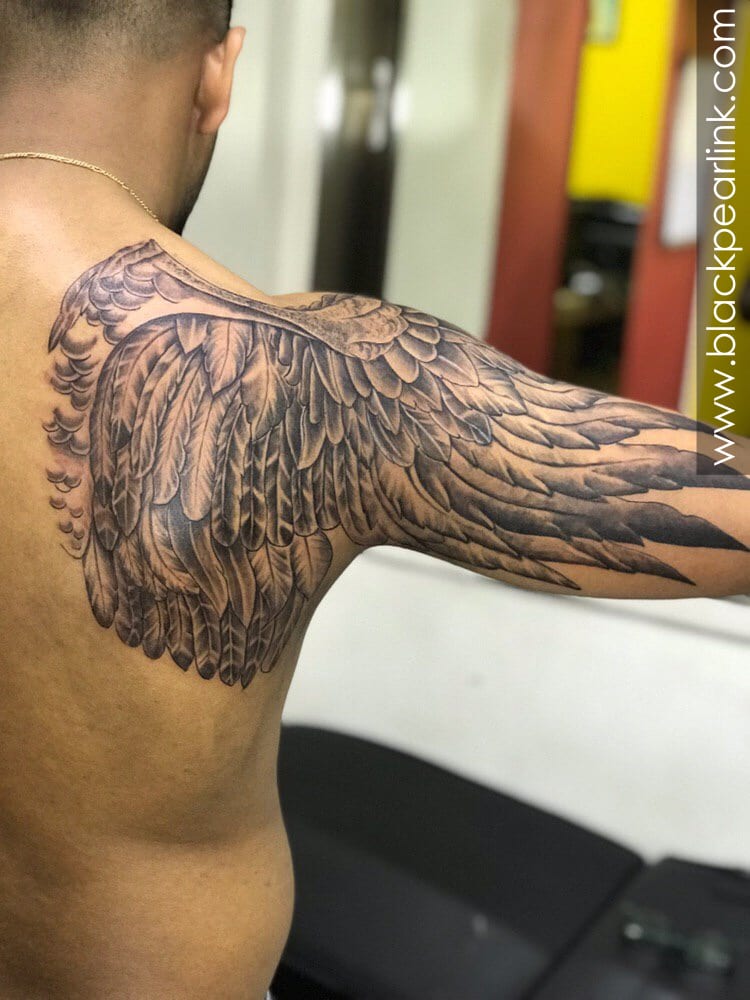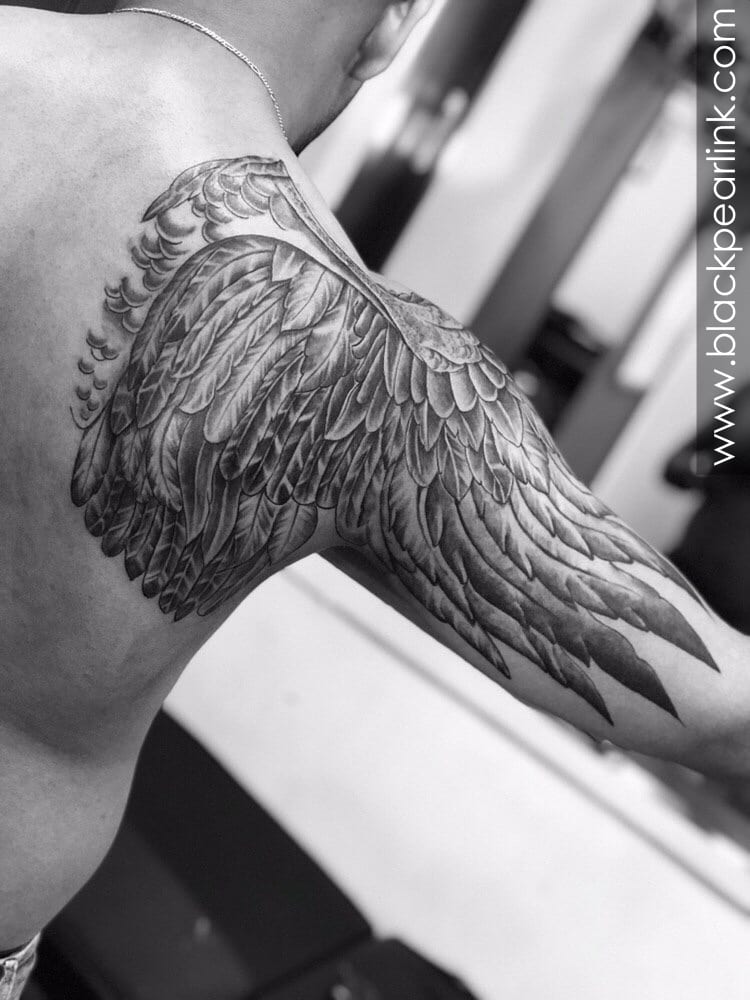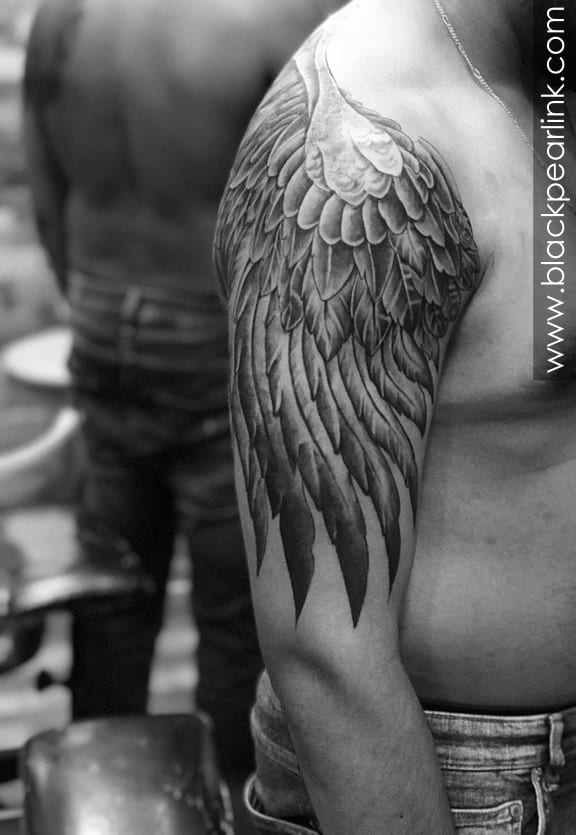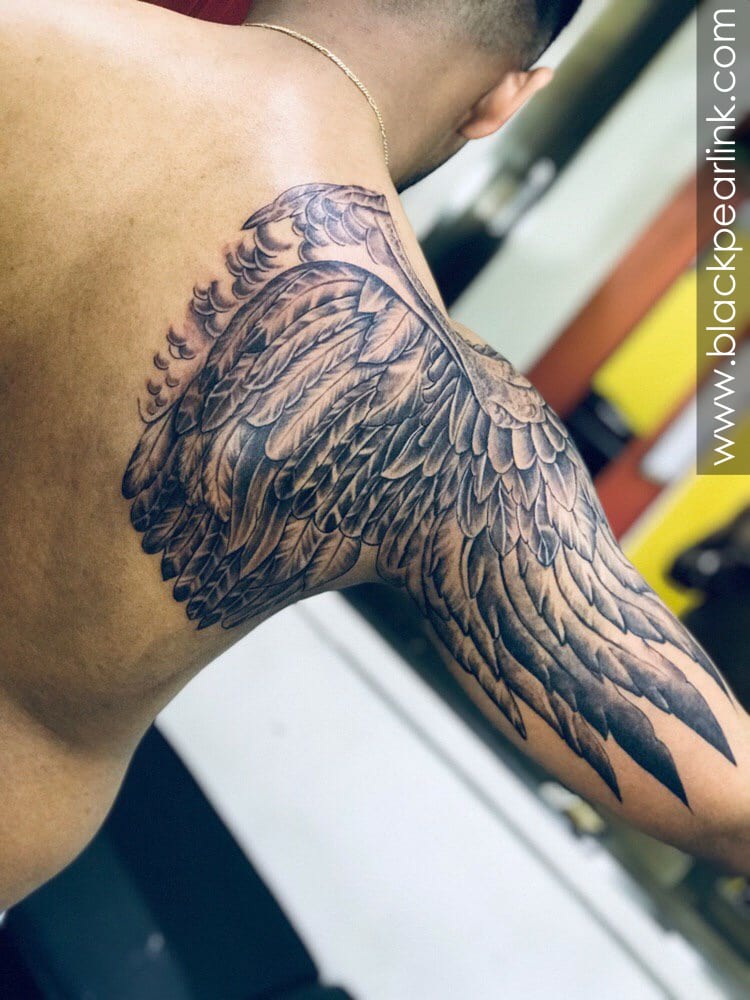 2. Angel Tattoo on Chest
This tattoo was an idea of the client himself as he was a former football player and fitness is something he had always craved while playing. We just extended the original idea further and with a little reference from Google, modeled the angel with a perfect physique and finalized on the geometric effects.
In this beautiful tattoo the spread wings depict the need for speed as well as divine blessings for a sportsperson. The facial features of the angel are not defined here because it was created in the image of the God who is formless. Sharp geometric patterns and shading is used here with subtle detailing which really brings out the essence of this tattoo.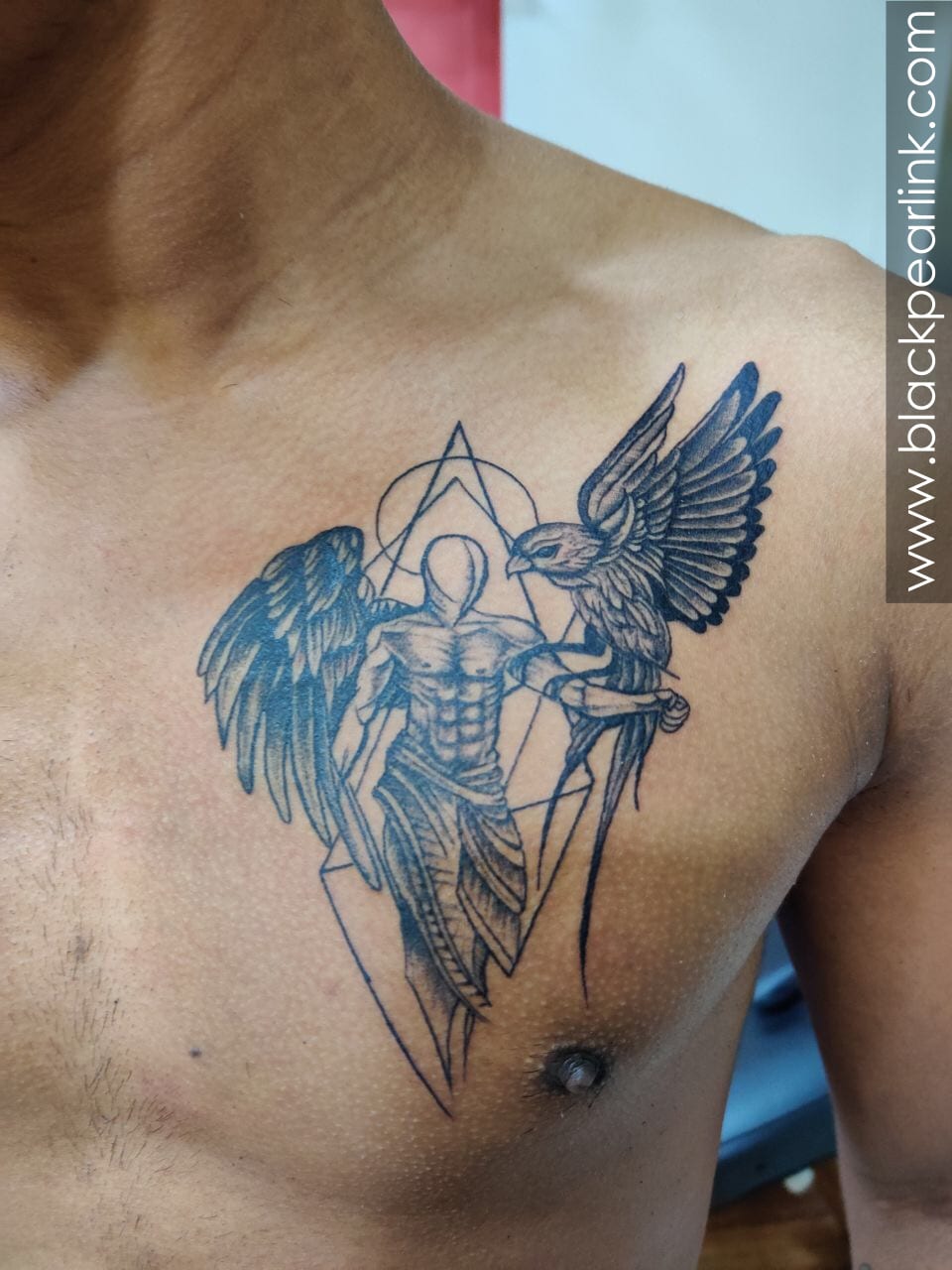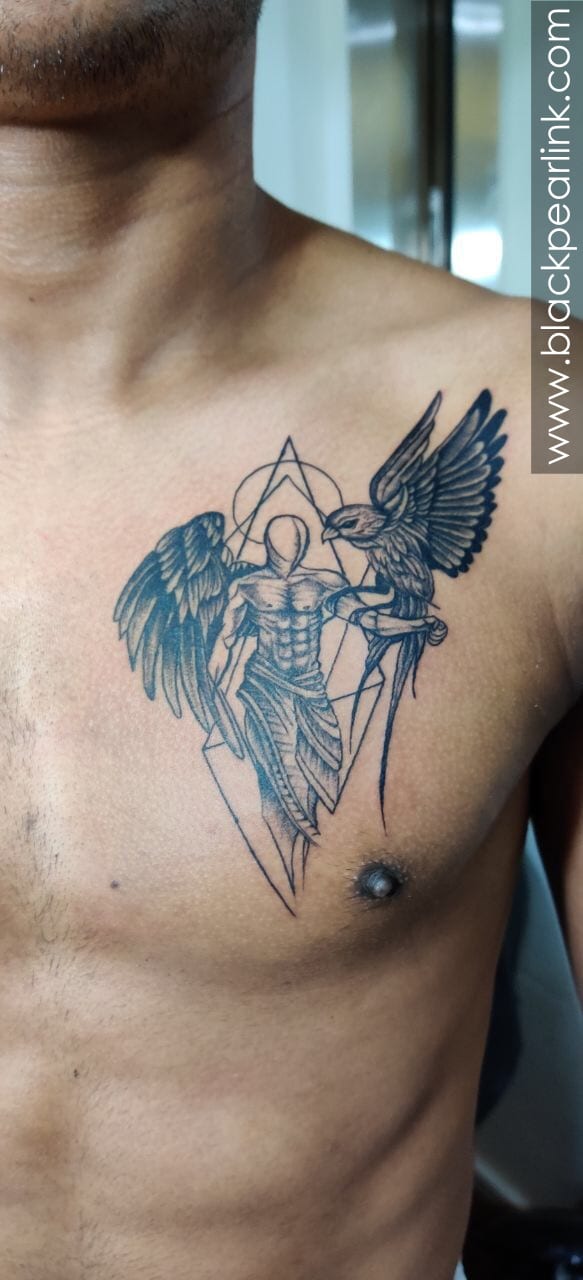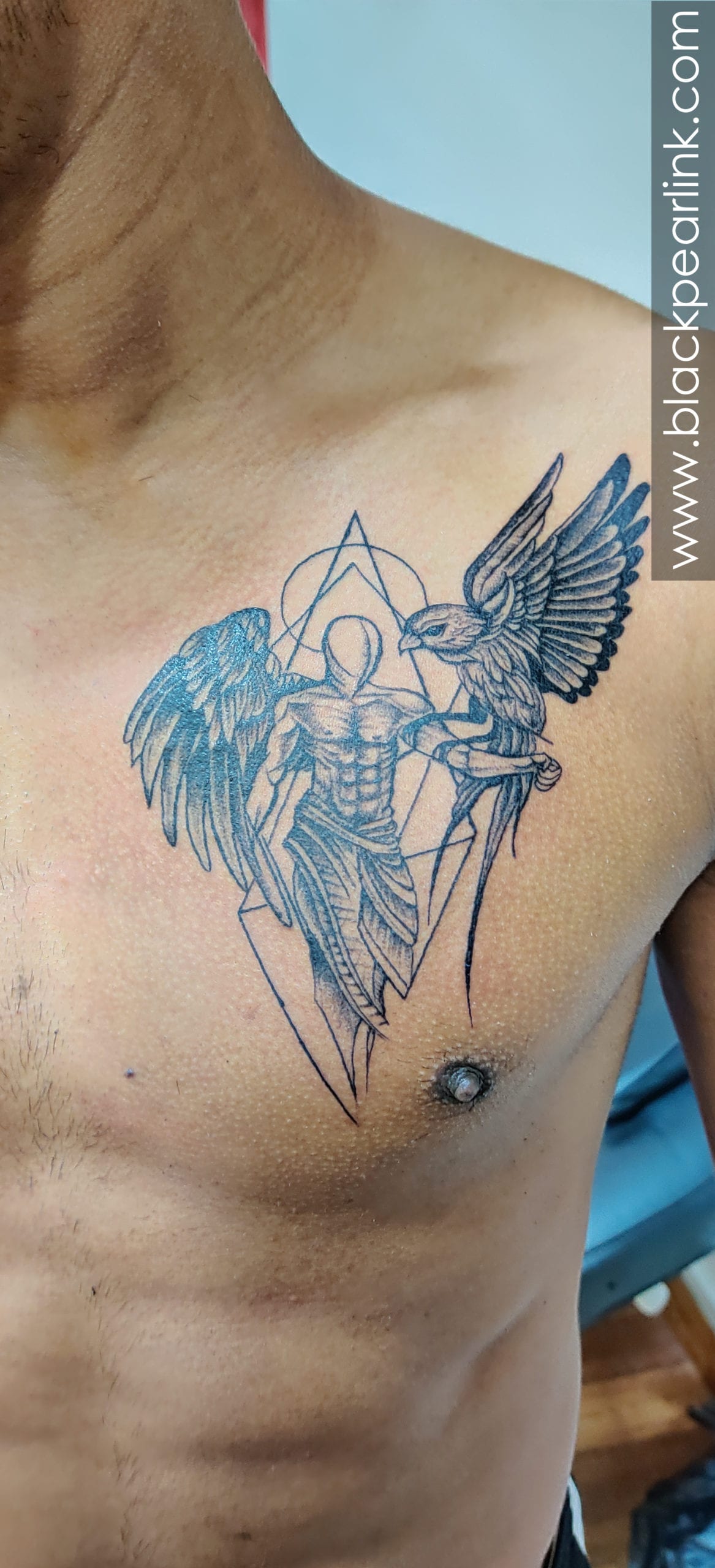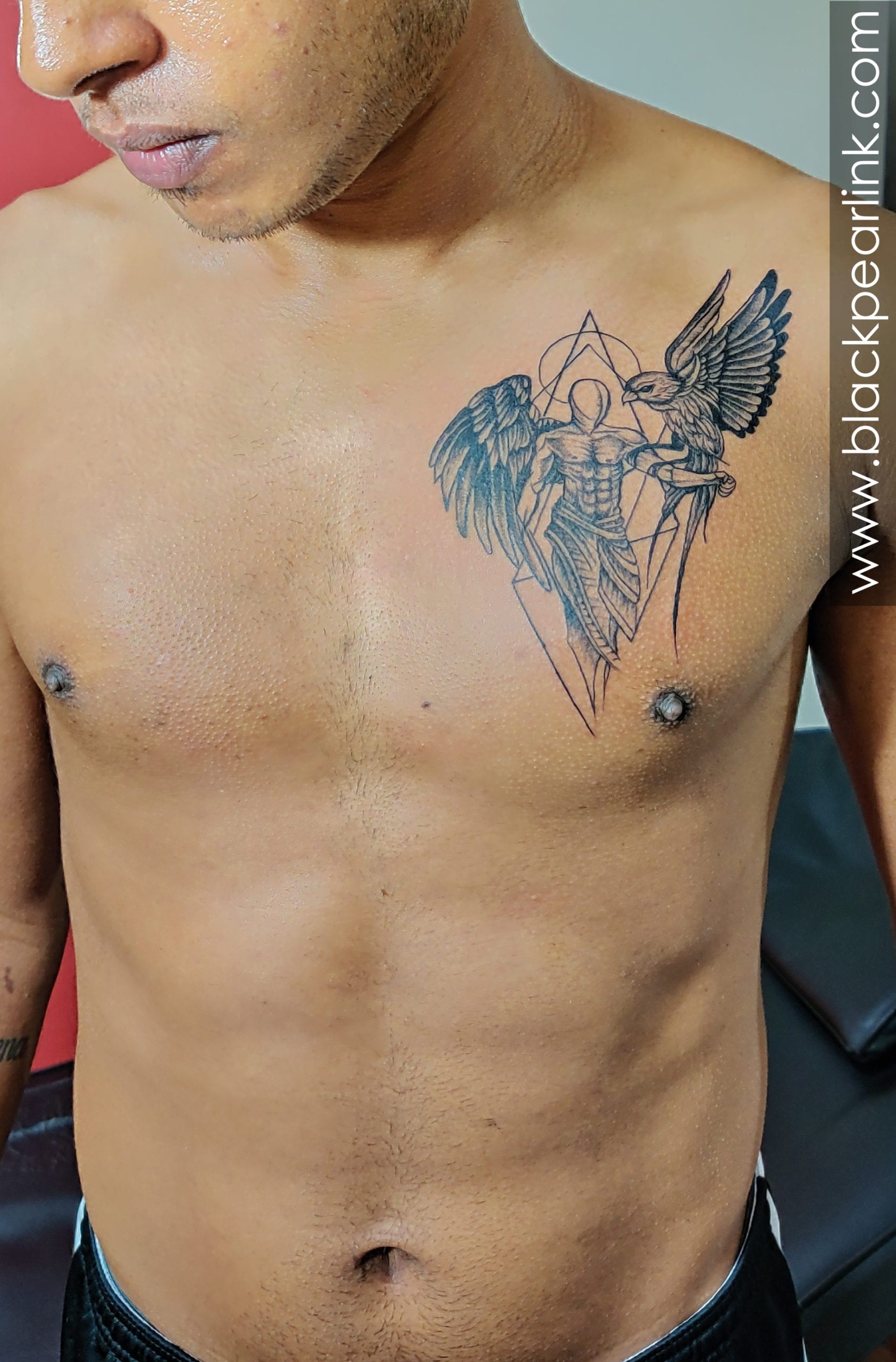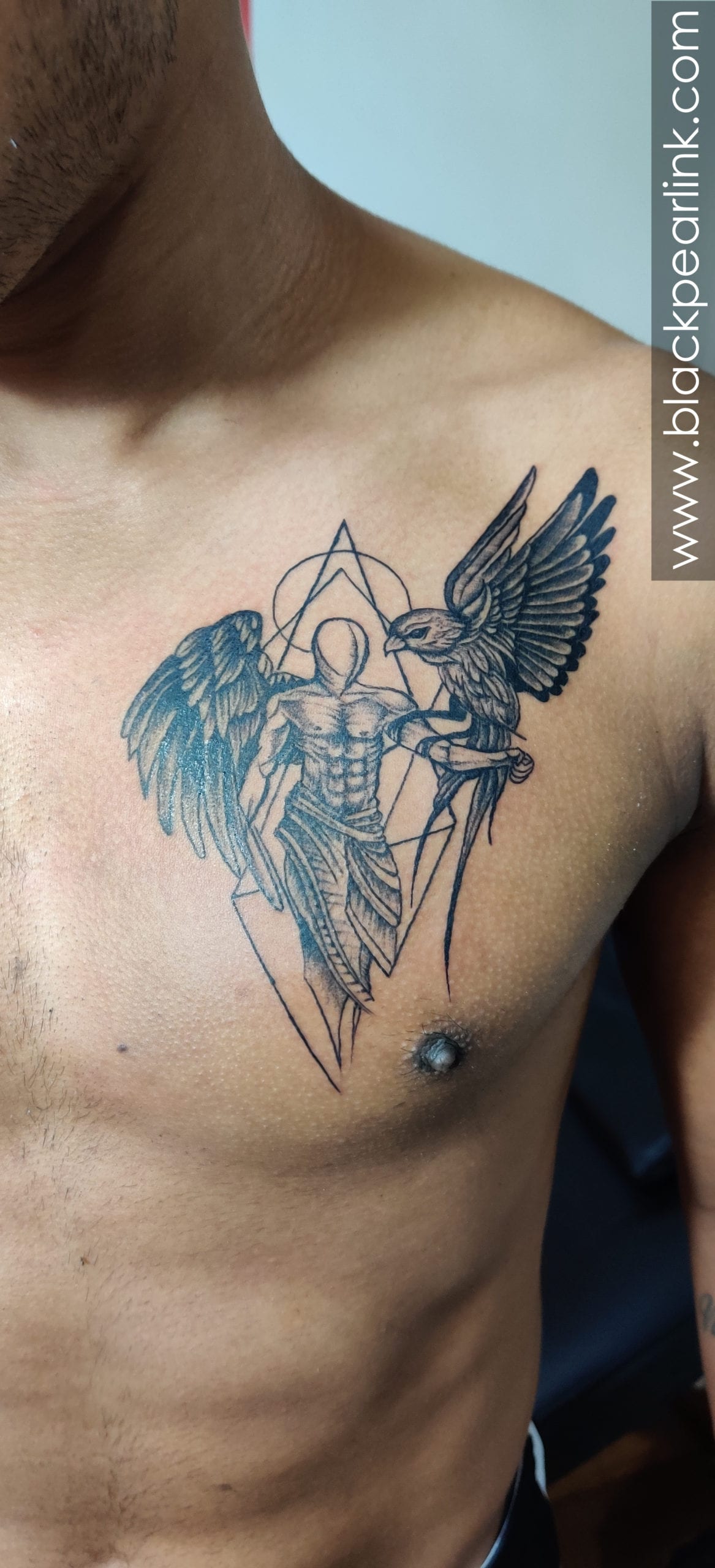 3. Eagle Tattoo with Open Wings
Eagle tattoo is one of the most popular tattoos and it suits both the genders alike. Eagle tattoo represents great spirit, power, spirituality, wisdom, clarity, focus and strength. The client wanted a tattoo which depicts sharp vision and speed hence we chose this tattoo for him.
This tattoo was inked on the client's rib cage. The rib cage is one of the most sensitive parts of the human body and due to the pain and positioning it's difficult for the wearer and the artist both. The skin is very sensitive in this area and we cannot just keep piercing it with tattoo needles, we need time intervals in between so that the skin can breathe. We have used black and grey colours here and it took us around 4-5 hours to complete. The outcome after the healing was just amazing as you can see for yourself in the images from different angles.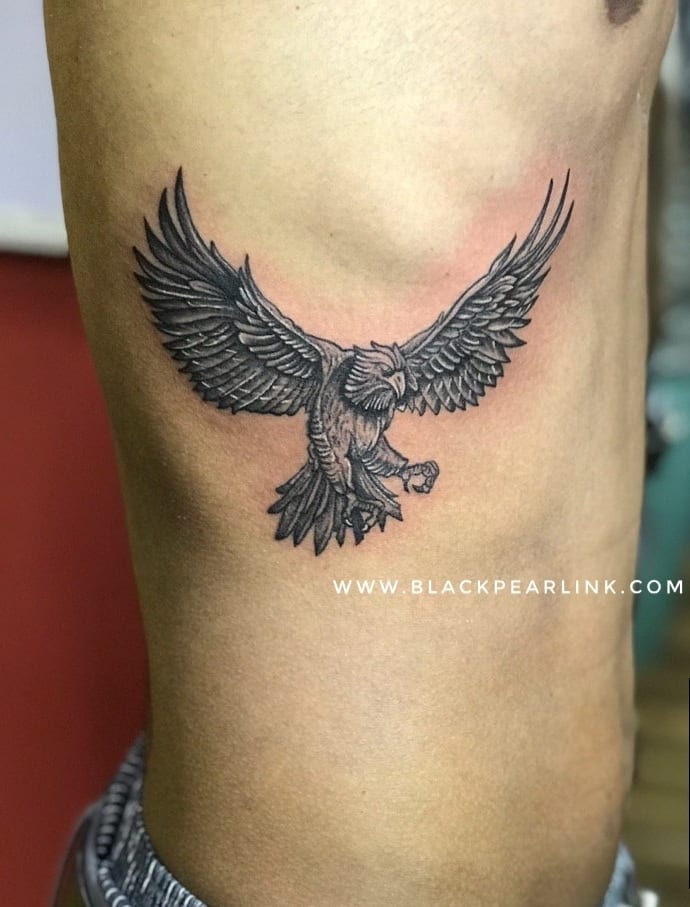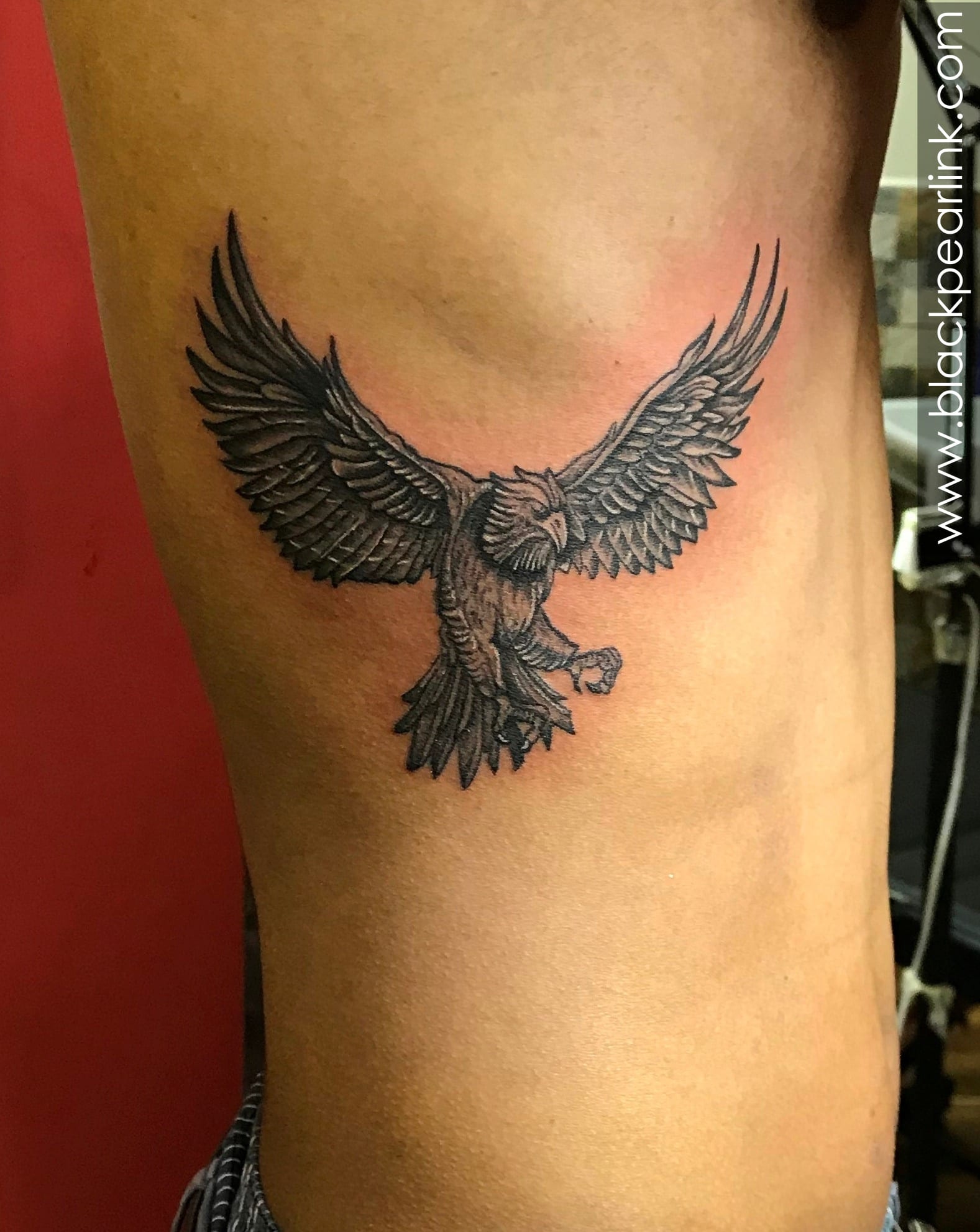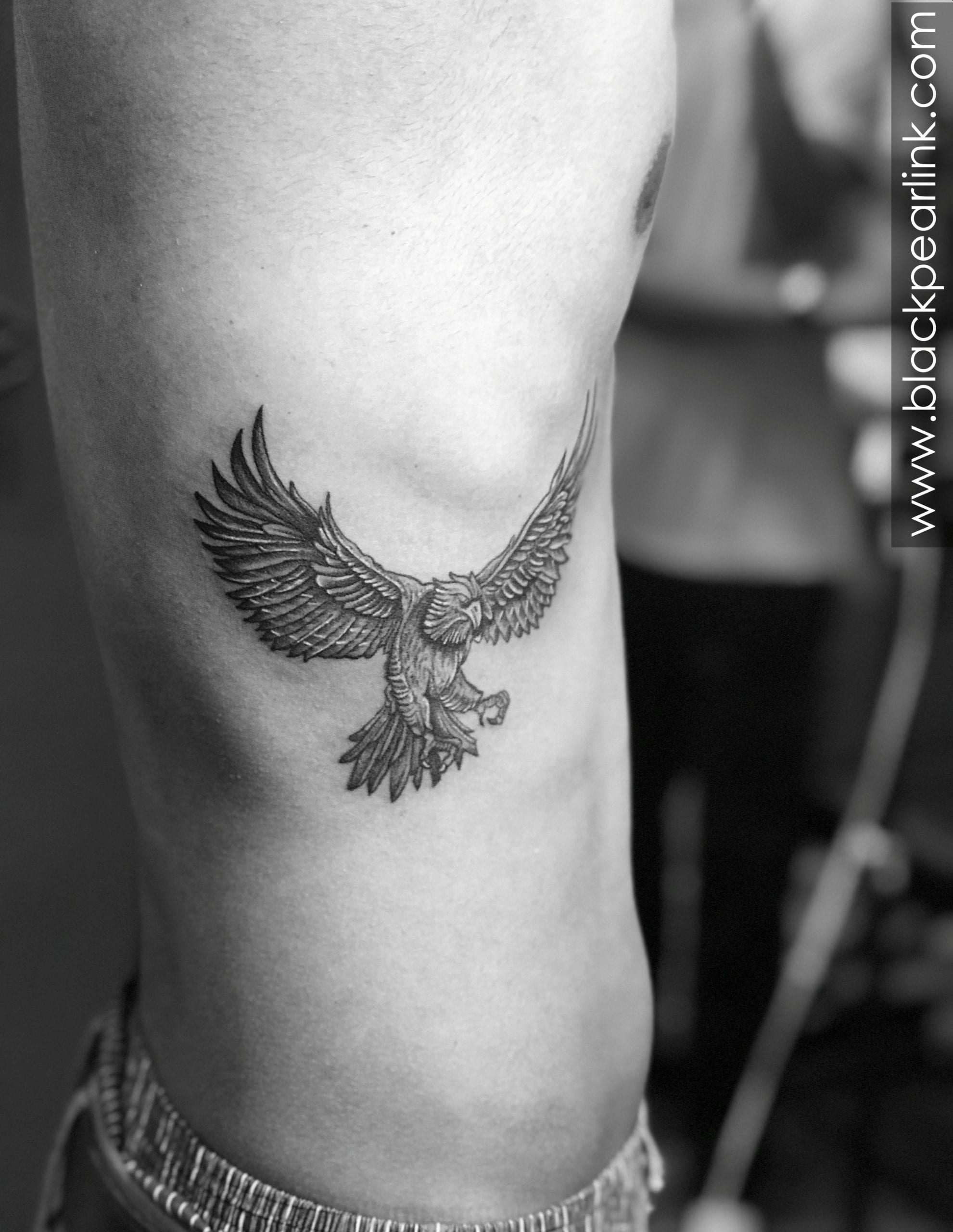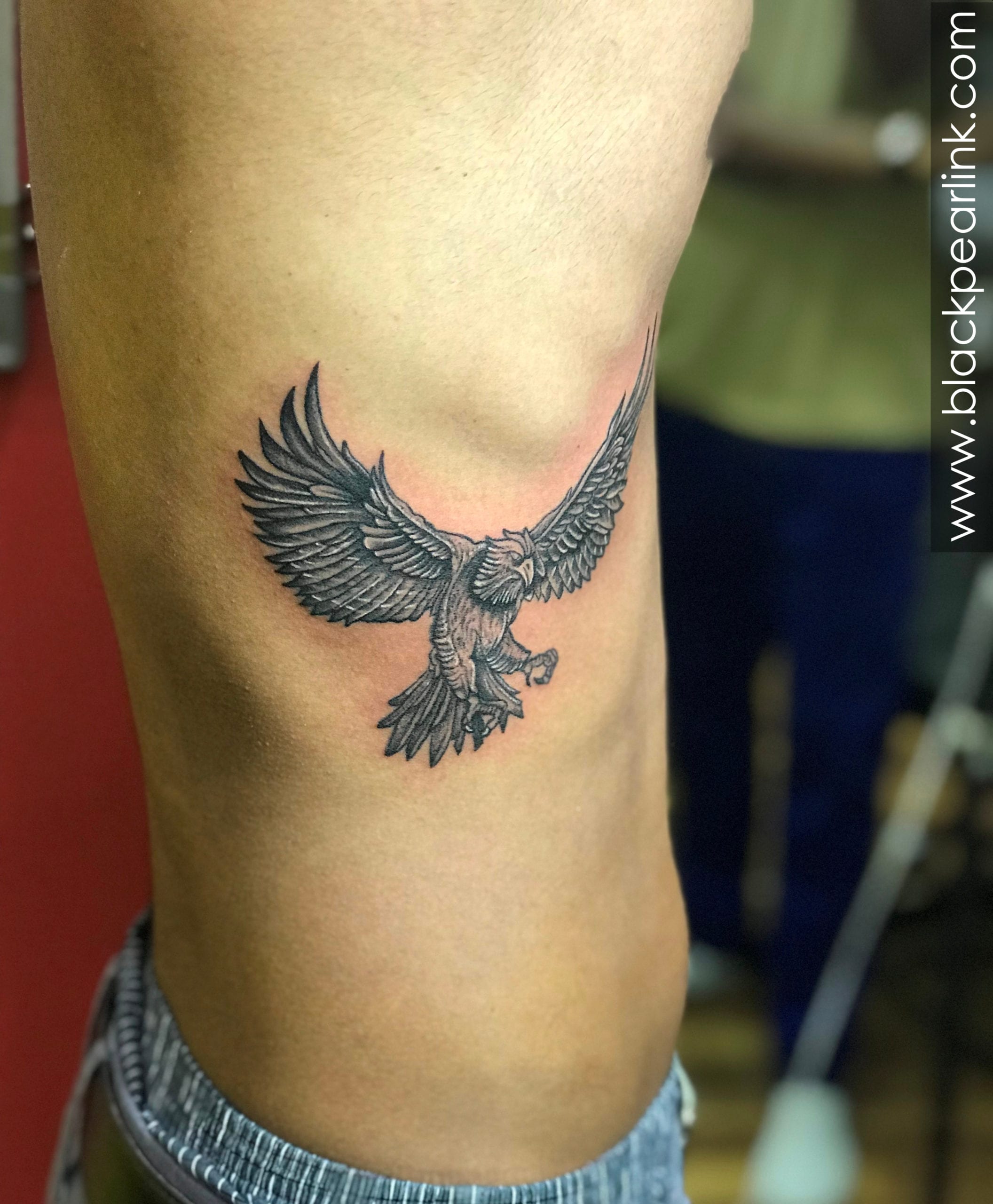 4. Freehand Wings Tattoo on Forearm
This one here is a completely free hand feathered wing tattoo. This is our own original creation. Every strand of the feather in this wing has a different pattern and different shading. We have tried to give this tattoo a unique 3D feel and maintain the free flow of the wings at the same time.
This is a special tattoo made for a special client who visited us from Patna, Bihar. He consulted with us over a phone call as he was much impressed by seeing our work on Google. When he visited us we engaged in a very meaningful discussion with him and came up with this idea. Careful thought process went into making this spectacular tattoo. It is such tattoos that test the skills and dedication of the artist. We have used black & grey colours in this and it runs from the biceps to the forearm. We have also added a video of the making of this tattoo for you to check, since its initial sketching. This tattoo took us two days back to back and around 8-10 hours of work in total.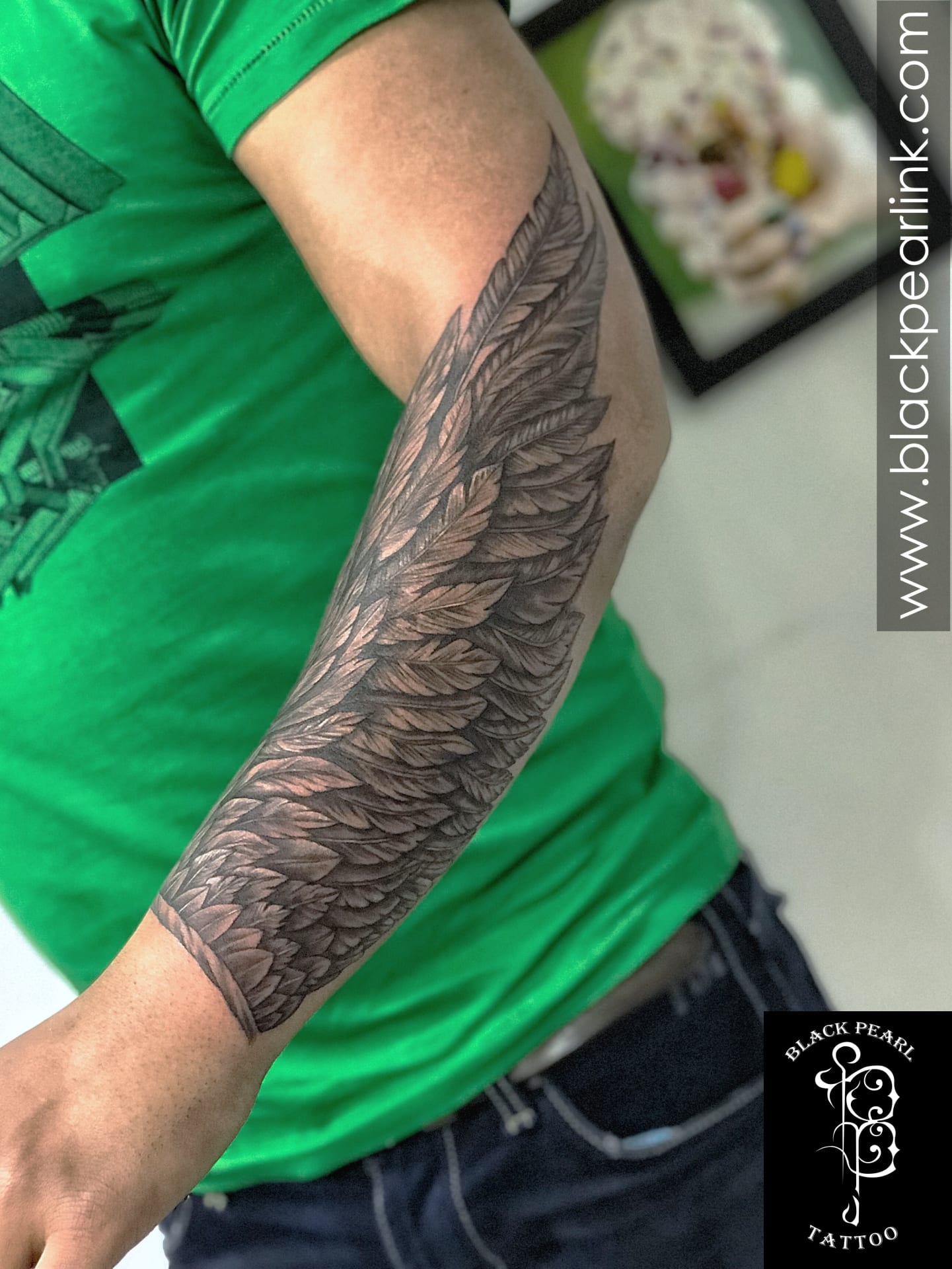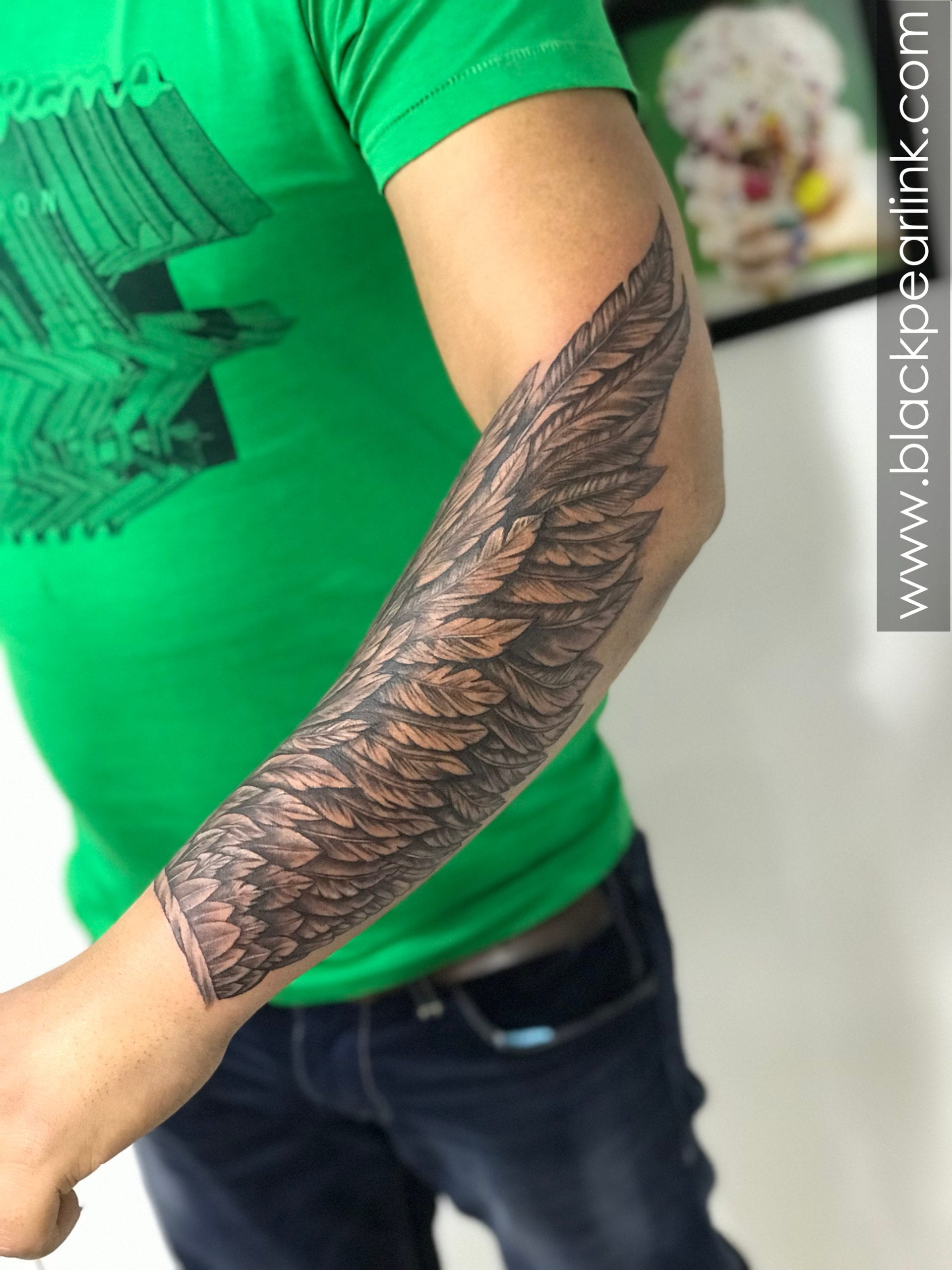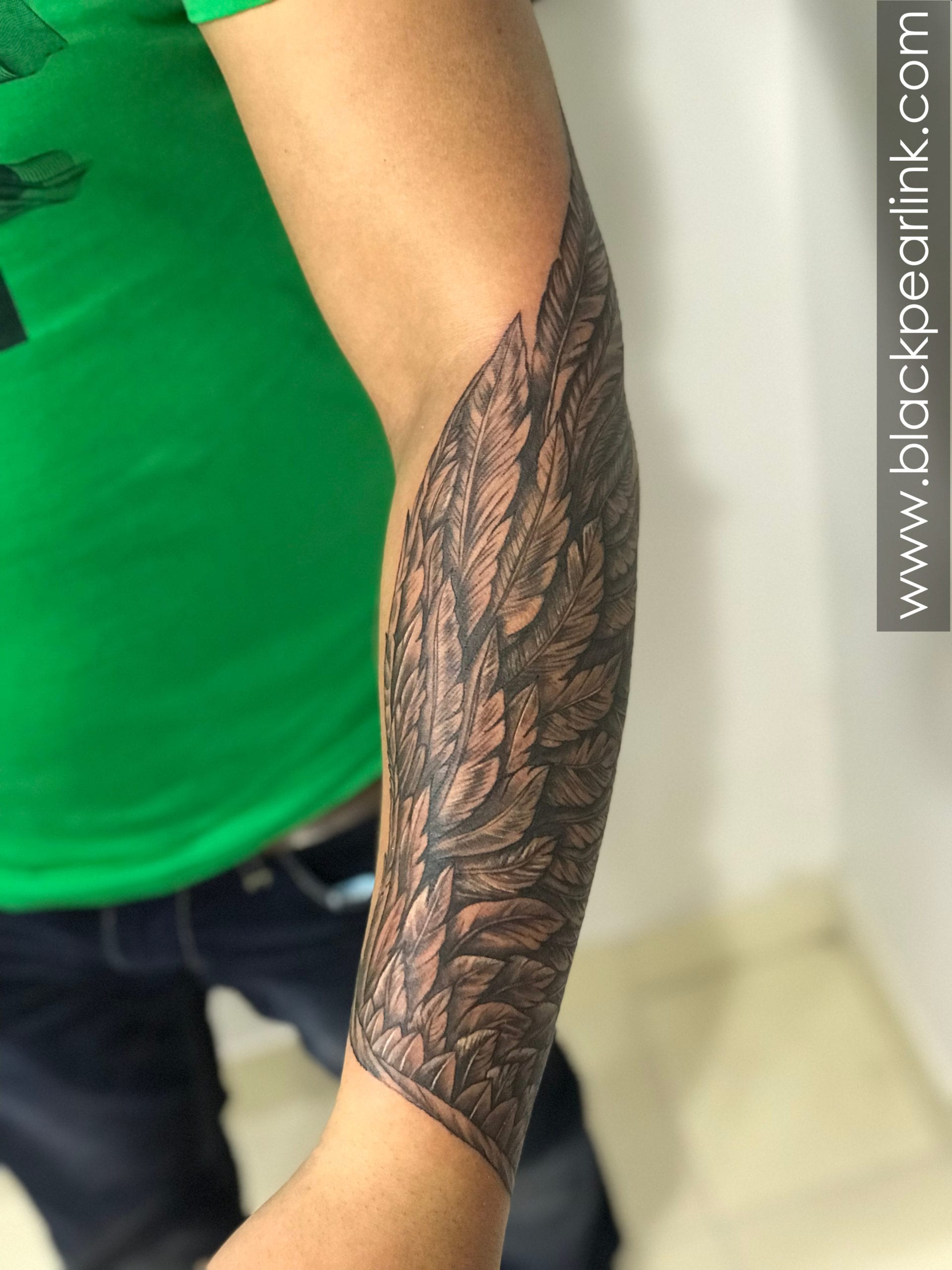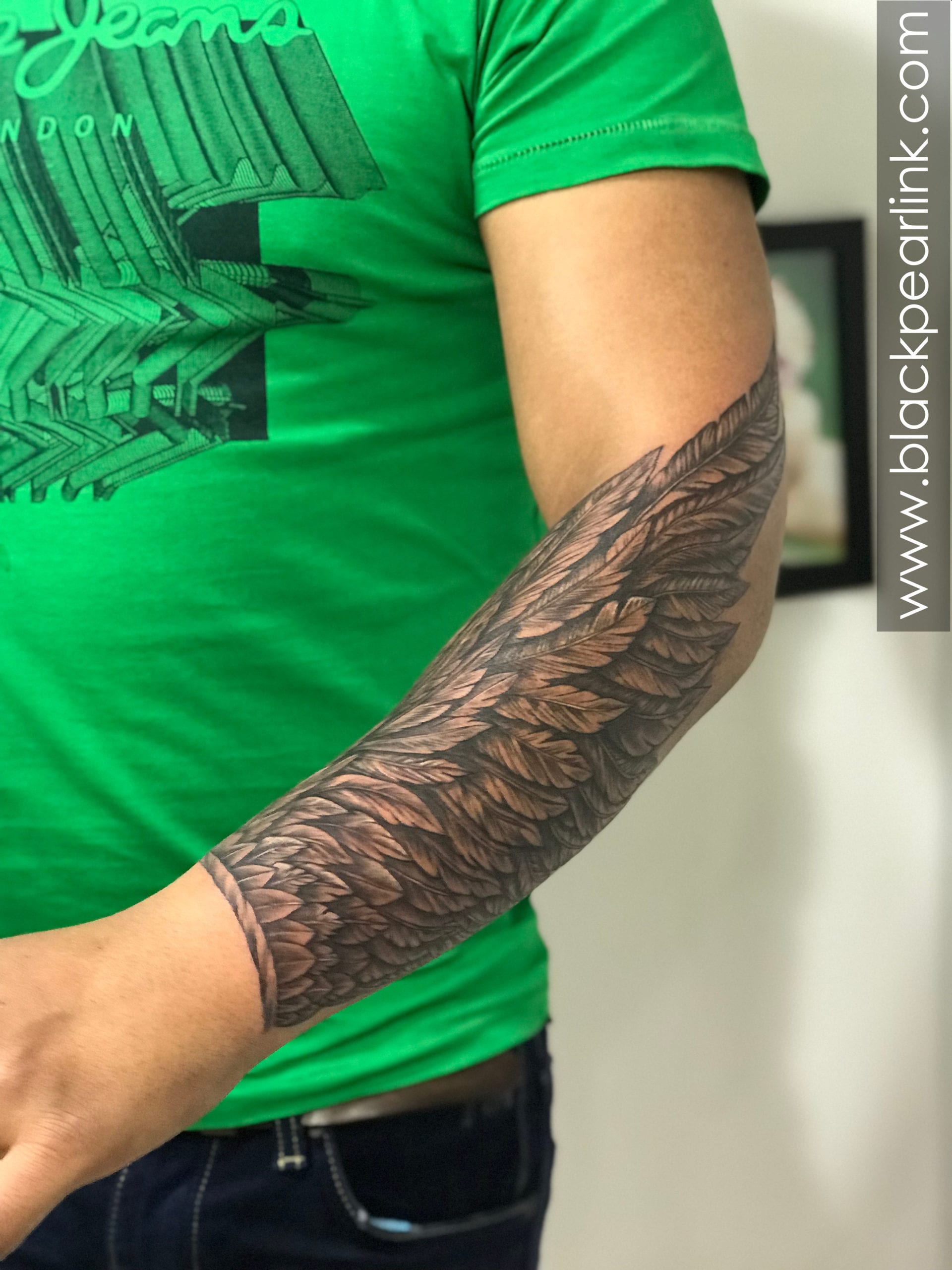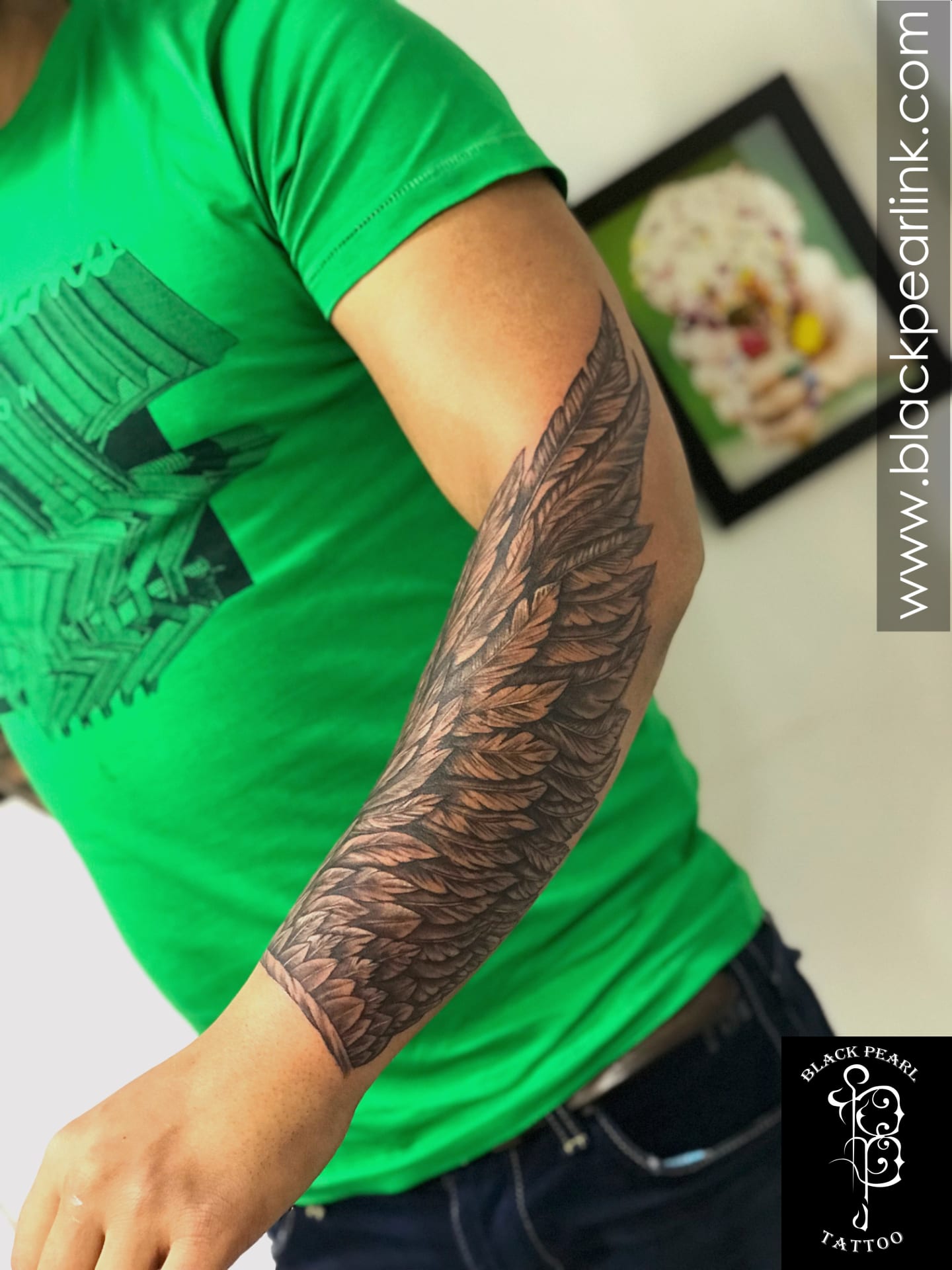 5. Egyptian Goddess Tattoo on back
This tattoo is all about its symbolism and mythology. We have deeply researched this tattoo and its concept. It is the ancient Egyptian goddess Isis. Isis was the wife of king of Egypt Osiris, and his sister too. They had a son named Horus. As the goddess of love, life and magic, Isis protected women and children and healed sins with her magic.
This is a feminine tattoo and a motherly figure who nurtures and is assumed to take care of the wearer. This is linked on the client's back with so much detailing. It has wings and feathers and we have used black & grey colours and have added some shadow effects. This took us around 4-5 hours to complete and was completed in a single sitting and till now no touch ups were required. We made this one around six years back. These kinds of tattoos fall in the Realistic Tattoo category.