Lion tattoos are the most popular among the animal-inspired tattoos. They symbolize protection, royalty, strength, courage, and wilderness. Even though they can be made in small and simple styles, the real flavor of lion tattoos is reflected in larger designs.
Best thing about lion tattoos is that they look great on men and women both. Here are some artistic and realistic lion tattoos we have made.
1. Geometric Lion on Upper Back
This is a dual image tattoo which has a geometric pattern and abstract design of a lion. The client had kept this base drawing image for a long time and wanted this to be his first ever tattoo. He checked our ratings on Google and was inspired by our Instagram portfolio, so decided to get consultation over the phone. He then visited us and after some research, we made few additions and finalized the image to be inked.
The client didn't want to expose this tattoo often, so we suggested making it on the upper back. If you notice, we have refrained from using the shades of a realistic lion in this tattoo, as this is more of an abstract lion. We have used dot work and thick lines for his mane. It took us around 5-6 hours to complete this tattoo and the final result was magnificent.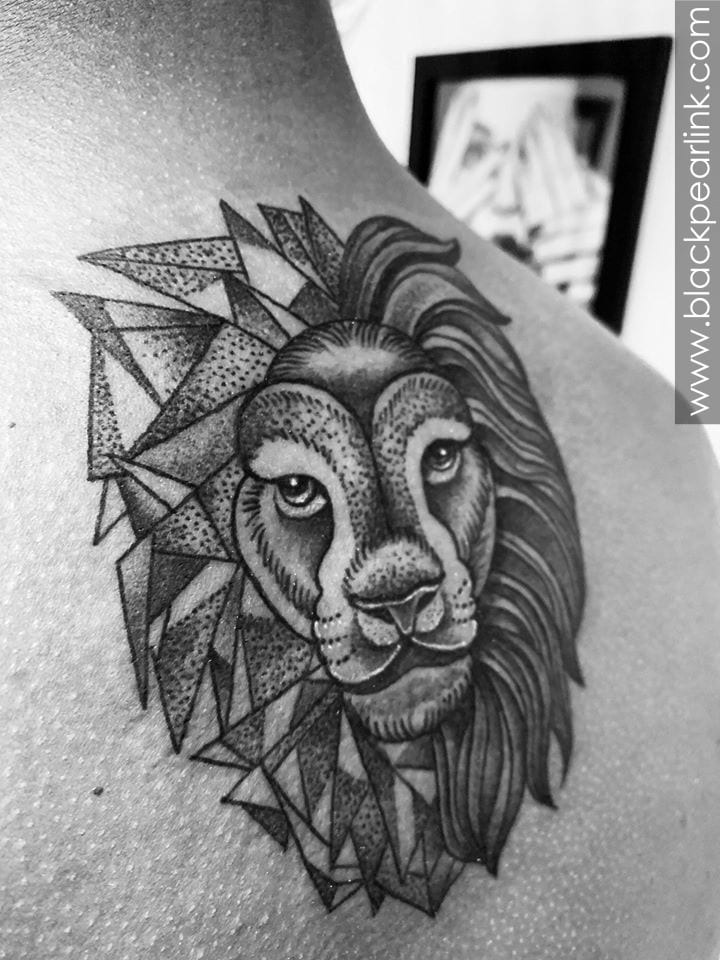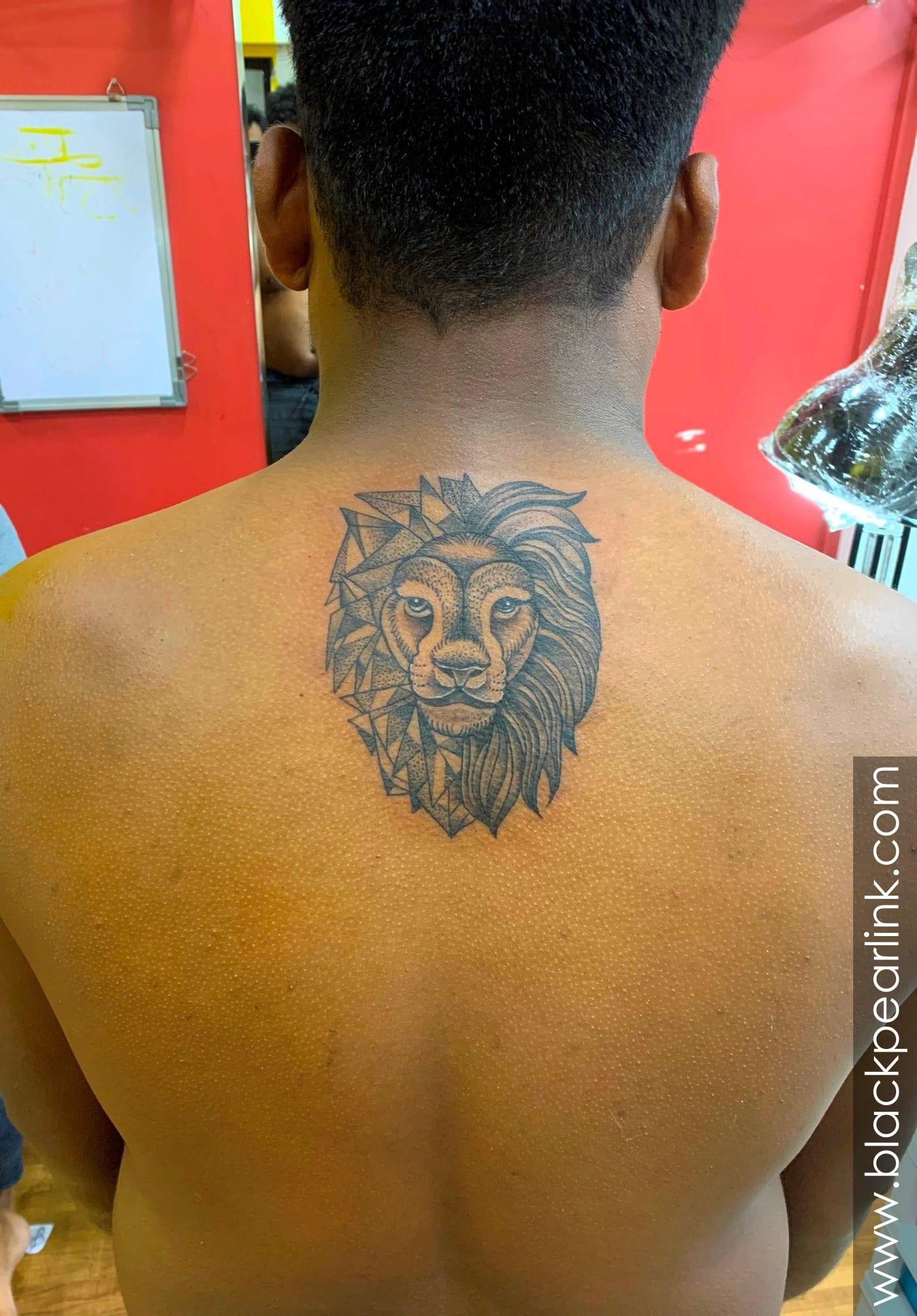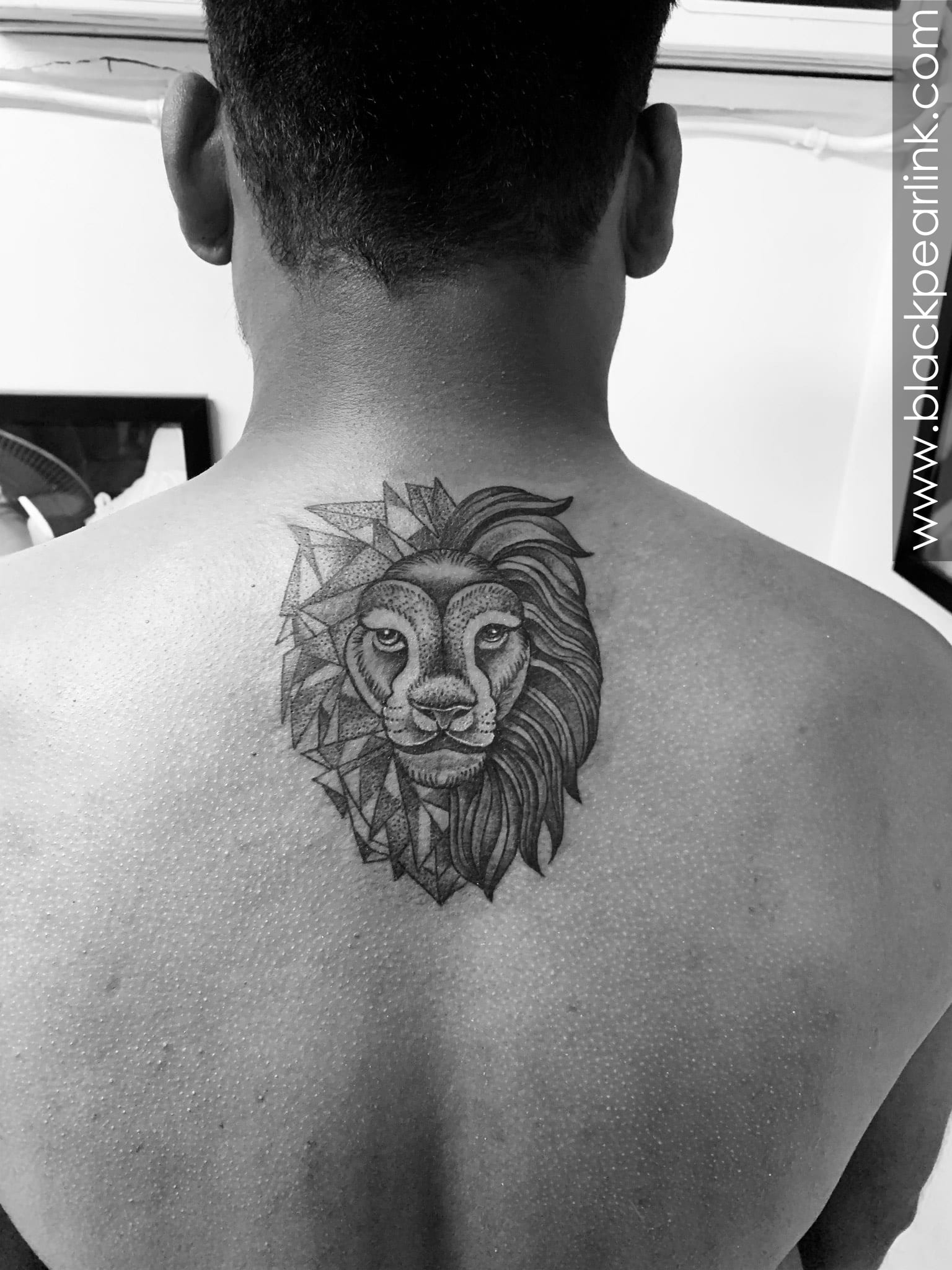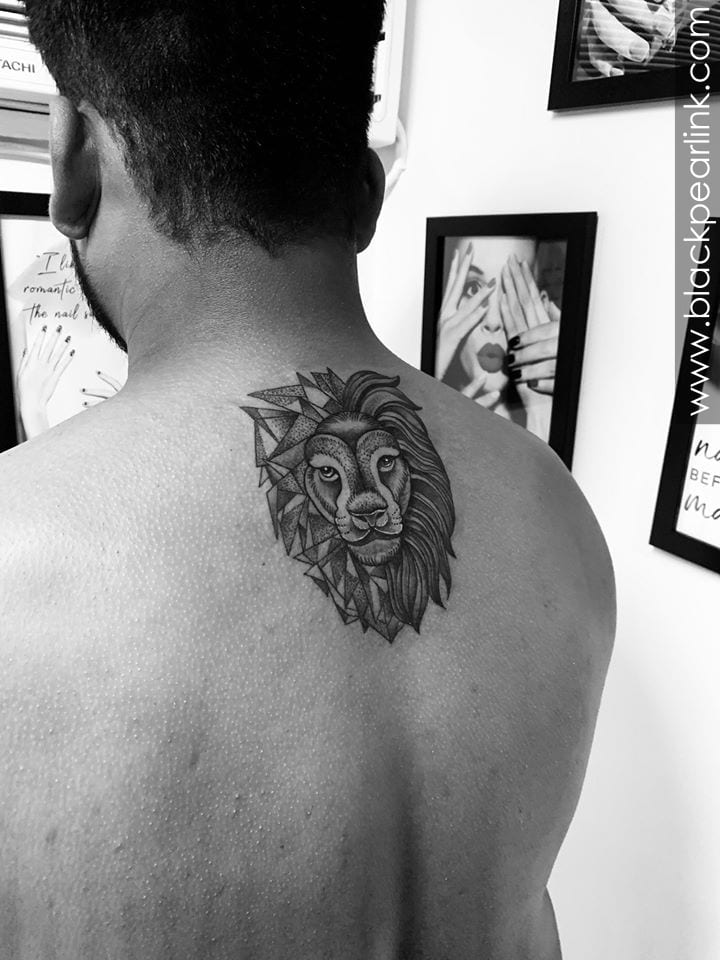 2. Lion Tattoo in Color on Bicep
This is a Realism tattoo or Realistic Lion tattoo. The unique thing about this tattoo is that it's inked on the biceps of our female client which is quite rare. She wanted to have a tattoo of an aggressive, ferocious and a royal animal who rules the wilderness. We suggested her this handsome looking King of the jungle.
We could use many colours in this magnificent tattoo, as the skin was on the fairer side. We have used different shades of orange, yellow, brown, black and grey. It took us around 8-9 hours to complete it. We wanted to give our best in this tattoo and we succeeded in doing so, as the client and her friends and family admired this tattoo.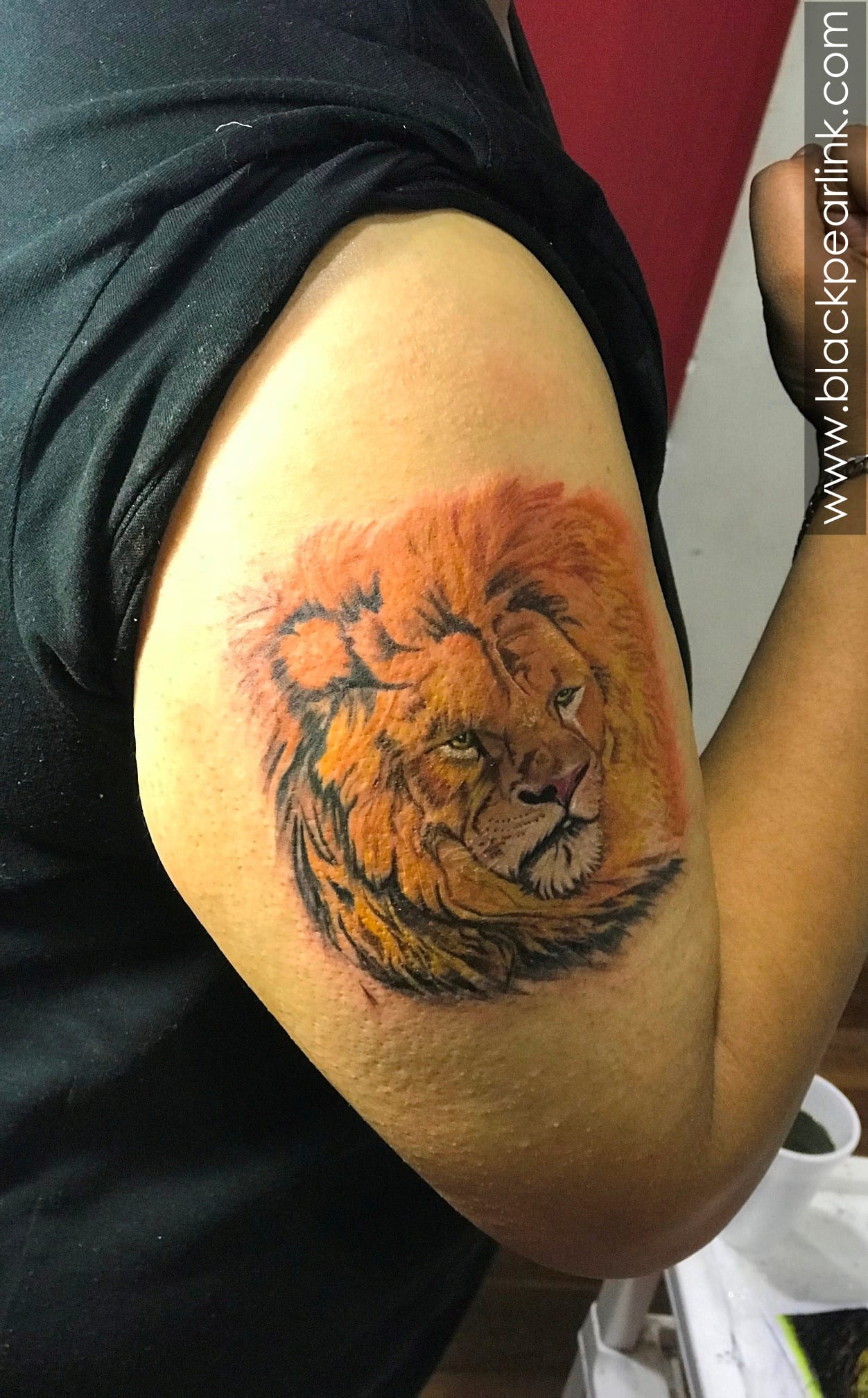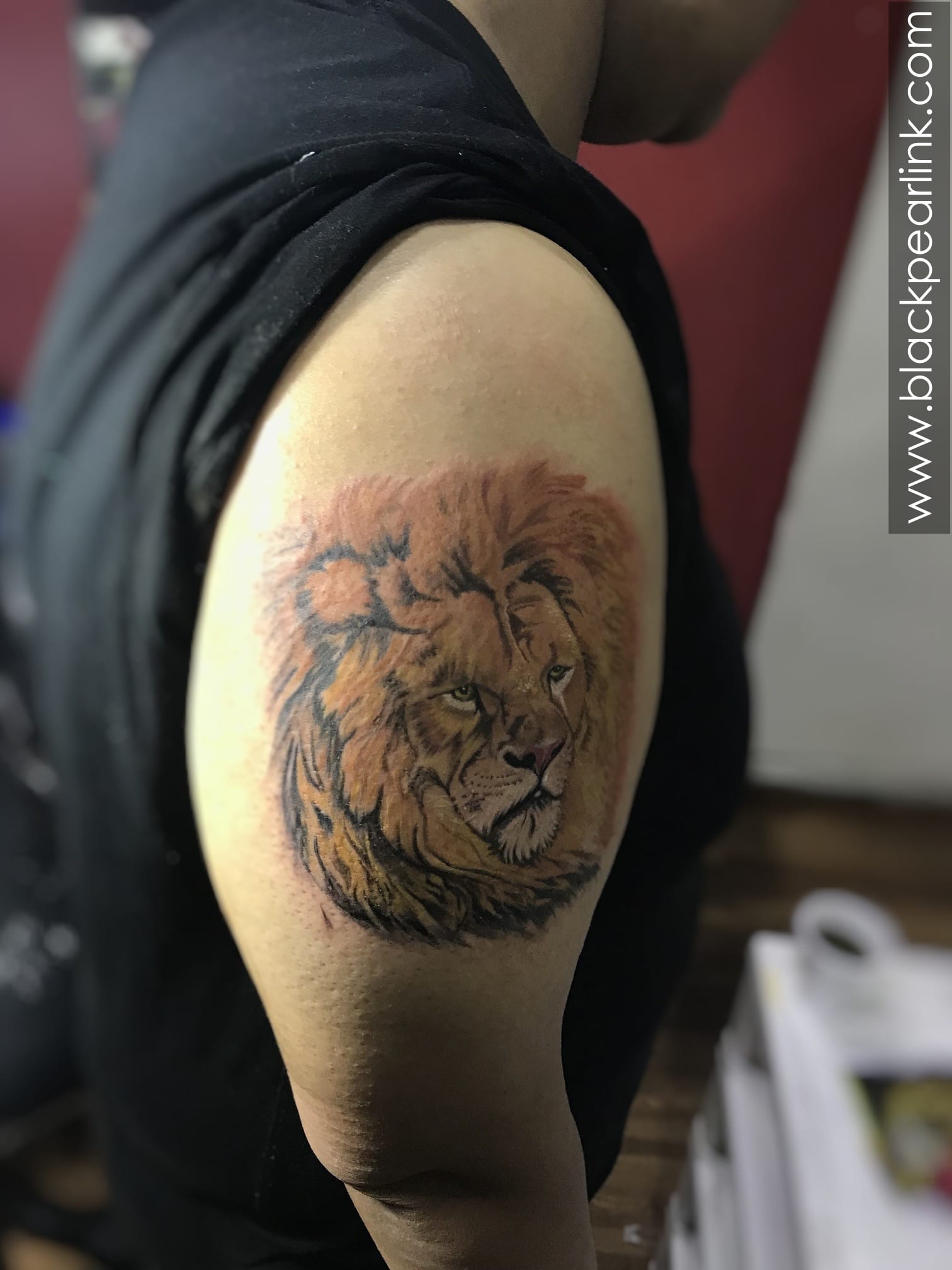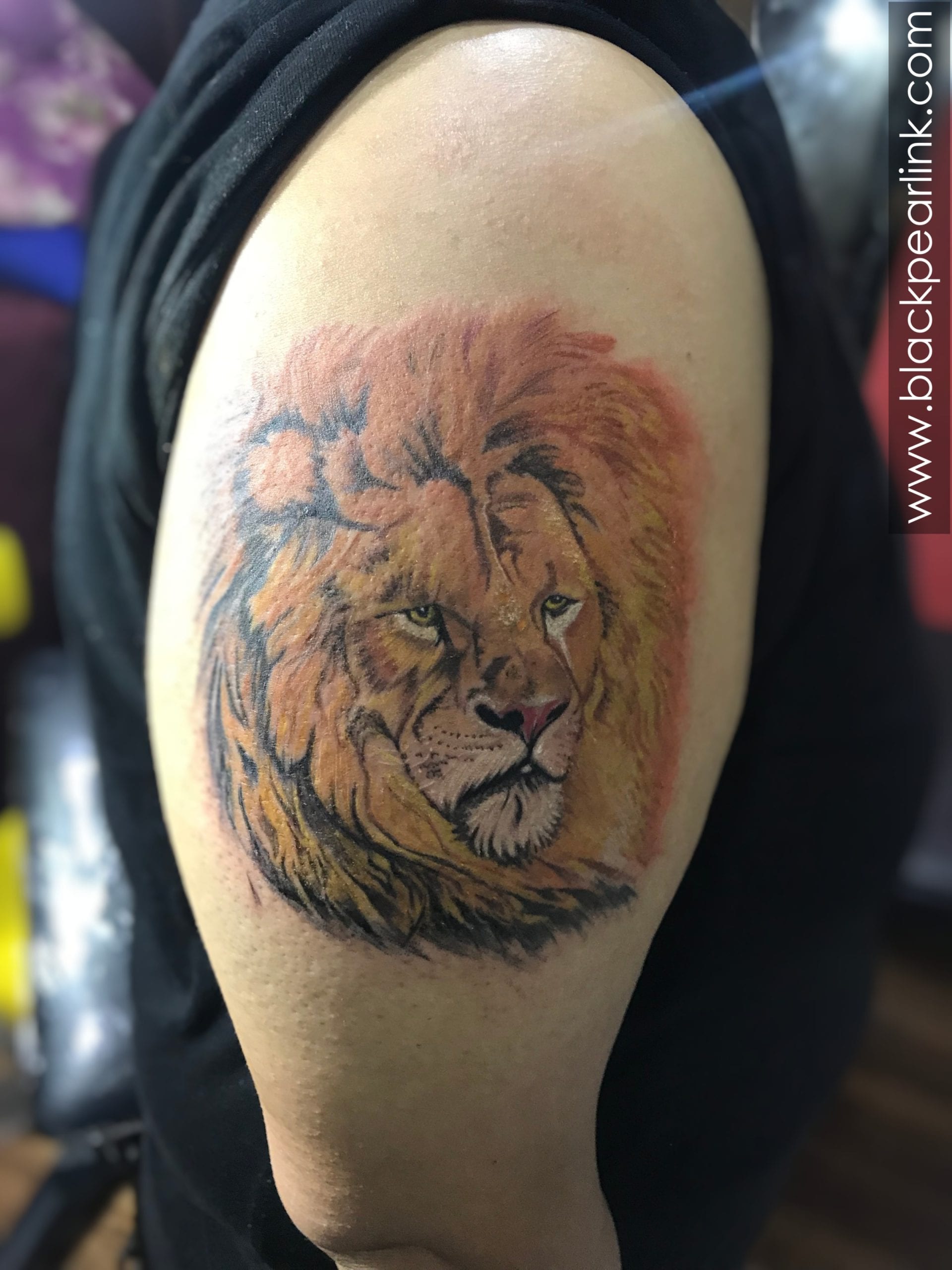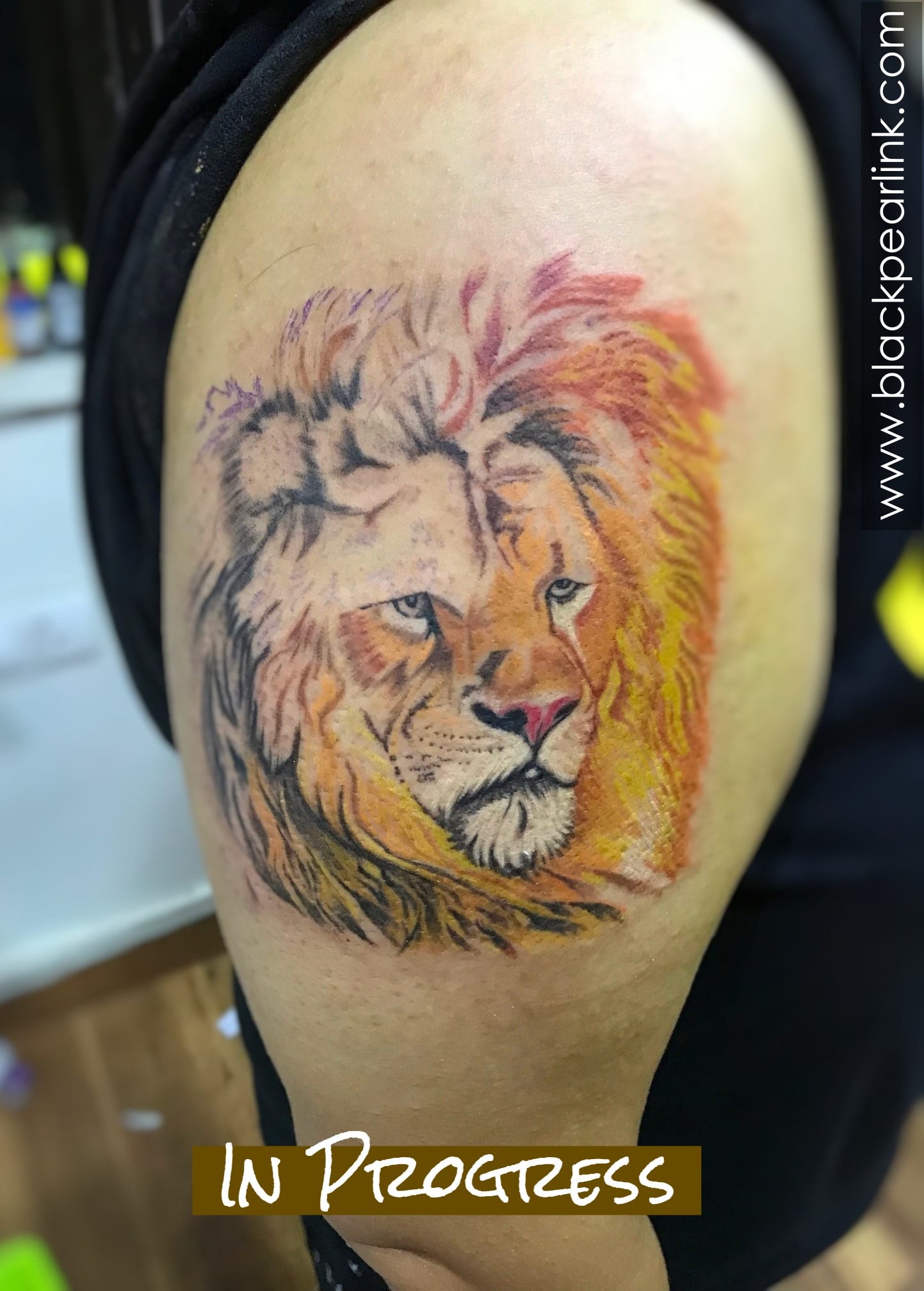 3. Lion King Tattoo on Mid Back
This is a cover up tattoo. The client had a couple of name tattoos and a sun made on upper back from some other studio and was looking to cover up one of the names. We worked with him and finalized this lion king design wearing a crown. It portrays the message "live life king size". We have hidden the previous name tattoo beneath the crown.
It's also a Realism tattoo or Realistic animal tattoo. We haven't used any colours here, just the black and grey shades. It's done in a medium size of about 5×4 inches and it took us around 5-6 hours to complete the first sitting of this tattoo and the second sitting is yet to be done as we write this in mid 2020.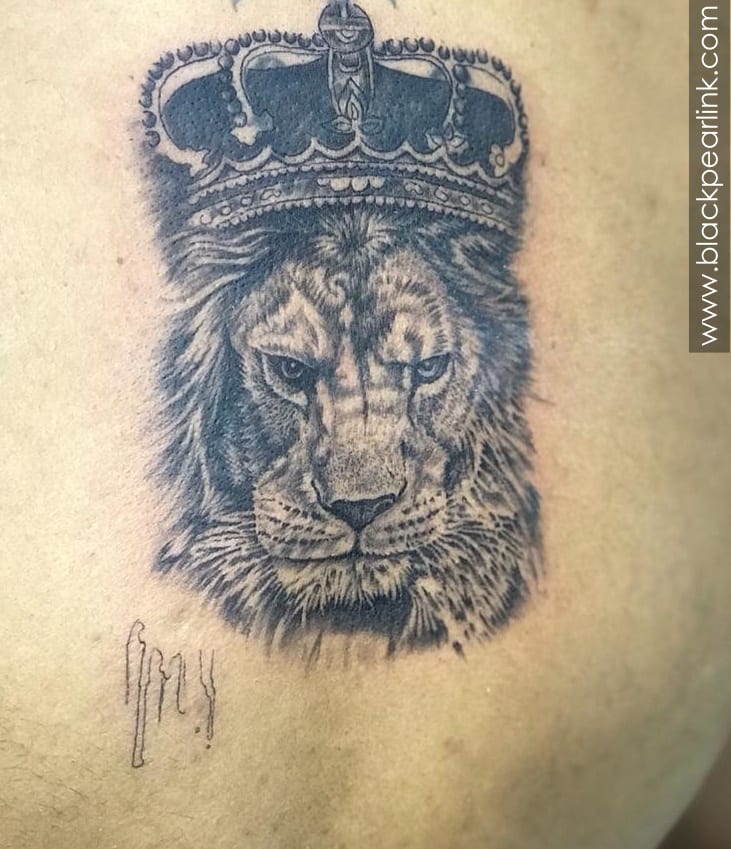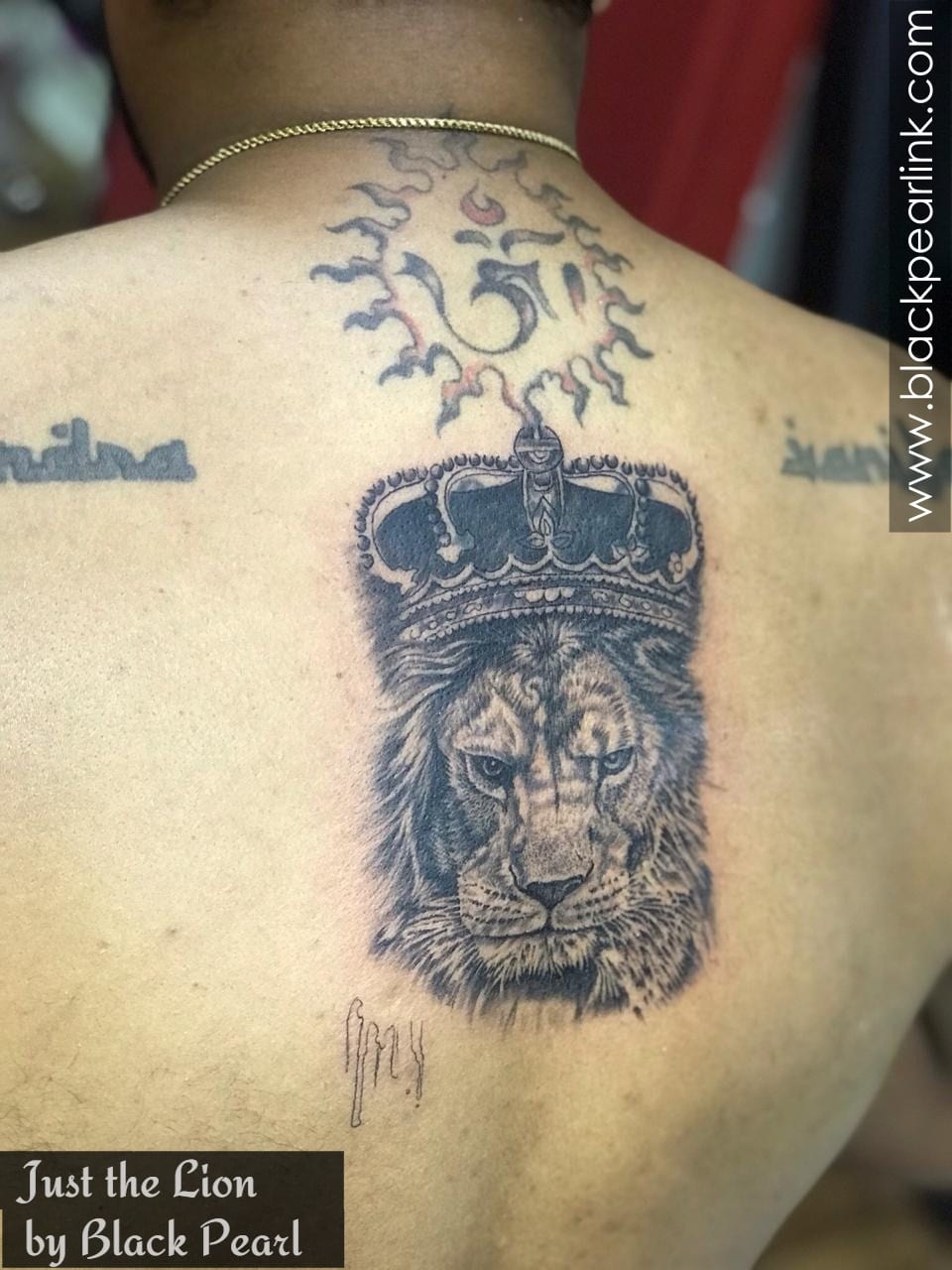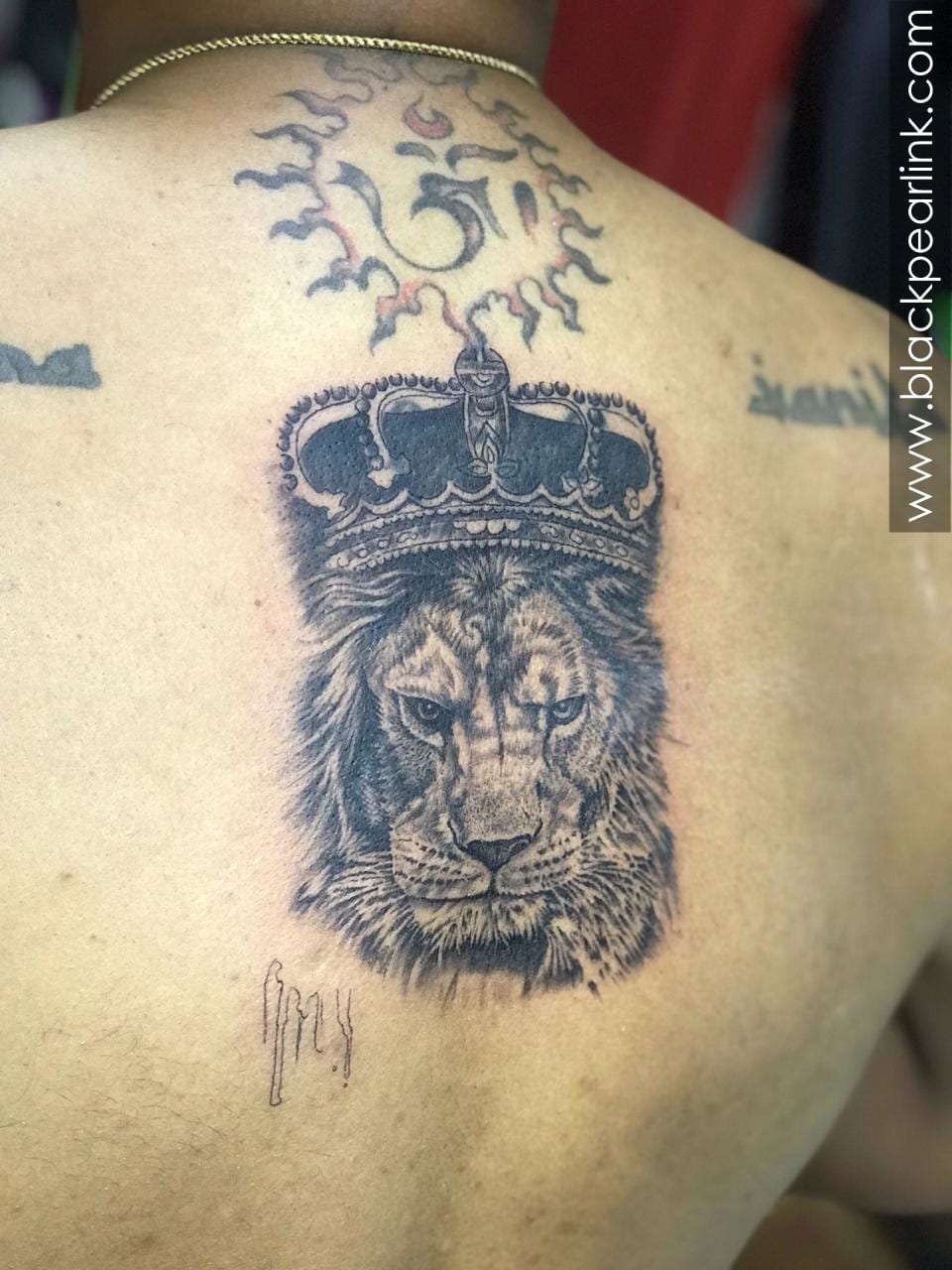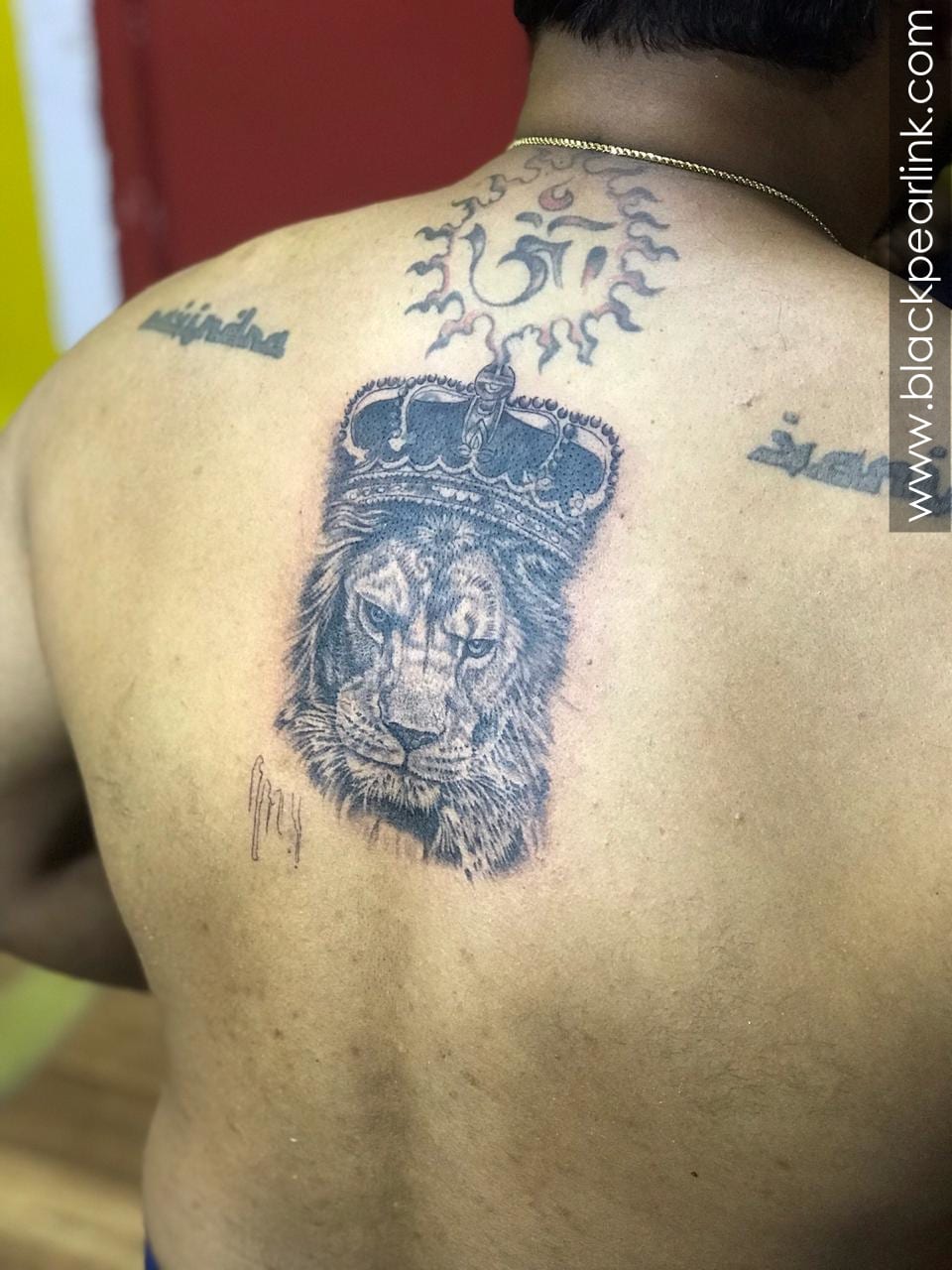 4. Scar Coverup Artistic Lion Tattoo
This is a special tattoo made for one of our clients who visited us all the way from Kenya. The client had many scar marks on his leg, mostly on his thigh and wanted to cover them up with a big and bold tattoo. We at the studios suggested to him this tattoo of a lion king with a crown and he liked it a lot. A lion is undeniably a symbol of royalty, strength, courage, nobility, pride and regal majesty.
In this tattoo the right half is a decorative geometric lion and the left half is a realistic lion. This sitting took around 7-8 hours and one complete hour went into tracing it. This was a fairly large tattoo on the thigh, it demanded a lot of patience and endurance and the client was very cooperative all along. We have used black and grey colours and shade for this and finally our hard work resulted in a beautiful tattoo. The client was happy and satisfied with our work and the fact that most of his scars were covered up.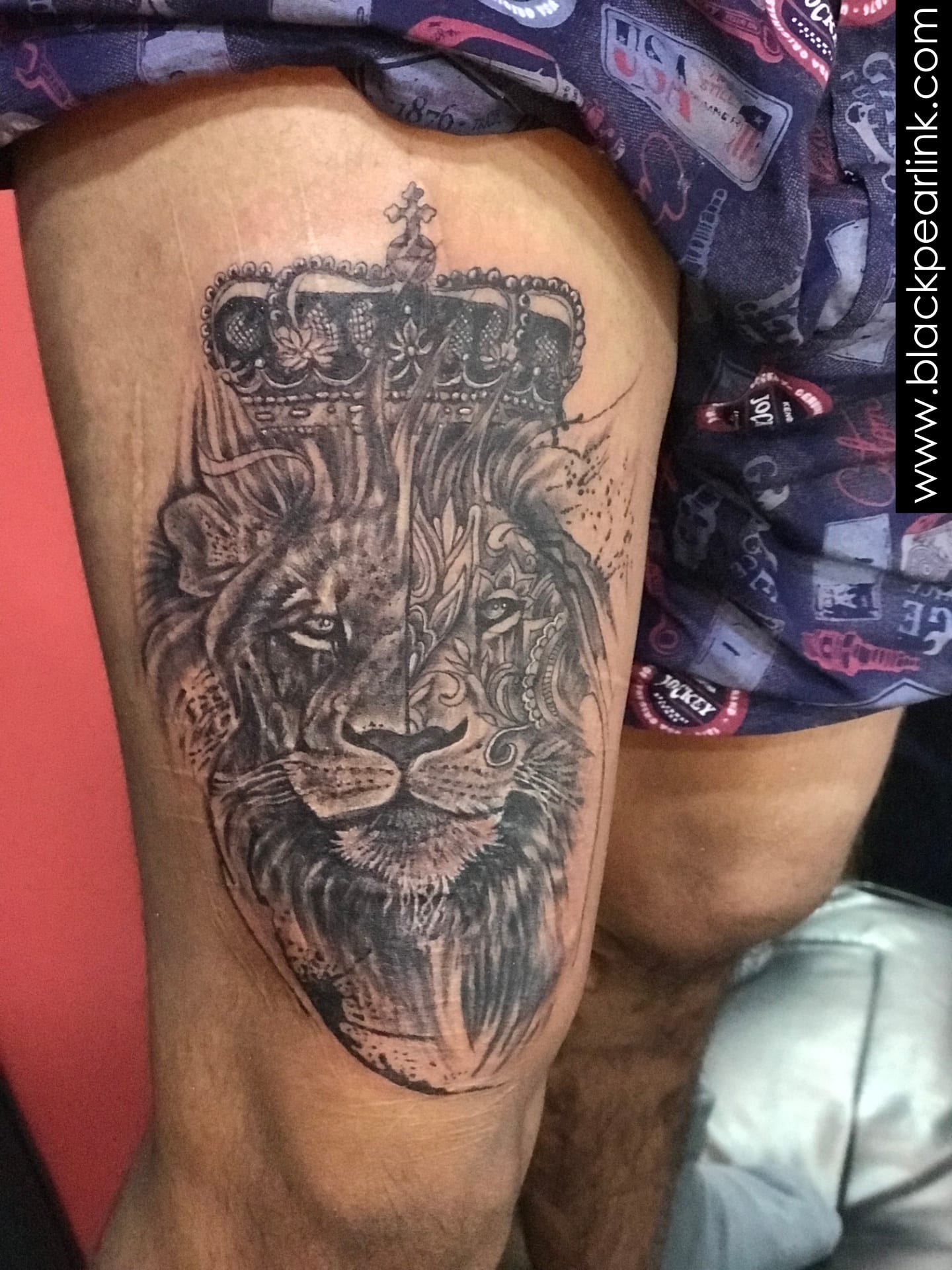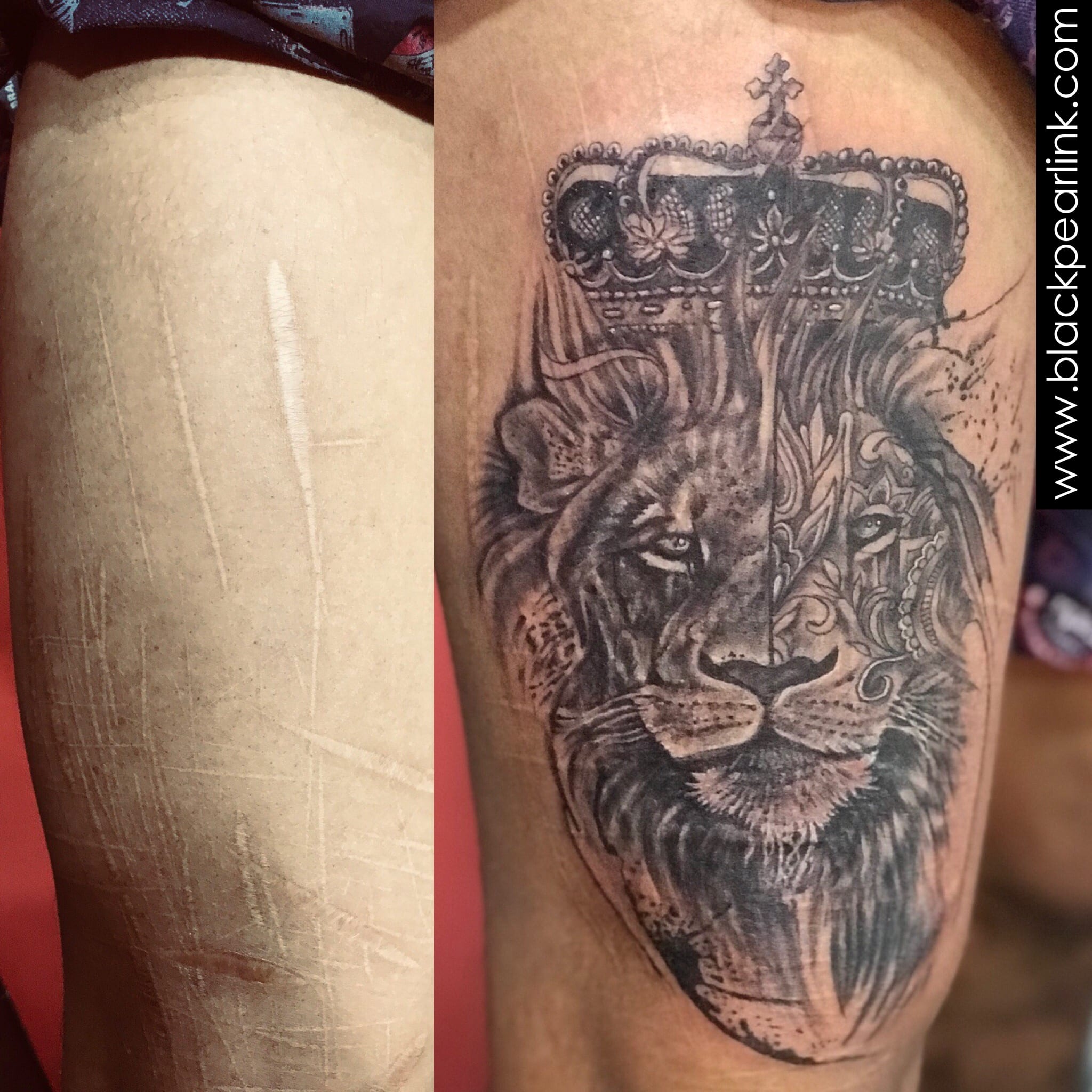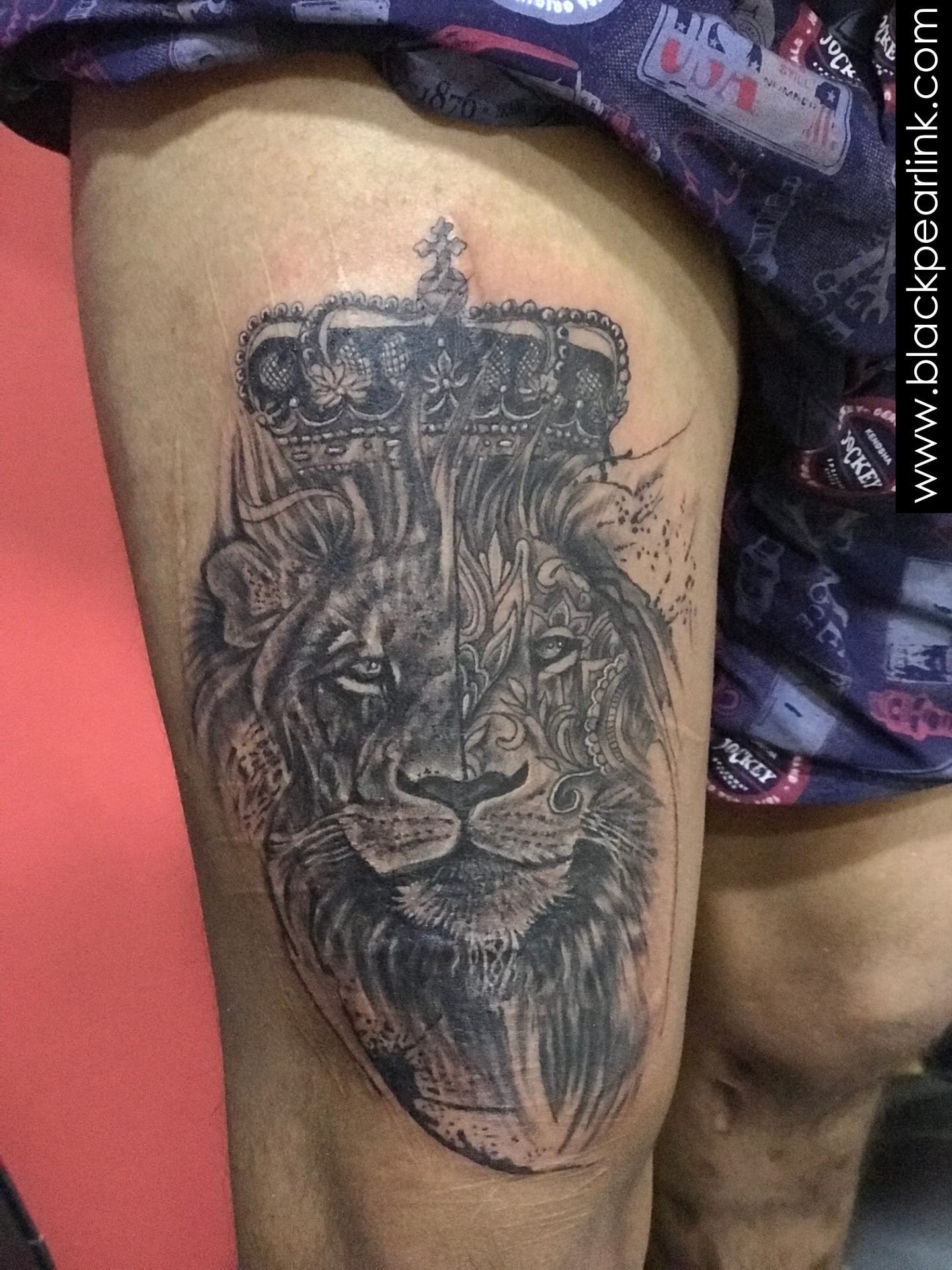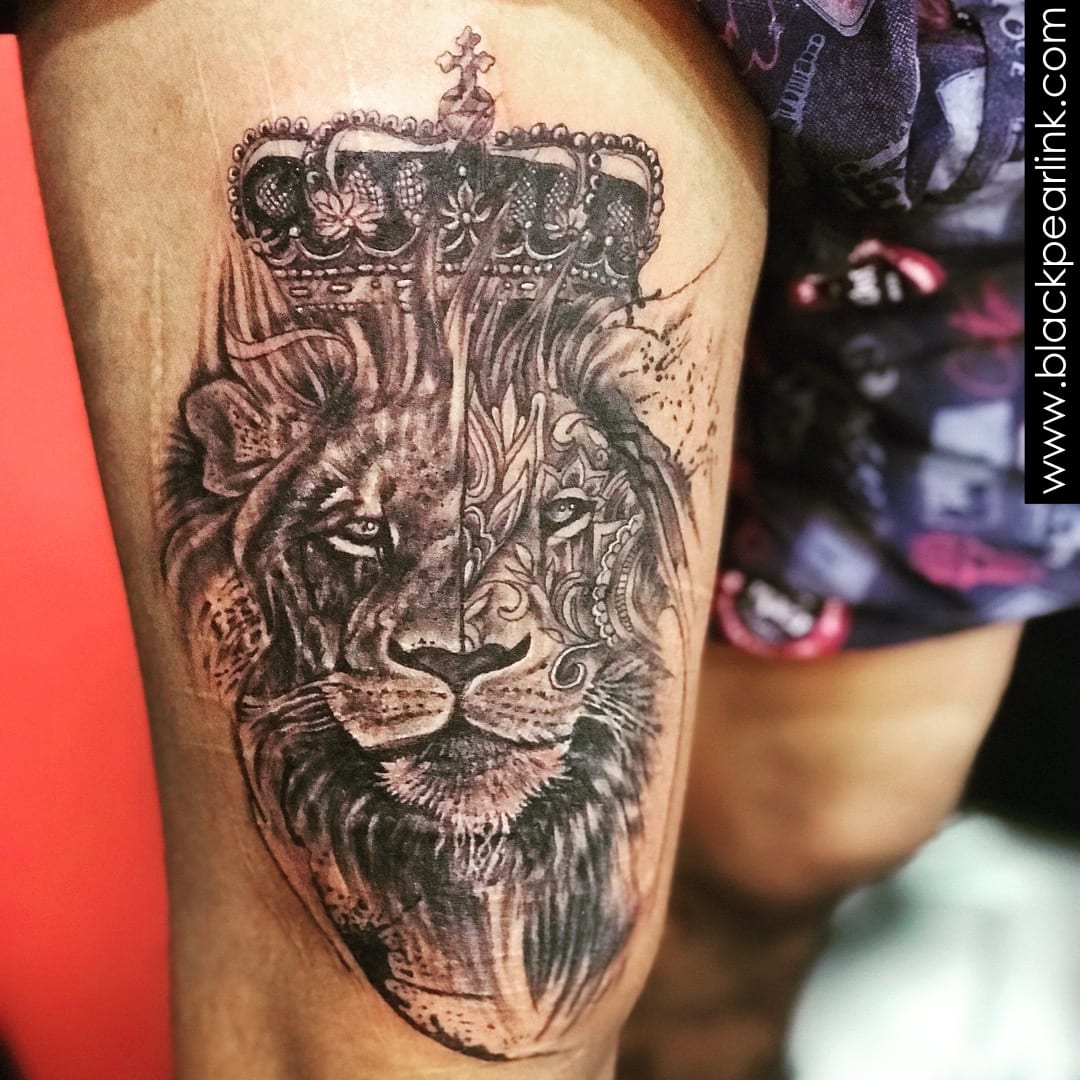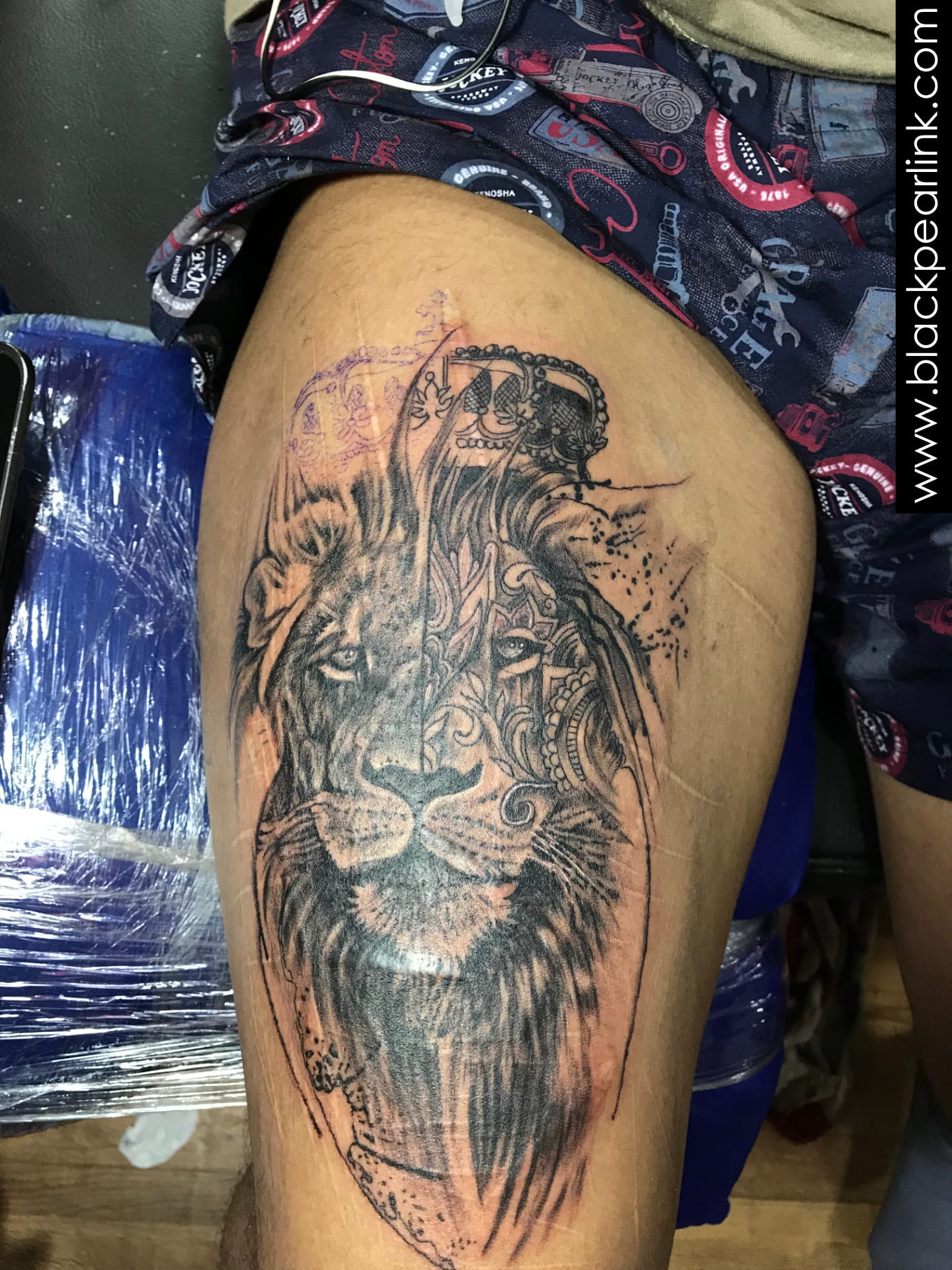 5. Lion and Lioness in Love Tattoo
It's a Realism tattoo or Realistic animal tattoo. Like few other tattoos on our website, this one also goes back to the previous decade! Hence we do not have good quality pics of it.
Lion tattoos are a popular choice among people and they look super-awesome. Lion is a magnificent predator, king of the jungle and the ruler of the wild and depicts the symbolism of the sun. Lioness is a representative of the moon and is a symbol of bravery, might, rationality, motherhood and family. Here we have shown these ferocious creatures in love with each other. It depicts that love dwells in the hearts of even the scariest of all beasts. We have inked this tattoo on the client's forearm using black and grey colours and shades and the result was lovely.