Shiva tattoos are at the heart of tattoo culture in India. We get countless requests for Shiva tattoos from men and women of all age groups. Such is the craze of 'Devon ke Dev' Mahadev!
At Black Pearl Ink, we have made our fair share of Shiva, trishul and rudraksha related tattoos. Here is a gallery of few of them with some background stories.
1. Shiva Tattoo on Chest with Colored Lotus
This is a Shiva tattoo which is half shaded and half coloured. The client is a devotee of lord Shiva and wanted a Shiva tattoo on his chest with a lotus and trident. He was following up with us for almost two years to get this tattoo done but due to various reasons he had to keep postponing. Finally our stars aligned and we started the work with him.
We have heavily customized this tattoo where we have used Mandala and other abstract styles in red and black colours and a lotus flower in blue colour. Initially we wanted to add the Mahamrityunjaya mantra above this tattoo but the space was not enough for the complete mantra so we used a mandala there as a filler. This tattoo was completed in two sittings. In the first sitting the grey shaded Shiva tattoo was made and in the second one the coloured lotus, trident and mandala was done. The Shiva tattoo is made by Swapnil and the colour, shades and the mandala parts are done by other artist Kiran. As you can see the outcome is superb.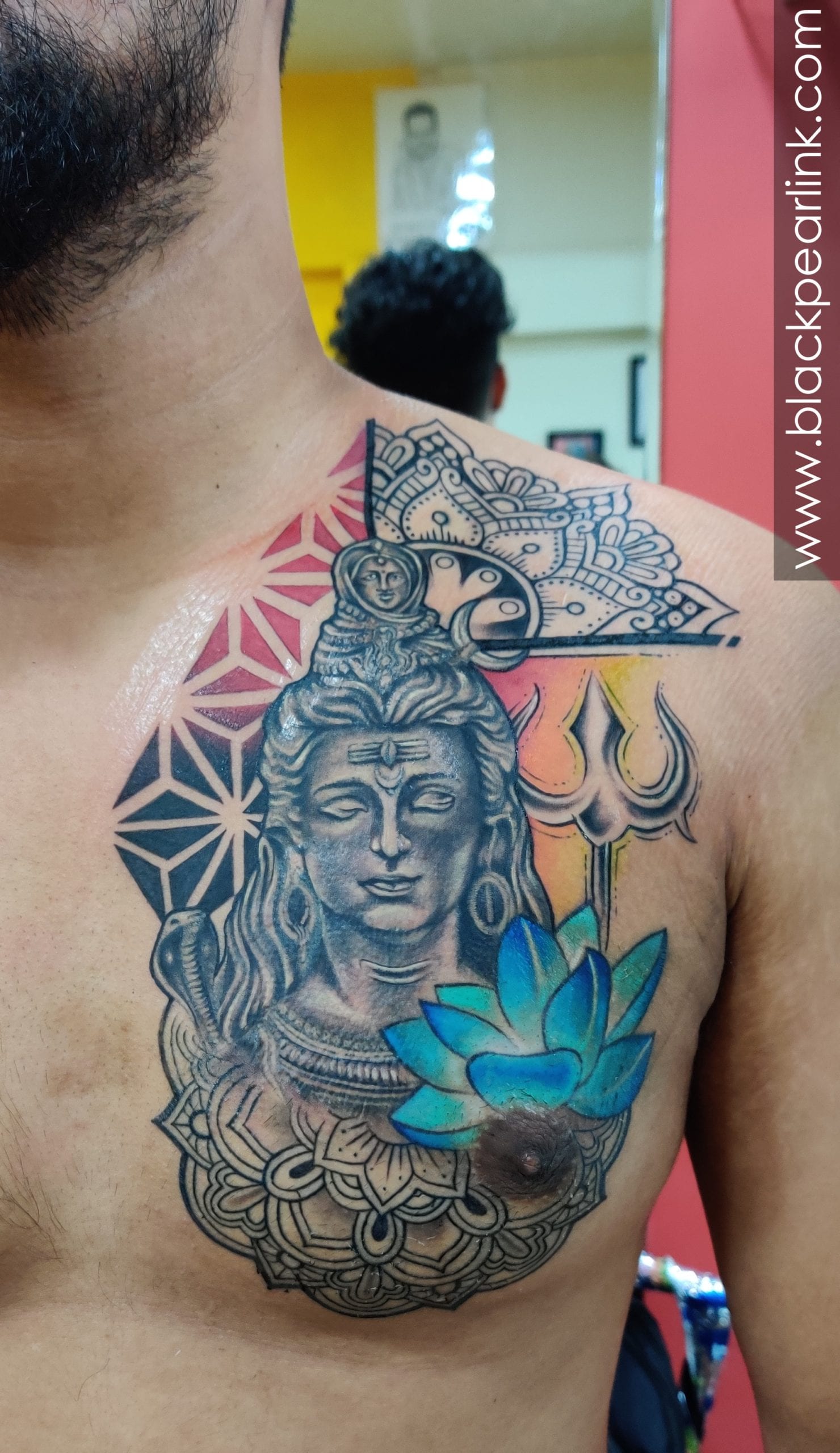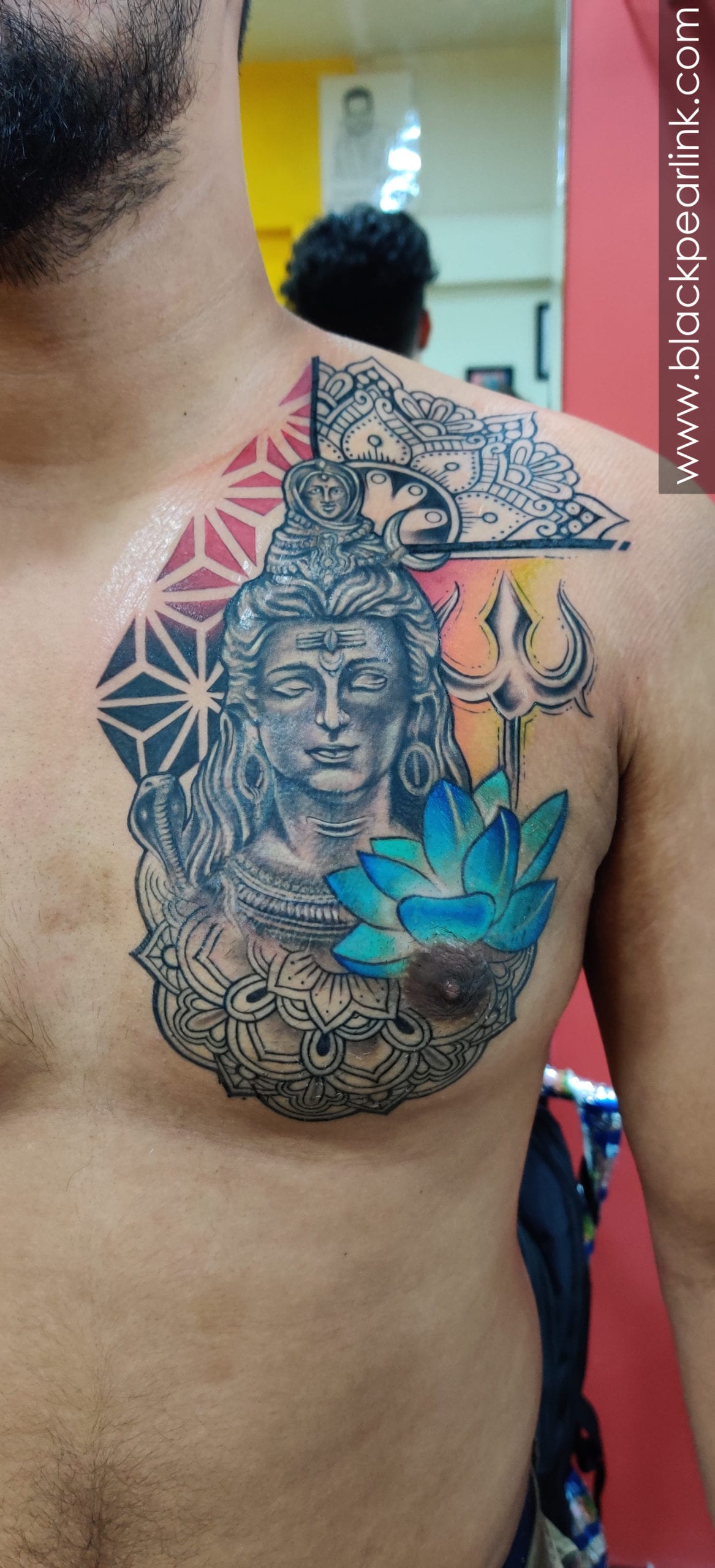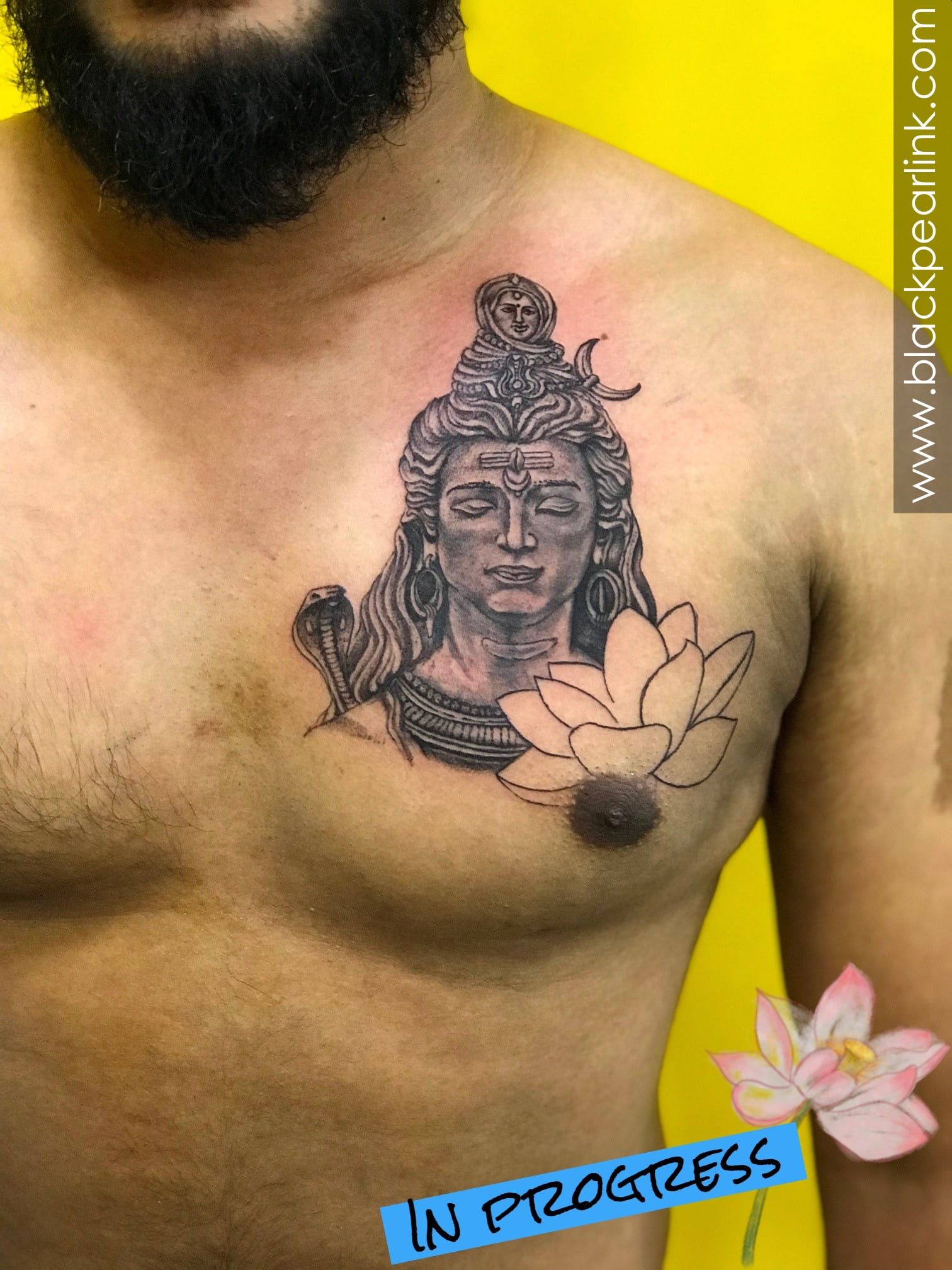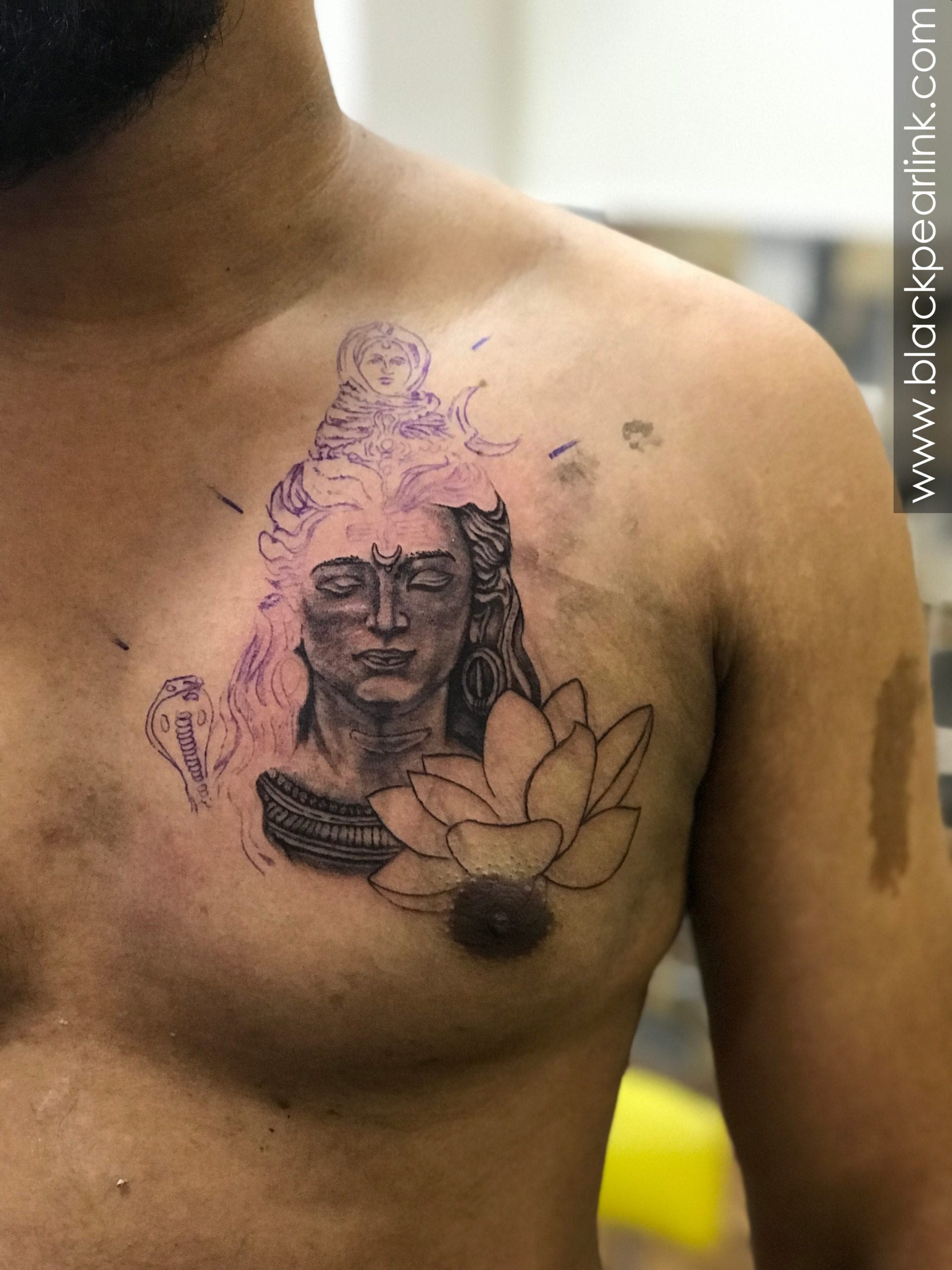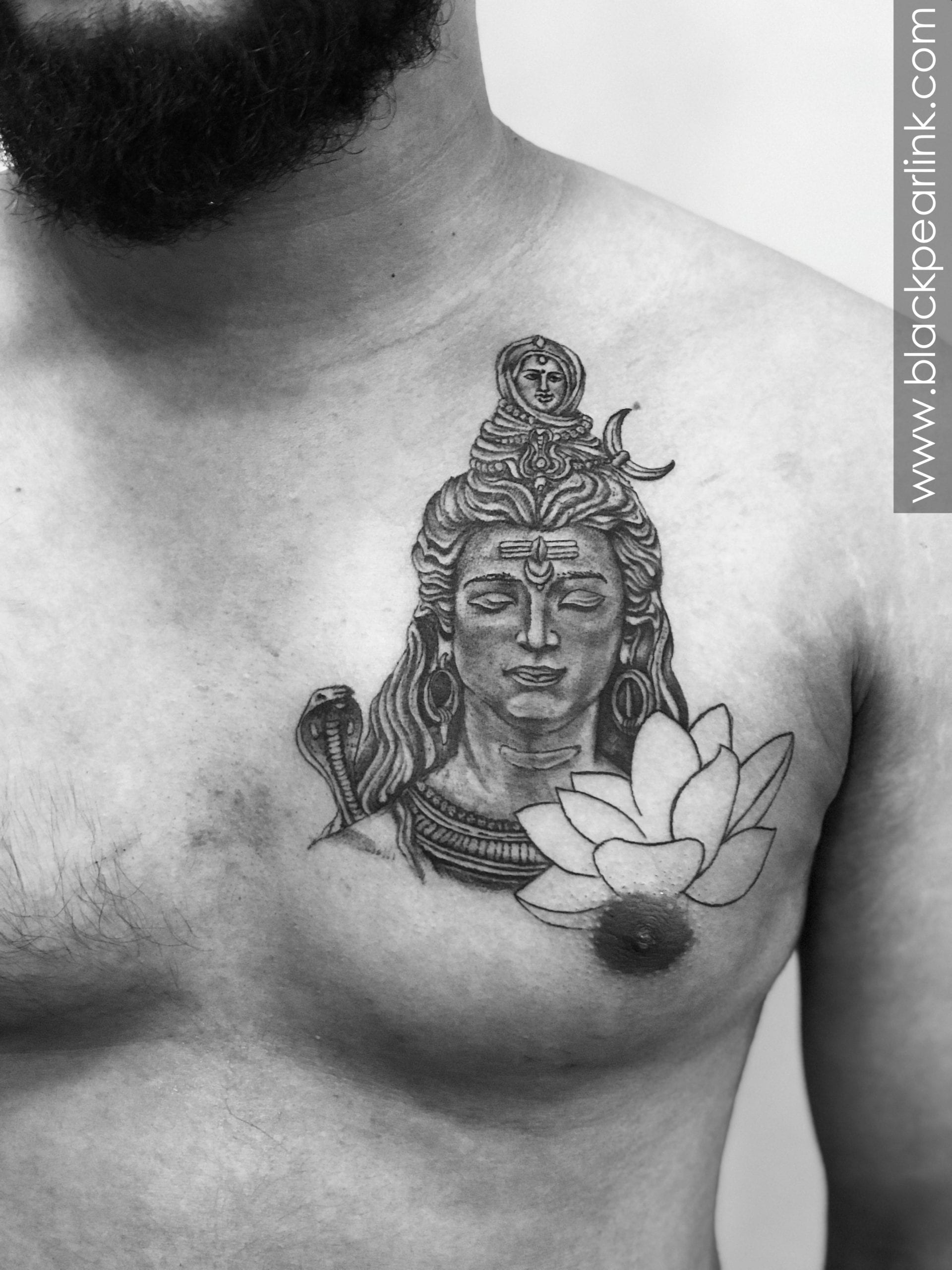 2. Greek Styled Shiva with Trident
This cool looking Shiva tattoo is created in Greek God style, similar to what we see for Zeus or Poseidon. It was made on one of our regular clients who has had 3 tattoos before this at Black Pearl Studio. He had a wild tiger tattoo on a forearm that we made couple years back and he wanted to compliment it with equally mesmerizing design on arm. We were like, say no more!
It took us 2 sittings to finish this design with flamboyant hair and trident with Om (Aum) sign. We really tried to put life in this boss of a tattoo, especially the eyes of Shiva. Let us know if you like it and want a similar one for you too.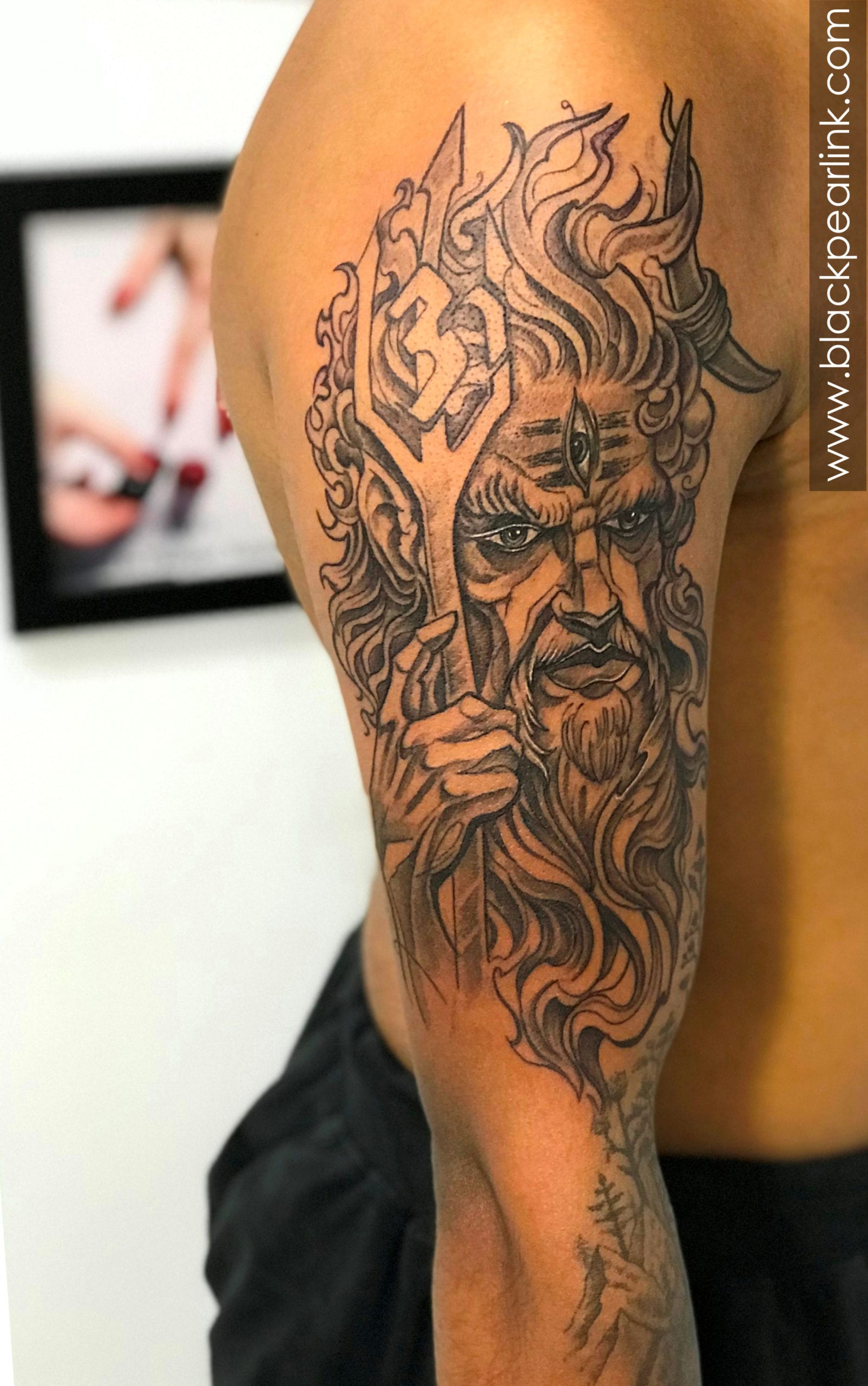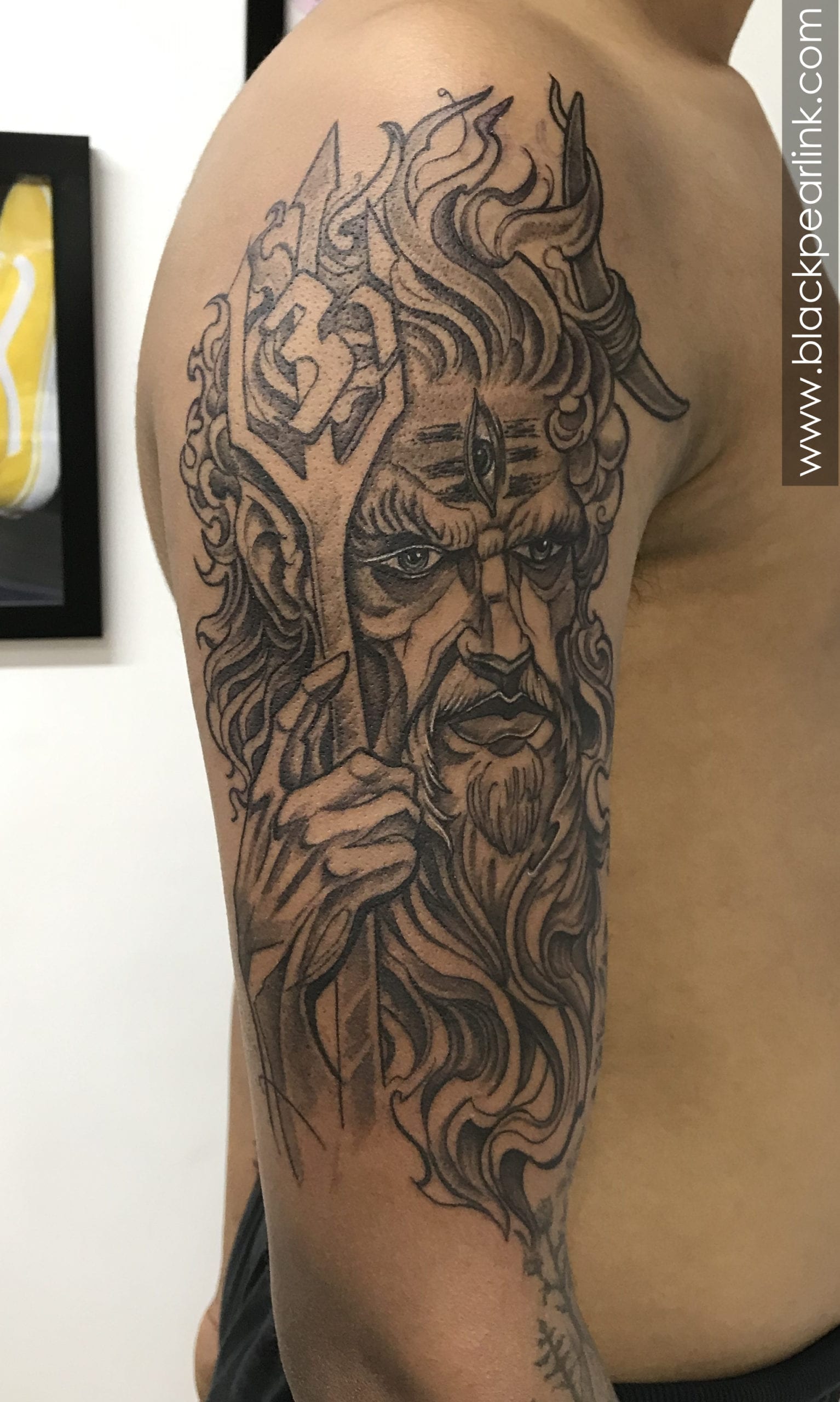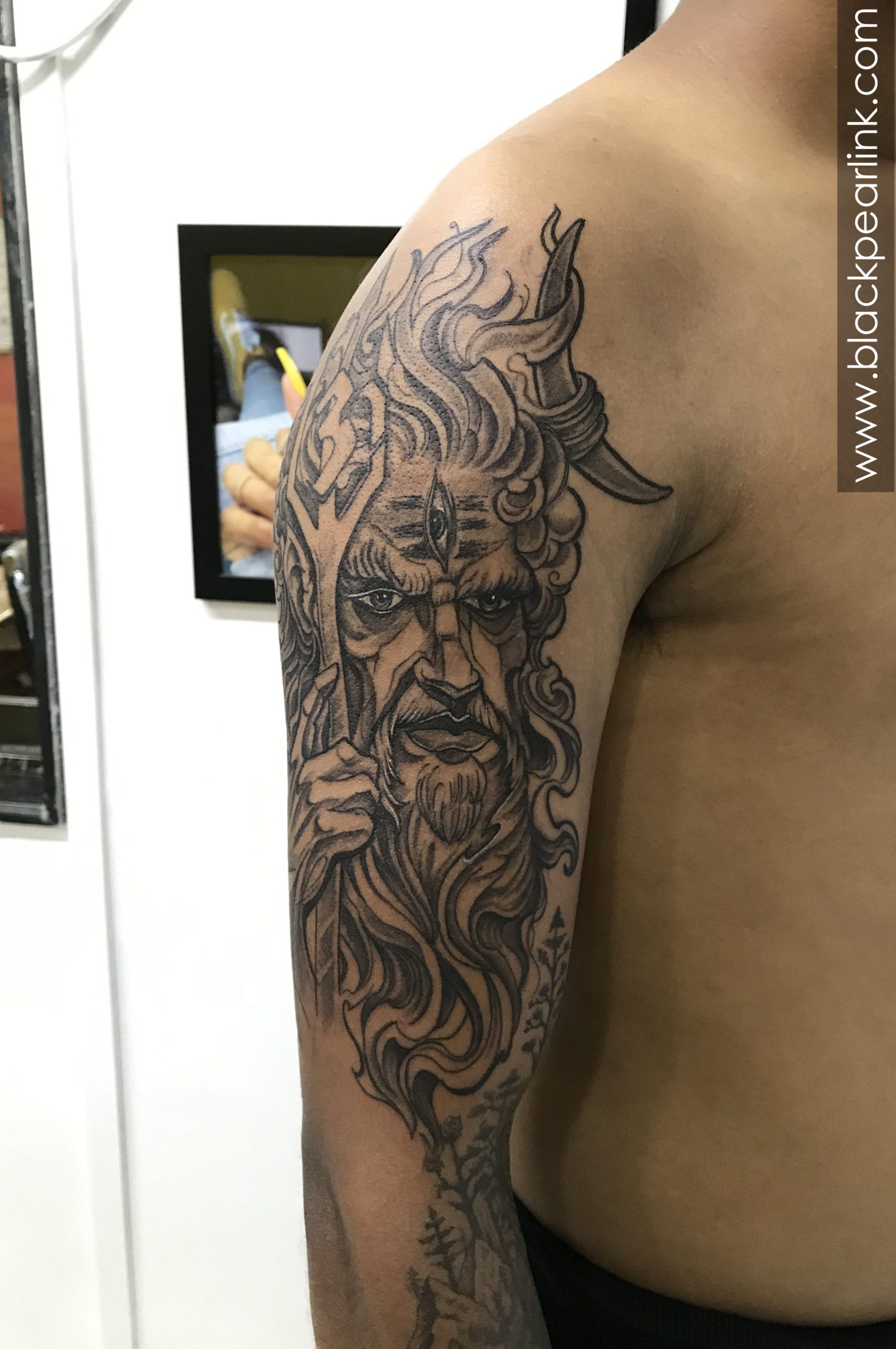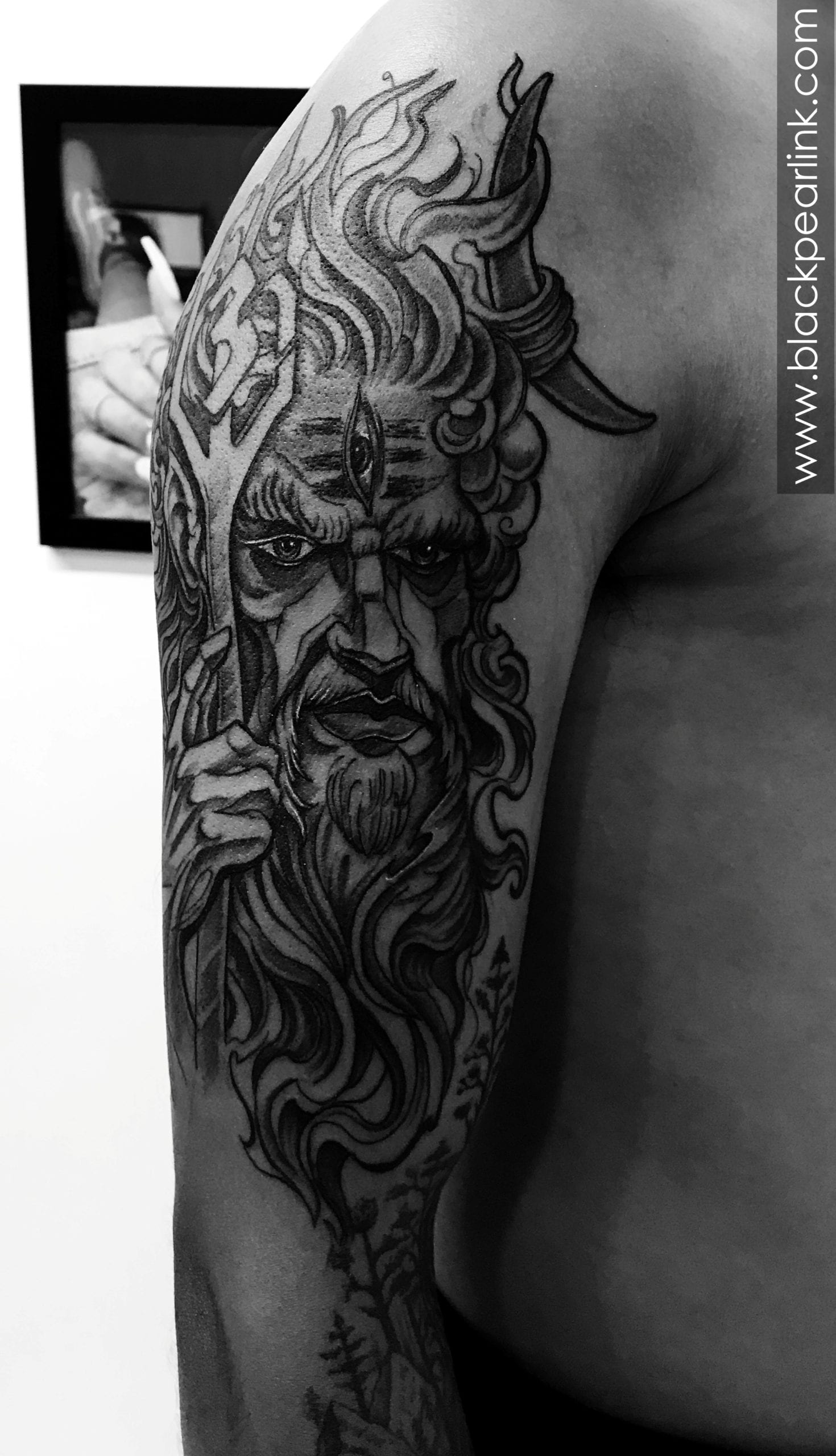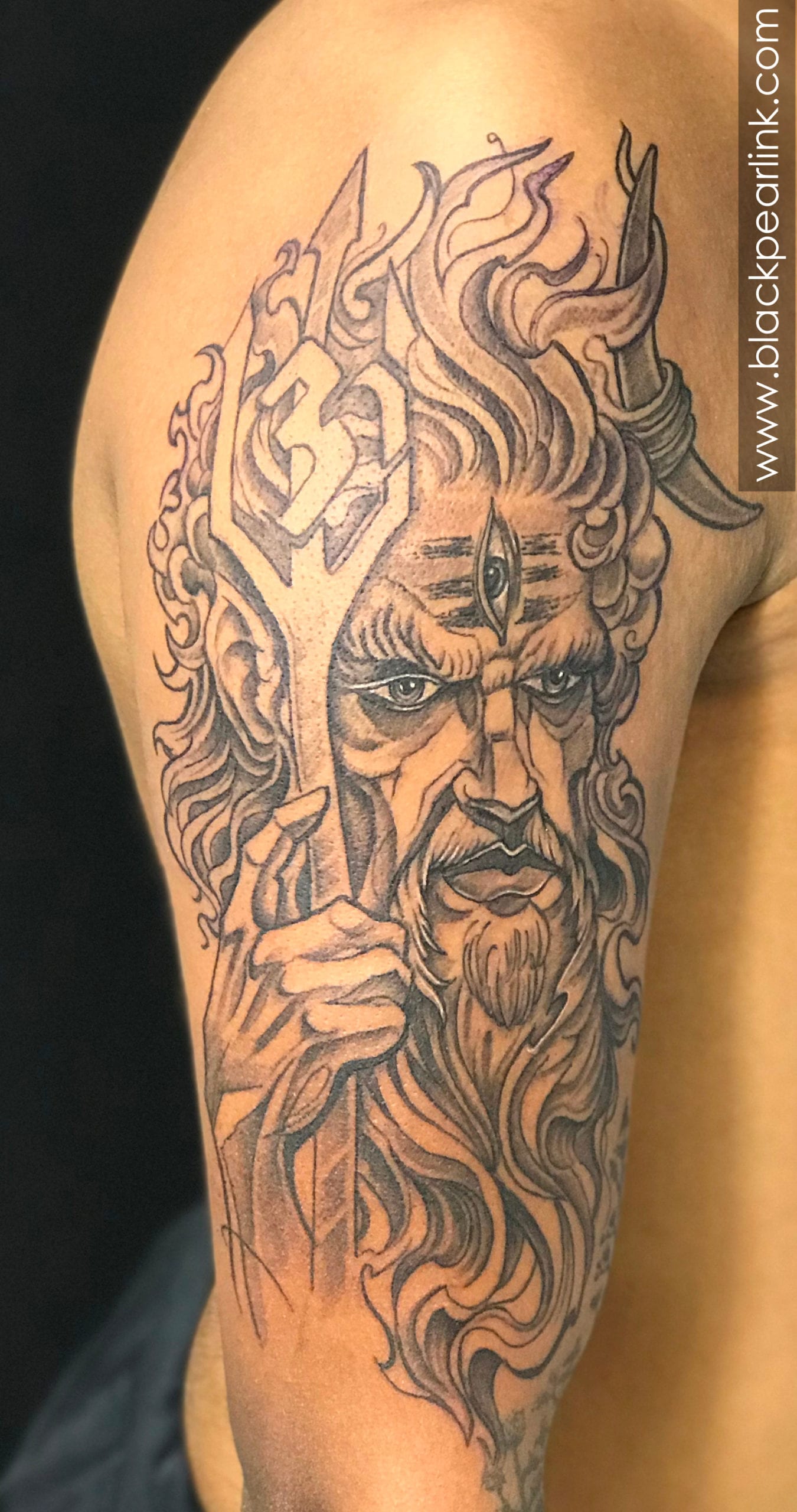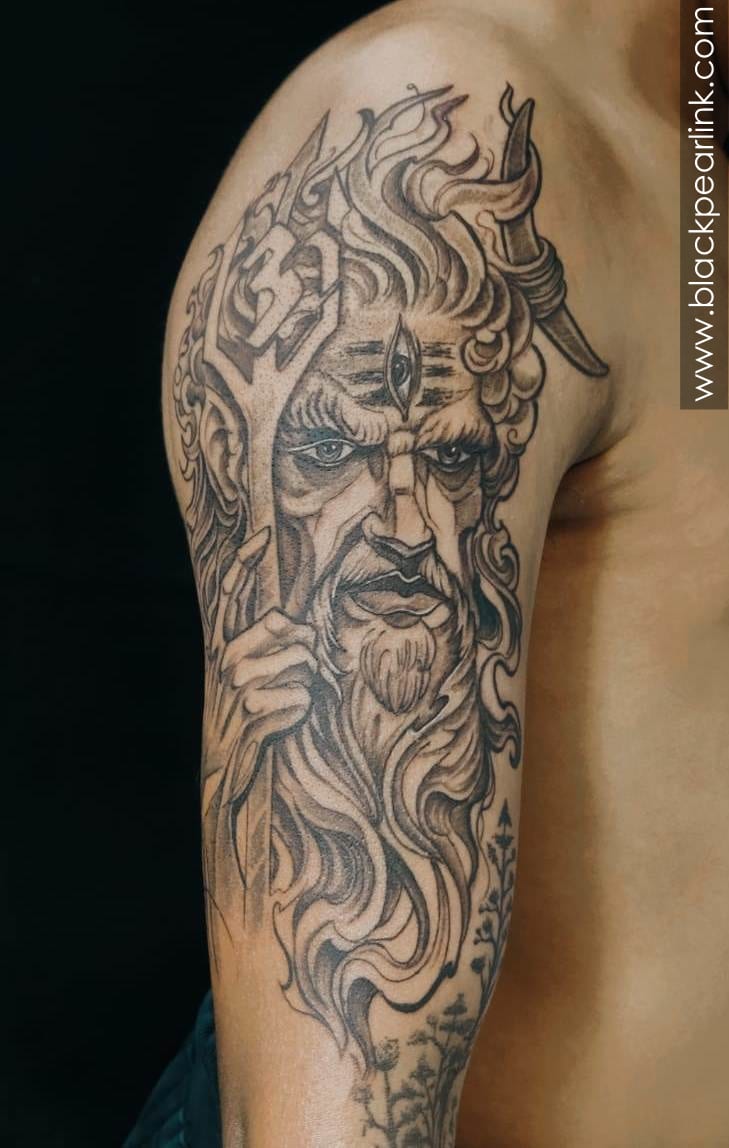 3. Om and Shiva Colored Tattoo
This is a very unique tattoo. The client wanted an Om (aum) tattoo and lord Shiva inside that Om along with his Trishul. We worked on this concept and came up with this abstract design.
The aura of lord Shiva is considered to be of blue colour hence for the half of the tattoo we used shades of sky blue and for the rest half we used black and grey. We have also tried to show the Jataas (hair strands) of Shiva and a red trishul in the center. Here lord Shiva is shown in a calm meditative pose. It took us 5-6 hours to make this tattoo and the outcome was beautiful. Our client was really pleased to get this devine tattoo done on his forearm.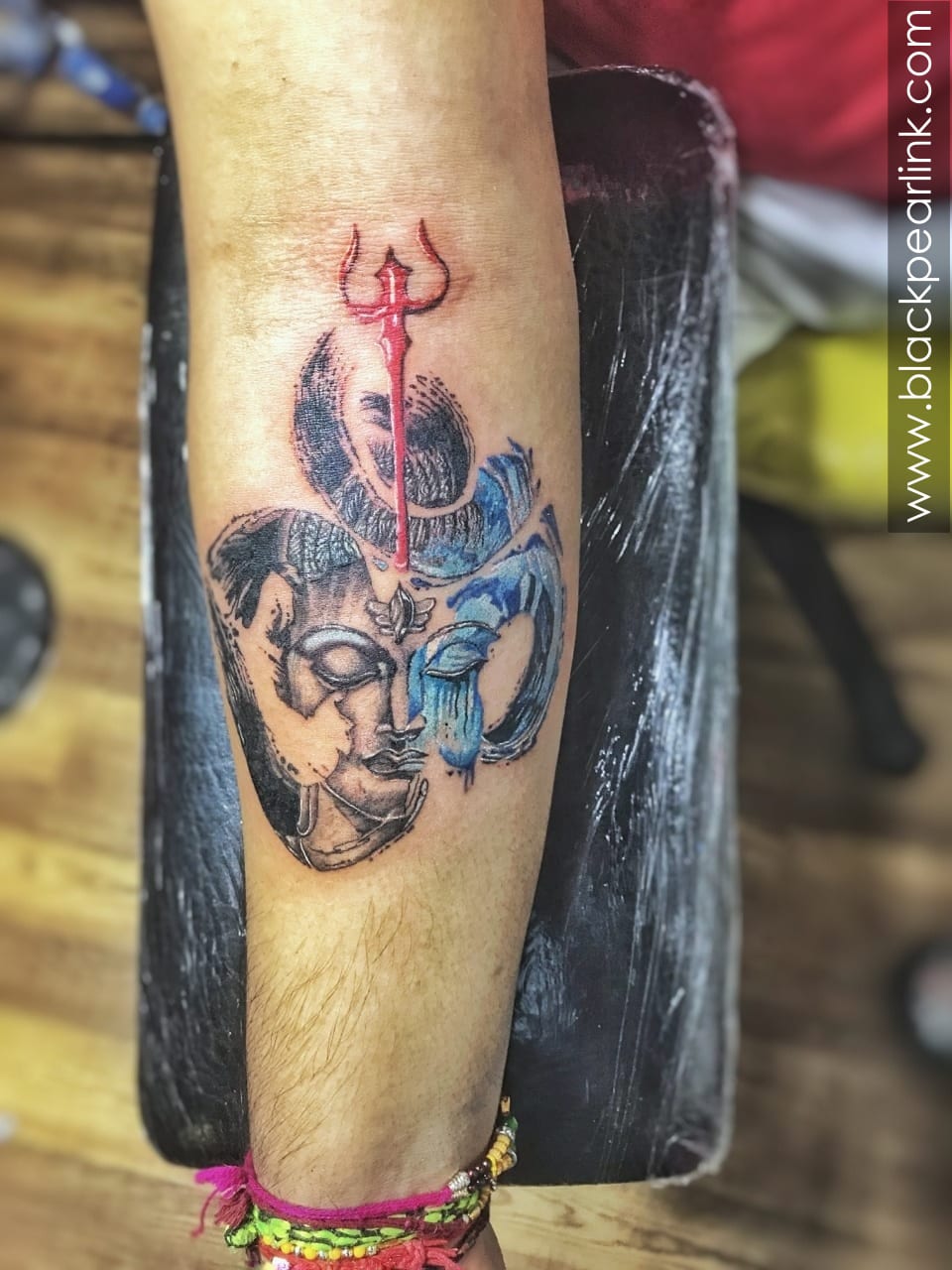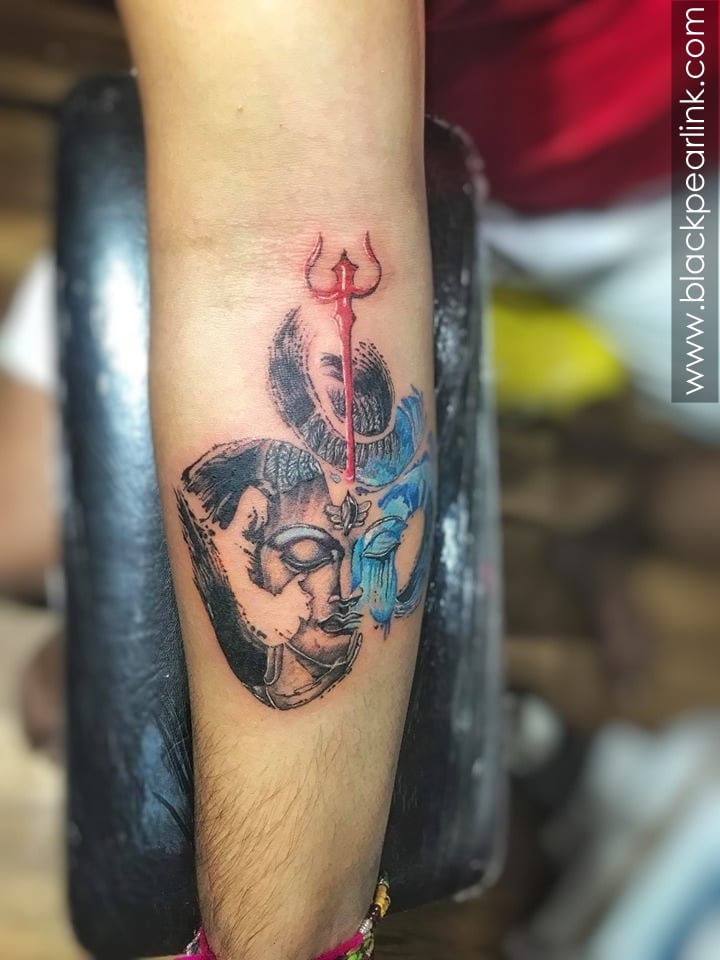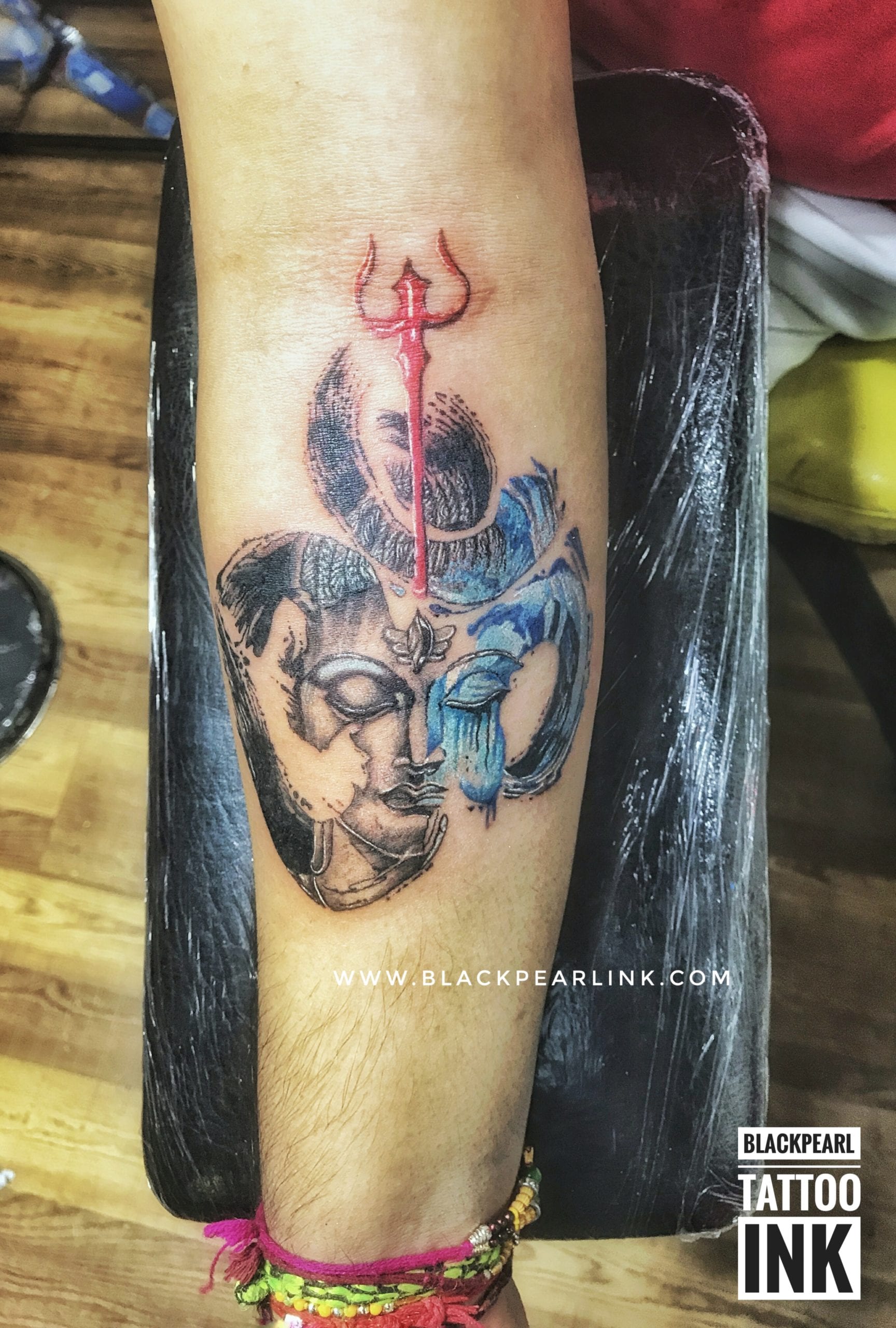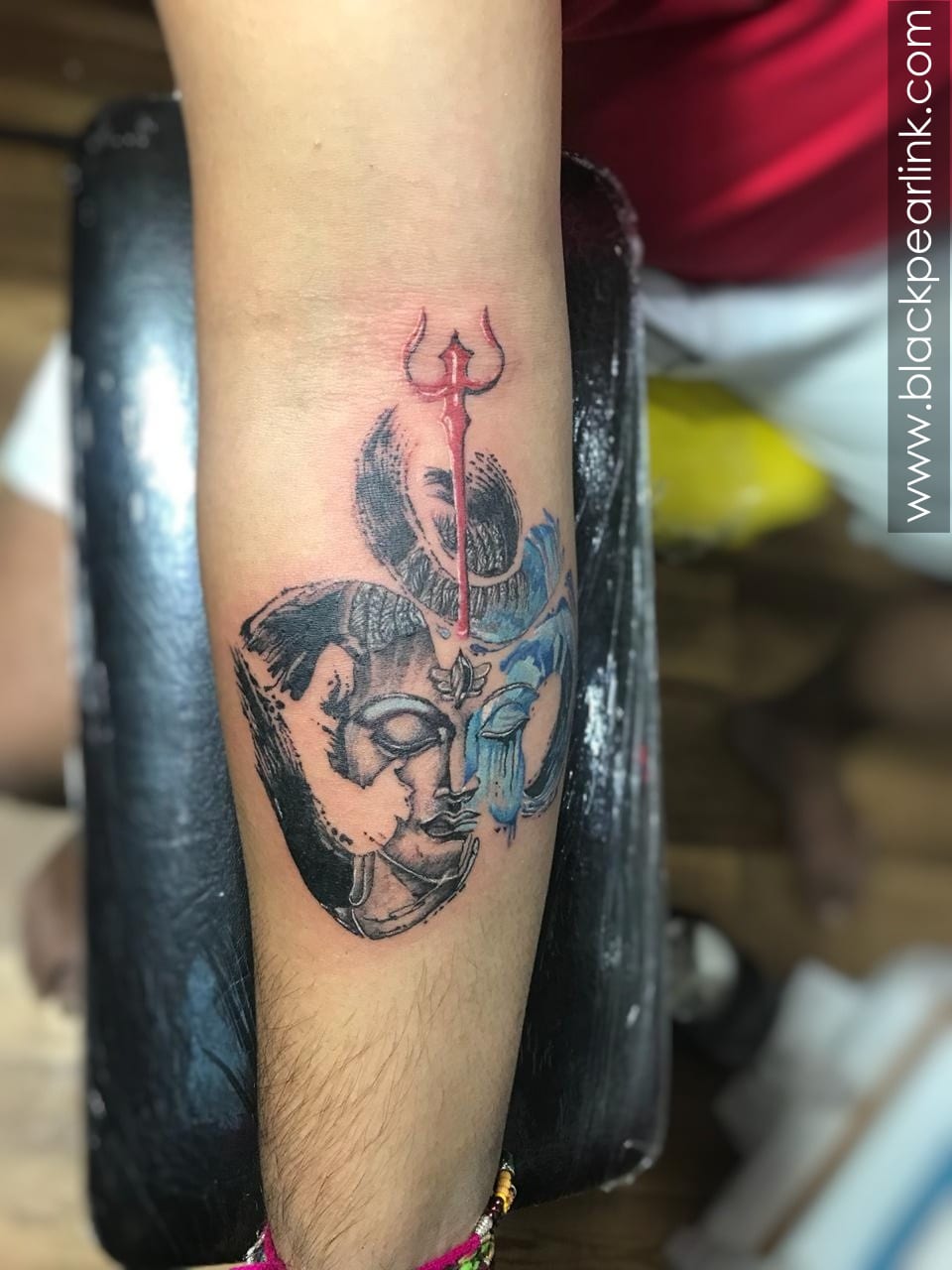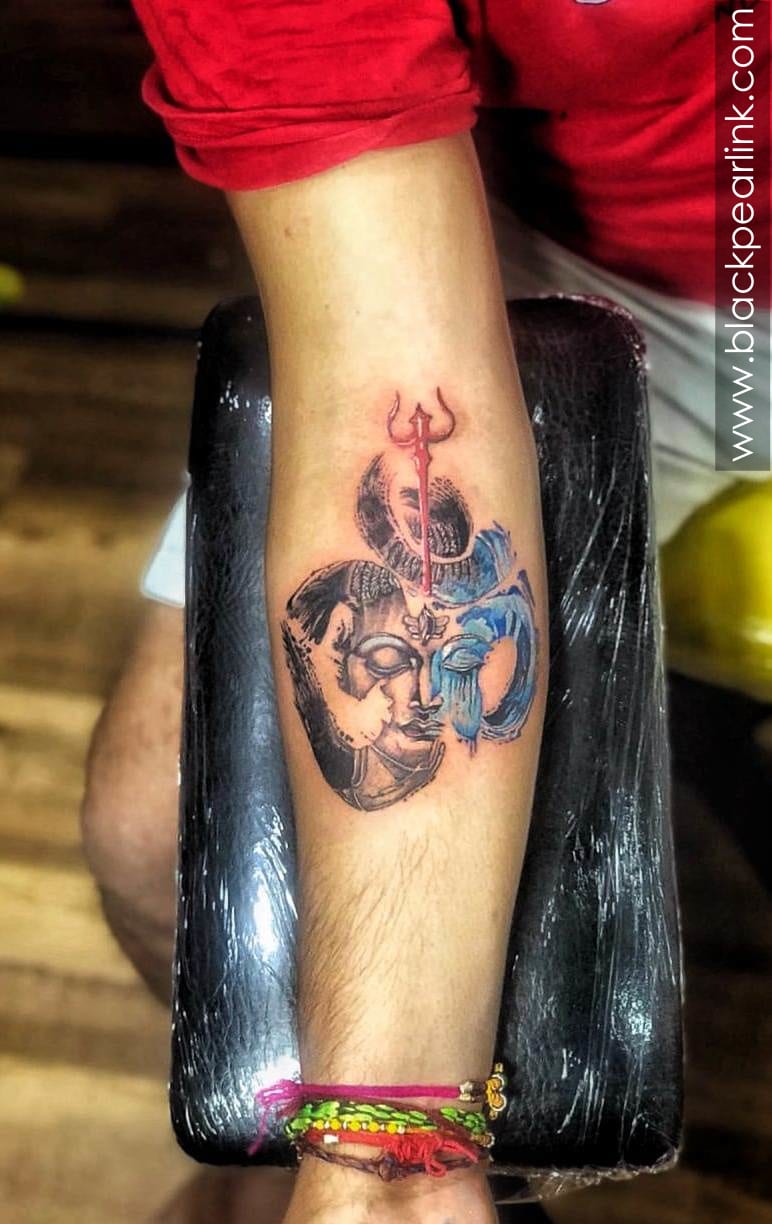 4. Mahadev Shiv Immersed in Meditation Tattoo
This one here is a completely customized full sleeve tattoo. It's a known statistic that lord Shiva tattoos are one of the most popular tattoos in India. Our client too wanted a big Shiva tattoo in a peaceful meditation pose with other specific details. We researched a lot on the requirements of the client and came up with this idea.
We have shown many elements in this tattoo. Here lord Shiva is shown in calm and composed meditating pose above the Himalayan mountain range and river Ganges flowing beneath the mountains. We have also added the Buddhist monastery in the backdrop. The concept behind this monastery image was to convey that Buddhist monks also practice meditation and lord Shiva is the greatest Yogi of all.
In the inner sleeve we have made a pattern design of a Mandala with Om written in it. Om (aum) is considered as the universal sound or the cosmic sound and is chanted before and after all the Hindu Mantras. We have used black, grey and red colours and shades for this tattoo. As this is a big tattoo we completed this in two sittings. The first sitting took around 10-12 hours and after a few days we proceeded with the second sitting. Overall this full sleeve tattoo required 20-22 hours. As evident, the outcome was a beautiful picturesque tattoo across the sleeve.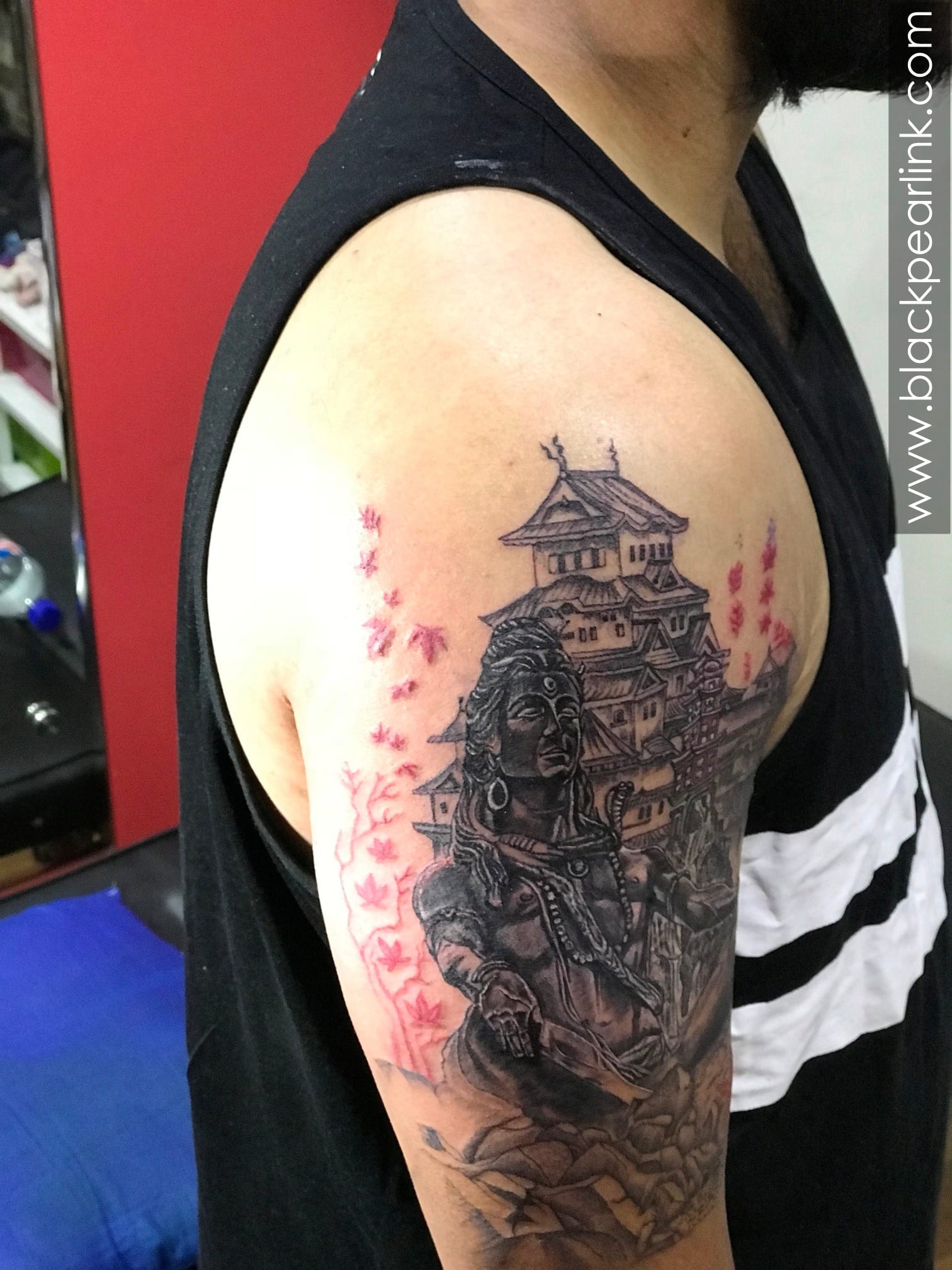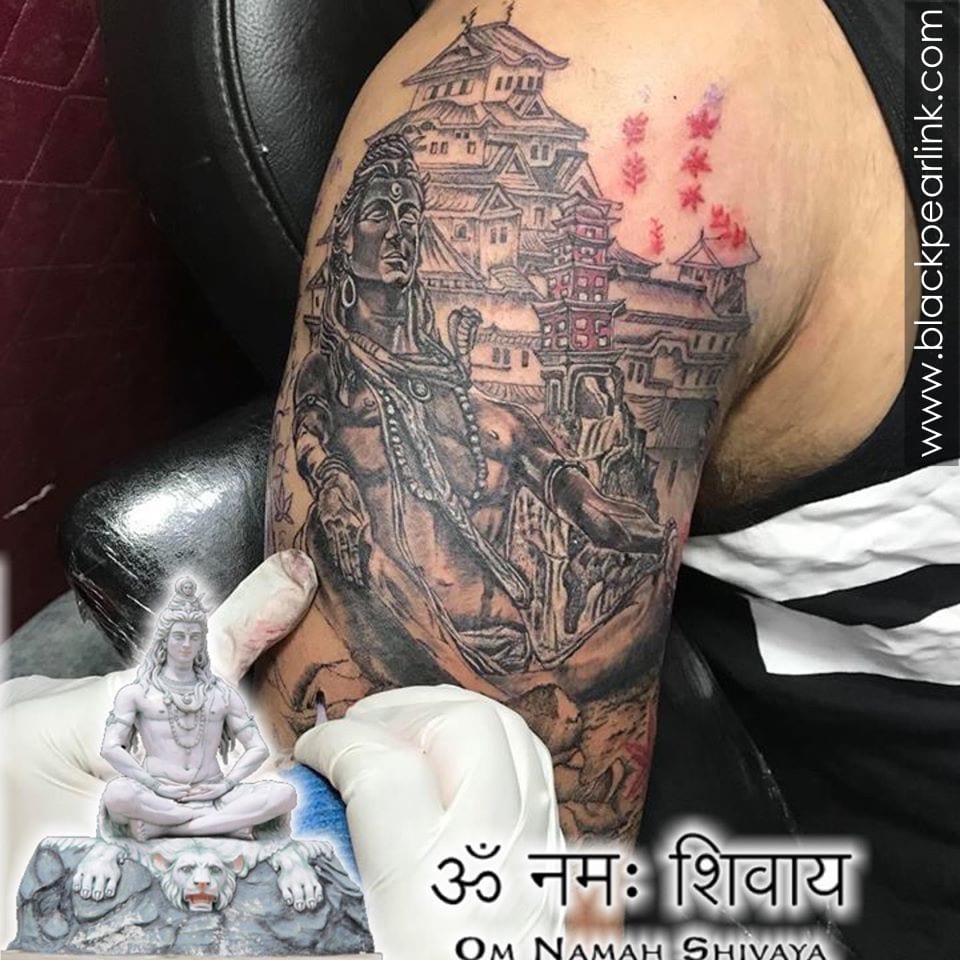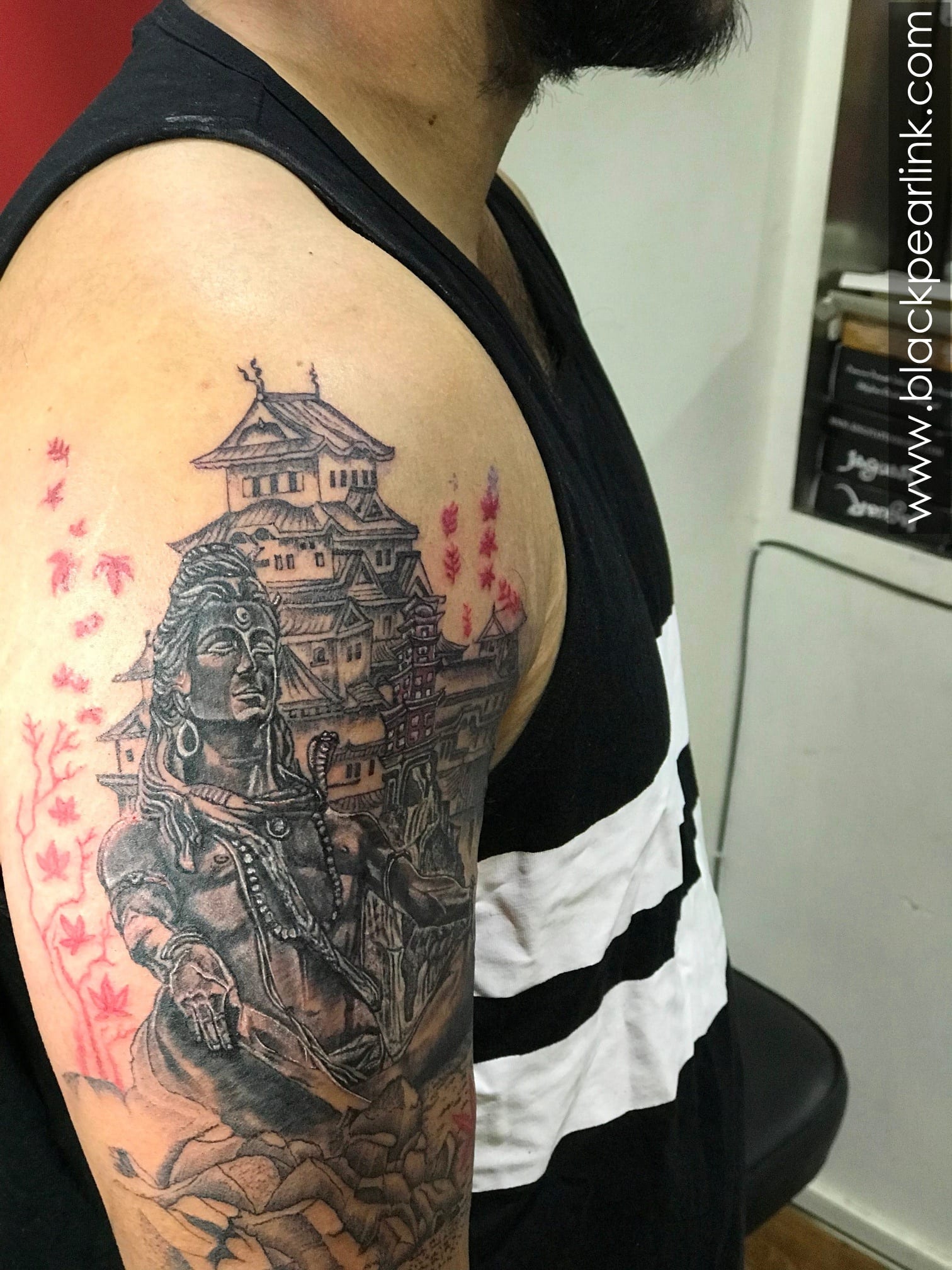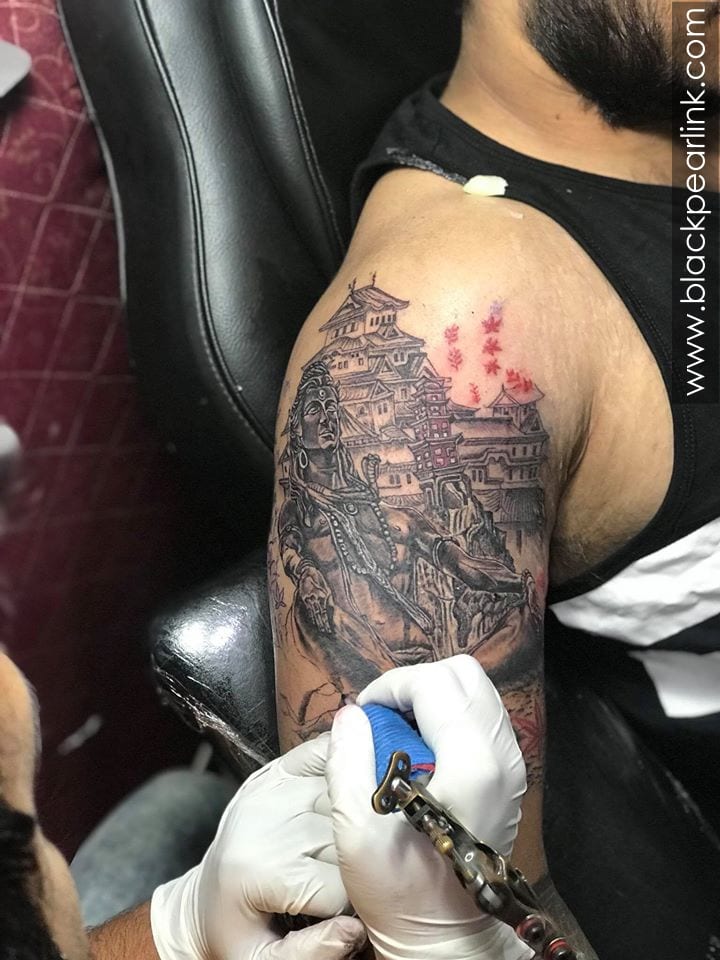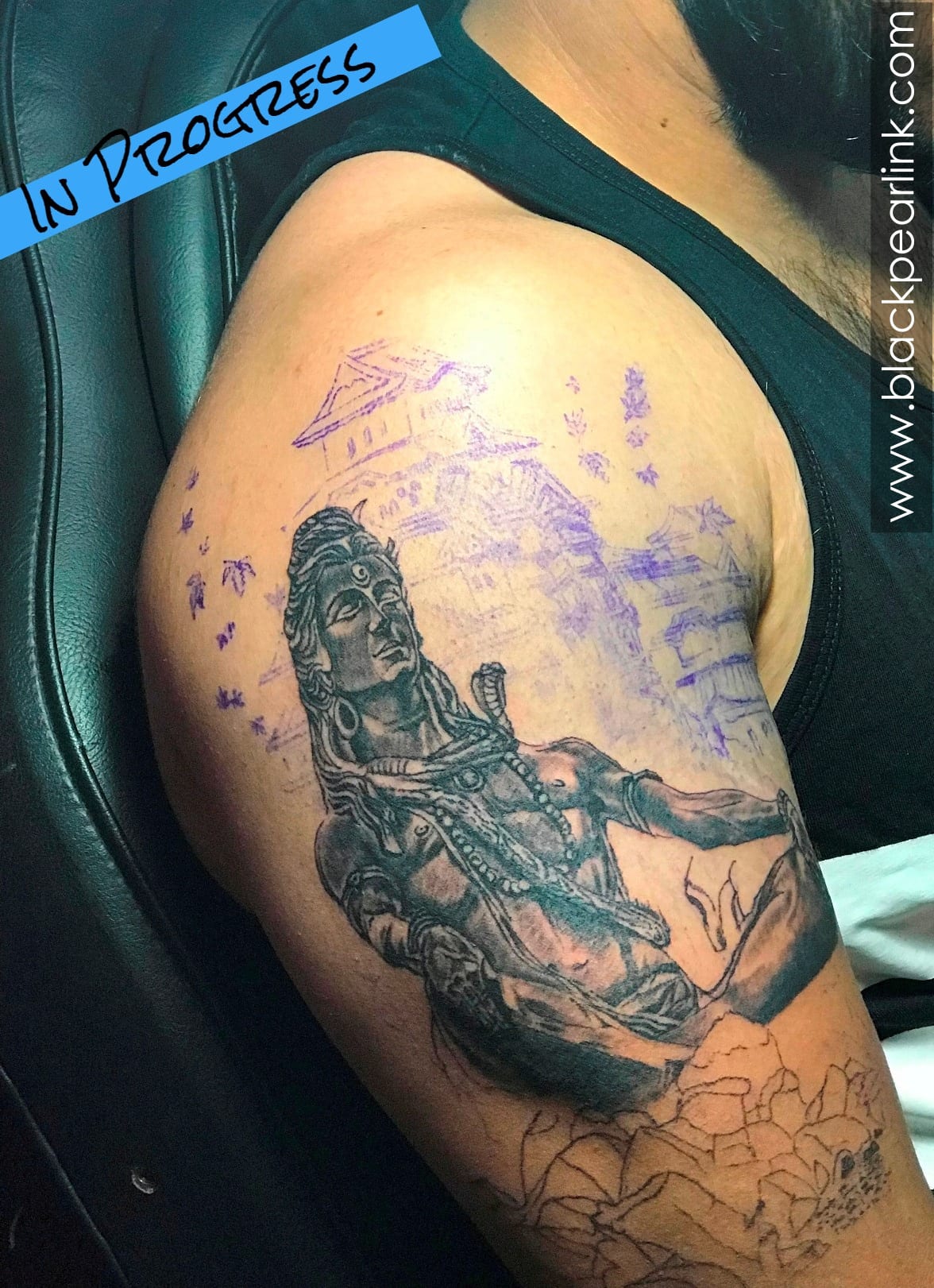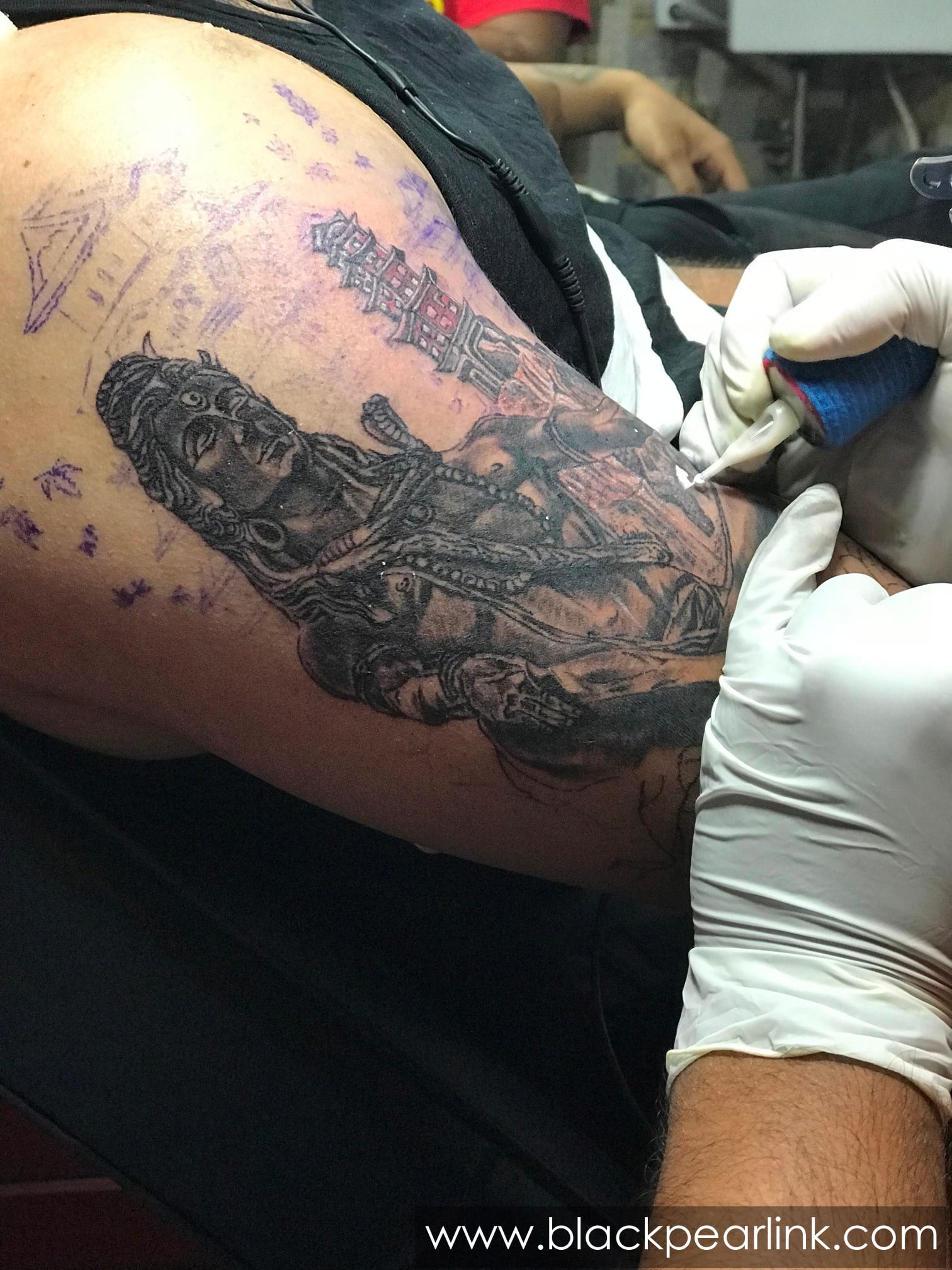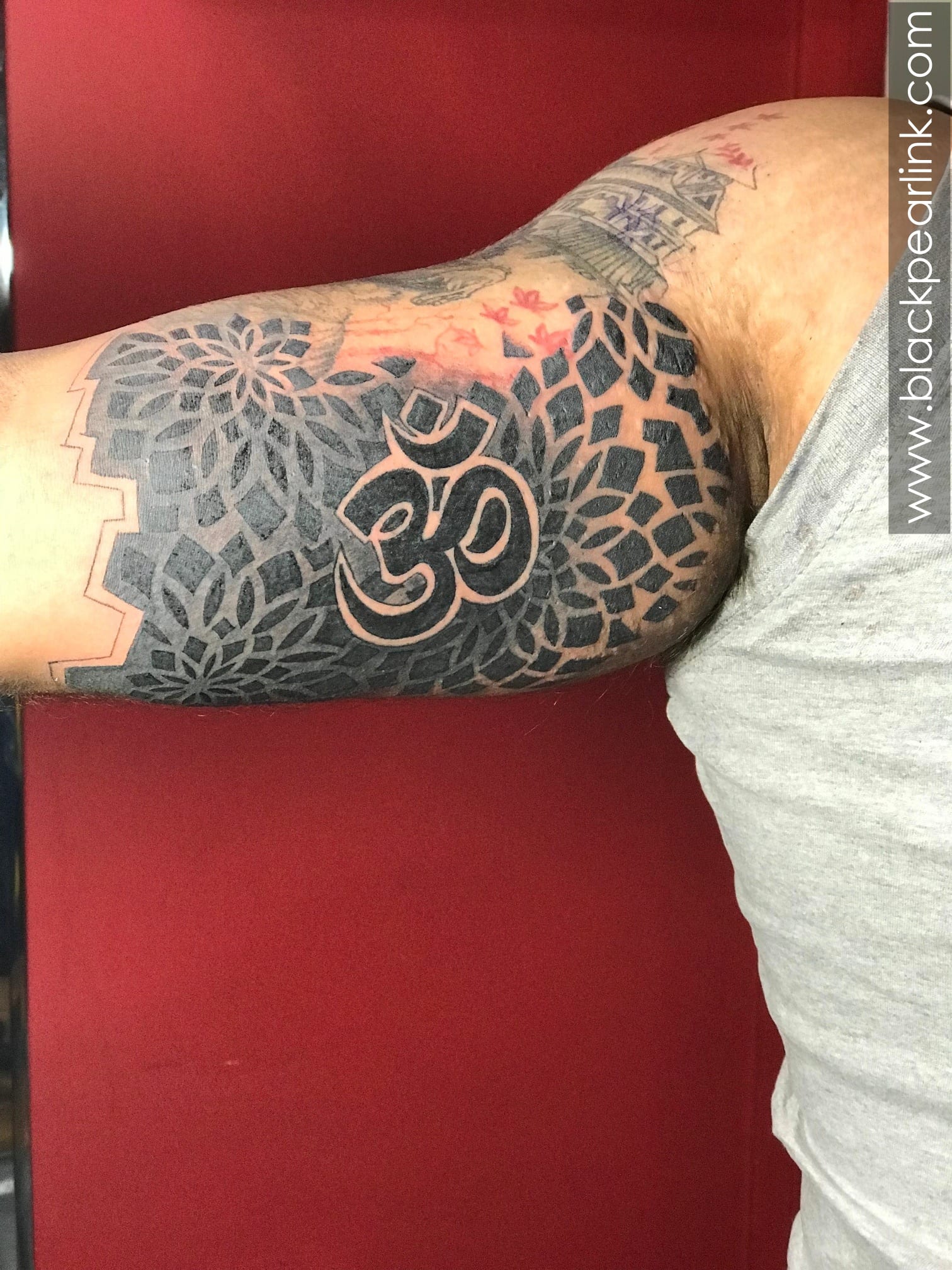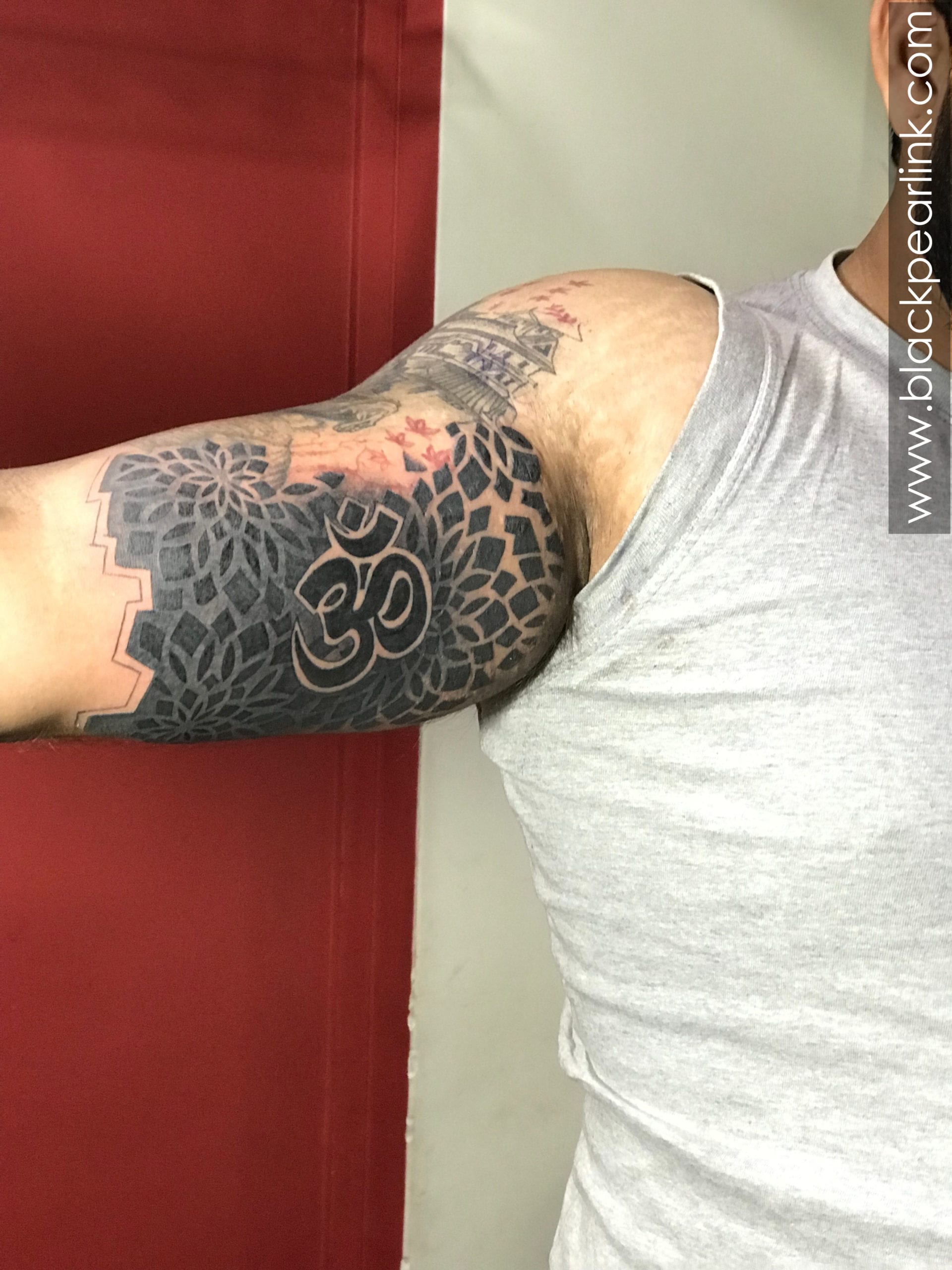 5. Mahamrityunjaya Mantra written on DNA String
This is a very special tattoo made in the initial days of my career as the client visited our studios all the way from Dubai. It's a fully customized free hand tattoo. No tracing technique is used while inking this tattoo. The client was interested in a Lord Shiva related tattoo which tells a story. He wanted something that's unique. So we brainstormed the client's requirement and customized this tattoo for him.
In Hindu scriptures it is said that all our karmas are saved in a DNA form and these play a vital role in our rebirth. The Mahamrityunjaya mantra is said to be a Moksha mantra and it sets you free from the cycle of life and death. So we thought of inscribing the Mahamrityunjaya mantra alongside the DNA strand on the client's forearm. Then we also added a portrait of Shiva silhouette in a meditation pose, closer to the wrist. It took us a couple of days to create and draw this concept and 4-5 hours to tattoo it. It's indeed a unique one.
6. Shiva with Negative Space Design Technique
This is a cover up tattoo but the client didn't want us to upload the image of his old tattoo and we at Black Pearl Tattoo Studio respect the privacy of our clients and do not show anything which breaches the client's consent.
We have done a Shiva silhouette style tattoo on the previous name tattoo here. This tattoo uses a special artistic effect called 'Negative space' which means using the empty space to form artistically relevant shapes. This was made in just one sitting and took around 3 hours and actually turned out to be a nice tattoo.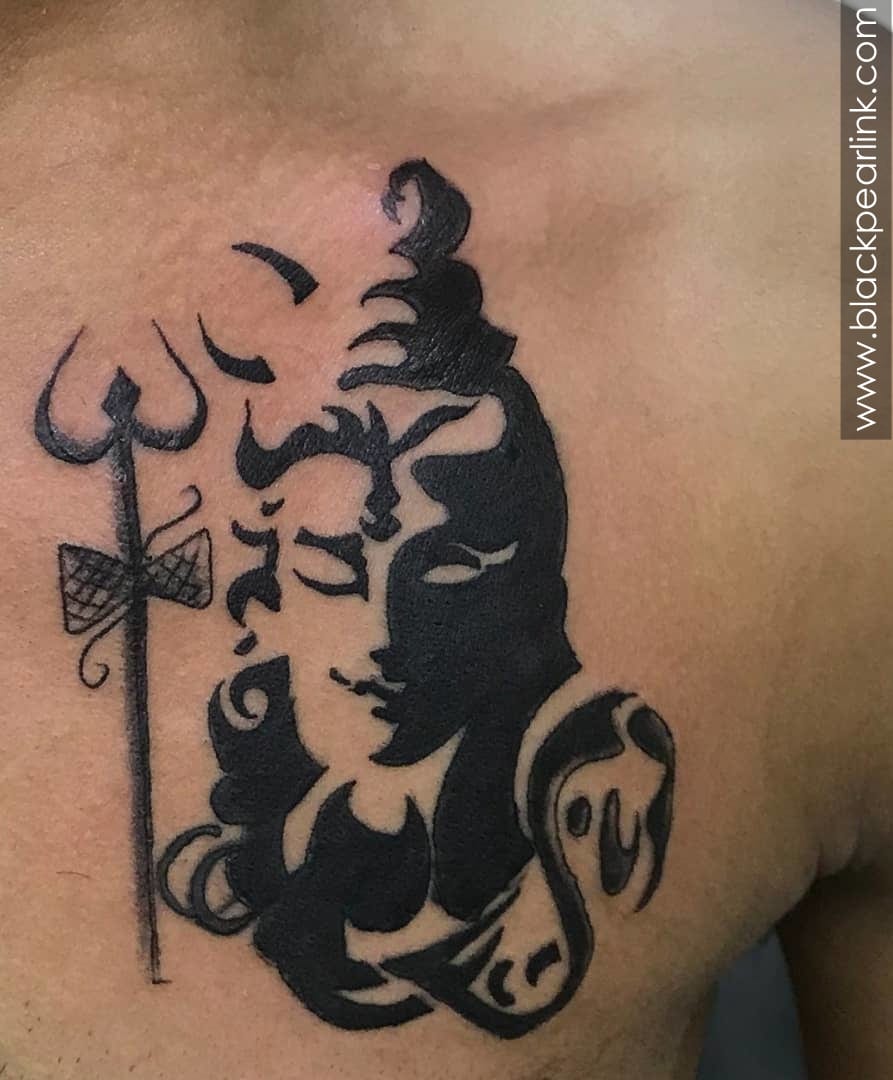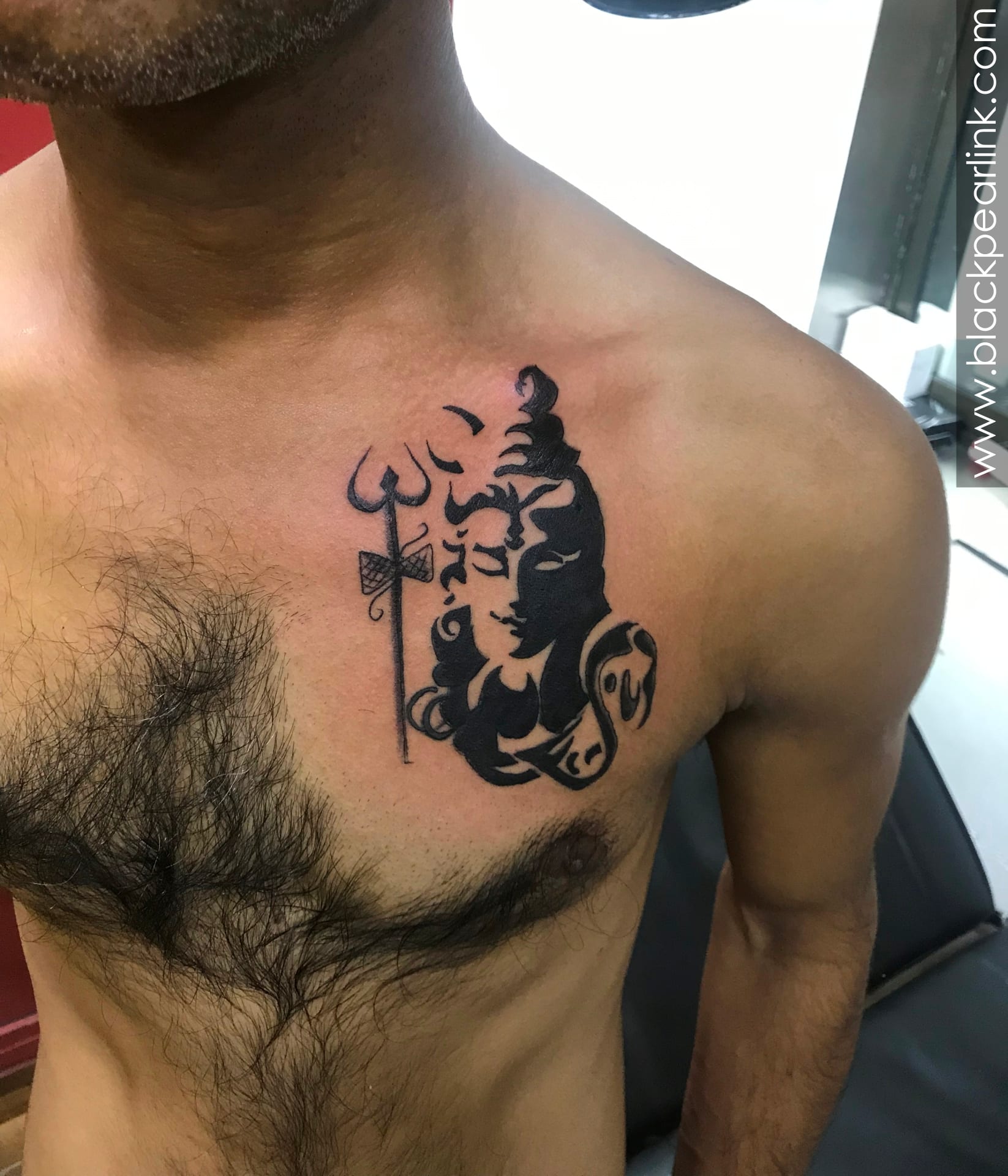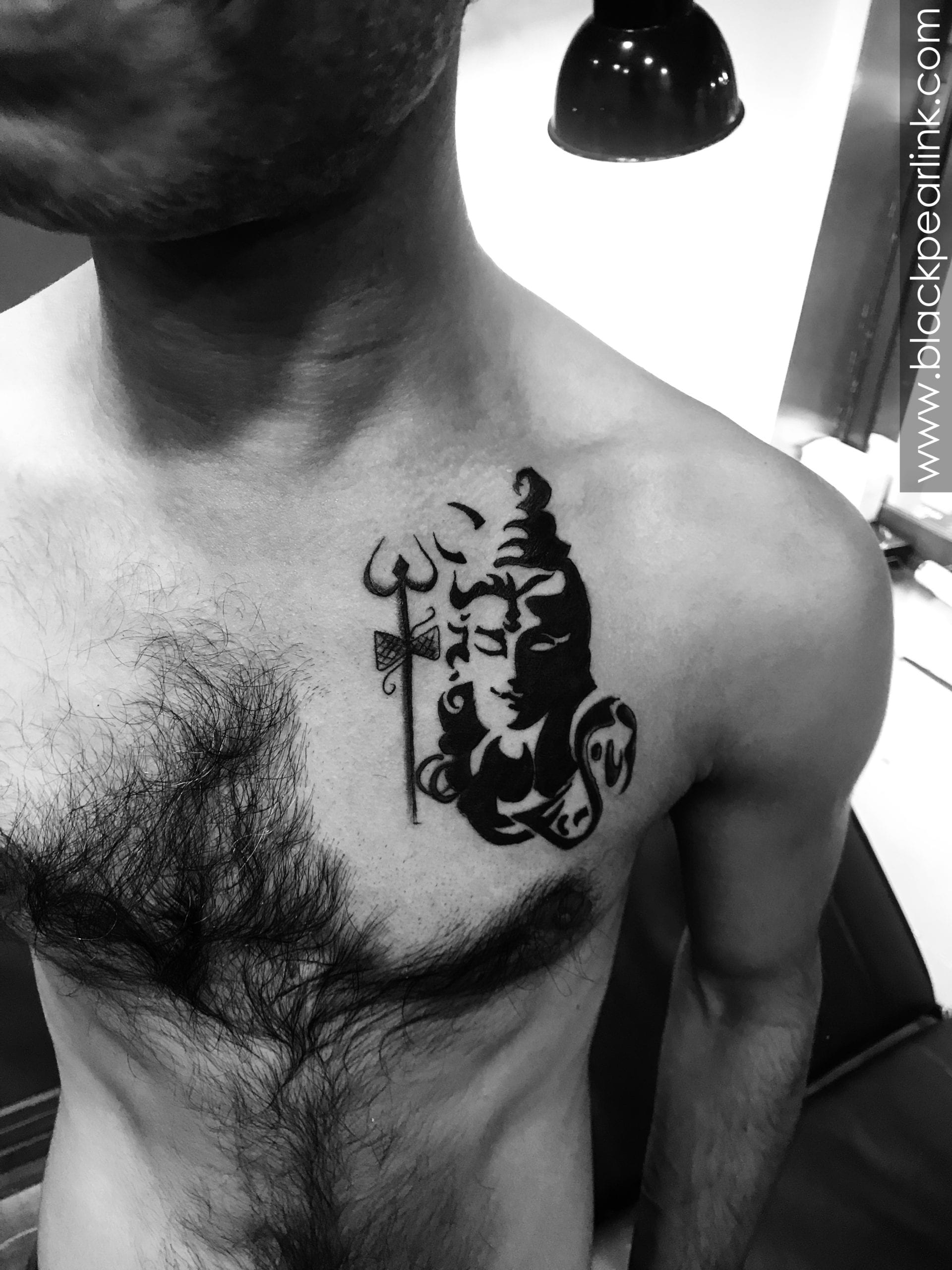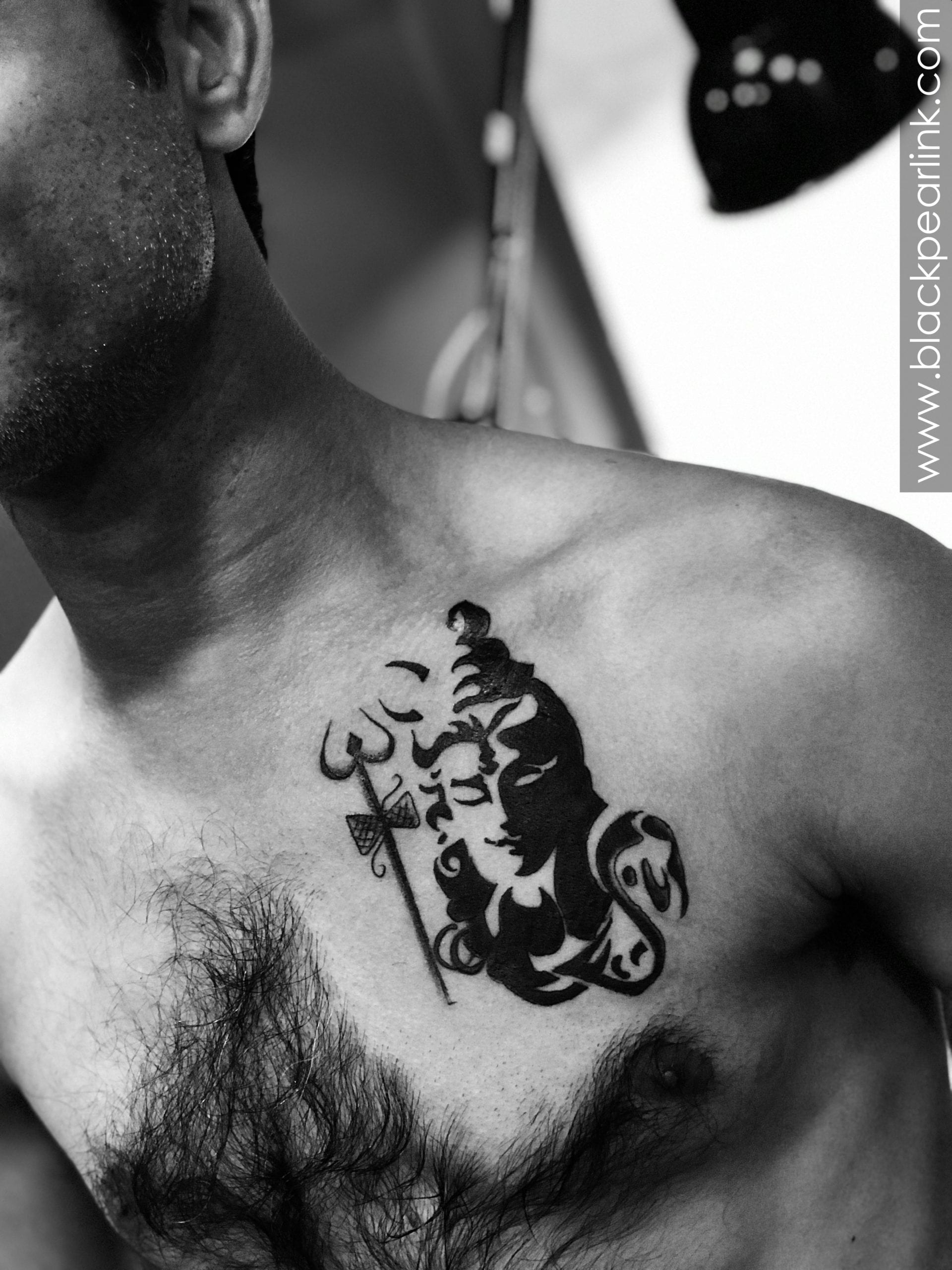 7. Coverup with Shiva in Gangadhar Form
This client had an old Ganesha and Trishul tattoo made from a freelance artist and apparently they had used low quality needles, machines and inks. The client wanted to cover it up with a majestic Shiva design they had seen online. We managed to find similar designs and finalized this beautiful Shiva in Gangadhar form.
This one can be categorized as a Realistic Tattoo or Realistic Sculpture Tattoo. Making this cover up was a time consuming process. We have put a lot of efforts to get the fine detailing right especially in the Jataas (hair strands) of lord Shiva. We have shown Goddess Ganga (River Ganges) emerging from the Jataas of lord Shiva along with the half-moon on his head. This form of lord Shiva is called the Gangadhara. It took us around 9-10 hours to finish this beautiful tattoo. The client was totally amazed with the outcome and we are hopeful you'd be amazed too.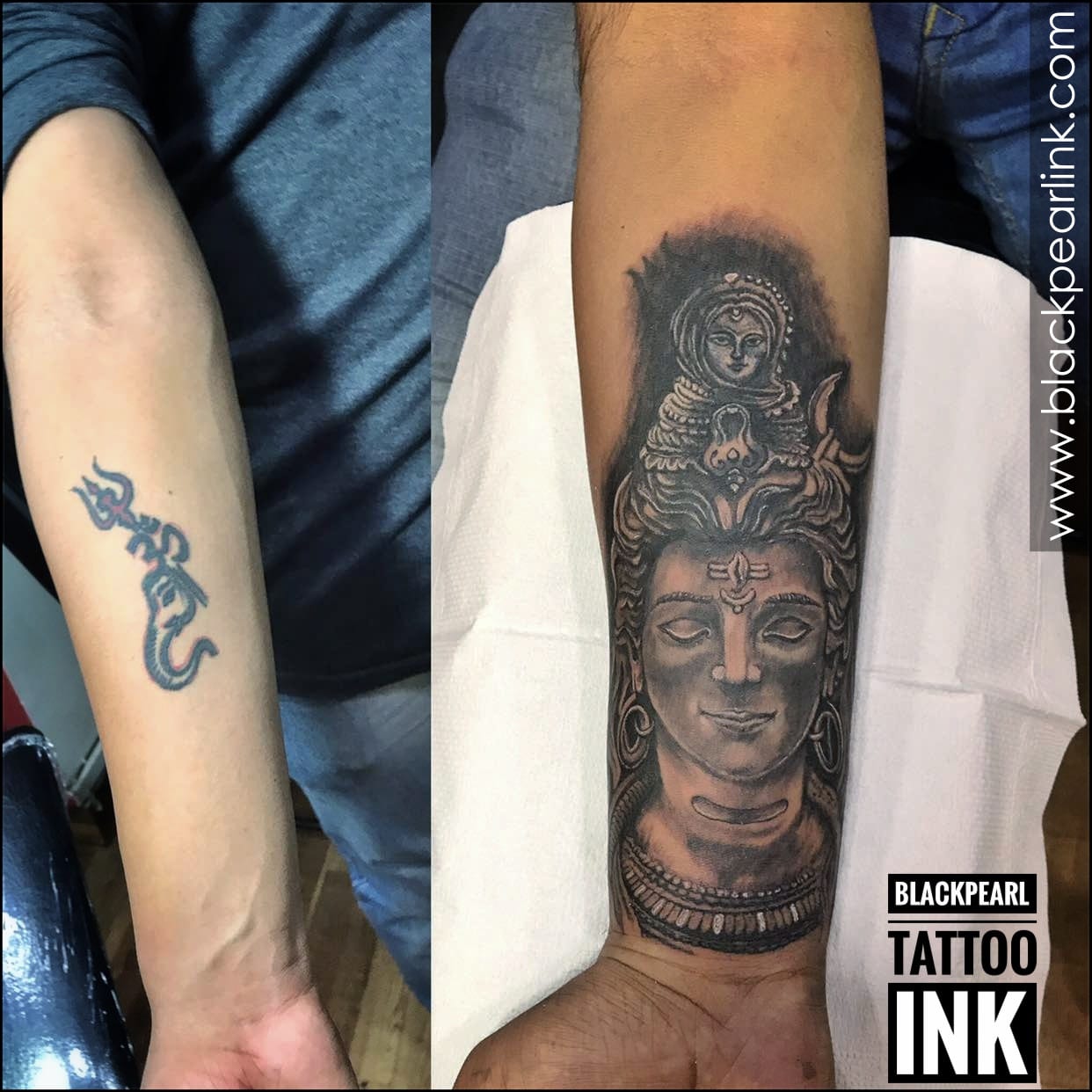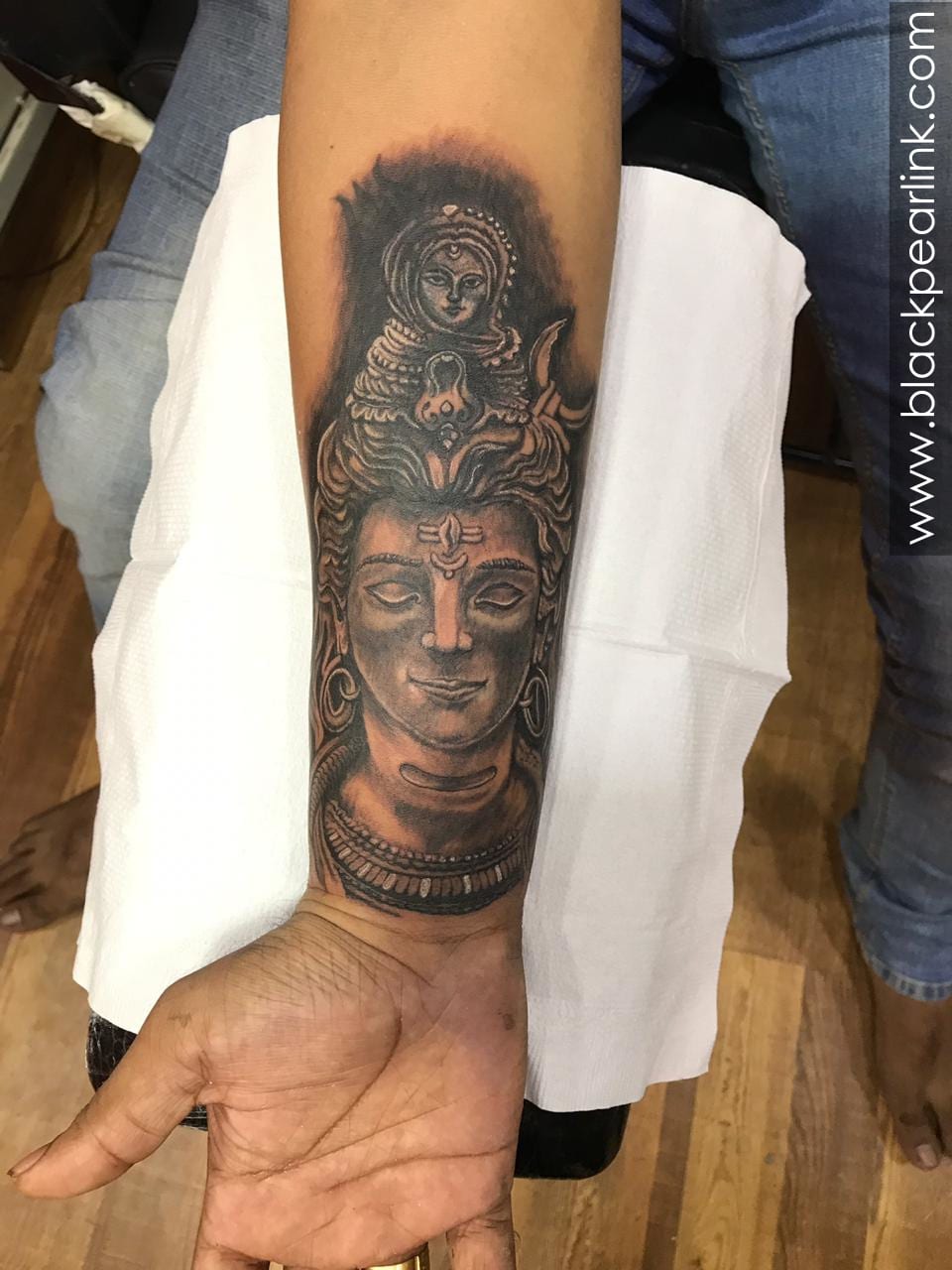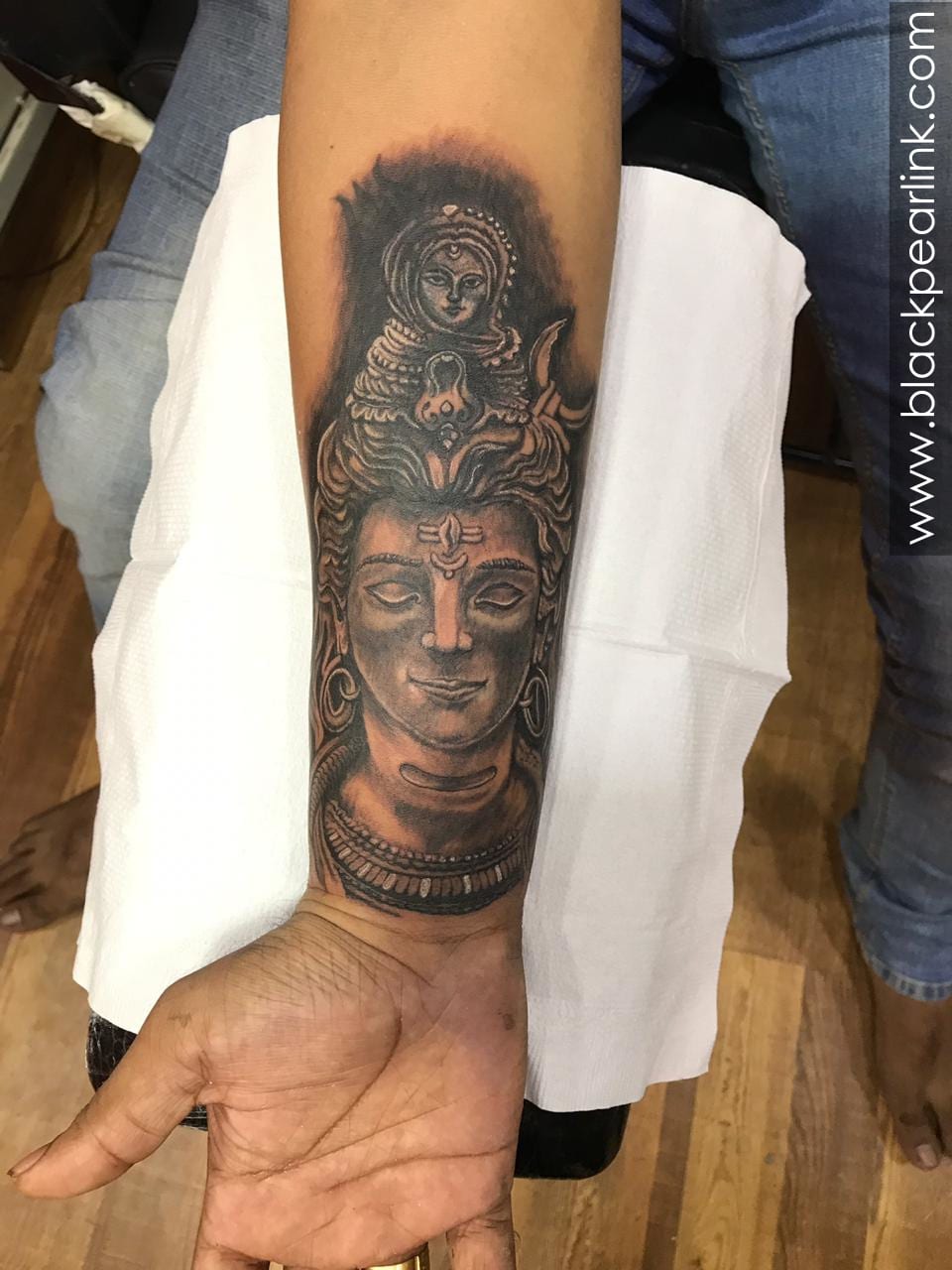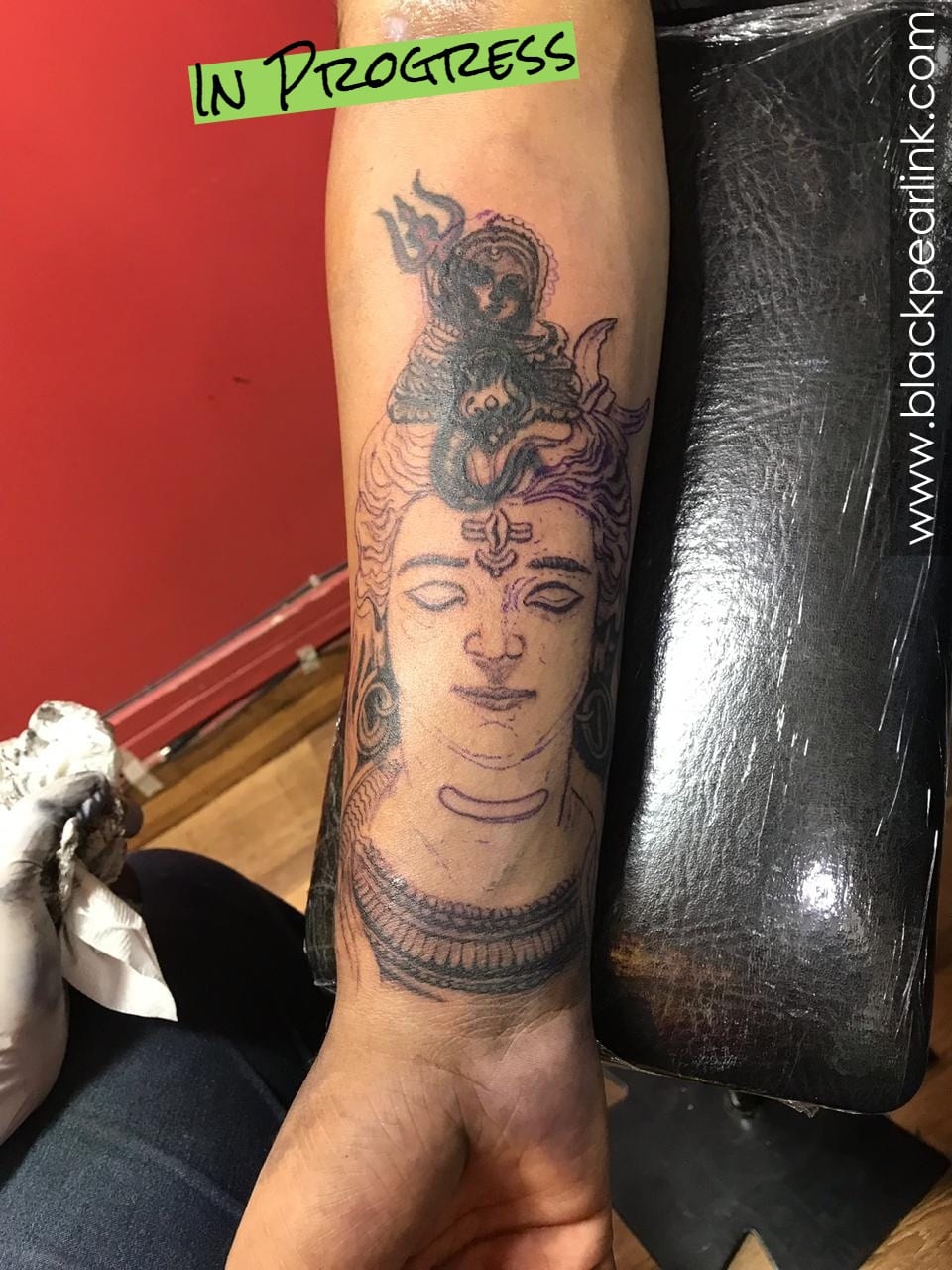 8. Shiva Outline Tattoo
This one is a Shiva outline style tattoo. This client is a mariner and came to our studio all the way from Dubai. He already had a tattoo of a ship on his arm representing his profession and this time he wanted to cover the rest of the arm. Being a devotee of lord Shiva his choice was to get a devotional tattoo in a style that matches the earlier tattoo and advised us the same.
We then customized the concept of a free hand tattoo for him ensuring that all the elements are in sync with an existing ship tattoo, including Shiva, the Linga and a trident. We have drawn this in an artistic form and no shades are used here. This tattoo is made up of outlines and merging the various structures. This rightfully required two sittings. In the first setting we completed the designing part and on the second day we inked this on the client's arm which took around 8-10 hours. The result was a beautiful tattoo.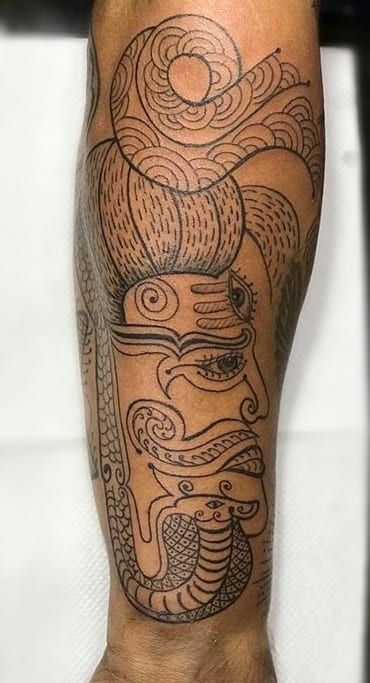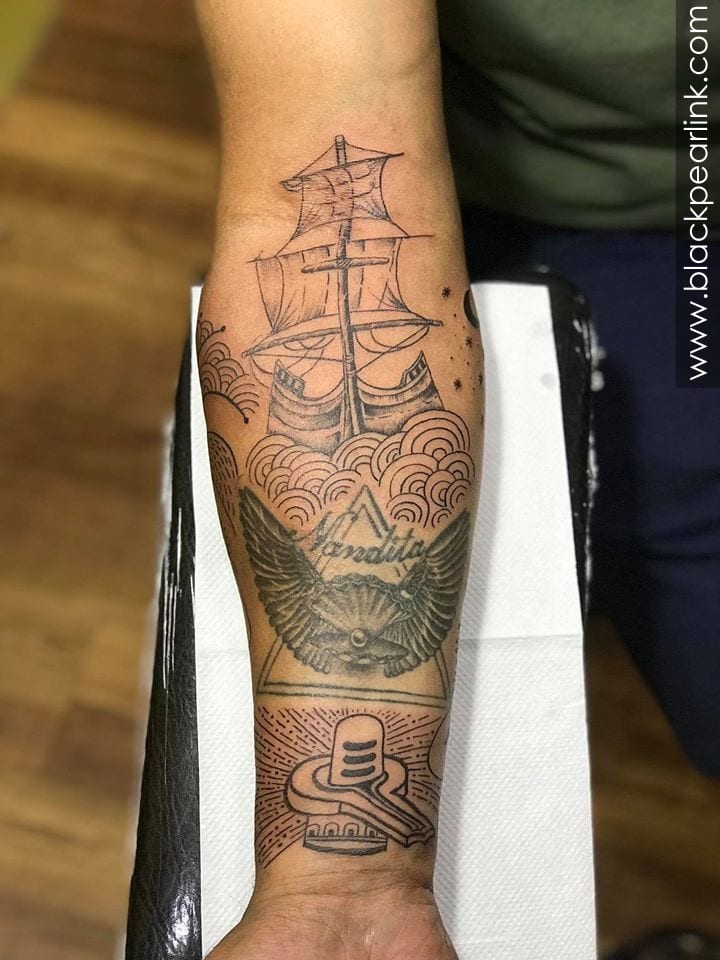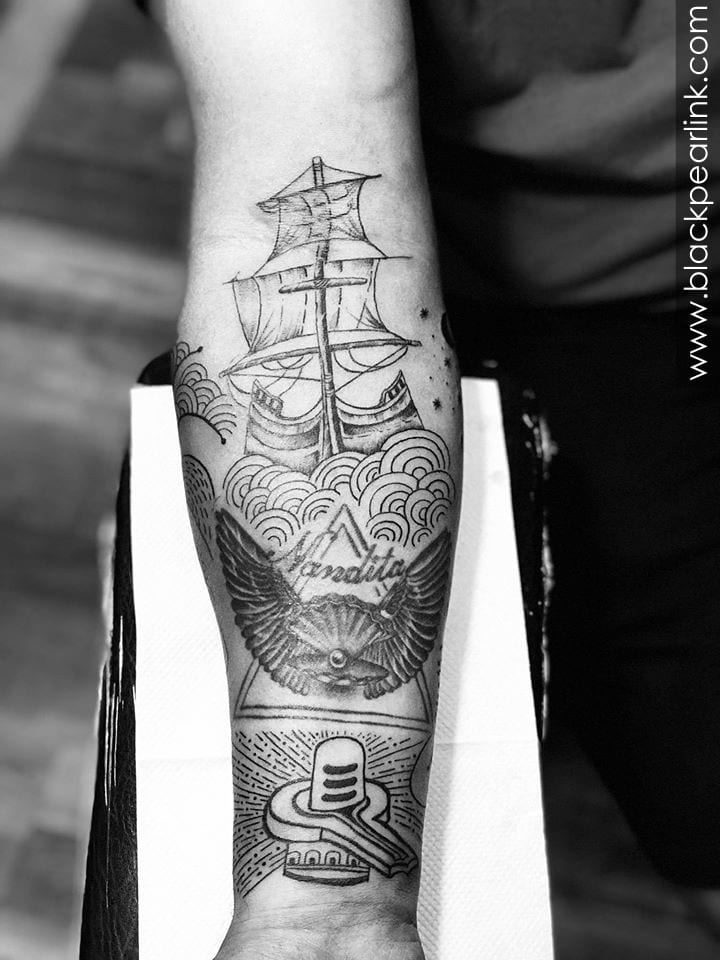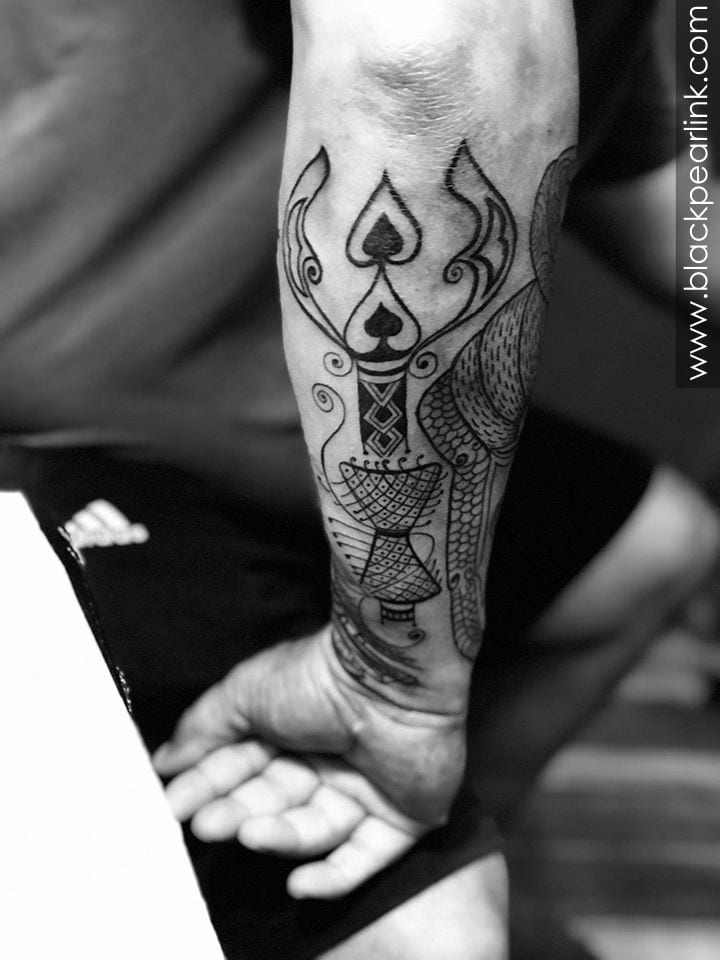 9. Coverup with Shiva with Jataas
This is another cover up tattoo on the old Mantra and Trishul tattoo. Sometimes for the sake of saving money people get inked from cheap places and as you can see the result is always disappointing. Please remember one important thing about tattoos, "cheap tattoos aren't good and good tattoos aren't cheap and you get what you pay for". The same thing happened here with this old tattoo neither the ink used were of good quality nor the design was vibrant.
We have covered the old tattoo with the Realistic Sculpture Tattoo of lord Shiva. We have made this beautiful portrait with detailing and shadings that run from the shoulder to the bicep. We covered up the old tattoo especially with the Jataas of lord Shiva. We have used black and grey shadings in this one and it took us almost 10 hours to complete. In the backdrop of the tattoo we have inscribed the Mahamrityunjaya mantra of lord Shiva. As you can see here the result was just mesmerizing.