Now don't get us wrong. We know that every tattoo is meaningful but there are some tattoos that either have really deep meaning or a great symbolic value.
We have randomly chosen some of our favorite tattoos here that happen to have cool concepts behind them.
1. Astronaut Tattoo with Colorful Space
The client wanted a cool tattoo based on the idea of "what lies beyond". We at Black Pearl Tattoo Studio love new challenges. Our motto is to provide that extra edge to the designs, add up something latest & unique to enhance the basic ideas and concepts.
The artist captured the core concept that human beings are always in search of new things beyond the cosmos. They are curious to find- what lies beyond the Milky Way; what does God look like; discovering new planets, new life forms and new galaxies in the unending universe. So we came up with this interesting idea of an astronaut in search of new things in the universe inside an inverted triangle. First and foremost it matches with the flow of hand, the forearm where this tattoo is inked and secondly it depicts "Limited resources" available to us when it comes to outer space. In this beautiful tattoo an astronaut is on his voyage to unveil the colourful and sparkling space and discover new planets and galaxies in the universe. This tattoo is all about dreams, hope and new discoveries.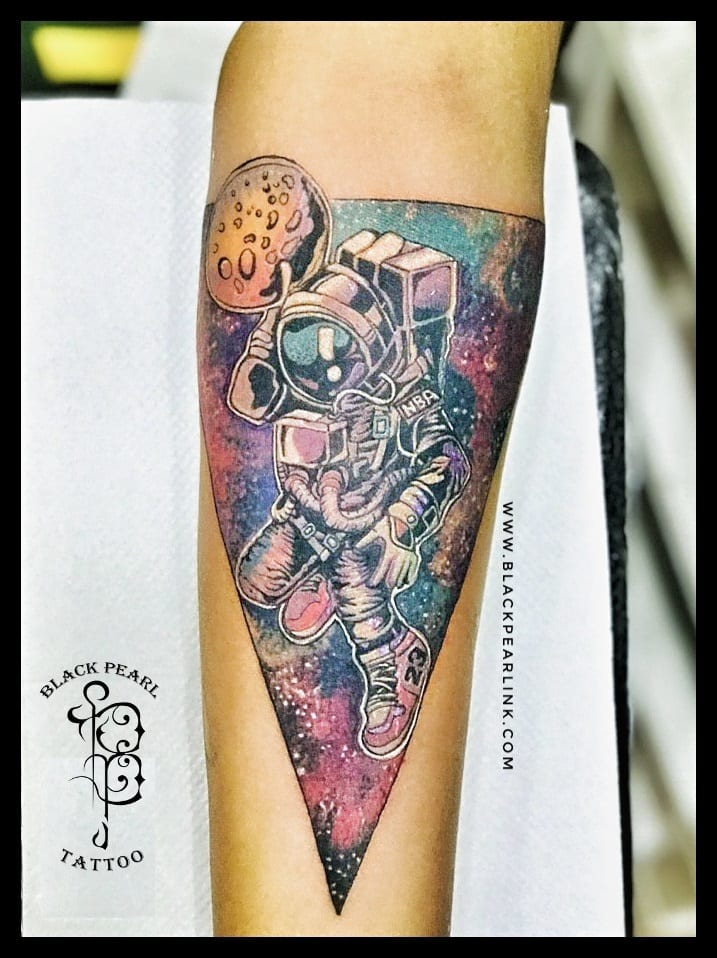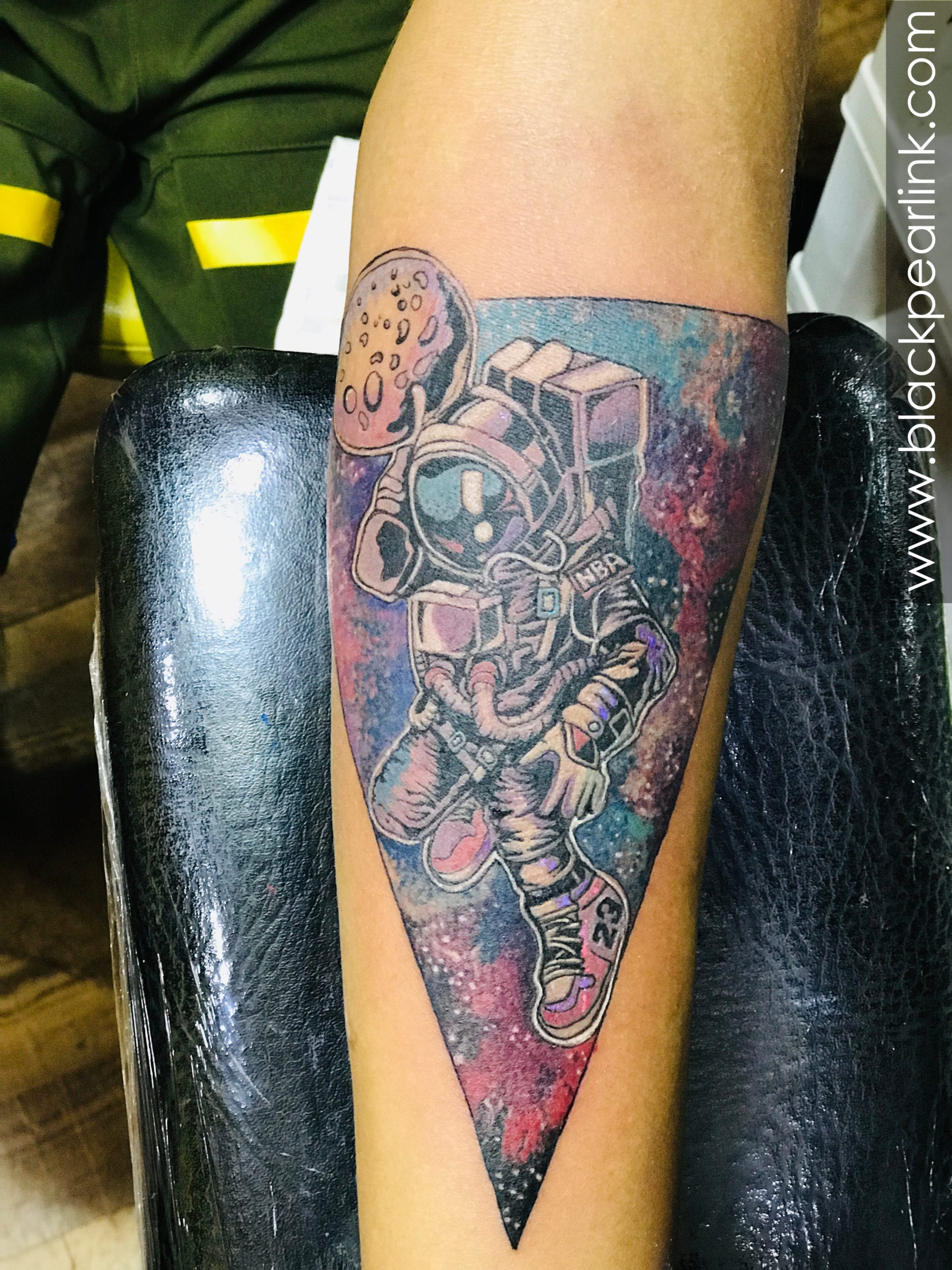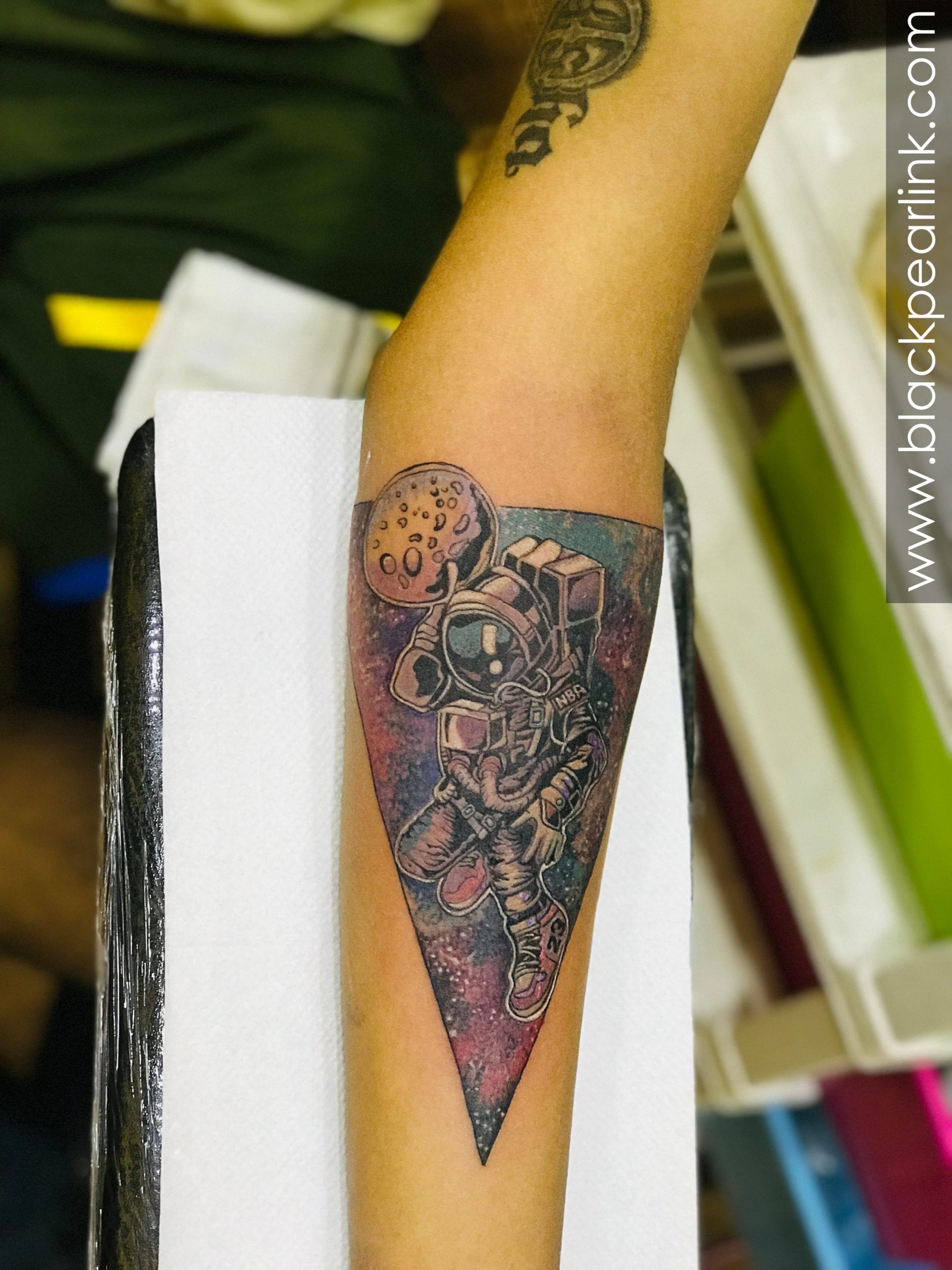 2. Geometric Tattoo with Heartbreak Concept
This one is a geometric tattoo with a concept of heartbreak. We had uploaded this design on our WhatsApp and the client really loved it and wanted to get the same tattoo on his back as a concept art. This tattoo is very special to the client and is one of his personal tattoos.
This is indeed an impactful design with the abstract heart and a hand is shown stabbing the dagger into the heart. The other end of the heart is shown here to be bleeding because of the stabbing wound. It took us around 4-5 hours to make this tattoo. We have mostly used black and grey colours and shades but a bit of red is used for the blood and white for enhancing the tattoo. There is very fine detailing done in this tattoo to give it a dramatic effect.
3. Conch Tattoo on Chest with Intricate Details
This Conch Shell tattoo is inked on the client's chest. Conch is significantly important in many cultures, especially Hinduism and Buddhism. In Hindu culture, Conch Shell or the Shankha is associated with lord Vishnu who is the preserver or sustainer of the universe. It is a symbol of authority and considered as the giver of fame, longevity, and prosperity. Its divine sound is believed to cleanse the sins, expel evil spirits and protect from natural disasters and poisonous creatures. In Buddhism Conch shell is identified as one of the eight auspicious symbols, known as the Ashtamangala.
The client's father was named after Lord Vishnu and he wanted to get a tattoo of an element associated with God and so we came up with this concept. It's a black & grey tattoo and it took us about 3.5 hours. This has shading and linear patterns. Chest is a sensitive area and it is often difficult for the artist to get a tattoo done because of the awkward positioning, hence chest tattoos might take an hour more than the initial estimated time.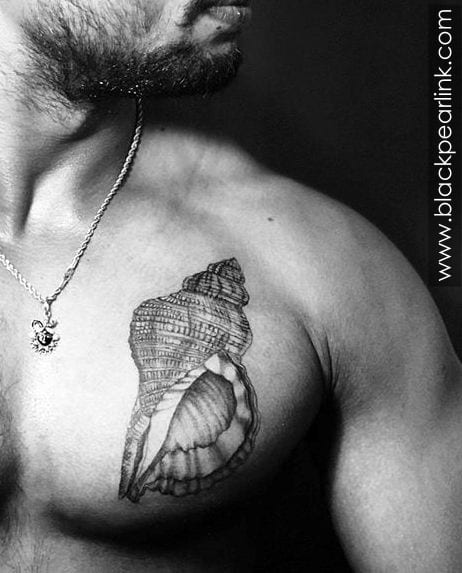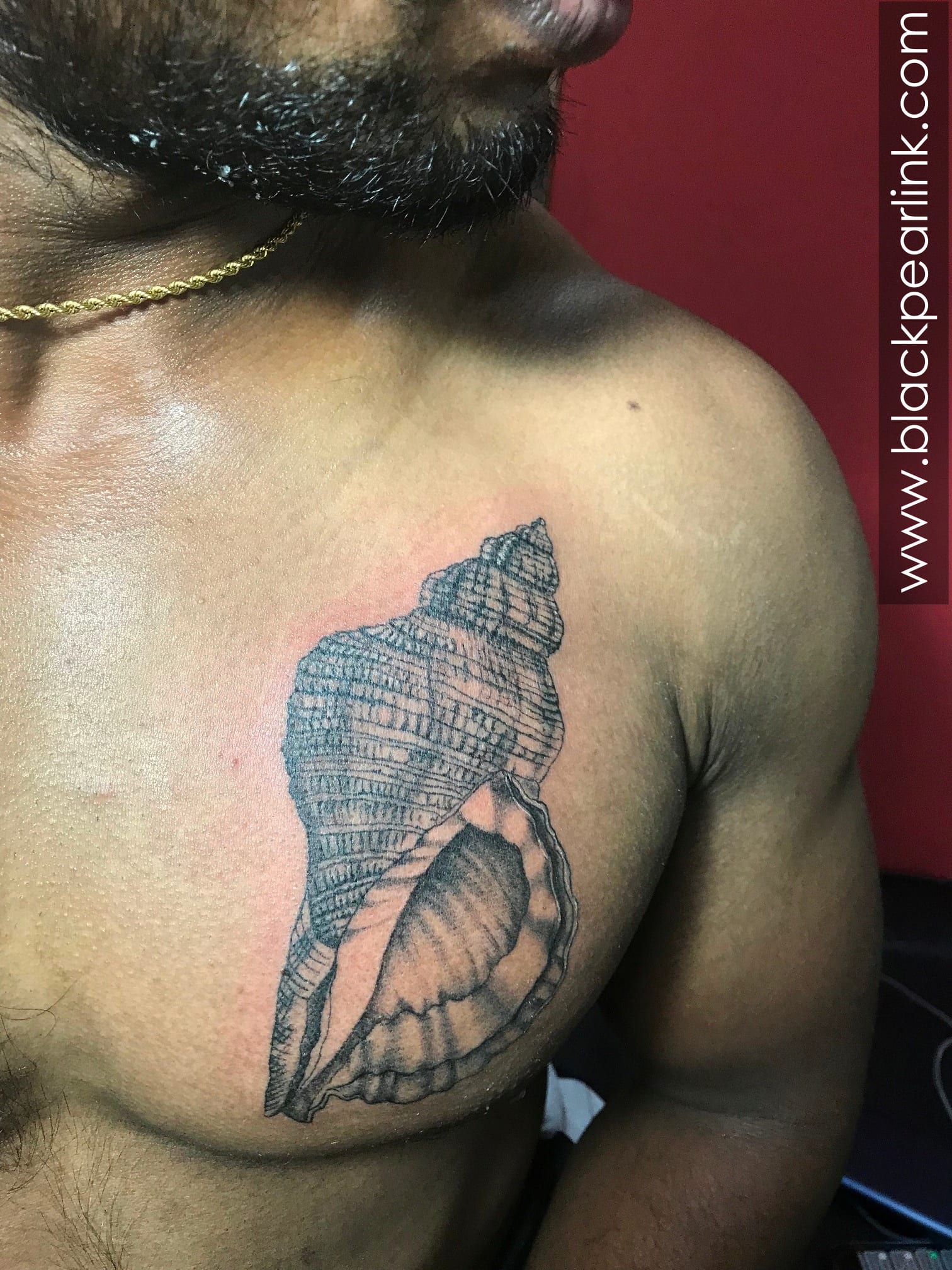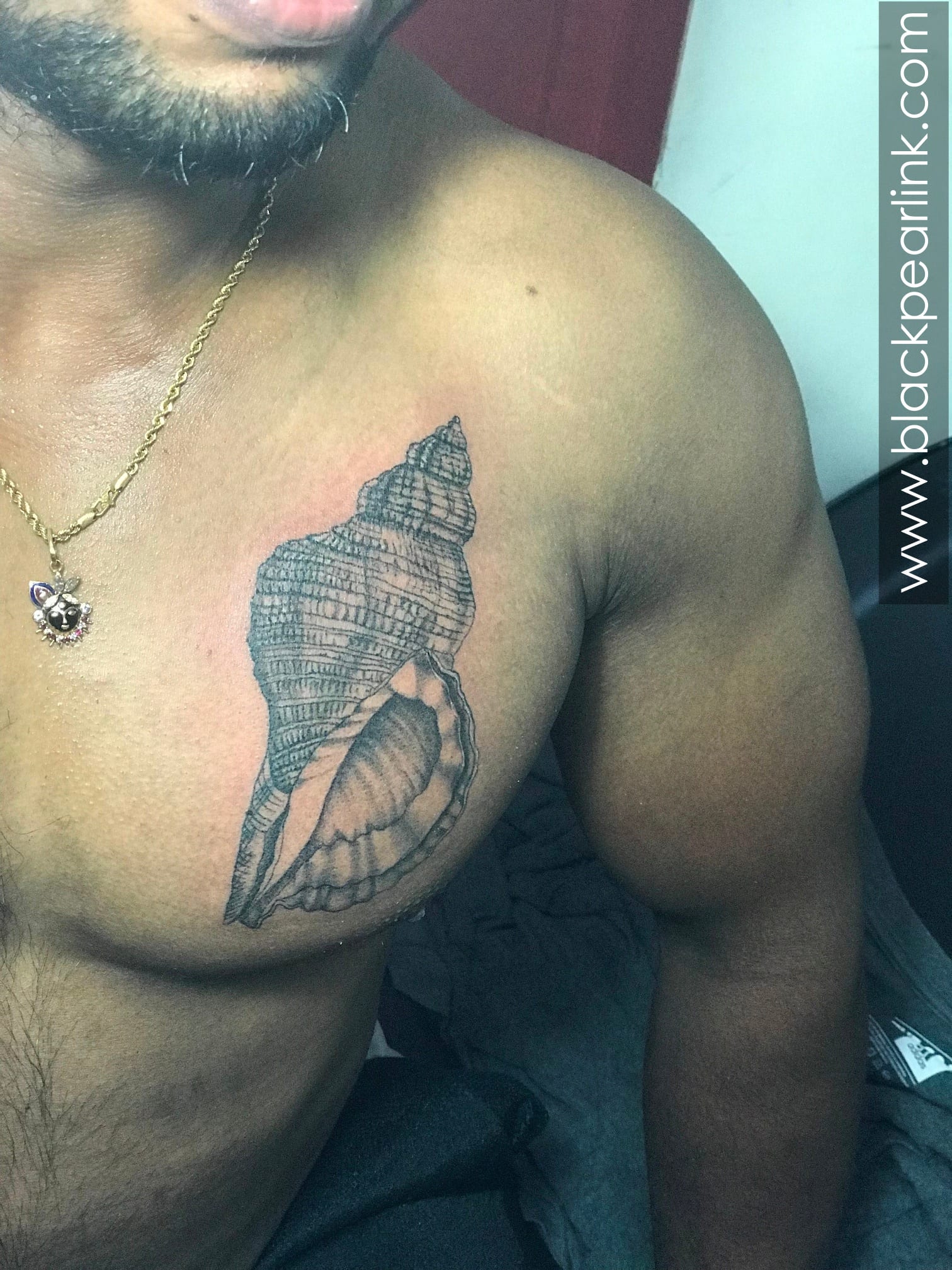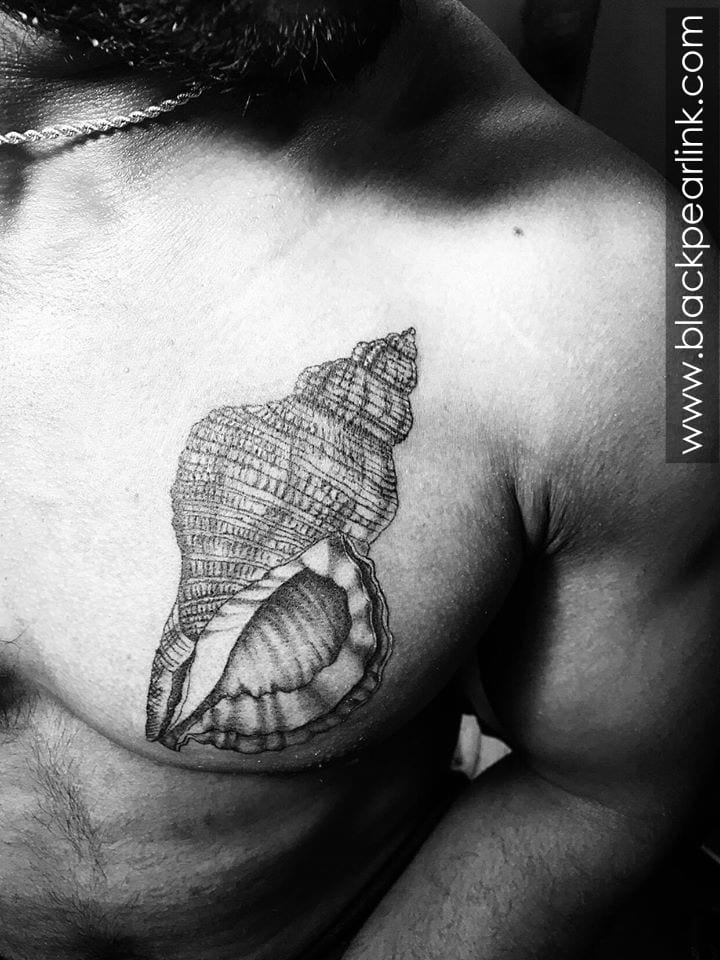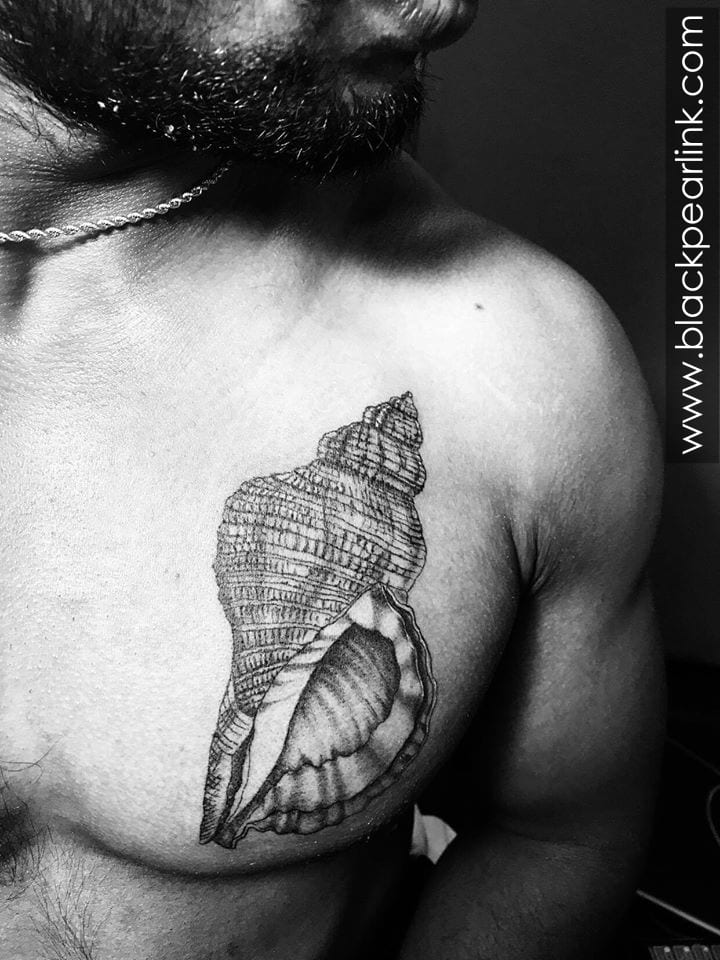 4. Concept Tattoo Forearm Sleeve
This is one of the most common body placements and is called Forearm Sleeve Tattoo. Since the arm is exposed most of the time, we put in a lot of thoughts in selecting the best tattoo design for you as these are hard to miss.
This client was looking for vintage style designs and had an idea in mind about some elements like clock, glasses etc. We brainstormed with him and finalized a pocket watch, a rose and a classic window. Although the rose tattoo carries a plethora of meanings, it is generally used to represent love and beauty. A pocket watch generally represents a special time or a specific event that had a powerful impact on you. It also represents that time is fleeting. A window tattoo symbolizes freedom, a passage from an enclosed space into a vast expanse of the world.
(This one is actually going to be a half sleeve tattoo but we have planned to do it step by step so for now we've inked it in the front side of the arm and the back side is yet to be done.)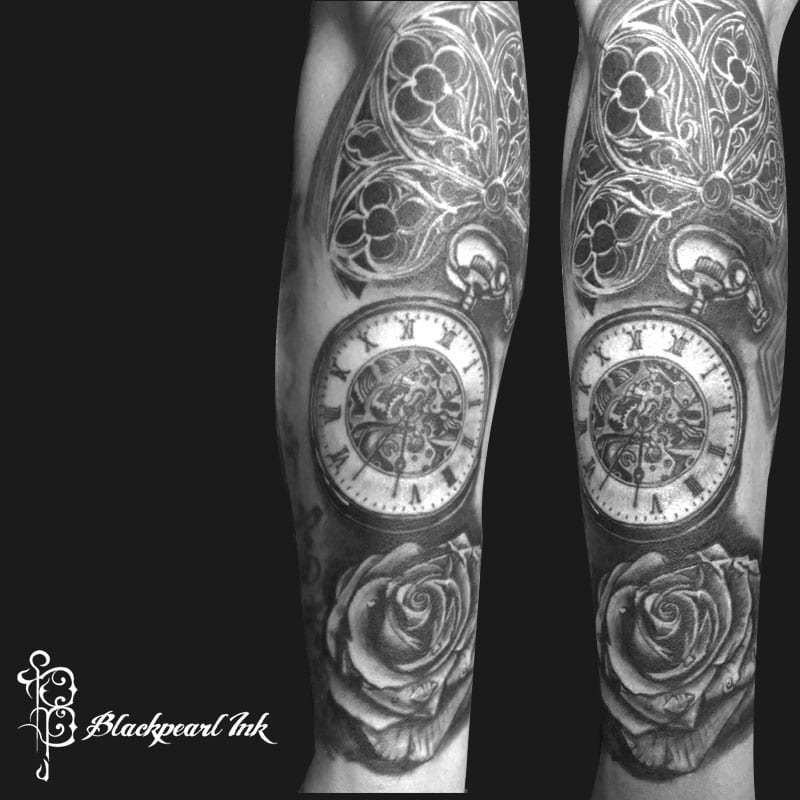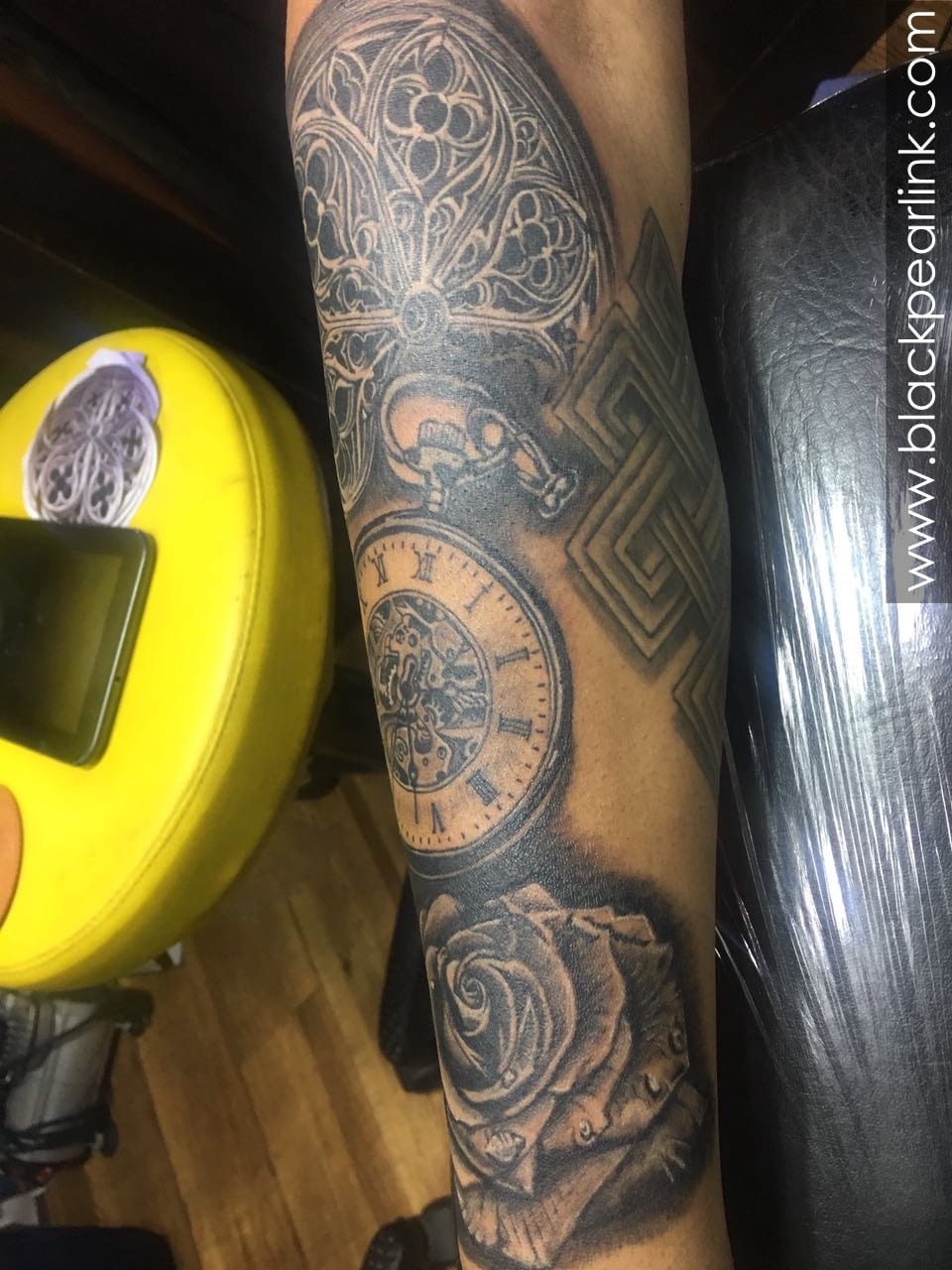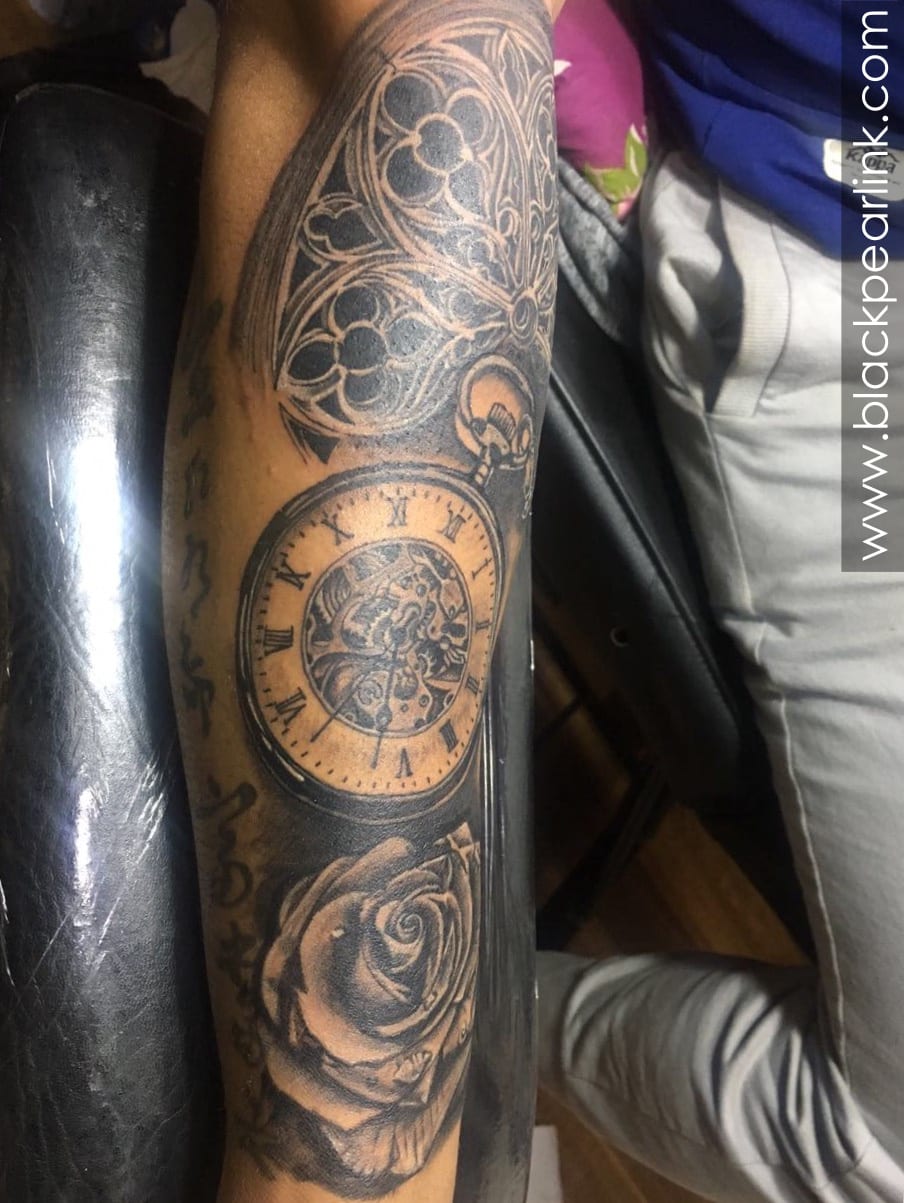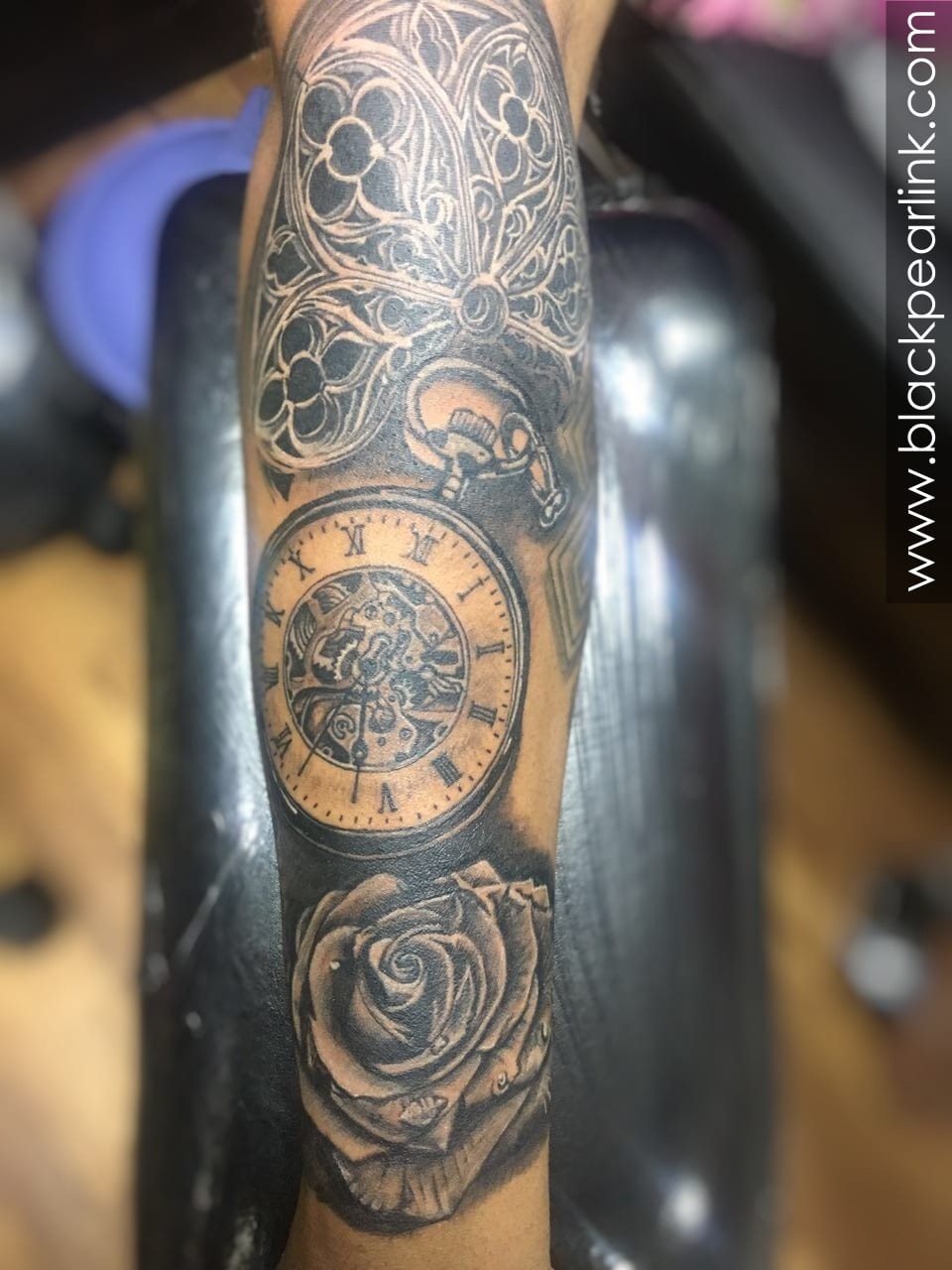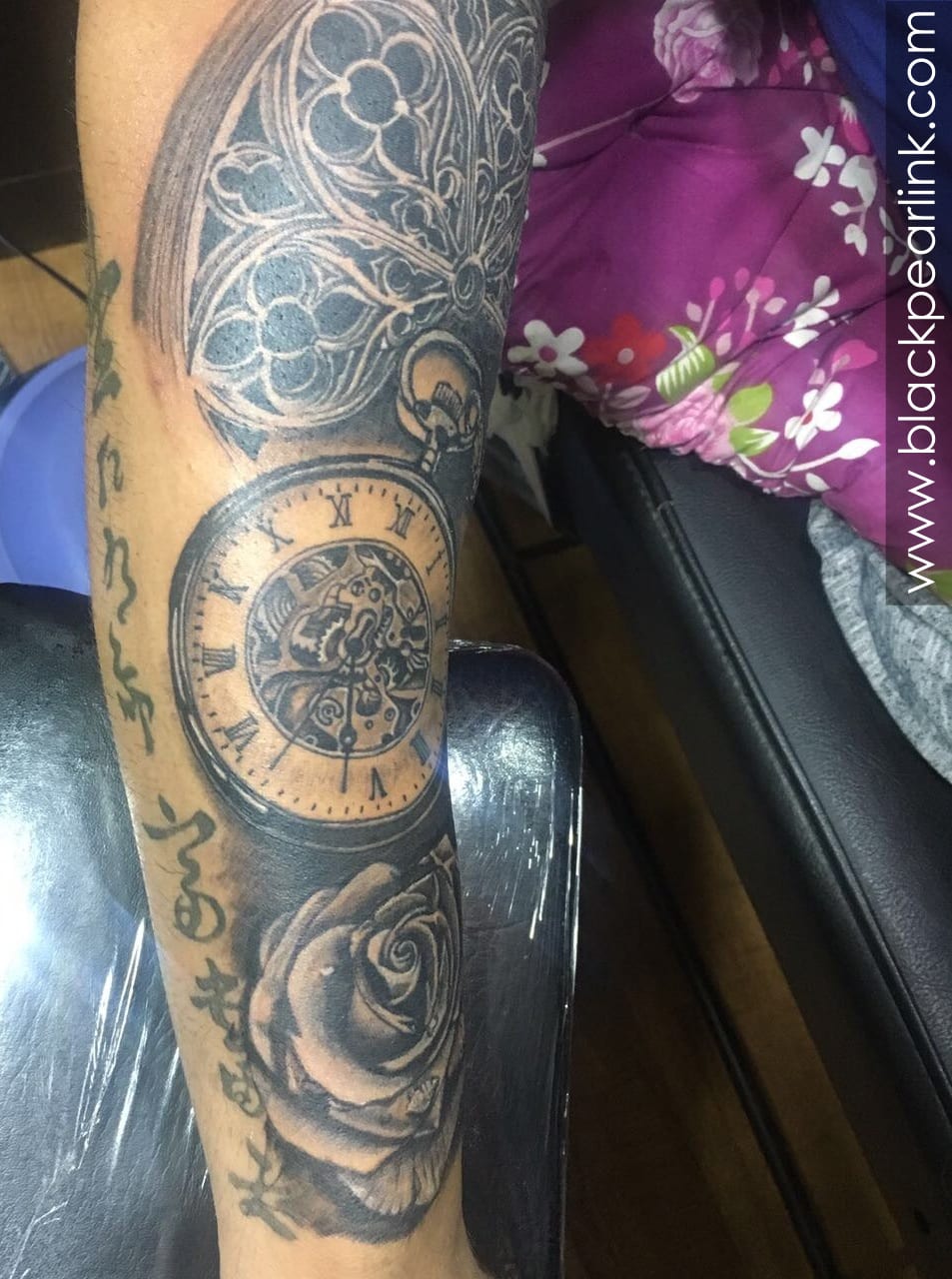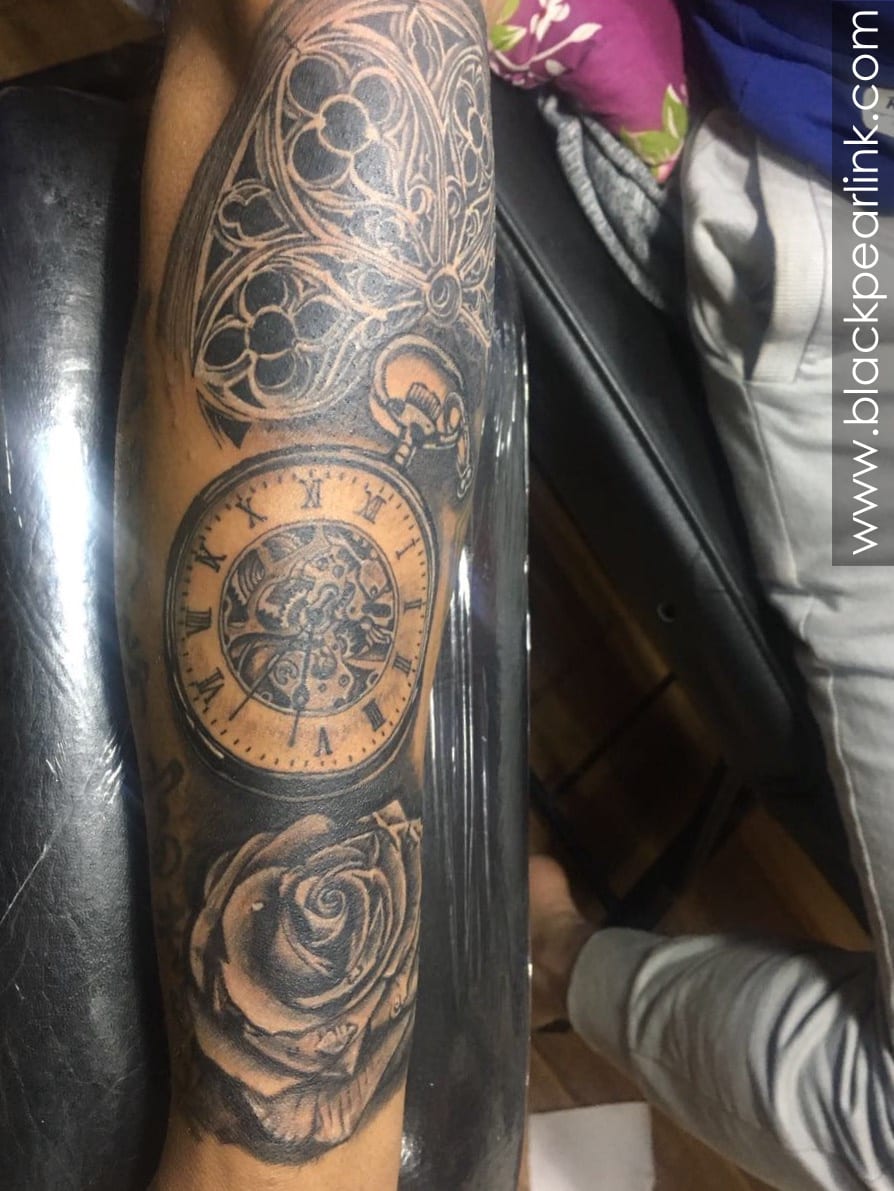 5. Hamsa Tattoo for Luck on Bicep
Everyone has their own interests and faith. We as professionals do not discourage or encourage anyone to amend their choices. There are lots of people who get tattoos that give them positive vibes. Hamsa is one of those designs. Hamsa tattoo generally symbolizes the "Hand of God" and it represents the feminine power. There are many variations in Hamsa tattoos such as Hamsa with butterfly, elephant, star, flower and so on. It is believed that Hamsa with elephant invokes good fortune to their wearers.
As a Tattoo studio we welcome all ideas and strive to give our best for every tattoo that we make for clients. This beautiful tattoo took 4 hours to make. Multi-color tattoos always shine well, especially on lighter skins.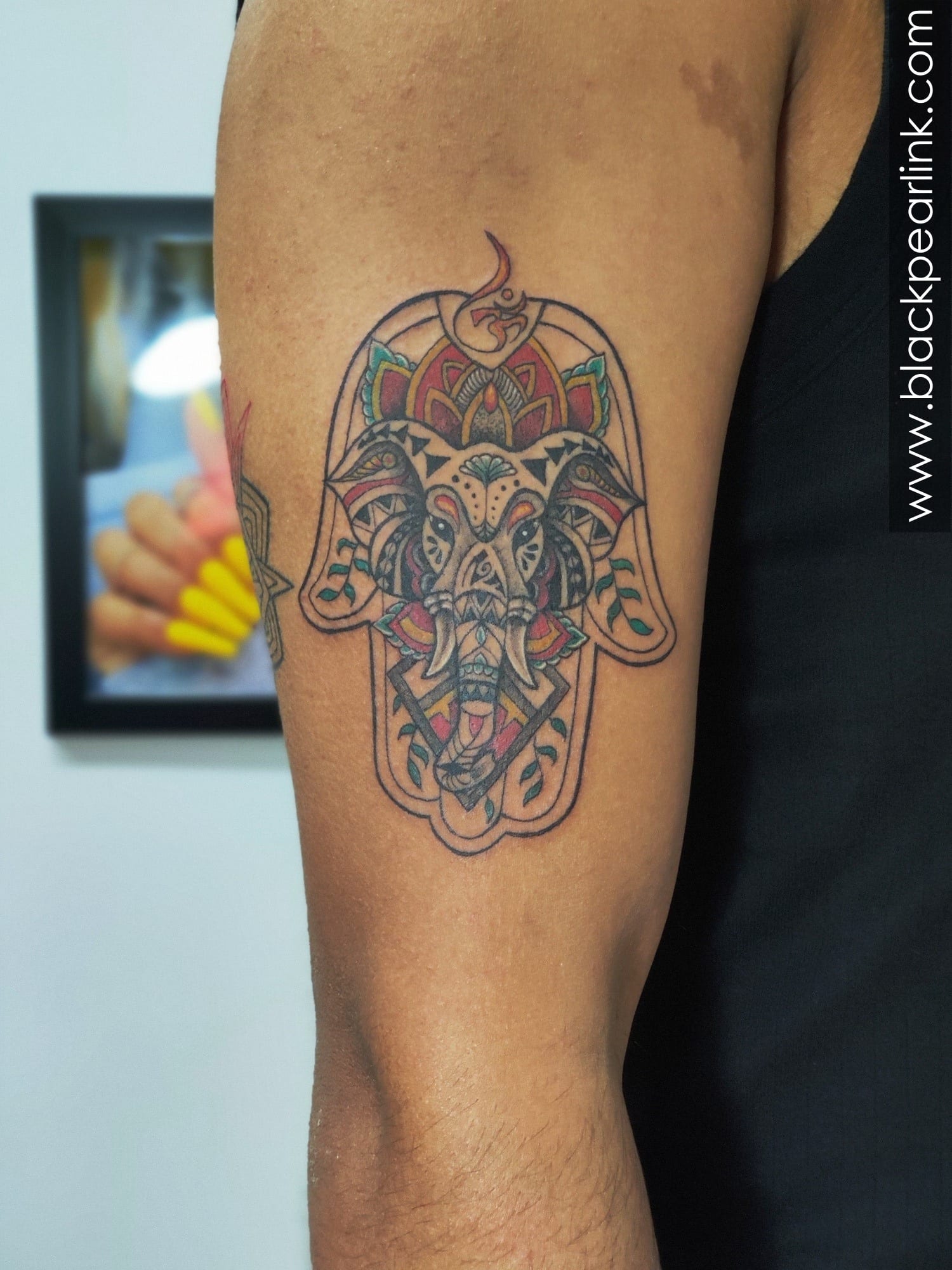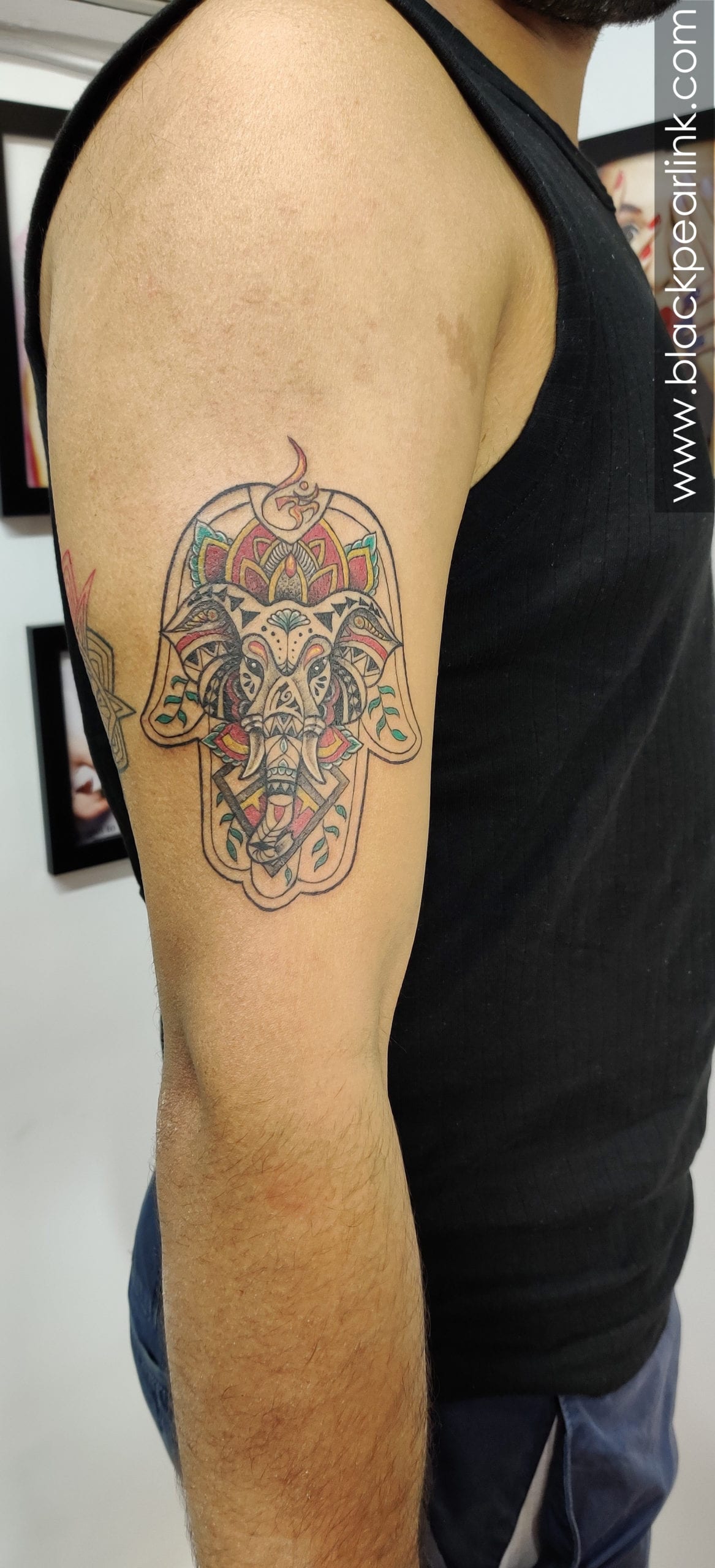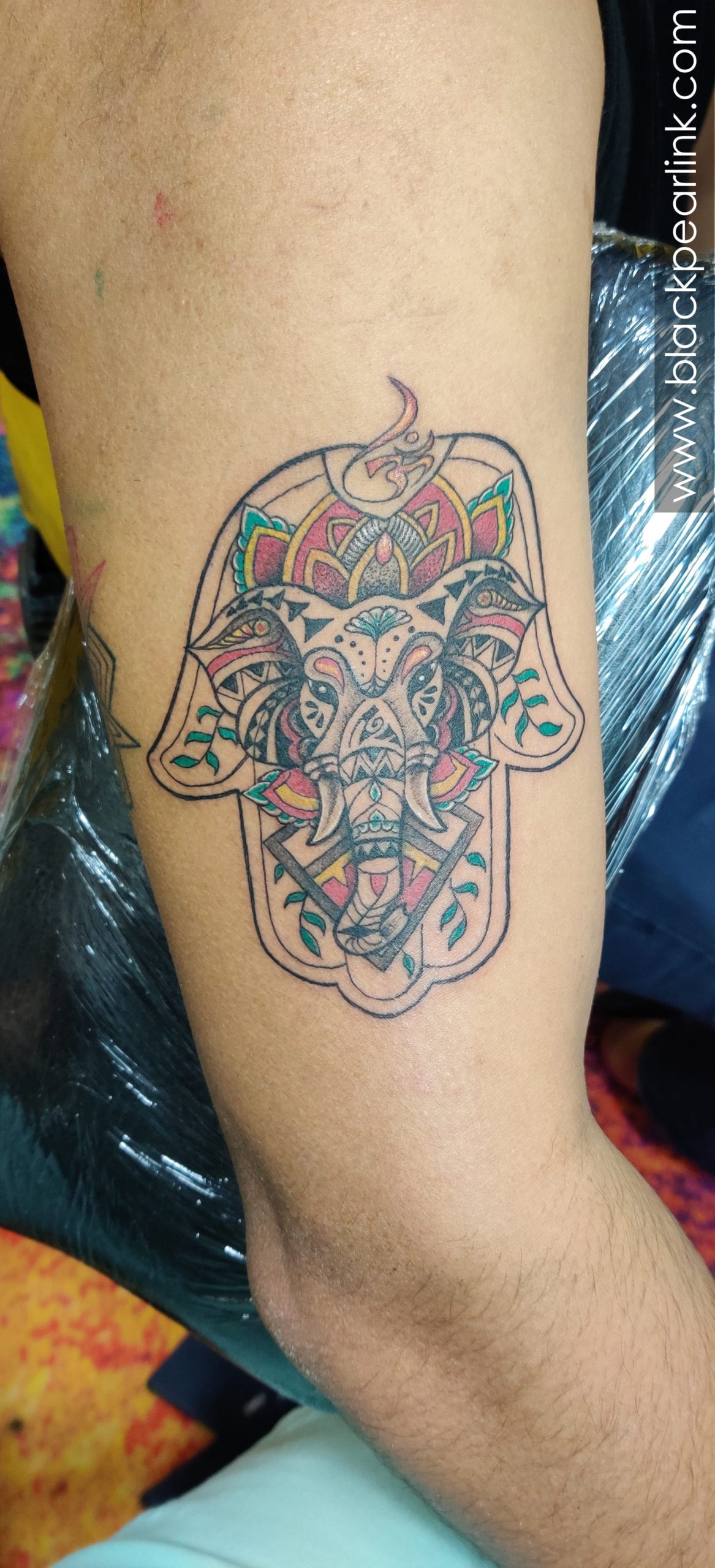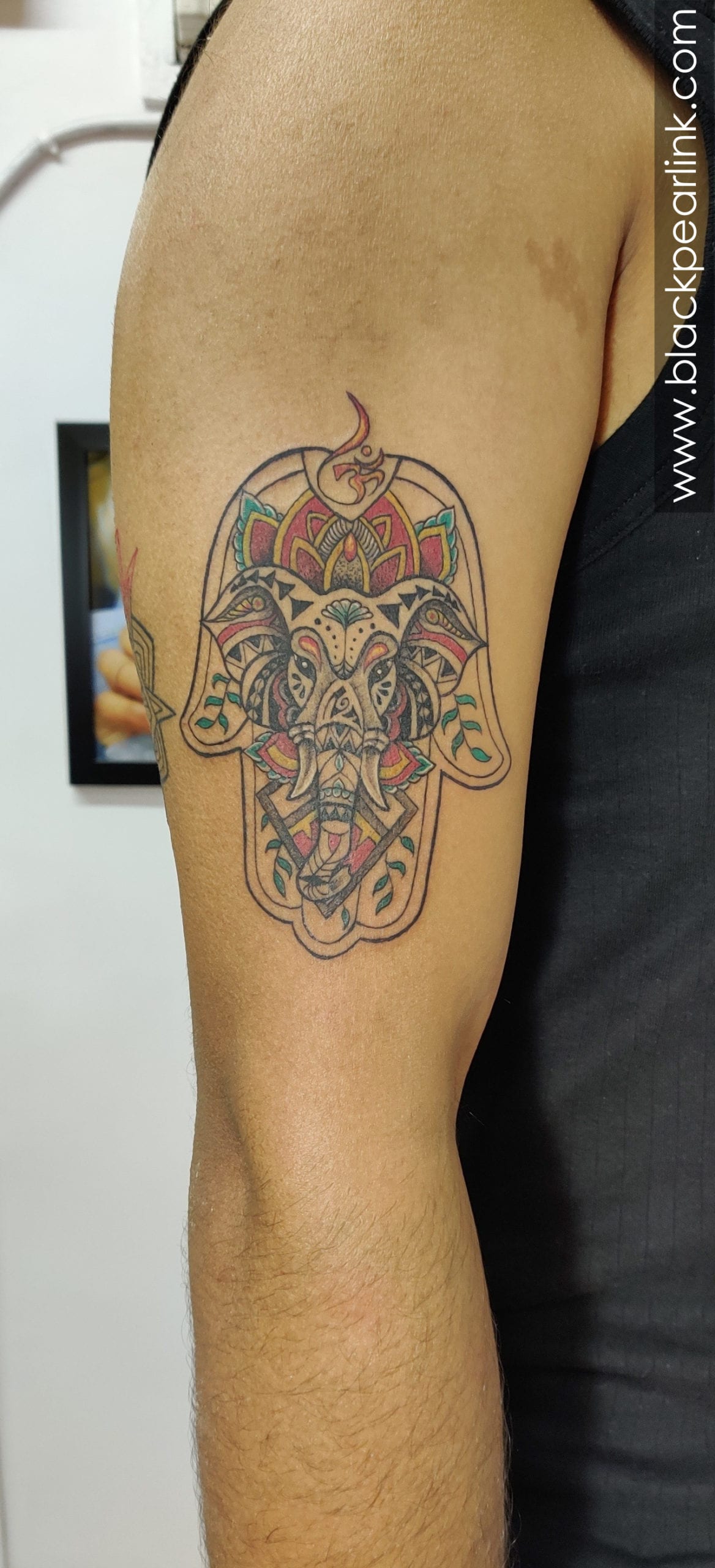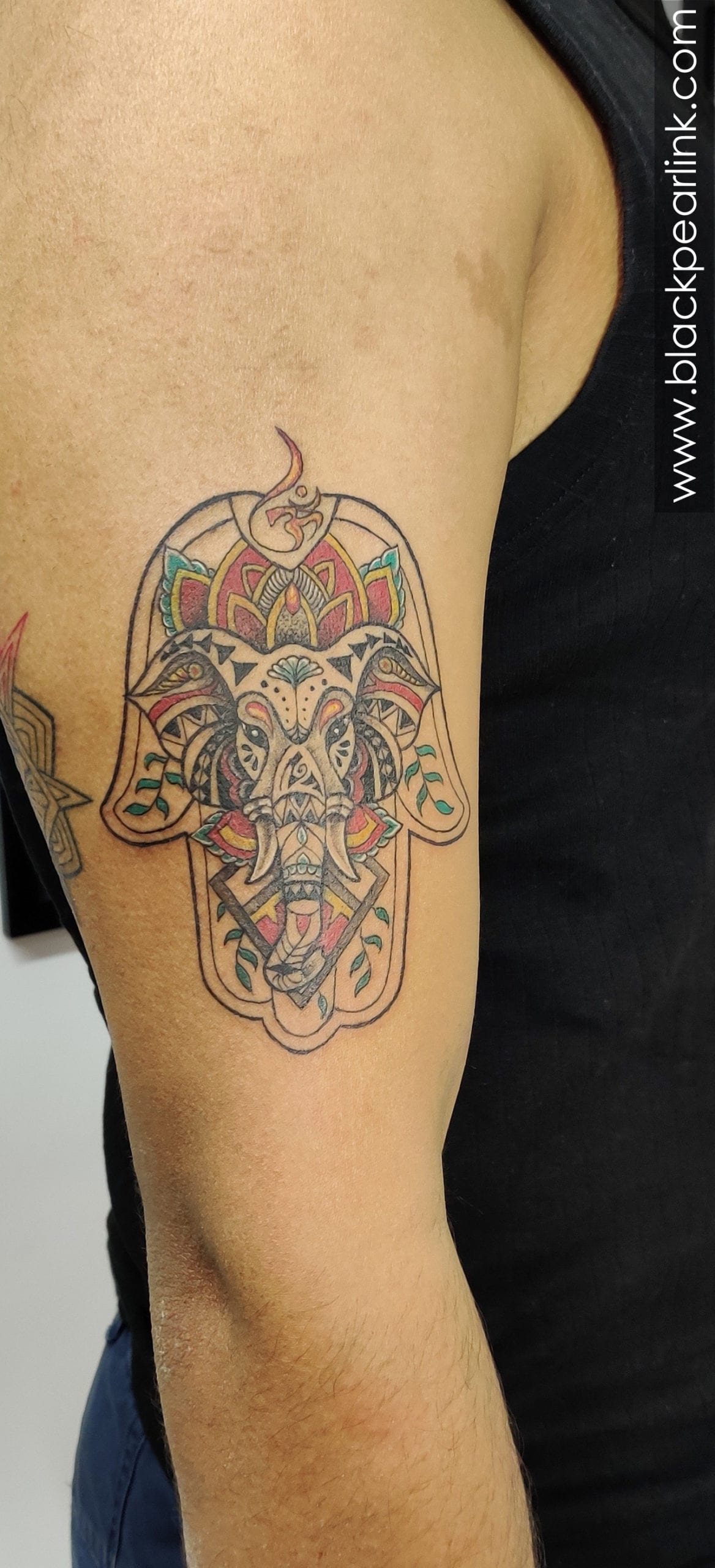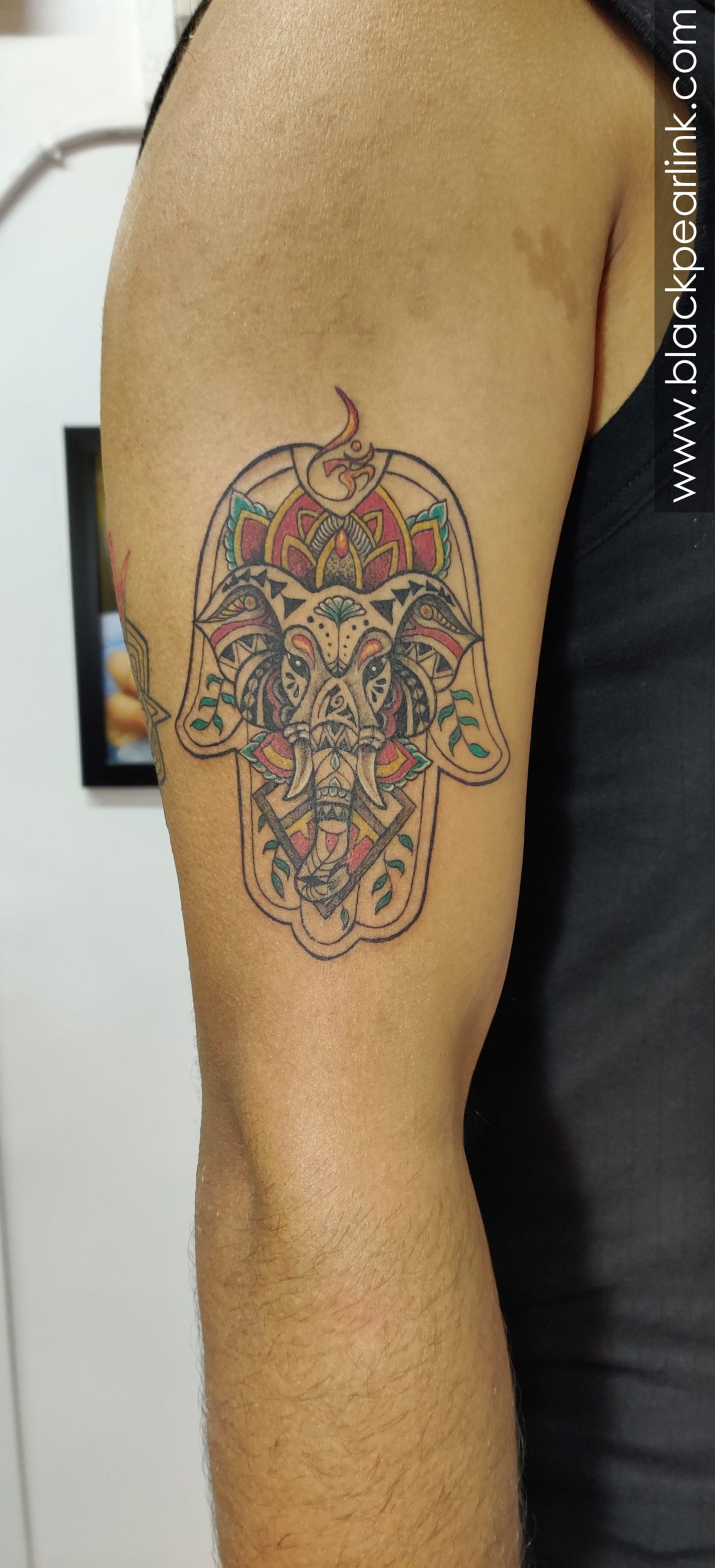 6. Fudog Tattoo on Neck
Fu dogs are the mythological creatures in the Asian culture- mostly Chinese and Japanese and are the representations of lions and not dogs. They are the symbols of protectors and warriors and said to guard humans from evil.
The client wanted a family oriented tattoo for the protection of his family and wanted it to be on some visible area like on his neck or forearm. We then showed this fu dog tattoo design to him and suggested to make this on the neck. The neck is a very sensitive place to get a tattoo and the artist has to be very careful and make many adjustments while inking there. This tattoo was done in two sittings. In the first sitting we worked for 6-7 hours. The redness around the tattoo you see in pictures is temporary. It shows the amount of pain the client endured but we motivated him to sit through it. After 30 days of the first sitting we gave this tattoo a white colour finishing and the client loved it a lot.
7. Harry Potter Snitch Tattoo
This one is a Harry Potter (HP) snitch tattoo. Such tattoos are always the most sought after tattoos among all the Potter fans. The snitch or the golden snitch are well known in the wizarding world of HP. This snitch ball rules everyone in a Quidditch match and is the most valued one because you catch it and the game is yours.
The client visited us with a very basic design of a snitch ball. We have made some improvisations in that image and tried our best to give this tattoo a realistic look. It also includes the client's initials. This is approximately a 5-6 inches tattoo and it took us around 2-3 hours to complete it. The result was magnificent and our client loved this tattoo.
8. Sharp Dragon Tattoo on Calf
This client visited our studio from Jaipur, Rajasthan and wanted a tattoo of a fierce tribal dragon. Dragon tattoos are indeed very popular among tattoo fans and have strong ties with several cultures and mythologies worldwide, be it the Asian or Chinese mythology, the Middle Eastern mythology or the European folklore. Dragon tattoos symbolize a variety of traits like wisdom, strength, protection, spirituality and prosperity.
We have customized this tattoo for the client and it took us 5-6 hours to ink it on the client's calf. It's a big tattoo of about 12 inches. We have used red and black colours for this majestic tribal art tattoo and it turned out to be a great piece. Our client was in awe of the sharpness of this tattoo.