"Chhatrapati Shivaji Maharaj"! There was no one and will never be someone like him. He is the one who started it all. He is the father of 'Maharashtra'.
Whenever we come across anything associated with our great King and history of 'Swarajya', it fills our hearts with pride and marvel. And yes, goosebumps are a mandate when we hear the sound of that iconic trumpet.
Here are some of the tattoos we were fortunate to make. It's not just the work but a tribute to a personality that is born once in 1000 years.
1. Chhatrapati Shivaji Maharaj Tattoo on Bicep
This is a portrait tattoo of Chhatrapati. Just like all us Maharashtrians, the client was an ardent follower of Chhatrapati Shivaji Maharaj. He never had any other tattoos before and the first tattoo he wanted to get, was this lively portrait.
Its usually difficult to ink portraits on dark skin using black and grey colors and we have to solely rely on using contrasting lines for realistic effect. Client was very patient and filled with excitement throughout the session. We spoke about some of the great movies recently made on great Maratha history. Afterall its the bond that unites all Maharashtrians.
We completed this tattoo in 4 hours. Its a great addition to our portfolio and we are very proud of this tattoo.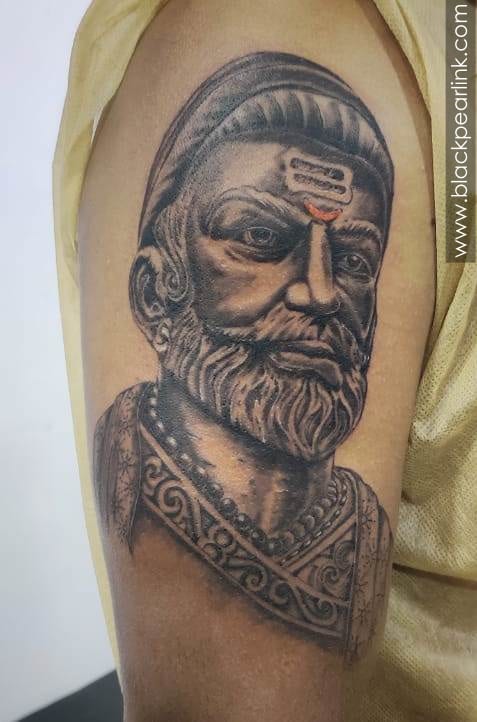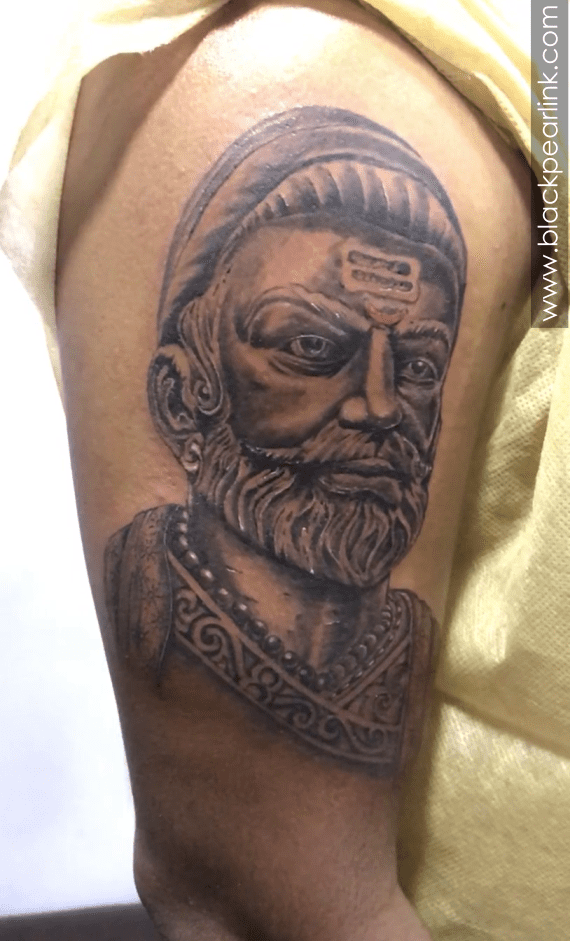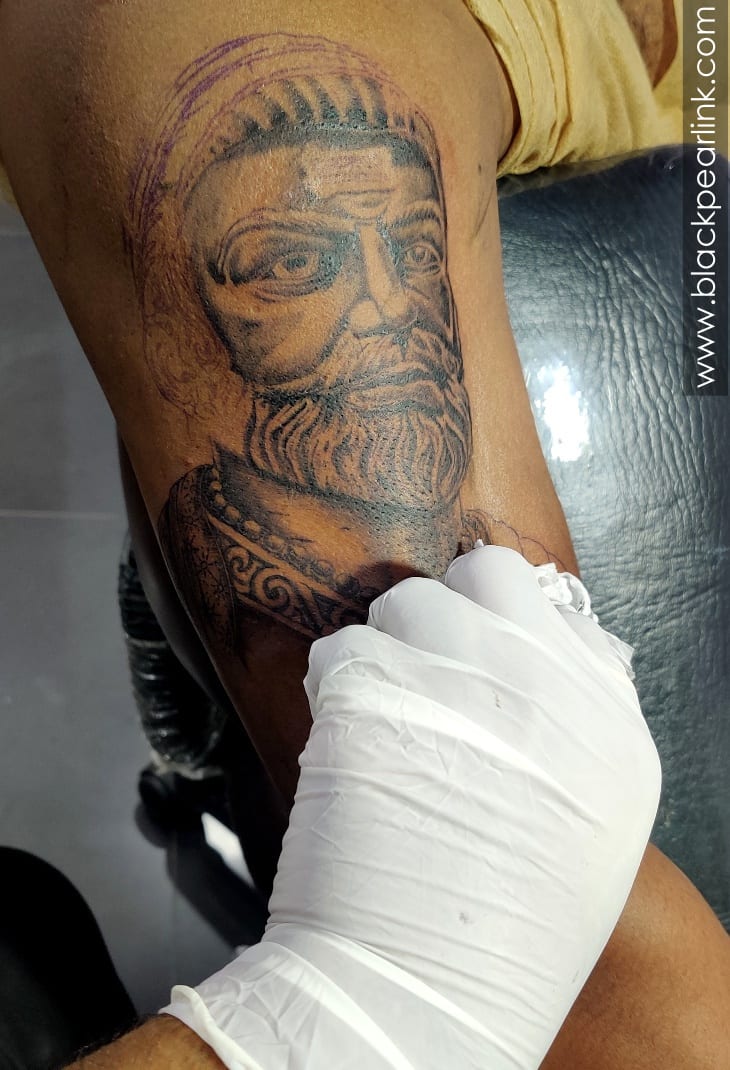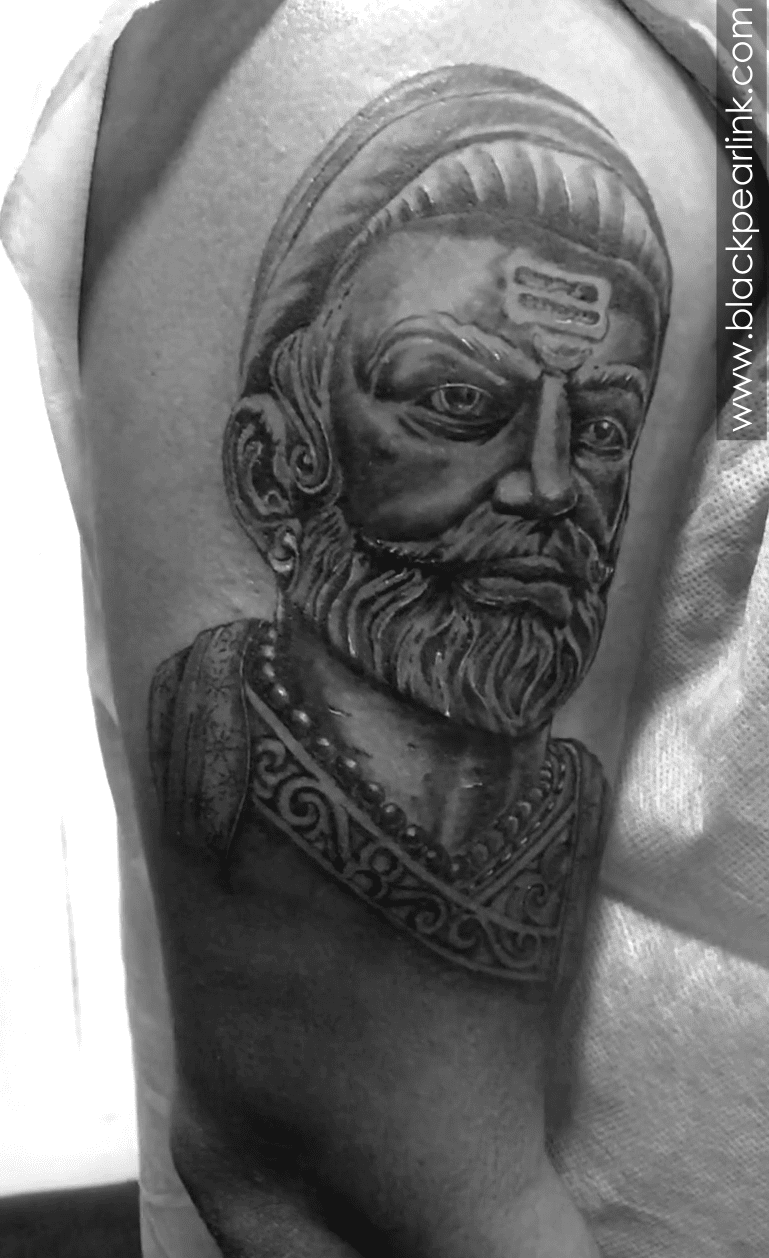 2. Chhatrapati Shivaji Maharaj Coverup Tattoo
This is a cover-up tattoo of Chhatrapati Shivaji Maharaj. When the client visited us, the tattoo was quite weathered and the design was flat and had no contrast of shades. We learnt from the client that he got this tattoo made from somewhere else at a cheaper cost and as you can see in the 'Before' picture, they haven't used any branded inks and the output was of a very low quality.
For such cover up tattoos we usually make any new image on the existing tattoo but the client insisted to get the same tattoo revamped. Now the legacy of this great King is such that we couldn't have given any less than 200% of our heart and skills to this tattoo. We worked on giving it a realistic look by using a 3D image and have tried our best that the older tattoo isn't visible. The result is in front of you & this tattoo speaks for itself. The fine detailing and contrast shading has made this glorious tattoo vibrant and lively.
Regrettably we do not have better pics of this work.