Girls always go for tattoos with the meaning, even though it's a small tattoo. Most common areas for girl tattoos are wrist and back followed by legs and neck.
We have made our fair share of vibrant and stylish tattoos for girls. Here we have tried to add a tattoo of each kind, including cover-up, minimalism, realistic, couple tattoo, etc. with some back-story about what went into making it.
1. Coverup with Mandala on Wrist
This one is a cover up tattoo on a very dark inked name which the client had previously made on her wrist from somewhere. There were some scars too beneath the tattoo. The client got bored with this one and wanted to cover it up with something artistic. Covering up such dark tattoos is rather difficult in comparison with the shaded tattoos.
We discussed various ideas and designs with the client. We cross checked several designs while considering many technical aspects and finalized this image. We also went for a bigger design than the actual old tattoo. We have used red, white, black and grey colours here with shadings in this beautiful mandala tattoo and the finished product exceeded the expectations of our client.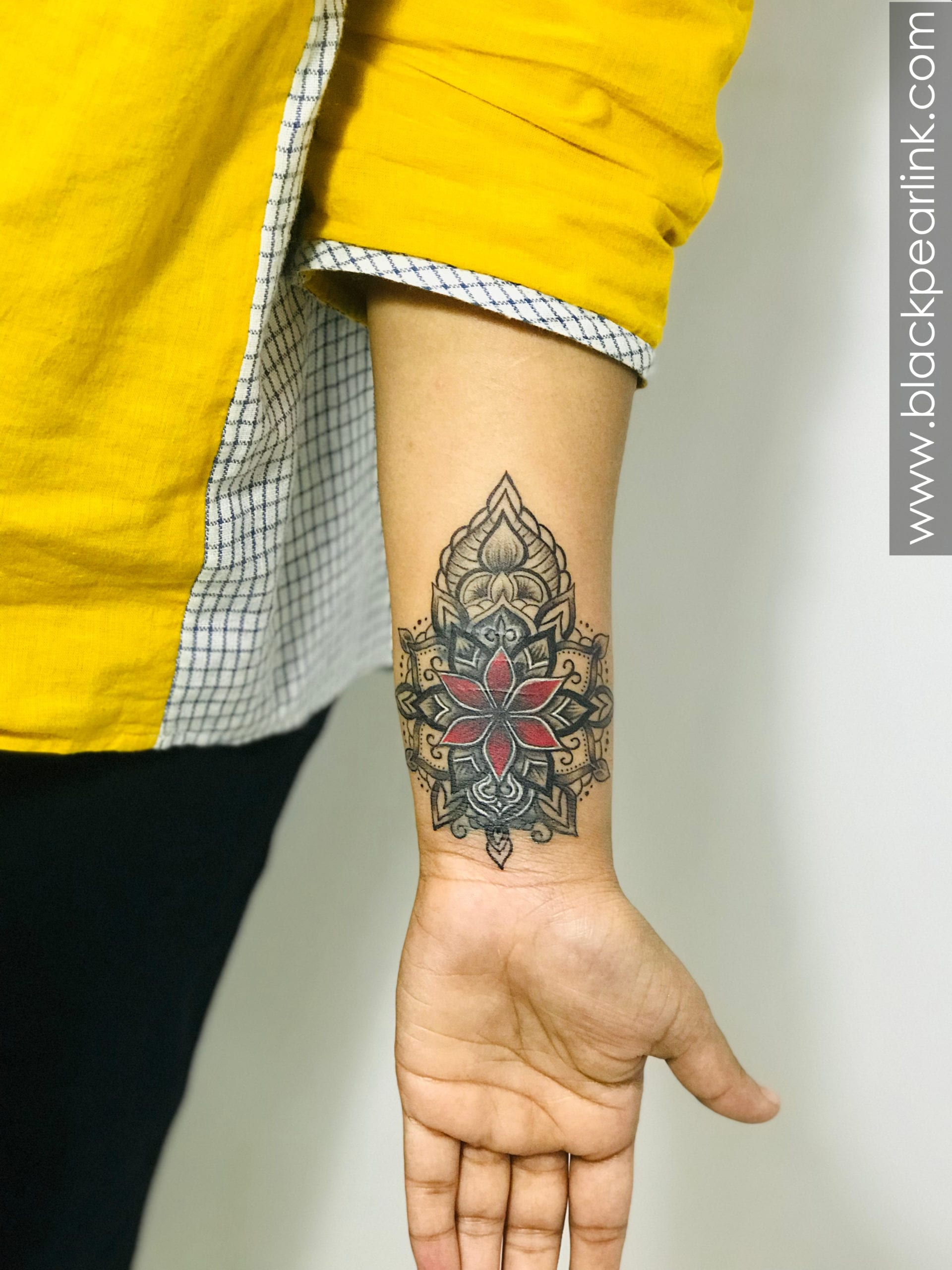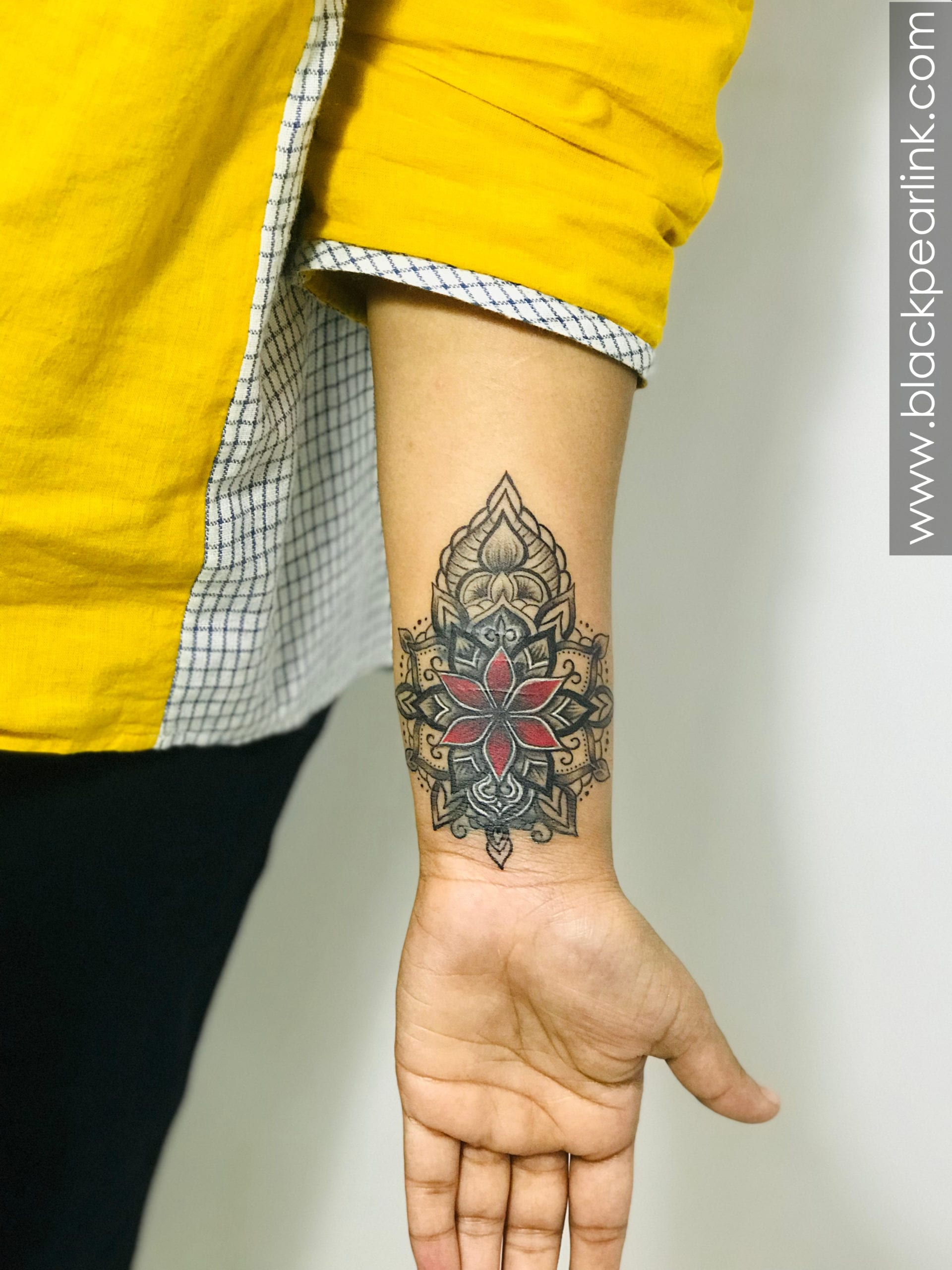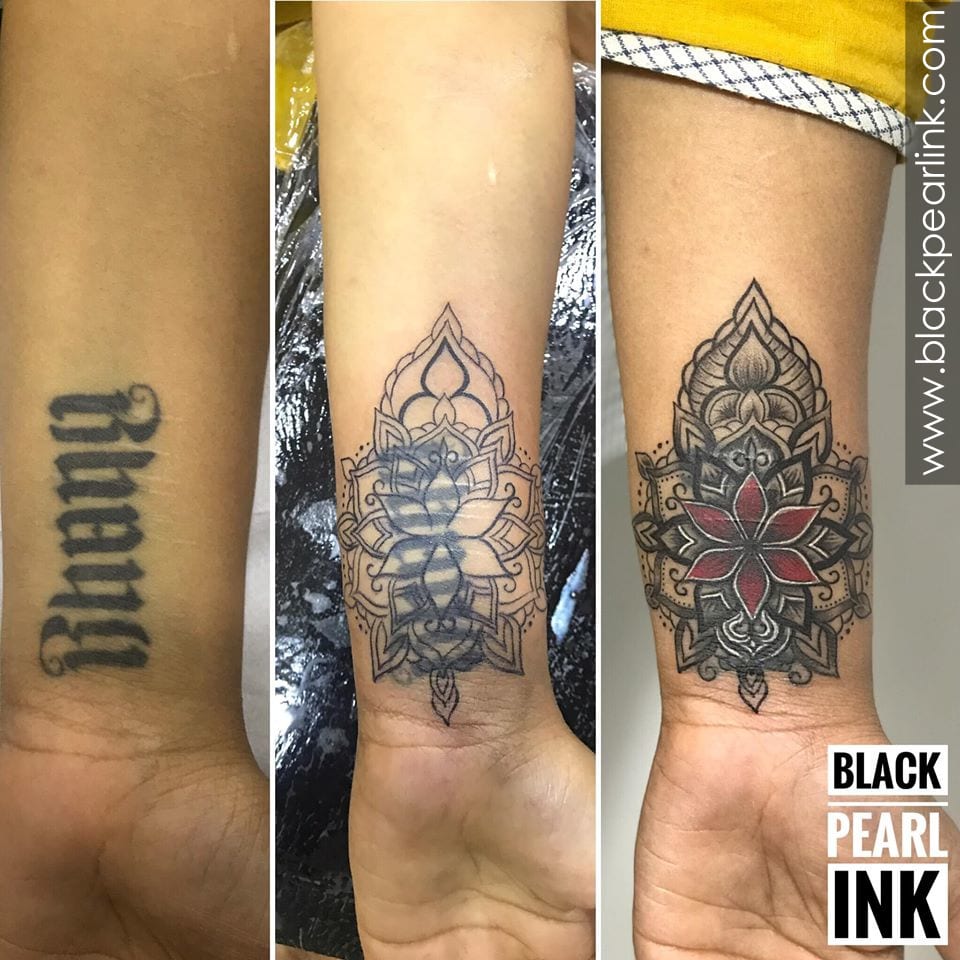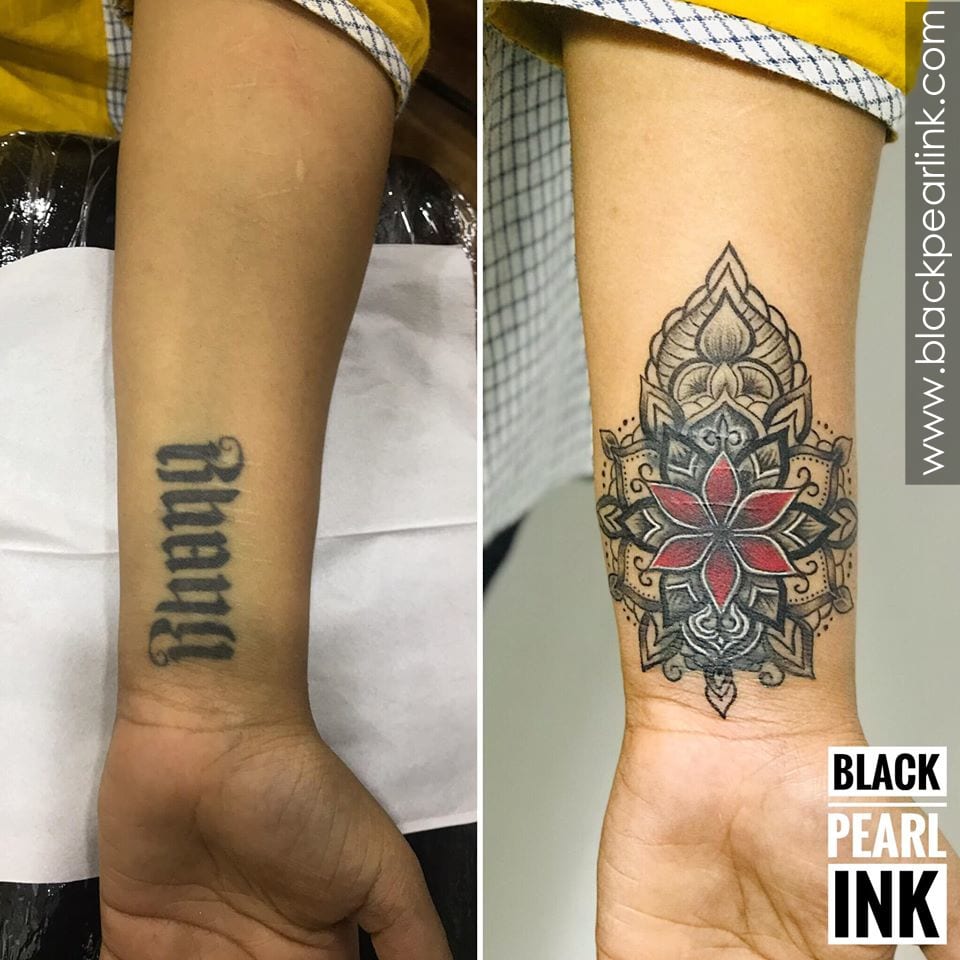 2. Dandelion Flowers on Calf
This is a fairy silhouette tattoo with a dandelion flower and beautiful coloured butterflies. Fairy silhouette tattoos are usually done in dark black colour and are basically considered feminine designs. They represent imagination and dreams. It gives a message of chasing your beautiful dreams and keeping a positive attitude towards life.
We have kept the butterflies coloured to depict that leading to a colourful life is always a better choice. This tattoo took us around 3-4 hours to complete. Usually the calf area is quite sensitive and dry so before inking any tattoo on the calf we need to moisturize it well. The result was awesome and the client loved our work.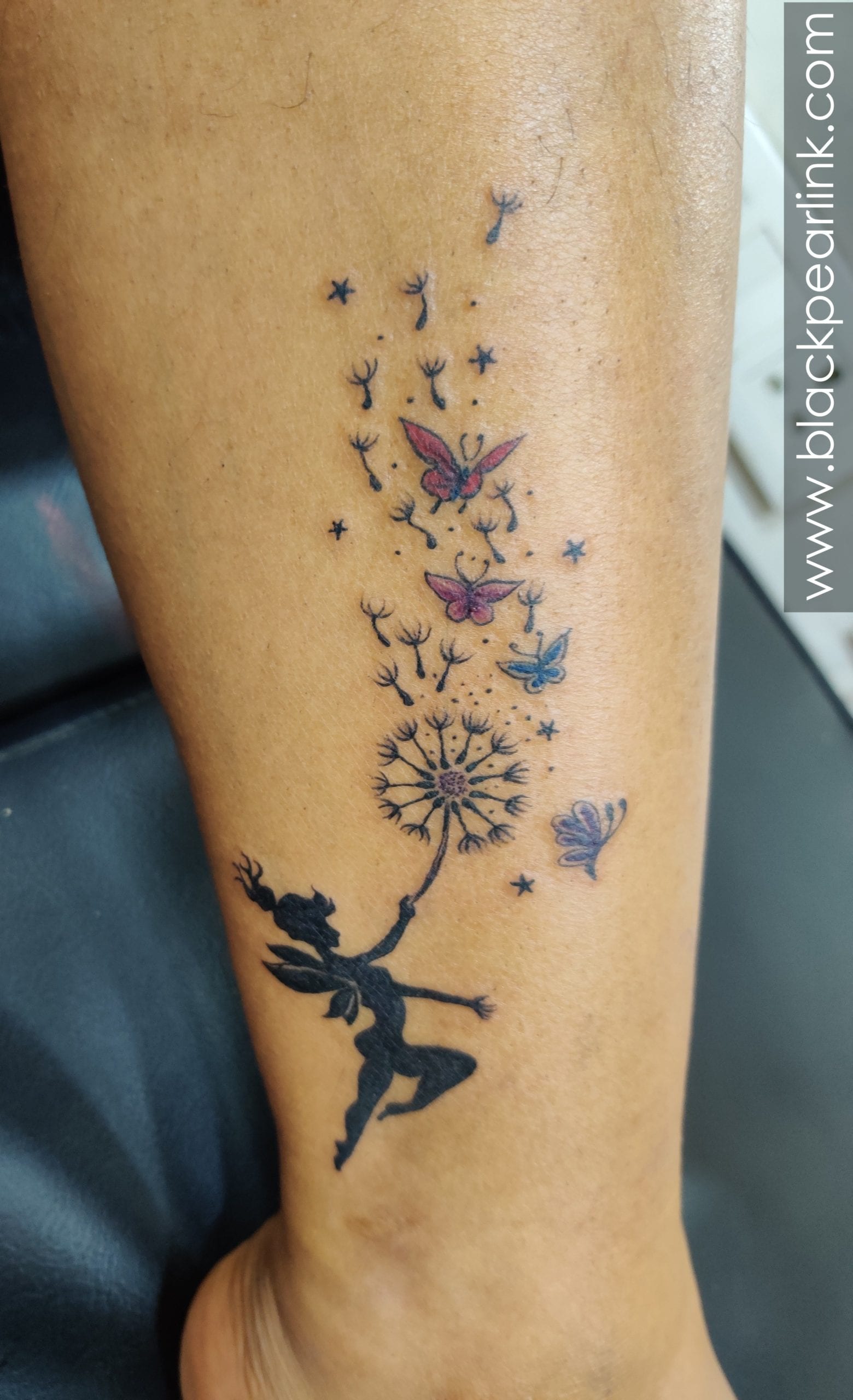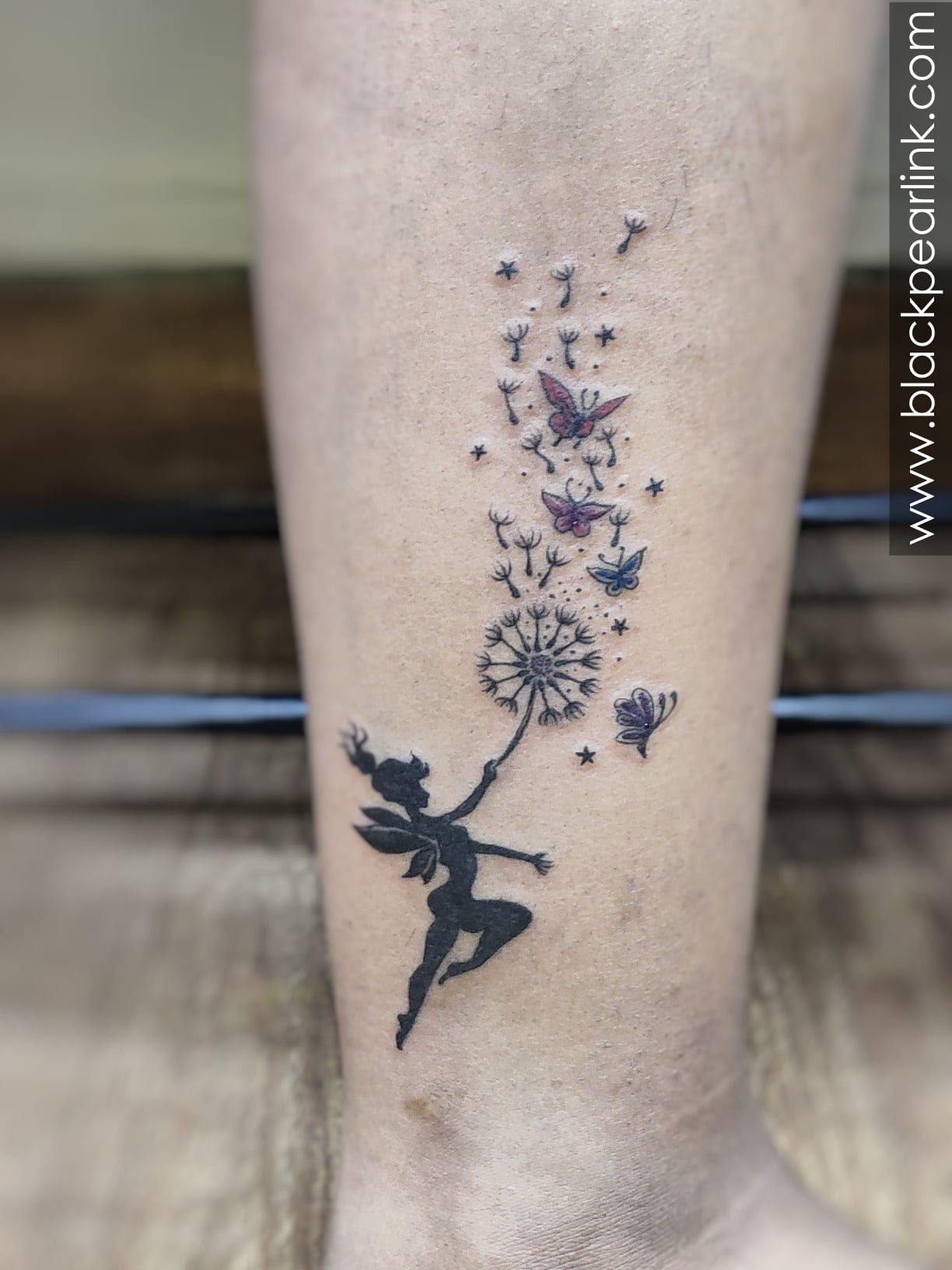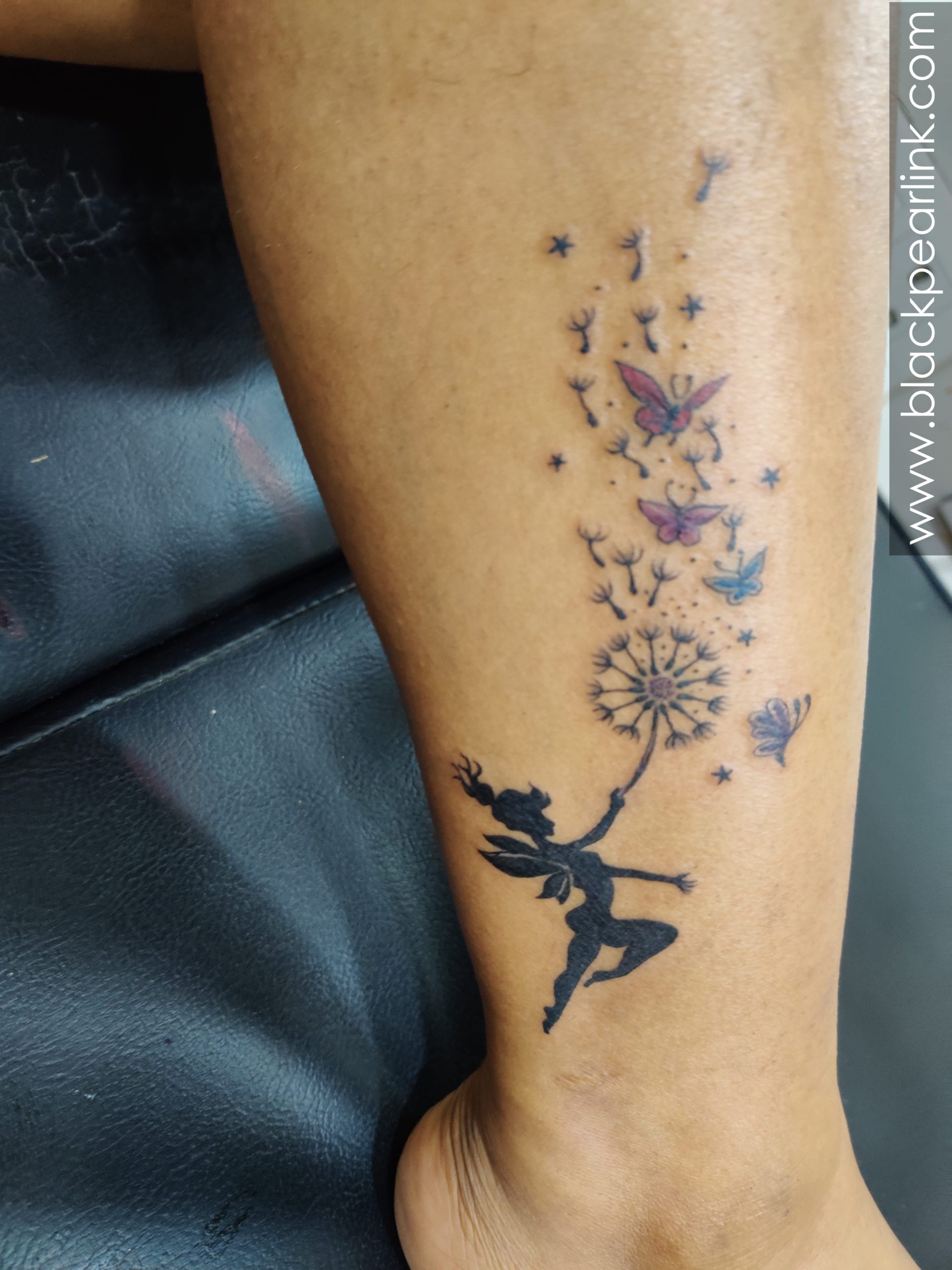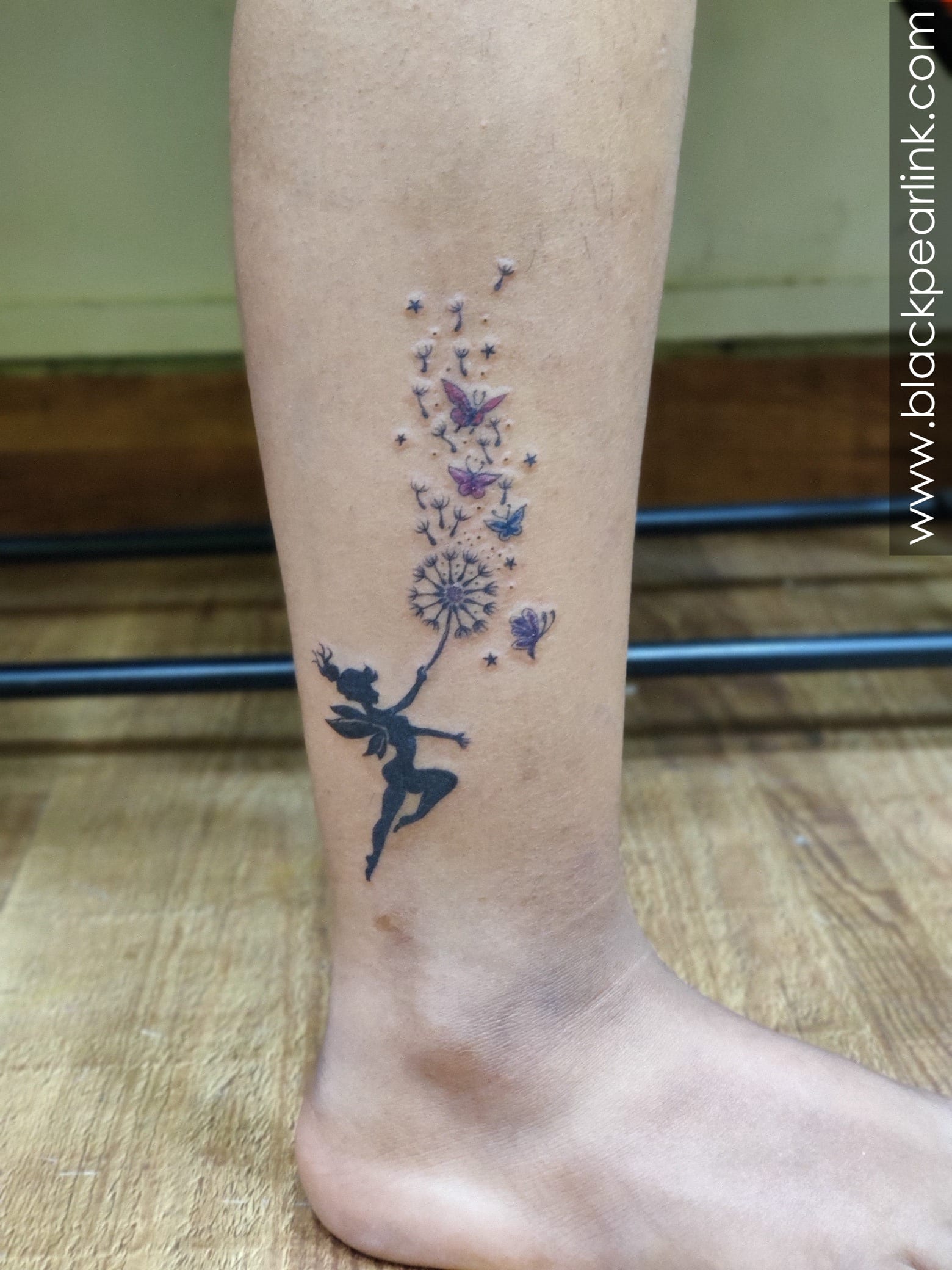 3. Realistic Rose Tattoo on Forearm
This one is a realistic coloured rose tattoo. The client wanted something for herself and also something which she could dedicate to her parents on their anniversary.
We suggested to the client to make this rose tattoo and customized it completely for her. Rose tattoos are very trending tattoos and they represent beauty, charm and love. We have inked this on the client's forearm and have used different techniques and colours to make the rose look realistic. Beneath it we have written 'mom & dad' and above the rose we have made a queen crown, a suitable hat for our client!
This is a coloured tattoo and we have used red, pink, green, white, blue, violet, black and grey colours and shades in this and it turned out really nice.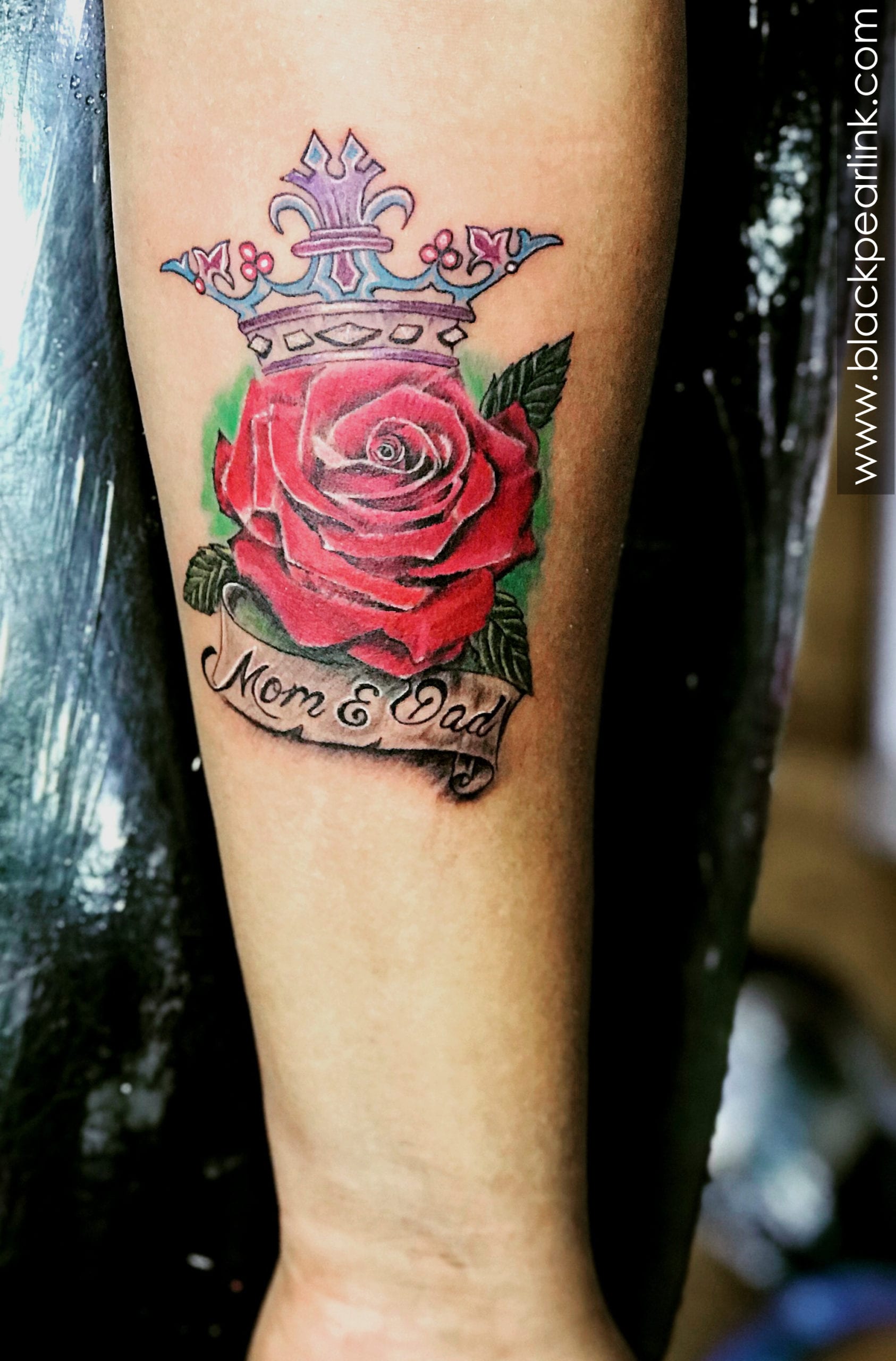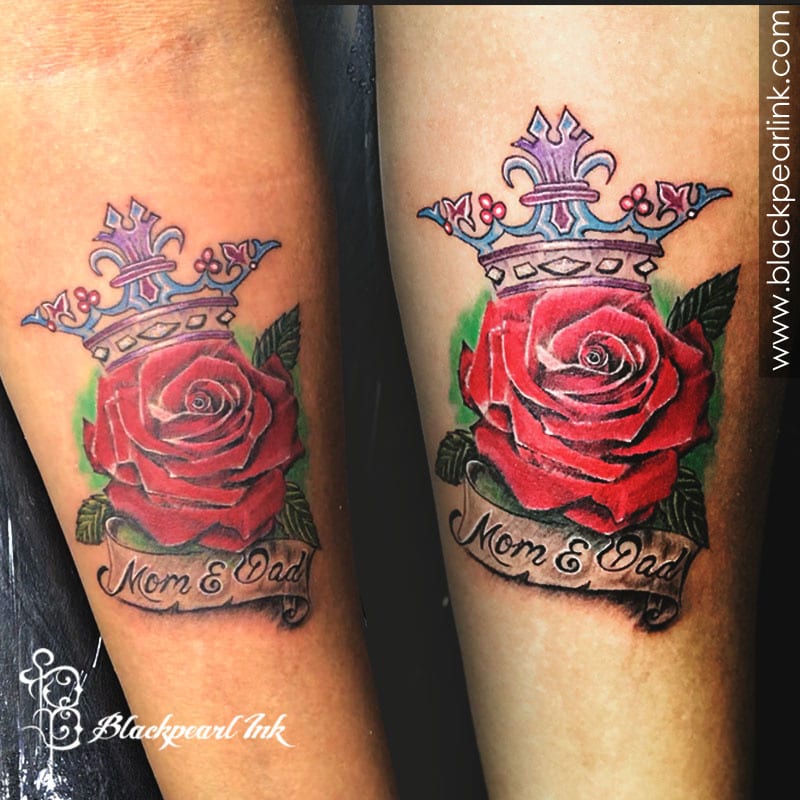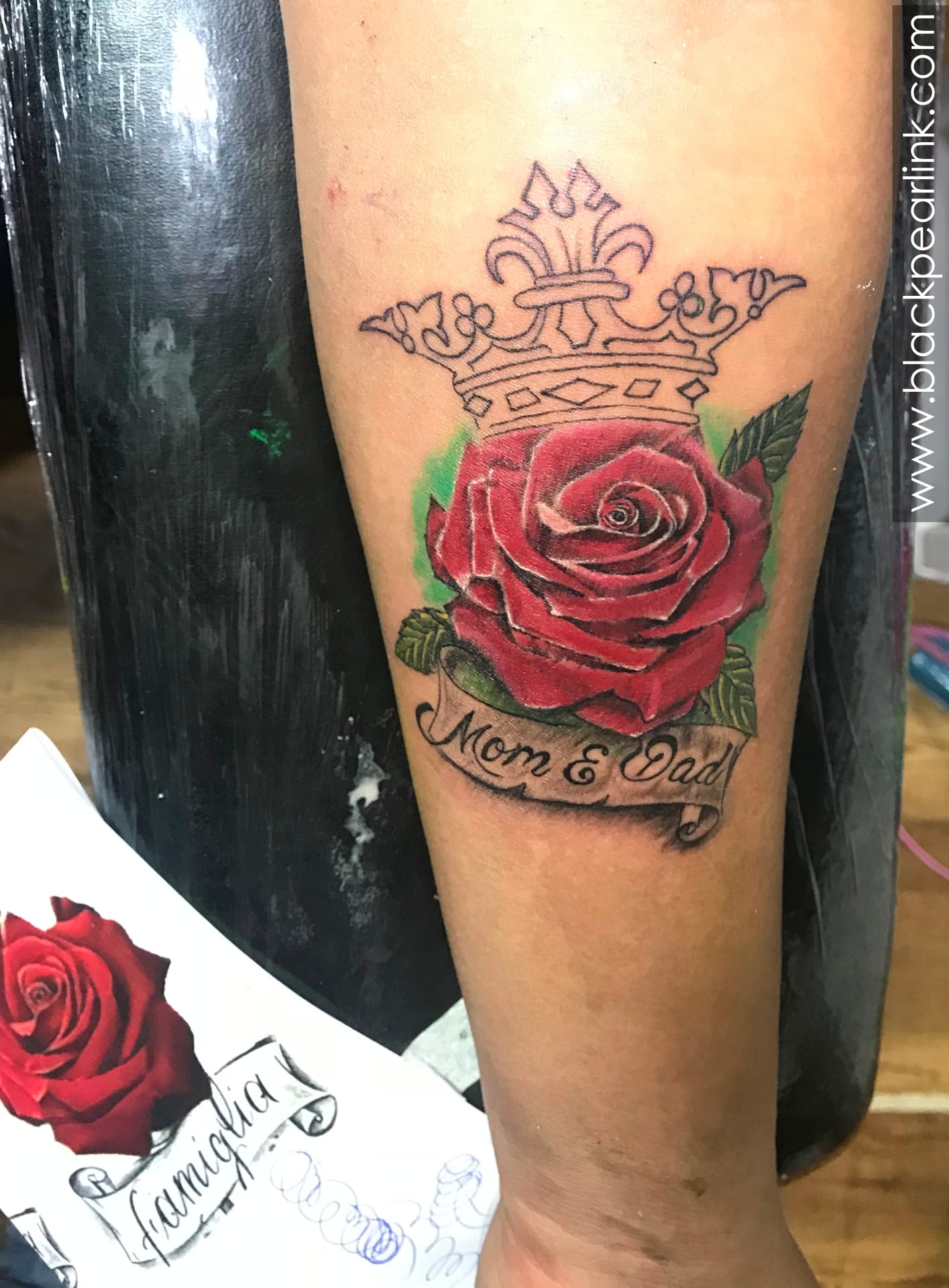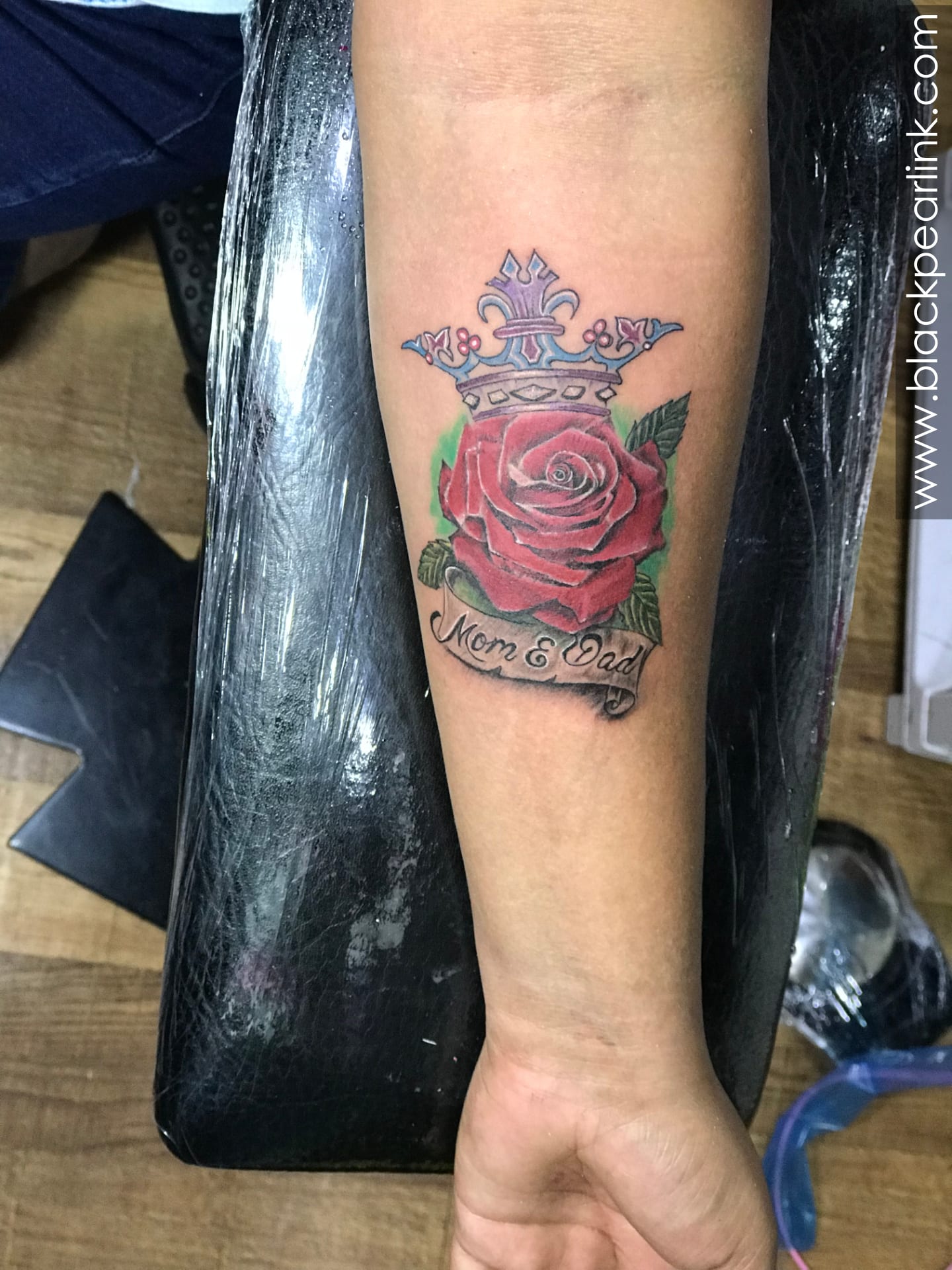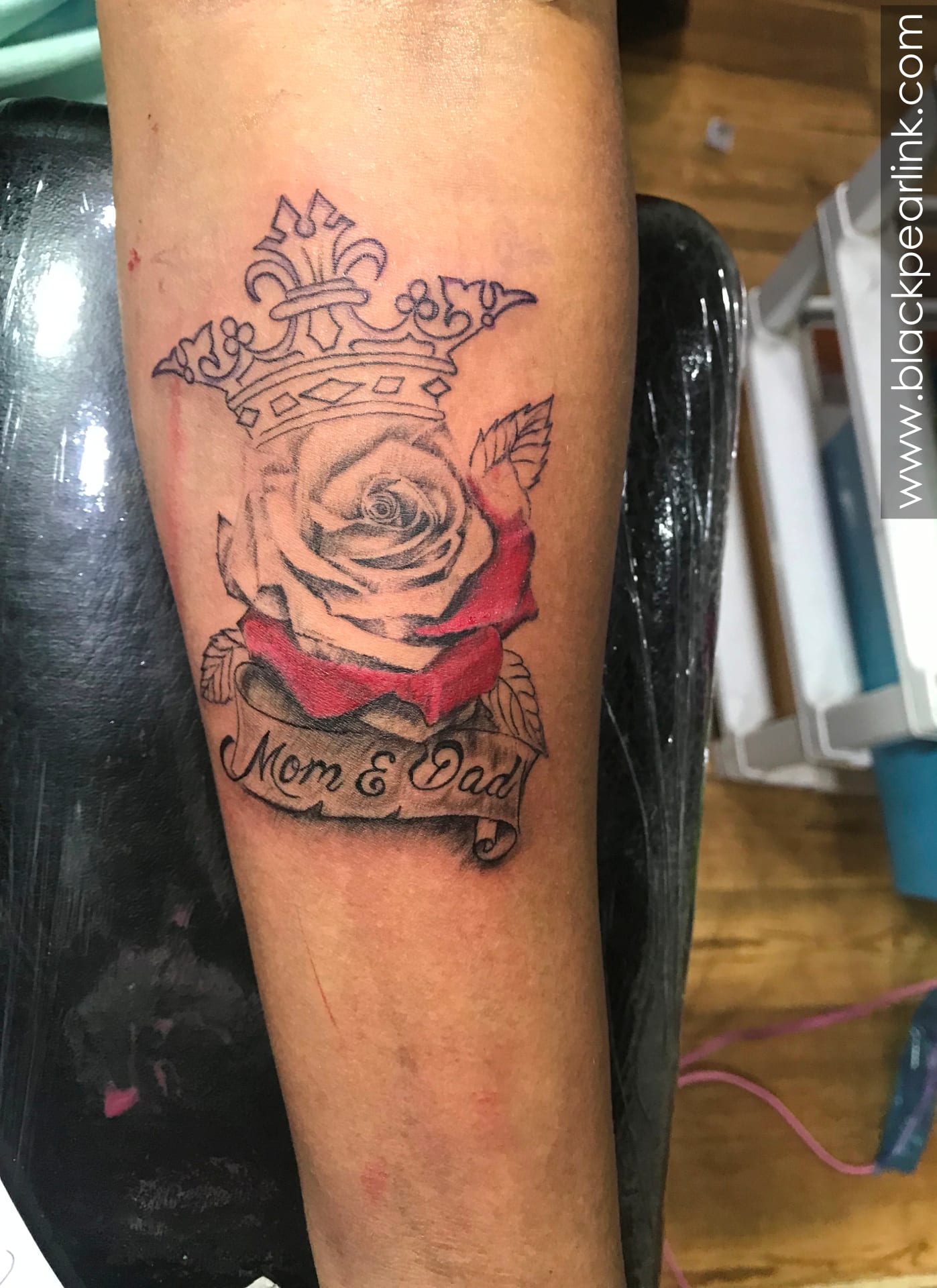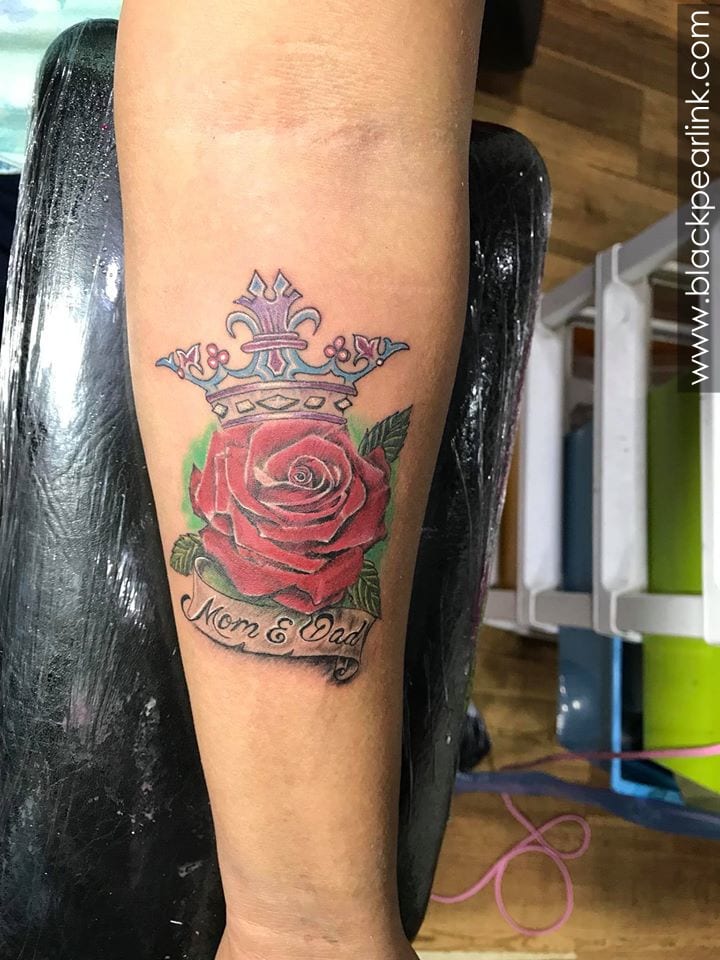 4. Yin Yang Couple Tattoo
This is a pair of beautiful Yin Yang tattoos that we did for a client and his wife. Yin and Yang symbolize the male and female energies and have their roots in the Chinese culture and philosophy. It is very similar to our Shiv and Shakti concept where one represents power and the other represents stability. Yin and Yang are believed to have an attraction towards each other. These tattoos symbolize harmony, love, peace and togetherness.
These are Water Splash Tattoos or Colour Splash Tattoos which are very trending these days. We have added some geometric patterns, did some dot work and have used red, maroon and black colours. We have also scripted 'Together' and 'Forever' on the hand of the female and male client respectively. Both these tattoos were done in 4-5 hours and they turned out really beautiful.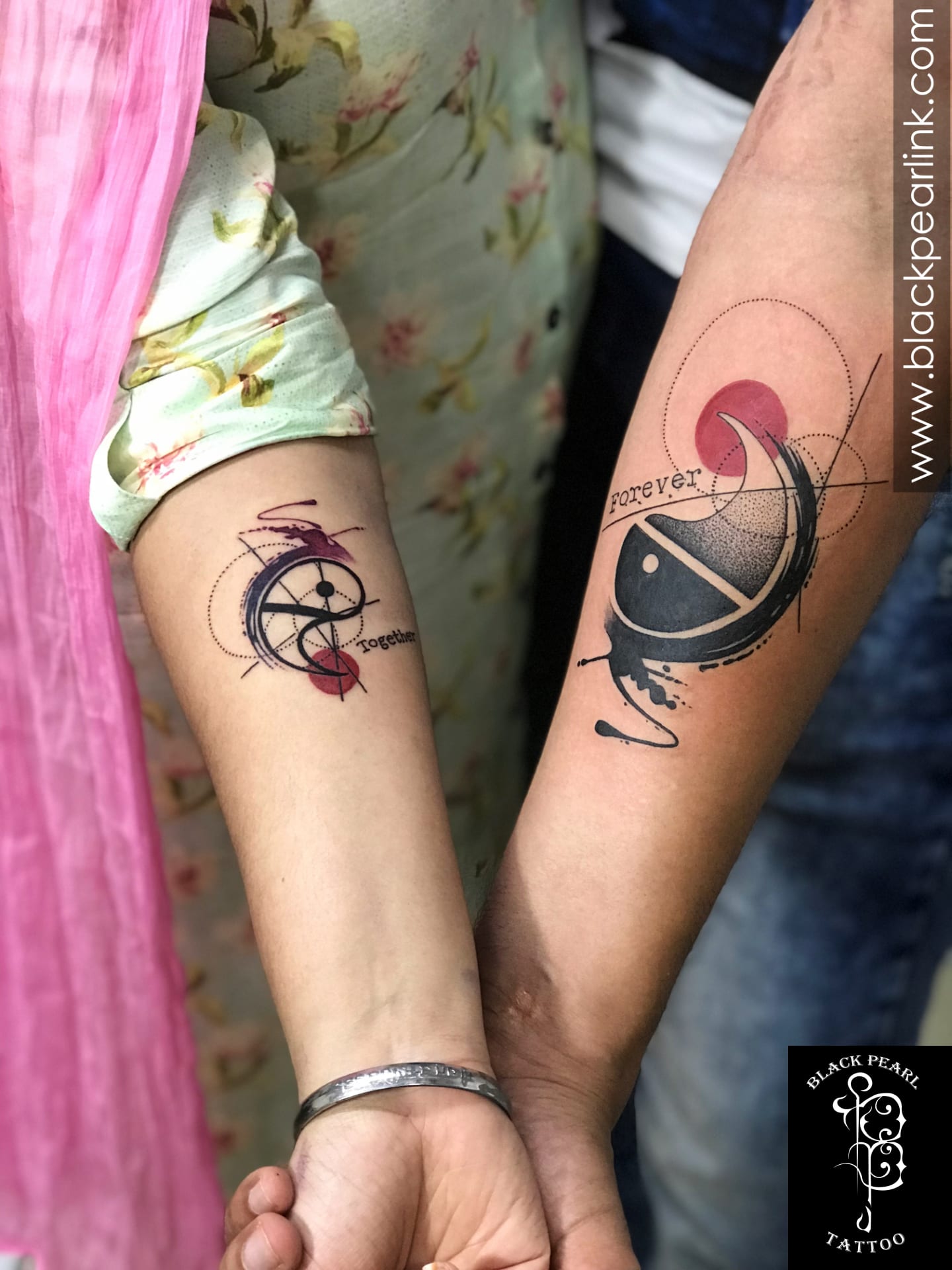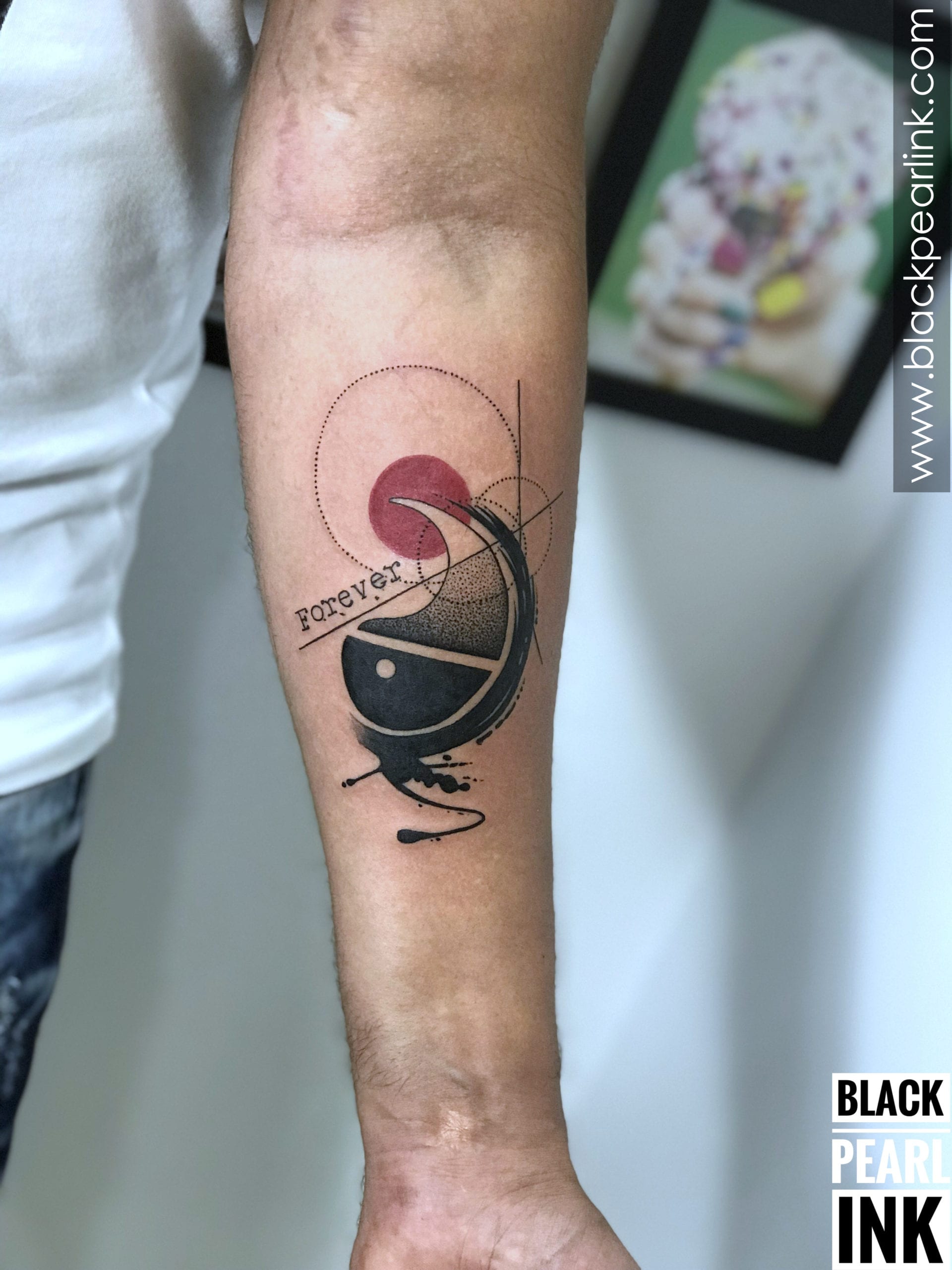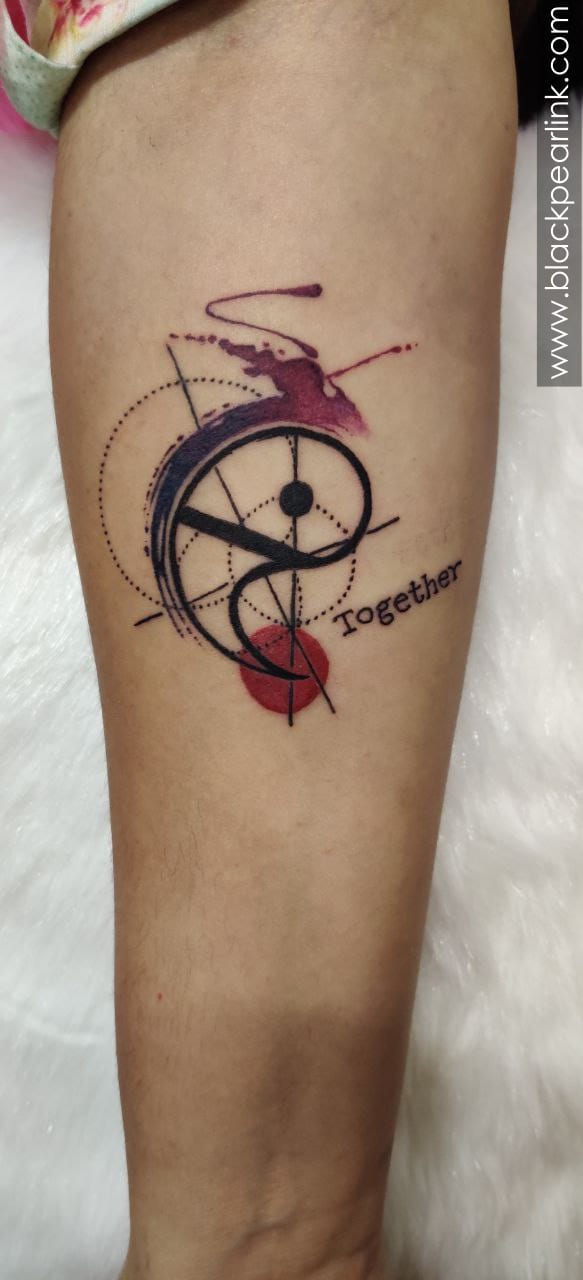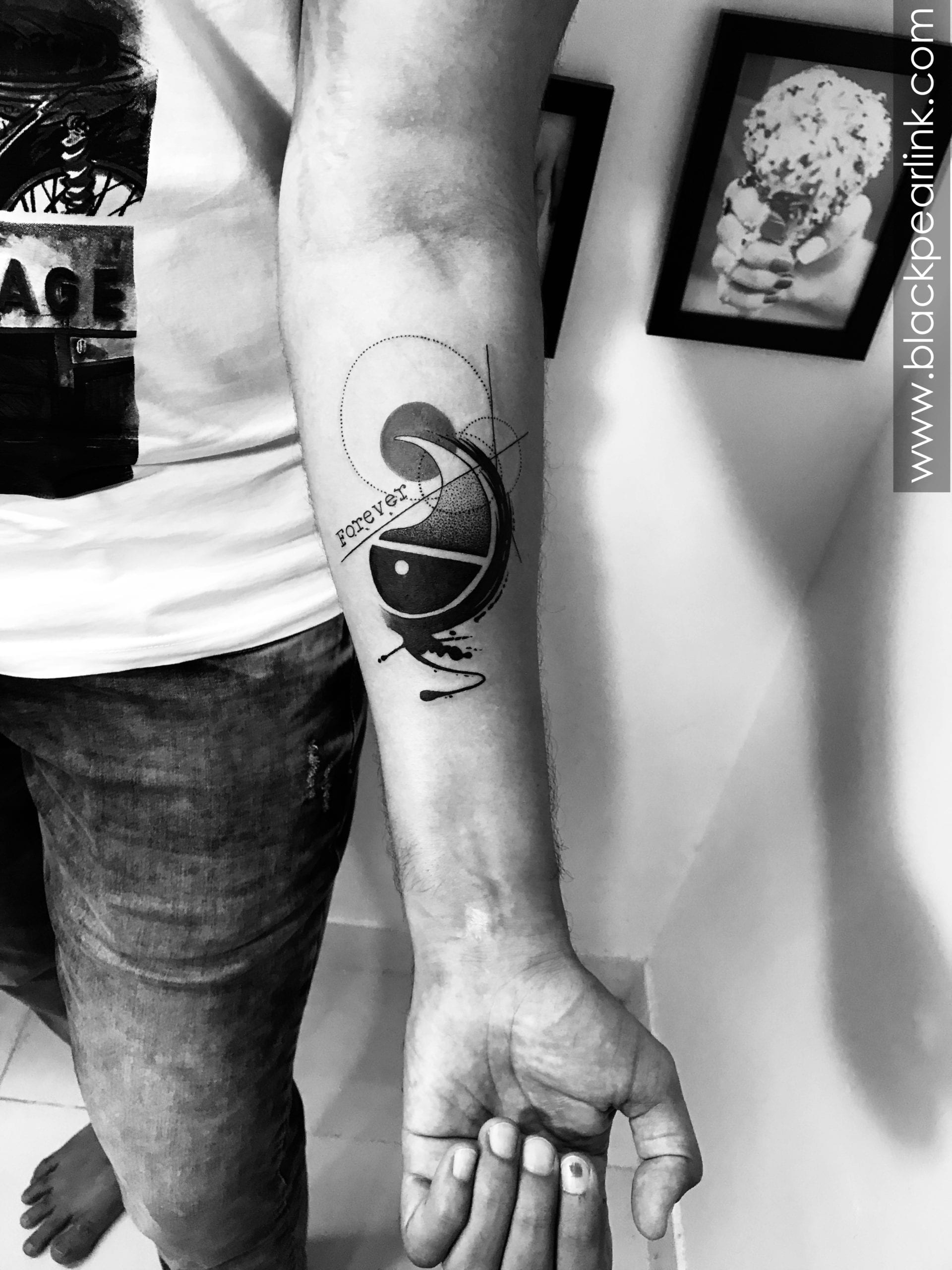 5. Photorealistic Rudraksha on Wrist
This is a photorealistic Rudraksha tattoo which we inked on the client's wrist. Unique thing about this tattoo is that we haven't taken any references for this nor have we used this image from the internet, instead we have taken a photograph of a real Rudraksha and then converted it into a tattoo art.
We have used brown, black and white shades for the realistic coloured Rudraksha and attached it to a red coloured thread with blue beads. Though this tattoo counts as a small tattoo, tattooing such a real life element takes a lot of time and effort. It took around 2-3 hours to bring out this 3D look in this beautiful tattoo. The result is evident as you can see in these images here.
6. Coverup Tattoo with Multicolor Lotus
This one is a cover up tattoo. The client got her old tattoo made 3-4 years back from somewhere else but the outcome wasn't that great and with time it faded away a bit. So we brainstormed ideas to cover this up and decided to make this beautiful multi color Lotus Tattoo.
It's extra difficult to manage cover up tattoos of the same size but thankfully we succeeded to hide it up quite well. If you compare both the tattoos it's evident that these are totally different genres. We have added sparkles and diamonds to it. It took us around 4-5 hours to complete this one as so many shades and colours were used. Finally the client was super happy with the work and so were we.
7. Floral Design Tattoo on Forearm and Wrist
This is a free hand floral design tattoo or a mandala tribal art done on the client's forearm and wrist. We completely customized this tattoo according to the clients' needs. The client wanted a combination of traditional mehndi design (henna) and some artistic work.
As this is a free hand tattoo, it took us 2-3 hours just for sketching and 1-2 hour for the complete tattooing process. This is made with black and grey colours with a filling of Red. It's a very neatly done tattoo and the outcome after the healing was just awesome due to the fair skin. Mostly these tribal mandala tattoos are done on the shoulders but we can customize and design according to the client's body shape and the desired area to be inked.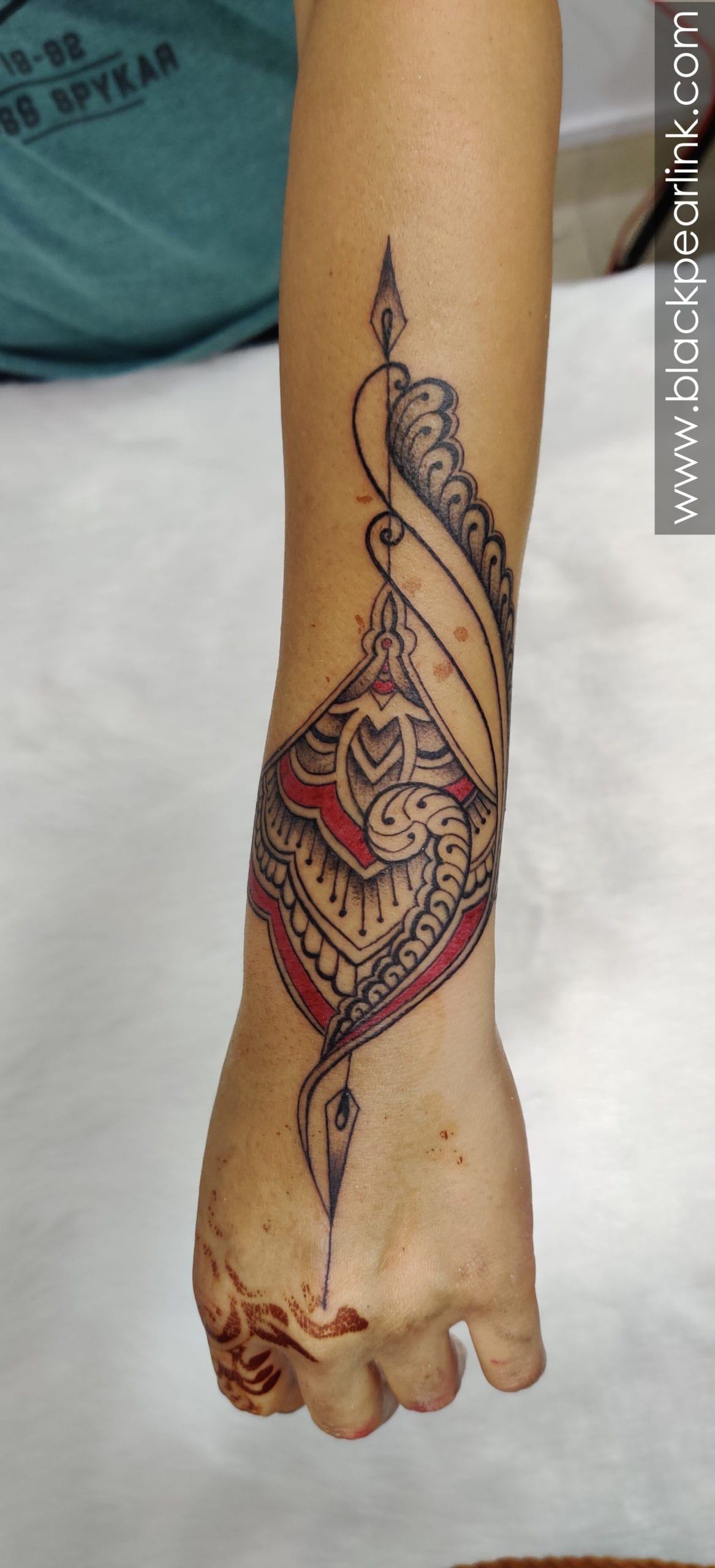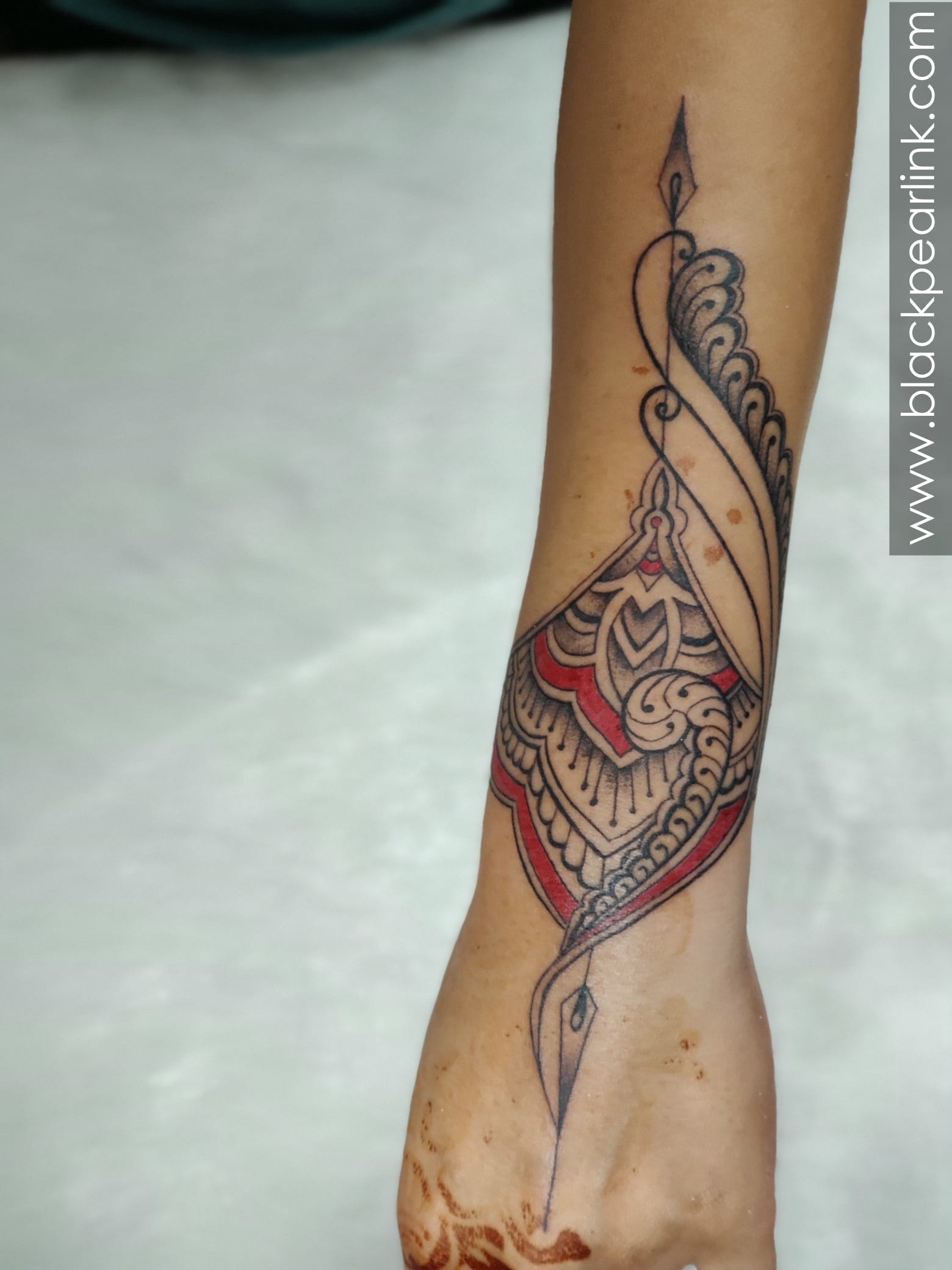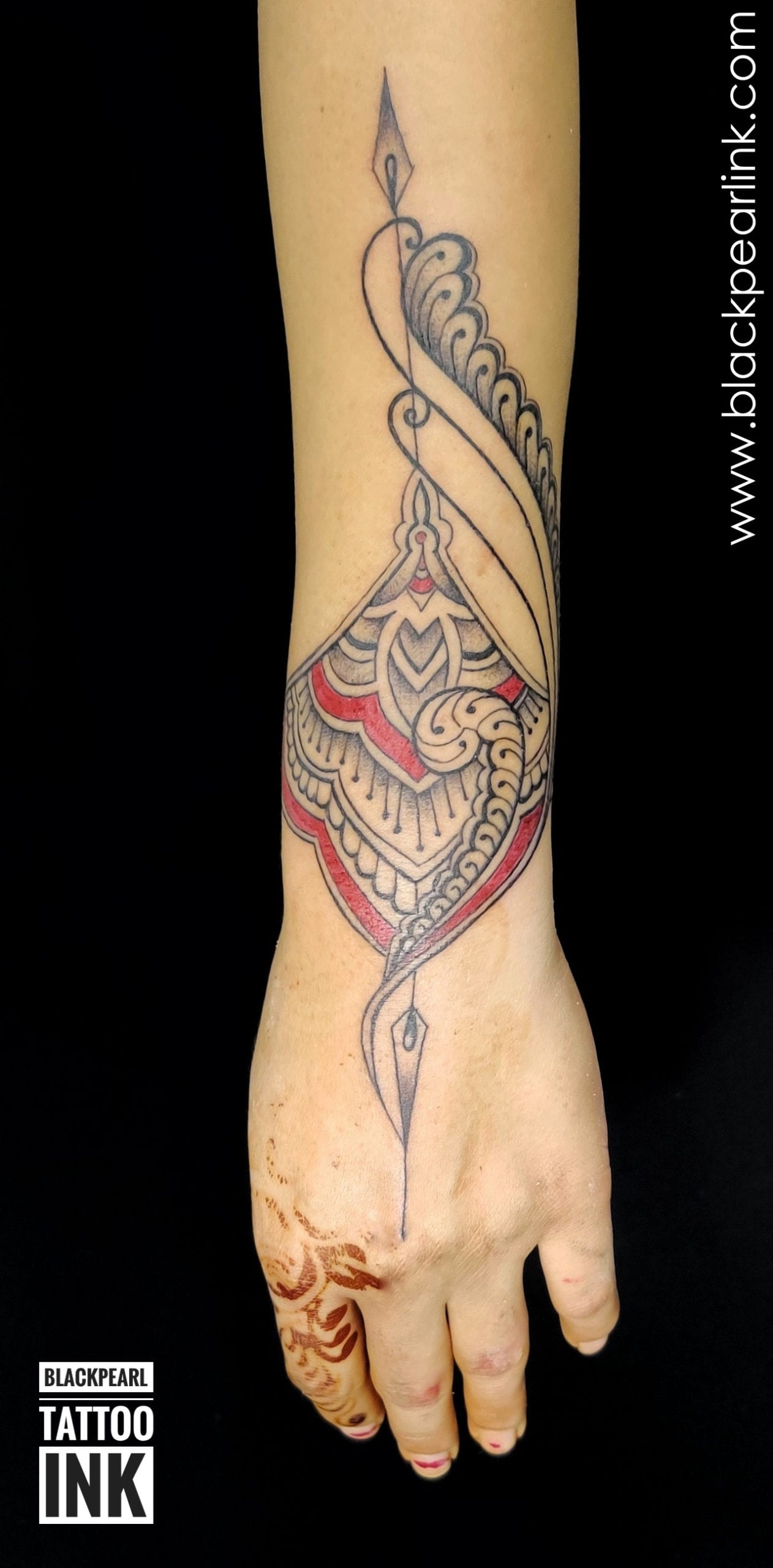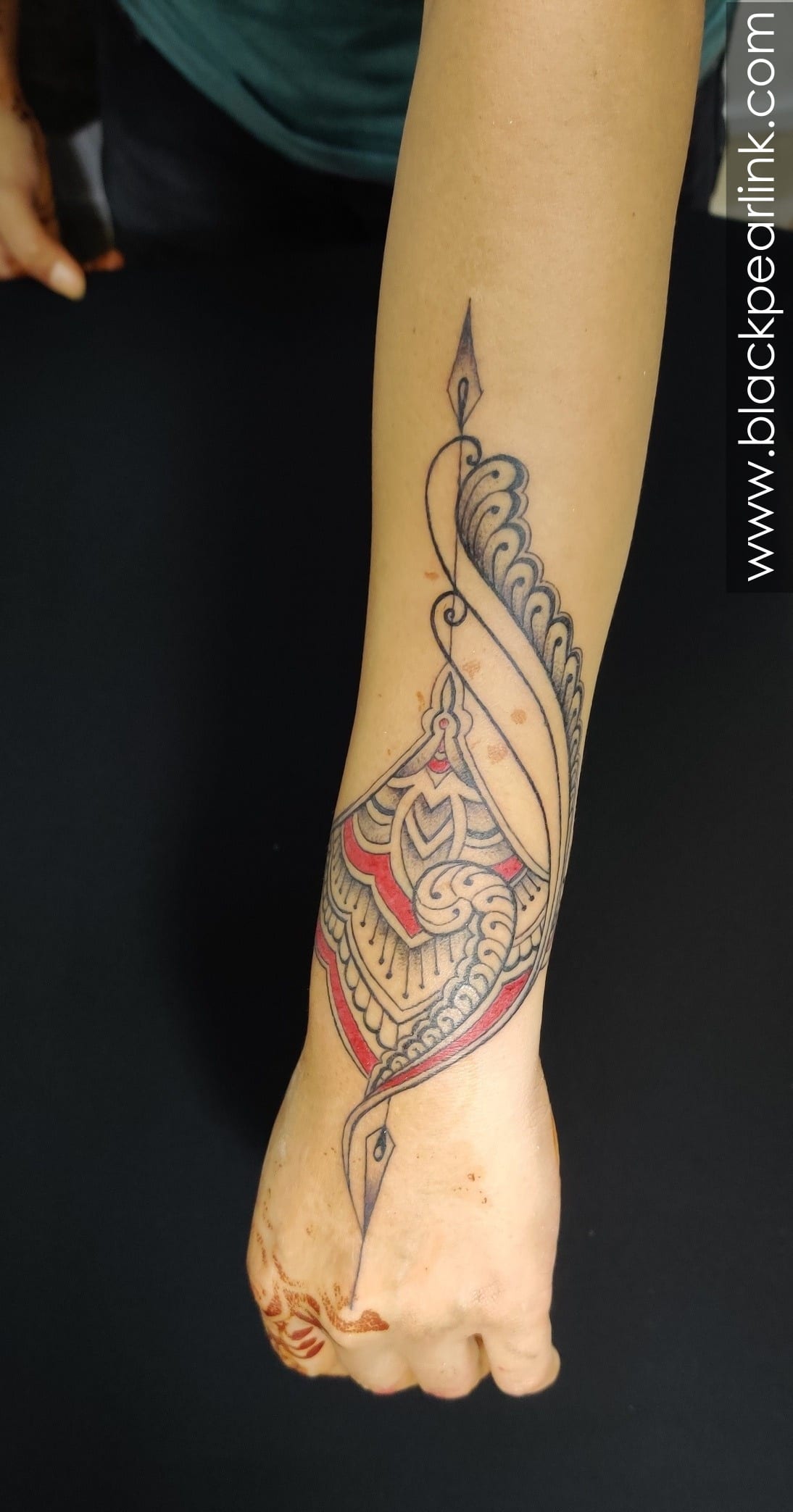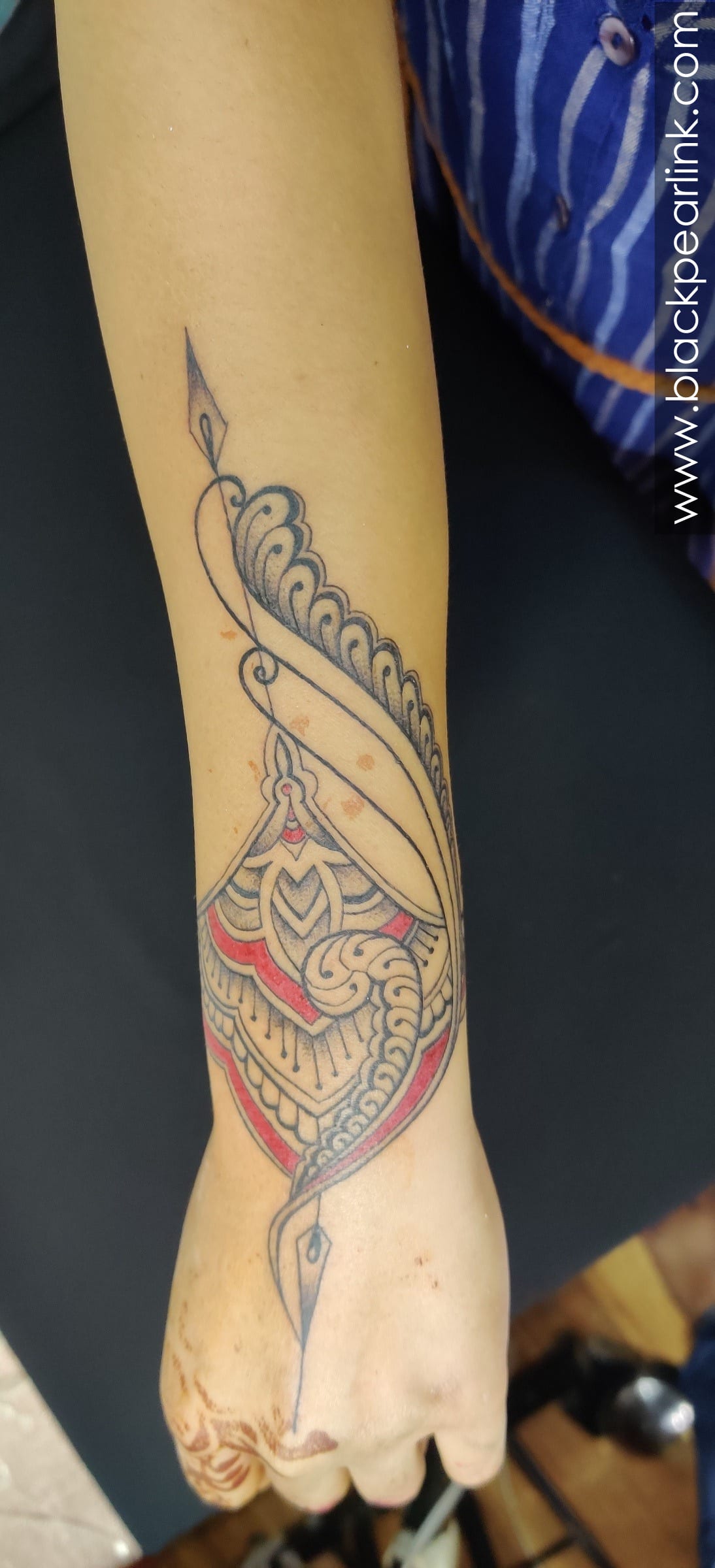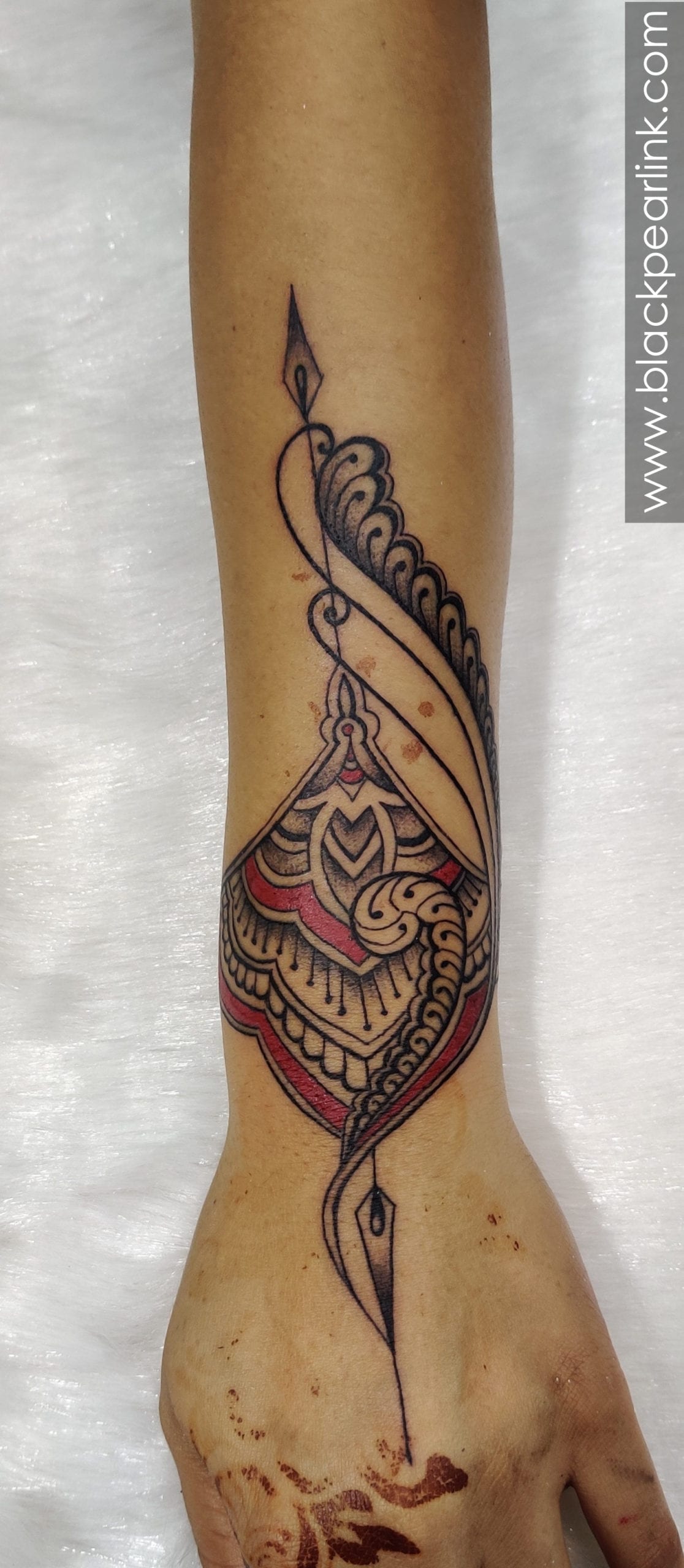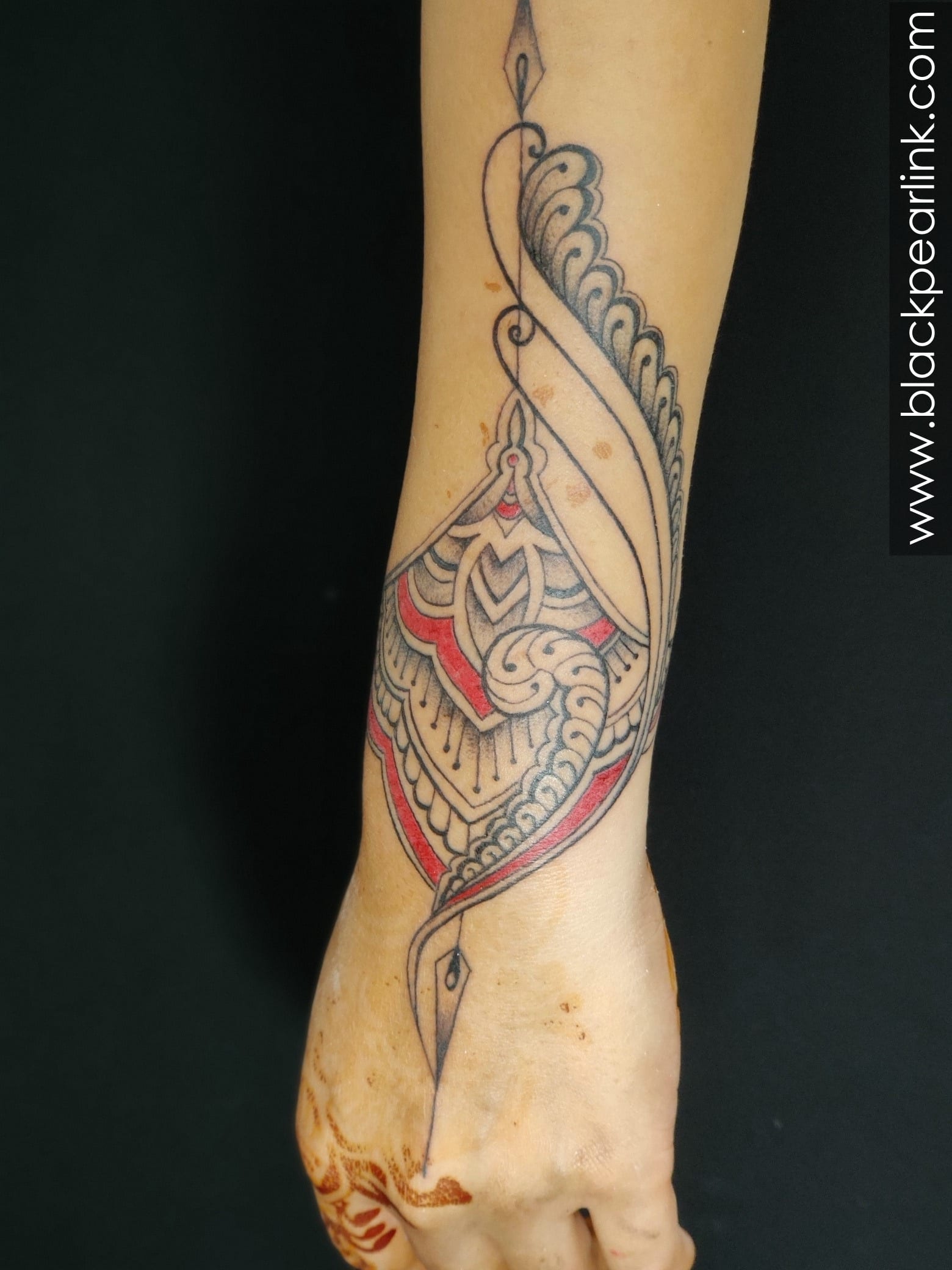 8. Minimalistic Wanderlust Tattoo on Ankle
This is a cute little tattoo also known as a minimalistic tattoo which we did on our client's ankle. We have added a small story to this beautiful tattoo where the destination of the traveler is shown as the moon and the stars which added a real charm to the tattoo.
Wanderlust tattoos are more common among females. They represent free spirited women who have a strong desire to explore and getting such tattoos is kind of paying homage to your adventures. Here we have added a small travelling car carrying a little cycle and a skateboard as a luggage and we have given an inclined look to the path ahead towards the moon which symbolizes that travelling and exploring should not be confined to this planet and your desires and will power may take you amidst the moon and the stars. This is a positive tattoo made in black colour and the client was super happy getting this cute tattoo inked.